!
Making a Family Room Cozy, Relaxing … and Intentional
Today we're spilling the tea on how we're turning the Rumpus Room (aka Family Room) into a cozy, relaxing, kick-back-and-chill family room. Okay, so real talk, what is a "Rumpus Room" anyway? Basically, it's the ultimate chill-out zone where you can let loose, have a blast, and soak up some major fam vibes. It's like a warm hug for your soul, where relaxation and family time collide in the best way possible! We're talking about the crème de la crème of family rooms. Here's how we plan to accomplish this beautiful yet intentional space. Take a look at our rendering to give you a sense of how we see this turning out!
We always turn to Pinterest to gain inspo when gathering our ideas for a project … this pic is a perfect representation of the color palette we are loving for this space. Do you use Pinterest to get inspired as well? Follow us here to see all that we're pinning!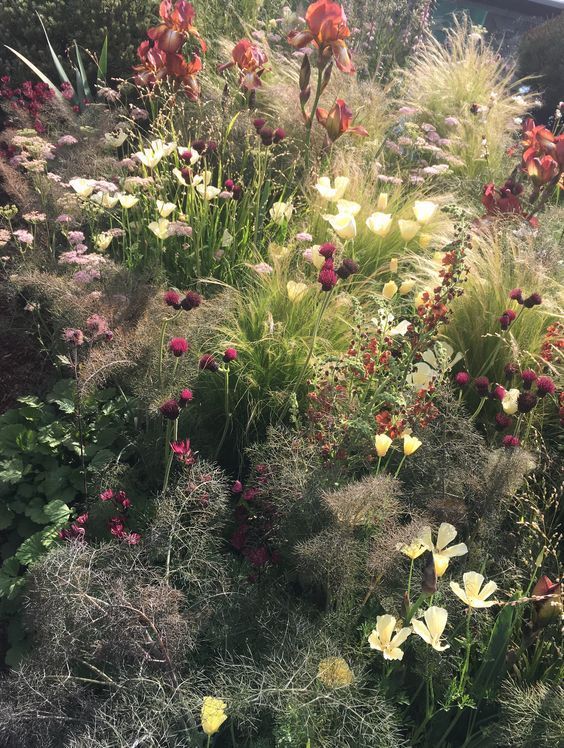 1. Create a Cozy, Relaxing Spot to Watch TV
We're tackling this task head on by creating the coziest spot ever to catch all your favorite shows and movies! And here's the deal: we're keeping the living room TV-free, so this rumpus room is going to be the holy grail for lounging and relaxing. First things first, we're all about creating that "sink-in-and-never-leave" kinda vibe.
What's the plan? A built-in sectional! Derrick is a DIY genius, and he's going to work his magic here. He's going to build a base for some custom cushions that will seamlessly integrate into that base, creating an epic sectional! We actually did the same thing with our banquette at Fall Creek, and let me just say, everyone is always fighting for those spots to sit at dinner. I'm envisioning a cozy soft fabric (the verdict is still out on which one), and the fluffiest and plumpest cushions, with lots of accent pillows for added plushness, of course.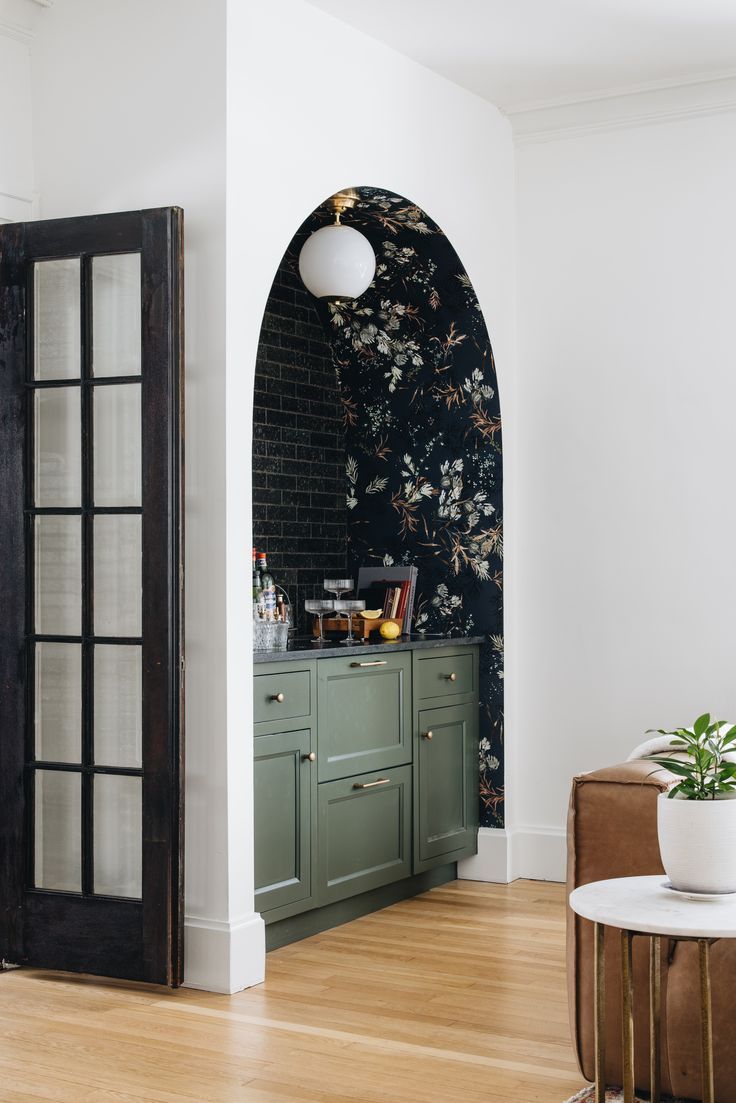 2. Build a Wet Bar
Our kitchen is on the smaller side, and we desperately need another spot to mix up cocktails, store barware and glasses, and keep our wine chilled to perfection. You know how it is when you're trying to prepare a delicious meal but everyone insists on congregating in the kitchen? Yeah, not ideal for the chef either (aka Derrick). So, we're solving this dilemma by creating a mini- oasis away from the kitchen chaos. Cue the wet bar! 
To keep things efficient, we're opting for a nifty dual-zone mini-fridge that'll house all our beverages and wine. It's going to be beverage heaven my friends! We're thinking of an arch design after being inspired by this photo (above) of a room designed by Jean Stoffer Design. Derrick might be rolling his eyes at the idea, but I personally think it adds a touch of whimsy and makes the space even more fun! We'll see if we can make it happen 😉
Now let's talk aesthetics. We're going for a bold and vibrant vibe with a punch of color. We've got our eyes set on this stunning tile by Fireclay for the backsplash. It's like a rich, deep, rusty red, an almost brick-like hue that beautifully compliments the red rocks Central Oregon is famous for. Talk about blending the indoors with natural outdoor elements! And, here's a fun twist: we're planning to layer some funky wallpaper like this one by Morris & Co x McGee & Co on the inside of the arch. It's all about adding that unexpected pop and infusing the space with our own unique style.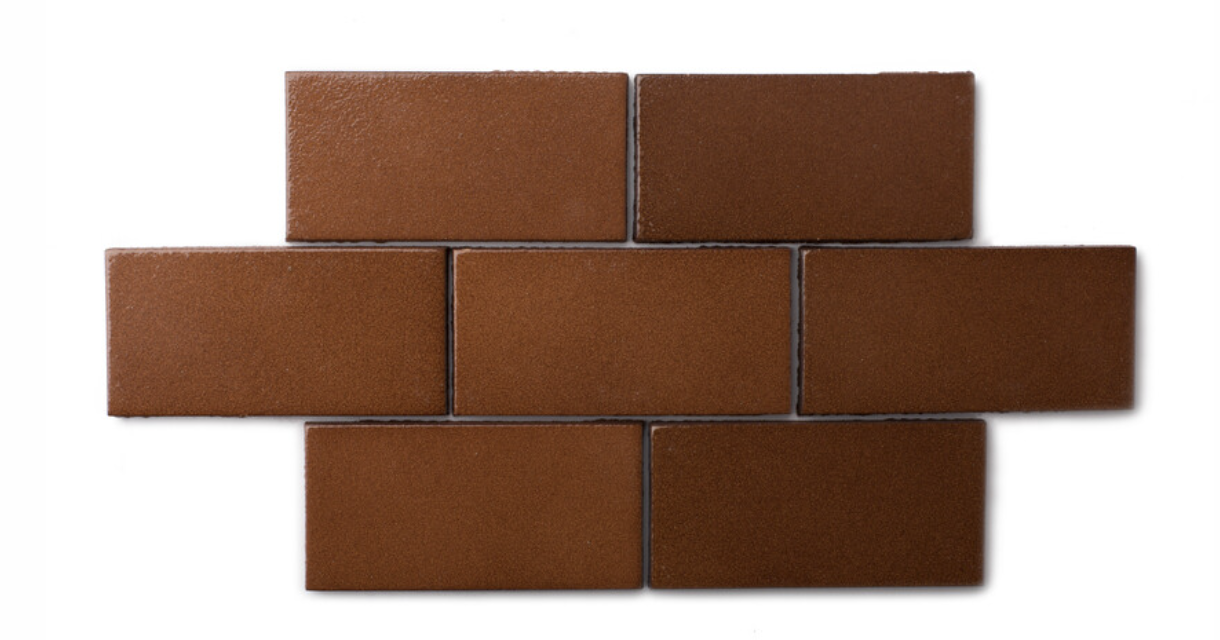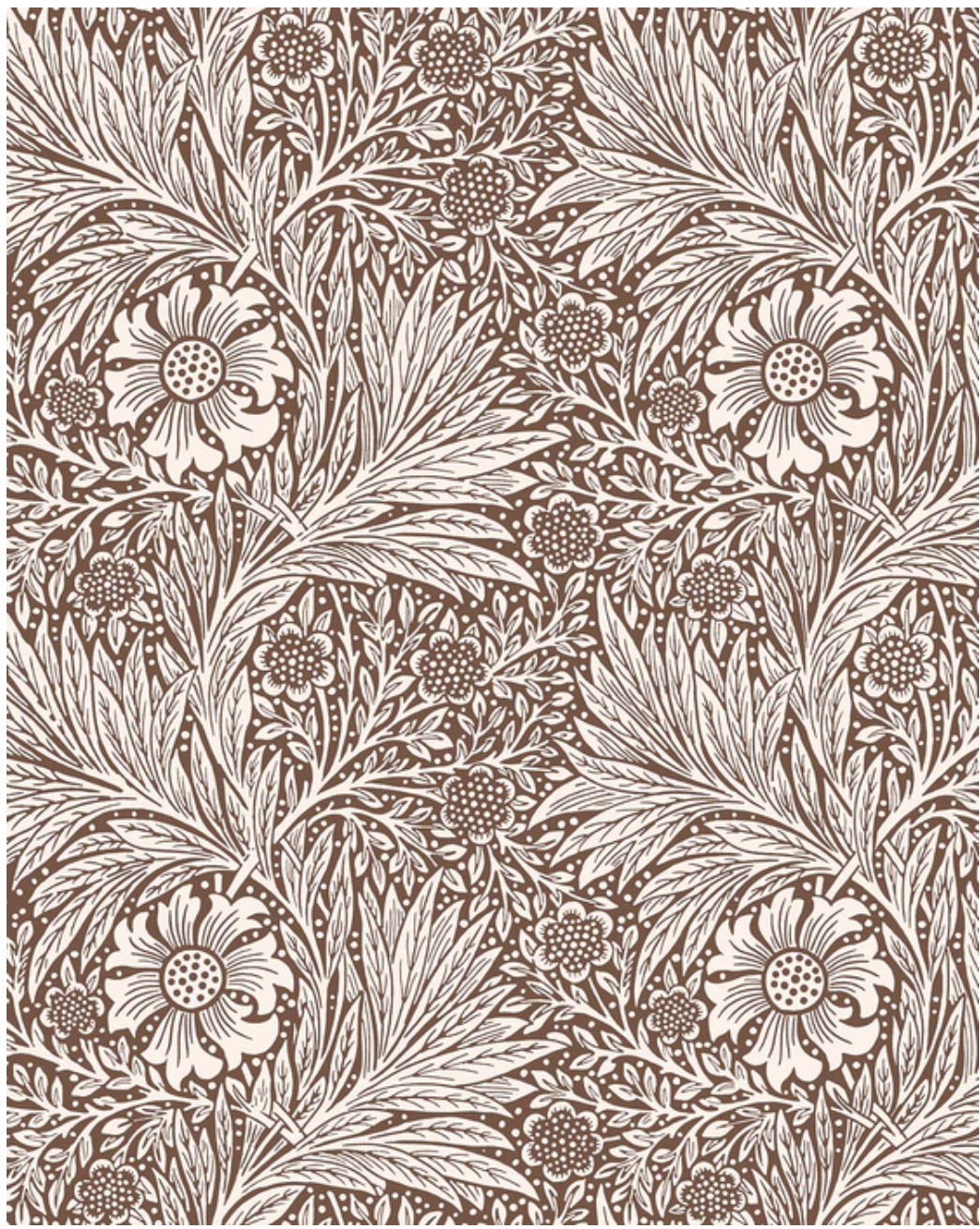 Of course, we can't forget about the details. We've stumbled upon these awesome brass shelf brackets on Etsy. They bring so much character and charm that we used them in our laundry room. Now they're making their way to the wet bar! We're planning on installing them with glass shelves to showcase our pretty glasses and barware. For all the fellow mixologists out there, get ready to see the wet bar of your dreams and let the good times flow!
3. Create Ambient Lighting
Let's shed some light on the importance of ambient lighting for this rumpus room. Yes, this space is lacking overhead lighting. But fear not, we've got a plan to create that relaxing, inviting atmosphere — especially for those late-night reading and TV sessions. The absence of can lights will only make our evenings in this space even more intimate. And, the large wall-to-wall windows will provide more than enough light during the day time. 
First up, we are installing sconces over the built-in sectional. These babies will provide that perfect, warm glow for those quiet evenings curled up with a good book. The cool part is, we are going for sconces that can swivel. That way, we can angle the light just right for optimal reading comfort. It's all about finding that sweet spot. 
We also have plans for this surface fixture over the wet bar. This fixture will provide some much needed illumination for the glass shelves and countertop, while adding a touch of style to the entire area.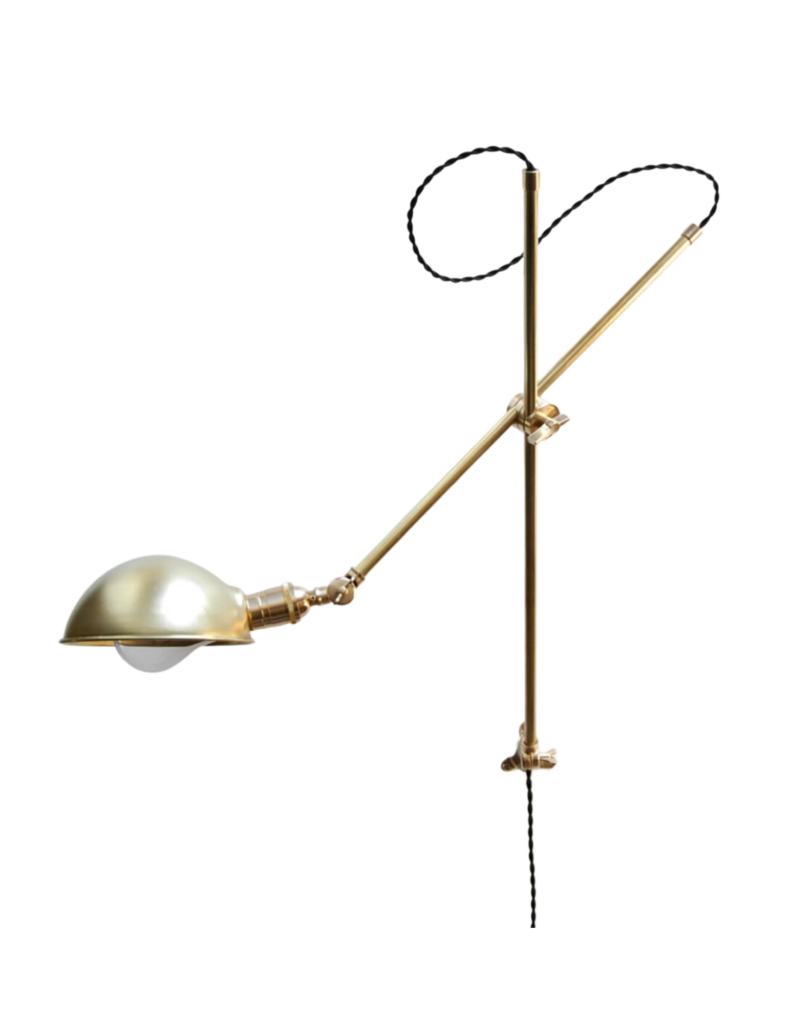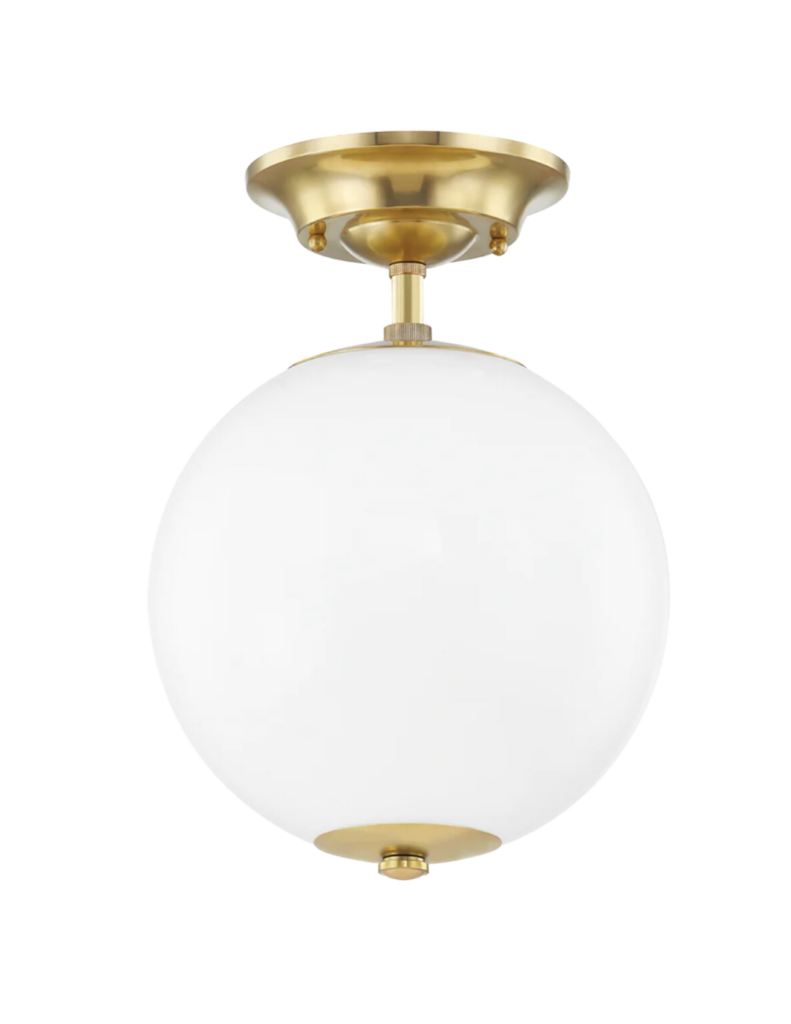 So, what's next?
The next steps: we'll be taking our rumpus room to the next level of cozy and relaxing! We're on the hunt for the perfect rug and coffee table, or even a large ottoman. Ideally, we'd find a rug that not only adds a touch of warmth and texture to the space, but also ties the whole room together with its stunning design. And, we're torn between a classic coffee table and a large ottoman for that ultimate feet-up, chill-out experience. Let's be real, ottomans are a dream come true when it comes to kicking back and relaxing. But, the tricky part is what to choose when you need a surface on which to set things down. Decisions, decisions! However, we're determined to find the perfect solution that combines comfort and functionality.
Keep following along as we move through this fun project! We love to share our thought processes and inspiration with all of you.