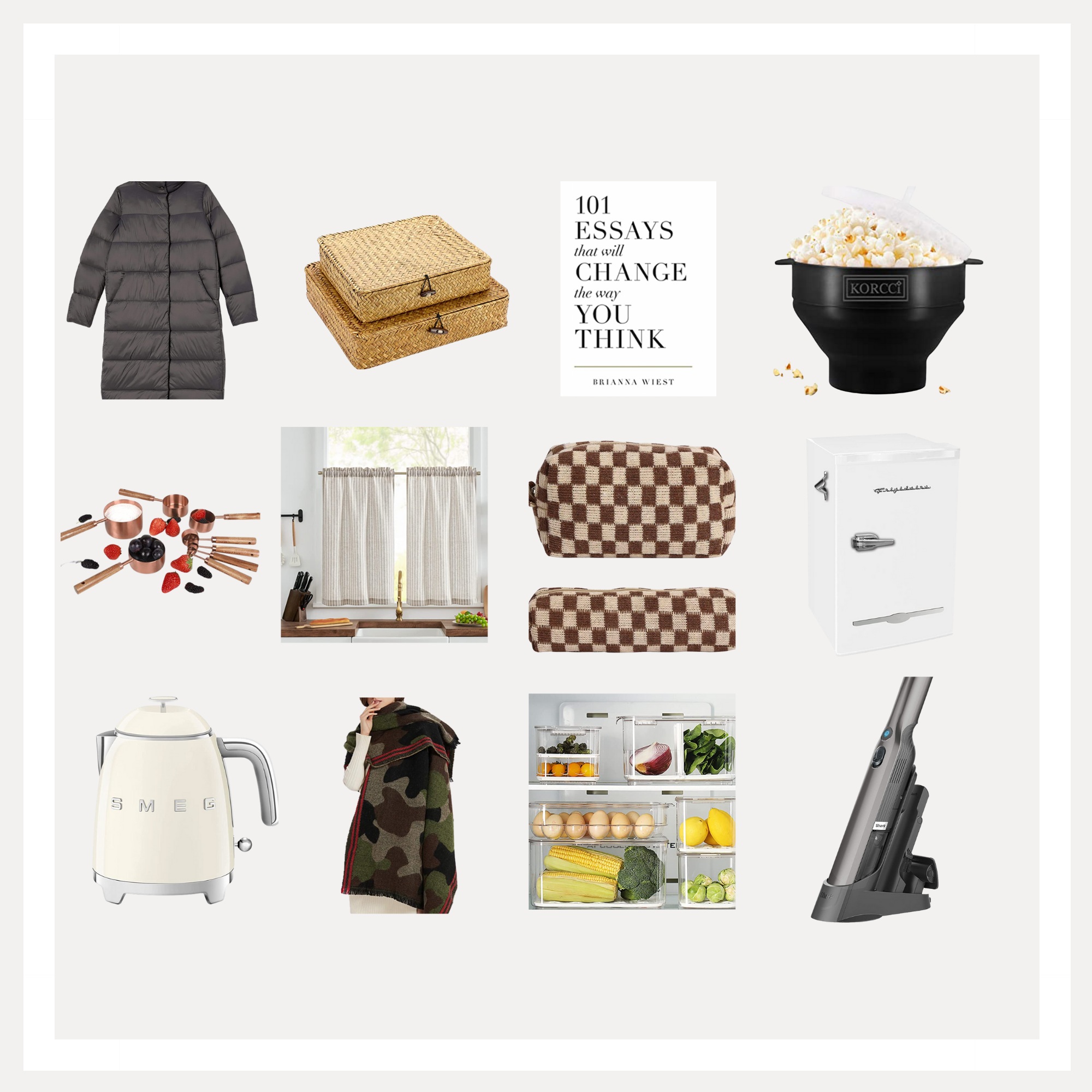 Our family shops from Amazon … A LOT! And in fact, we've found some items to be incredibly useful in our home. Great finds include everything from home remodeling items, appliances, clothing and home décor to organizational items and more. And then there are the things that haven't really hit a home run, so please know that we are only sharing items we stand by from a quality and value standpoint!
We're excited to share with you our NEW Amazon Storefront with everything we've found to be not only incredible useful, but also a great value … and in some cases, really pretty too!
Check out our storefront here. We'll l be continually updating the items, so keep checking back to see what we've added. In fact, anytime you're on Amazon, pop over to our storefront to see our latest finds. We've sorted it all by category to make things easy to find: home décor, must-haves, clothing, coffee table books and much much more!
I've rounded up some of our favorites to date, so look at the items below and see what we love about each one. Since we've been at this a long time, we would love to help guide you to make smart decisions before purchasing. Reach out anytime!
1
Long Puffer Coat
I bought this at the beginning of our winter season (which this year was late October!), and I have been wearing it ever since. I love it so much I may even buy it in the camel color as well. It's not too puffy, but it's exceptionally warm ... and the price is so good! Highly recommend this coat -- it's perfect for football and soccer games too.
2
Storage Boxes
I've had these in our office under the stairs, and I love that they look good AND are super functional. We use the larger one to store our printer paper, and the smaller one for our pens, tape, scissors, etc. They really are so cute that no one would ever know they actually contain items! They would also work well for an entry console table to store keys, leashes, sunglasses etc.
3
Inspirational Book
Well, I'll admit, I'm not a huge reader. I've always been more a visual person, so I like to watch documentaries, flip through magazines etc. But, if I am going to read something, it better be worth my time 😂 This book is ahhhhmazing. I can't express enough how everyone needs to read this book! I'm still working my way through it -- usually just a few pages each night before I'm asleep -- ha ha. But I really appreciate all the lessons I'm learning from this book, and I think you might too.
4
Silicon Popcorn Popper
We are big into our movie nights, and it's rare that someone in our family isn't popping popcorn late at night. I love this silicon popper that works in the microwave. I like to add a little coconut oil to the bottom, then pour the popcorn kernels in for a low fat and tasty snack. It's collapsible too, so it's easy to stash and store! One of our favorite kitchen gadgets for sure.
5
Copper Measuring Cups & Spoons
Some might think "really, these are one of your favorites?!?" Yes -- believe it or not, they are! There are two sets, one is measuring cups and the other is measuring spoons. The pretty copper finish along with the wood handles makes for a nice addition to other baking essentials. I use mine all the time!
6
Striped Cafe Curtains
We've bought these twice now, once for our laundry room makeover and most recently for our new Clouz Houz office kitchenette. We can't wait to share with you how we used them! They're a great option for your windows, but also for under counter to keep open shelving covered (like in our laundry room). Always go for a clean look!
7
Make-up & Brush Bags
I'm a sucker for cute packing essentials, and these little makeup bags are perfect for a weekend getaway. They're lined with a coated fabric for easy cleaning. I absolutely LOVE them ... in fact, I may have to get more in the pink/red checkered pattern for Valentine's Day gifts!
8
Retro Mini Fridge
We bought this in the blue color for our youngest son at Christmas. He has been begging us for a mini fridge -- in fact, he has grand plans to turn our TV room into a teenager cave (or like he says, a "man cave"). I can't think of him as a man yet! 😌 It's a cute fridge with a retro vibe, and all the colors are really fun. The blue is a fun pop of color, and he's thrilled to have a place to store all his energy drinks.
9
Smeg Mini Electric Kettle
We purchased this for the Clouz Houz office kitchenette, and it's perfect for warming water to make tea or instant coffee. I love the white color, and its retro vibe looks so cute when you can't store it away. In fact, we're just going to leave it on the counter! It would look great in your kitchen or at your coffee bar.
10
Camo Scarf/Blanket
I know I'm dating myself, but this is basically a pashmina. If you grew up in the 80's/90's, you know what I'm talking about! Nonetheless, I've been wearing it non-stop since it arrived. It's a great weight and super soft. It would be awesome for travel when you want an easy cover up, or to stay warm on the plane. I've worn mine so far with jeans, sweats, over leggings ... you name it!
11
Refrigerator Food Containers
I've been on an organizing mission since I cleaned up after the holidays. I love these for produce since they have the ventilated trays at the bottom to prevent lettuce from wilting. They also keep other veggies from browning too rapidly. They stay fresh much longer, and now I can see everything more easily when it's all in the fridge. These are a no brainer if you want your food to last longer!
12
Shark Handheld Vacuum
This is the best size, and yet powerful enough to clean messes easily. Great for keeping your car's interior clean. In addition, we have one in the office to keep things tidy. It can be stored in a cabinet, so it doesn't take up space in our very tiny office!