Here are all the details about the windows and doors we're choosing for #highdeserttumaloranch, and why we think they're the best options for this particular project!
Why we're choosing black windows and doors
I wanted to chat with you about our recent project, #highdeserttumaloranch, and the windows and doors we're choosing to install. Hopefully, this will help you if you're ever considering doing this in the future! Windows are definitely not inexpensive, so it's important to find the right style and material that fits your budget. I've been exploring a variety of options, from classic wood clad to modern aluminum and fiberglass, and let me tell you, there are many amazing choices out there! I've been very drawn to sleek, minimalist designs that allow for a lot of natural light to flood into the house. 

CLOUZ HOUZ TIP: There are many different heights when it comes to the top and bottom rail of a door. These are the parts of the door that "frame" the glass or wood of the door. In our case, we want very little top and bottom rails so they don't take away from the amount of glass in each door/window. Same goes for the stiles (these are the side pieces that complete the frame of a door). We want all these components to be as slim as possible for a very clean and streamlined look.
One style we have been particularly drawn to is steel doors with glass. Unfortunately, they are also pretty pricey, and just not in our budget right now. But, we're not ones to give up on our dreams that easily! So, we've been doing some research to find alternative options that give us the same aesthetic — without breaking the bank. We have to keep exploring our options, but if any of you have been in a similar situation, let us know your solution in the comments. We want to know!
In the meantime, let's just drool over these inspo images with gorgeous steel doors. (BTW — wait until we can reveal the #ohheyhighlands project …the windows and doors are next level!!)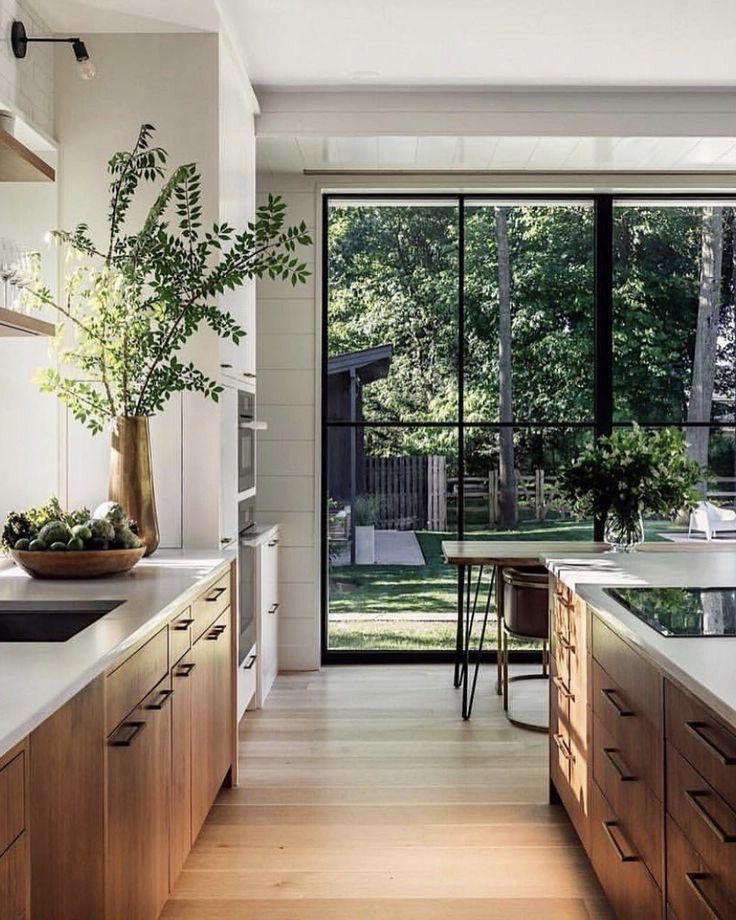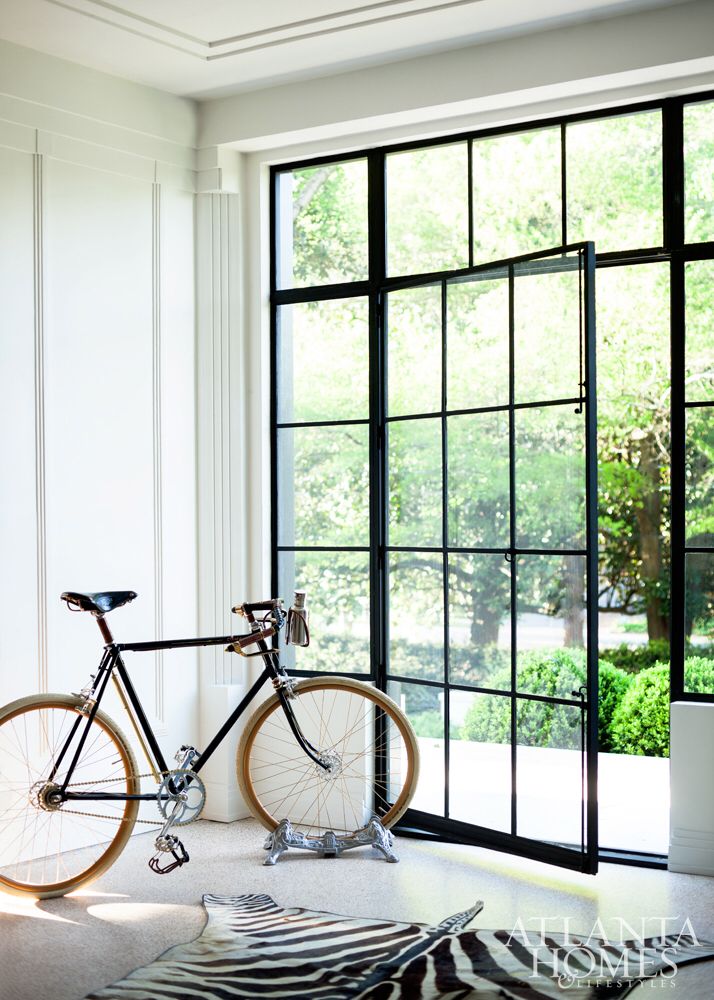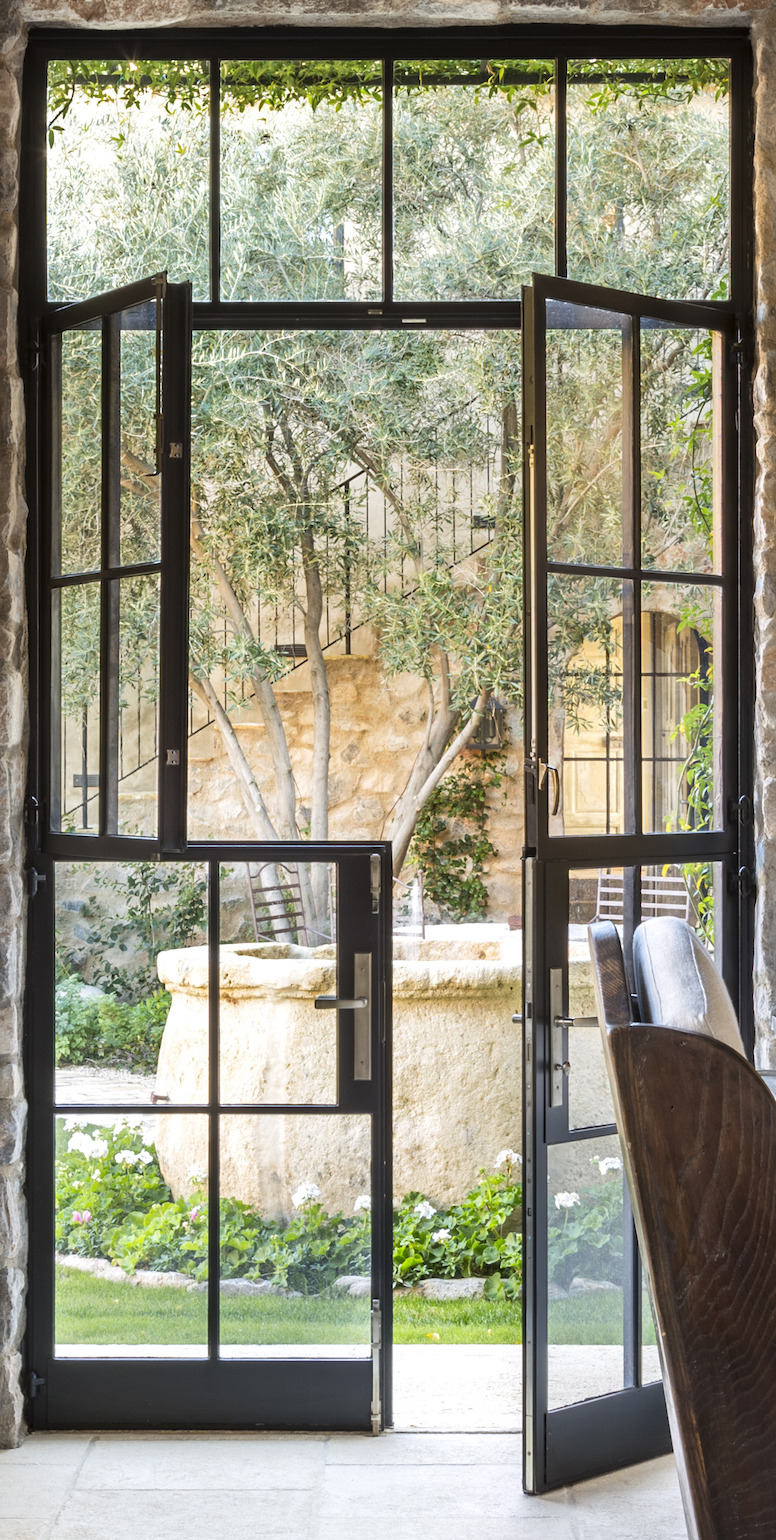 A Couple of Things to Note
One thing that really catches my eye as a designer is the feeling of openness and connectedness to nature. I just love when you can walk up to the front door and see all the way through to the back of the house, seamlessly blending indoor and outdoor living spaces. That's why I'm so excited about this particular project – it's the perfect opportunity to create that indoor/outdoor feel. It would be like stepping into your own private oasis every time you come home!
As we've been working with the architect on the design, I've been brainstorming ways to make this vision a reality. Sometimes it can be challenging, but keep at it! Thinking about the floor plan is a good start, but I'm really just pushing for a wider entryway (the front door has to be standard height due to roofline). With a full height side panel to match the door, I think we can create an illusion of more space while enlarging the overall width. I'm absolutely obsessed with the idea of walking up to the front door and being able to see straight through the living room to the stunning views beyond. Think this house has the potential to be truly special, and I hope to see this part come all together, like in these images. 🤍
I shared this house by Betsy Brown Interior Design this week on Instagram, and wow! I think, given the response, it's obvious that I'm not the only one that loves this idea for our front entry! This shows what I'm trying to achieve by adding a side light (this is a fancy way of saying a window that is same height next to a door 😉) in full glass with panes.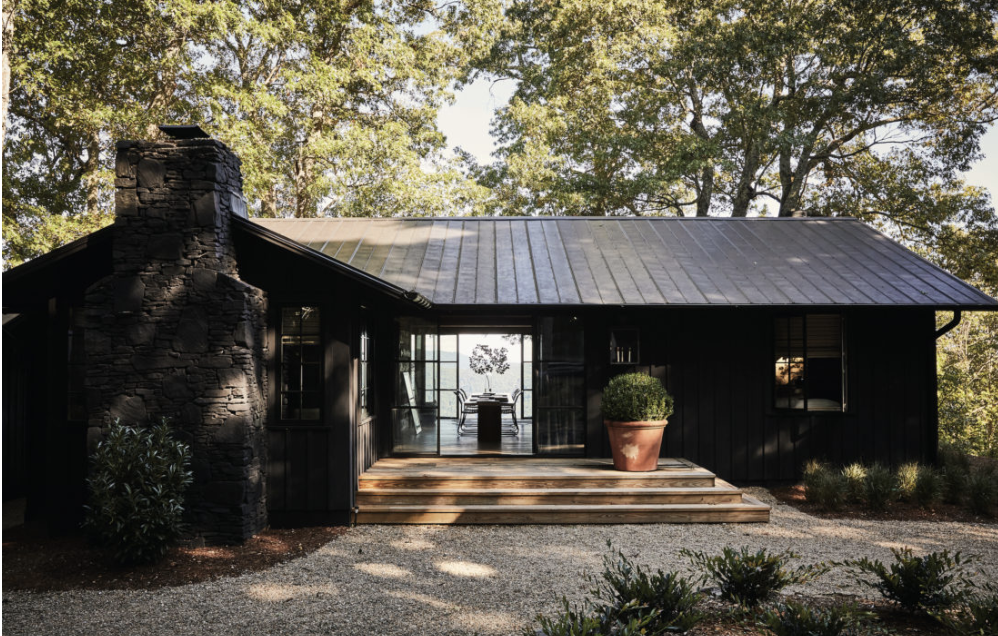 Why We Say Don't Be Afraid of Paned Windows
In our search for the perfect windows, we've been exploring a variety of options from different manufacturers. Two that have really caught our attention so far are Sierra-Pacific Windows and Doors, and Jeld-Wen. Both offer high-quality windows with a range of customization options. Music to our ears! Marvin is a brand I'm more familiar with as we have used them in the past, so we'll definitely be looking into their offerings as well. Because, you know, getting multiple bids is what we do 😂
One thing we know for sure is that we want a black interior and exterior finish for our windows. We just love the edgy and refined look it creates. We're also leaning towards a simple grid pattern for divided light panes, since we want something that's classic and timeless. AND — this is key — we aren't just choosing black windows because we see them everywhere. It's because with the panes, we want them to "recede" … or basically just "go away" when you're looking through the windows and doors. Don't be afraid to add panes to your windows! They won't obstruct the view if you go with black, versus if you do a white or wood interior. Those could actually be more distracting when looking through them to see the view.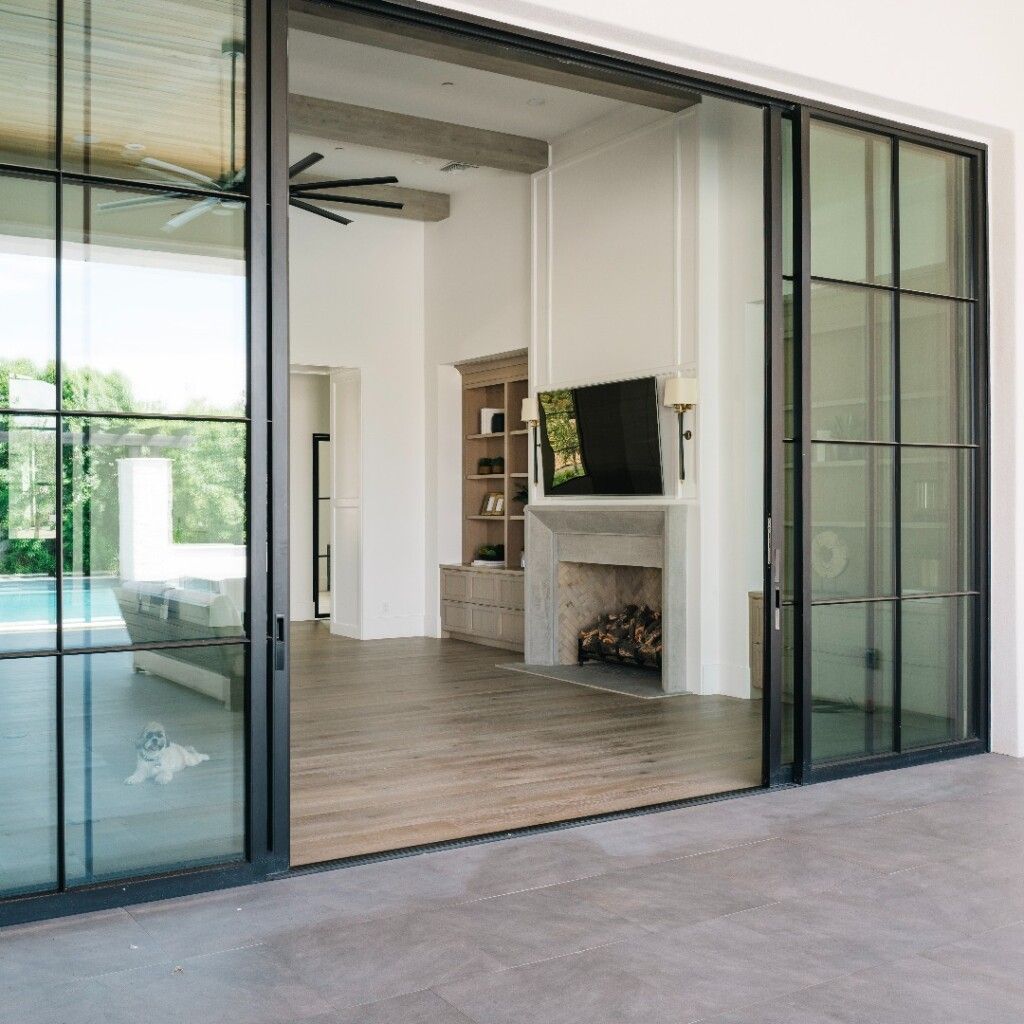 Why We Want Sliding Doors vs. French Doors
Our plan is to add three sets of sliding doors off the back of the house: one in the living room, one in the rumpus room, and one off of the primary bedroom. These doors will be slightly different in size, with the largest being in the living room. But, they all share the same goal: to create a connection between the indoors and outdoors (as if you aren't already tired of me saying this 😂). And, not to mention, space. With swinging doors (most often you have your exterior doors swinging in), they can bump into furniture, and you need to accommodate that when you're laying out the furniture. Our spaces aren't that big, so I need as much floor space as possible! 
We really just want to add as much glass as we can to each of these spaces. It allows natural light to highlight the already stunning views of the surrounding area. It's all about creating a sense of continuity to blur the boundary between indoors/outdoors. I mean, who doesn't want to wake up to the soft glow of the morning sun creeping through your floor-to-ceiling windows, right? 
On that note, let's end with this photo from one of my all time favorite designers, Lauren Liess. She continues to be a constant source of inspiration for me. I love this great room image from her Horse Country Modern project — these doors and the views out back are just pure heaven. Can't wait to share more on where we land with this very big decision for our project!