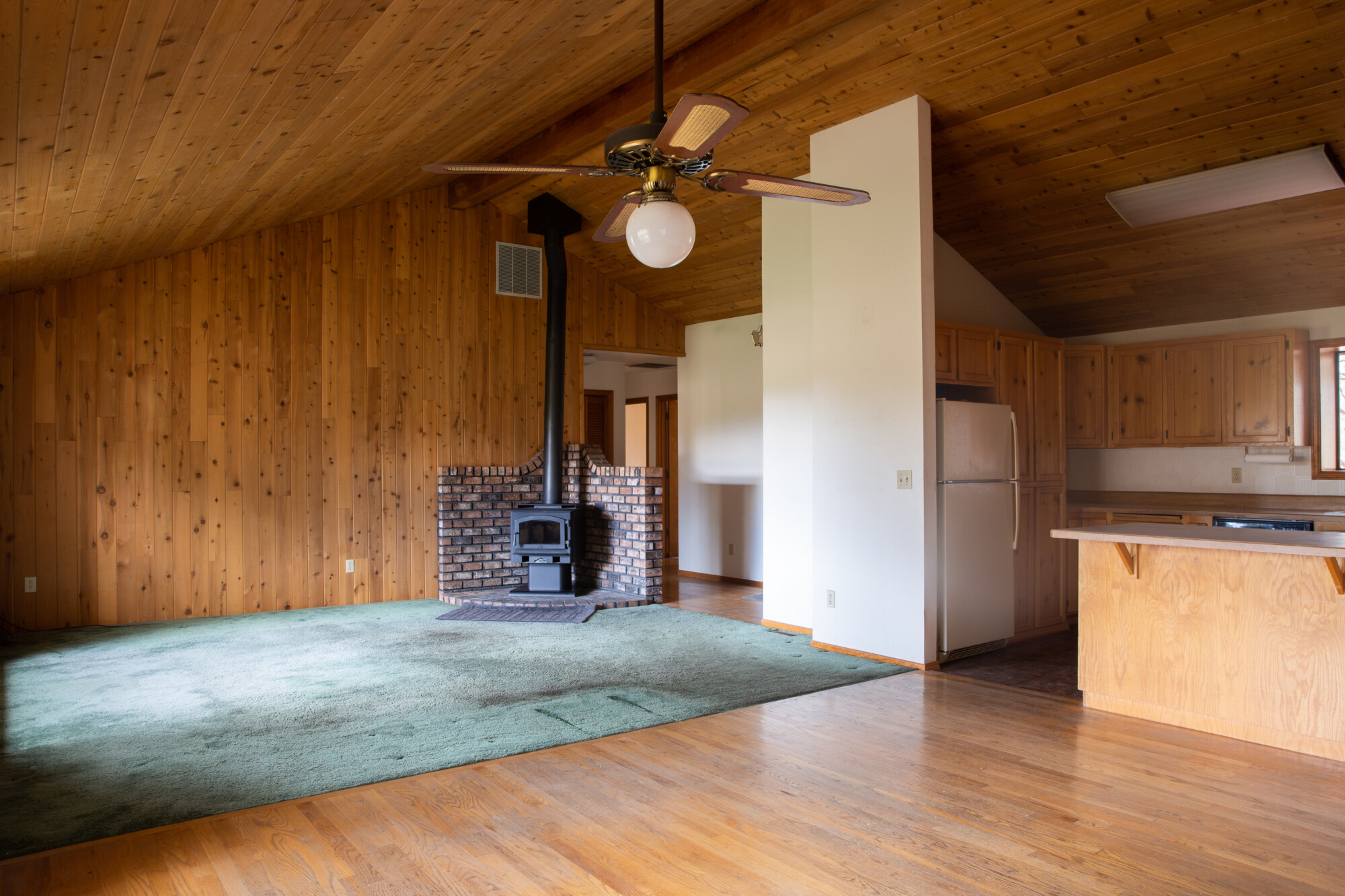 Did you see our big announcement today? We've decided to move into the Tumalo Project after the first phase of the renovation is complete! The key words are "first phase." There are many reasons why we've decided to make this house ours for a few years, but the main one is that we see a huge potential to make it really amazing. As Derrick says, why wouldn't we want to move here — the views are so so good! We're very excited to make this our temporary home, and put in all the fabulous touches … Clouz Houz style!
Sooo let's talk about the living room: the main hub of this home.
We've been dreaming of designing the perfect mix (is there such a thing??) of rustic, modern, and earthy natural style vibes in a room together. And, the time is finally approaching for us to start turning our dreams into reality! With the living room just off the kitchen, it's going to be used as the primary living, entertaining, and "lounging around" area of the house. It'll be a place to come and just chill, and take in the breathtaking landscape views out back. 
Keep reading for an idea of my thought process regarding how to bring this living room into this century by giving it a fresh and current aesthetic.
Get A Feel For Our Vibe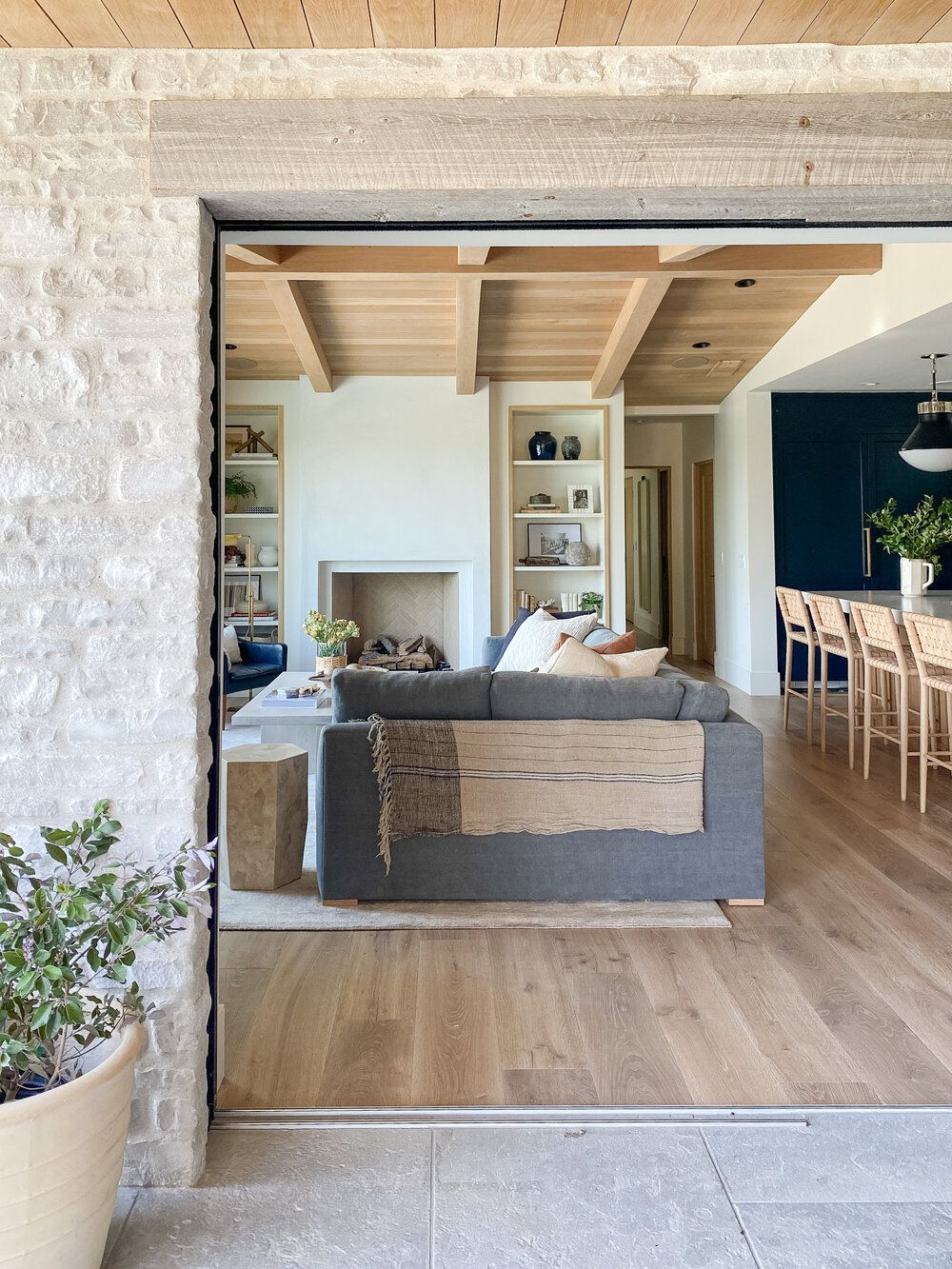 We're envisioning a cozy, inviting space with  casual and deep-set cushioned seating, a large area rug, and plenty of natural lighting. It'll be the perfect spot to entertain friends and family, to curl up and enjoy a good book, or to work on our laptops by the fireplace!
But first, let us quickly address the elephant in the room and say that we have decided against a TV in this space. Yep, you'll need to trust me on this one. Believe me, I wasn't sure about this decision, and while I'm sure that there are many reasons to have one off of the kitchen, we will be putting one in the Rumpus Room that is just off the living/dining area. (Stay tuned for more detailed info to come on that space.) 
Since we want the living room to have multiple uses, we'll need to be flexible with how we purchase and arrange the furniture to maximize the close-quarters.
Here's A Game Plan for Everything We Want
---
Fireplace Surround Options
Let's start off with the main attraction of the room: the fireplace.
We mentioned previously that we're considering a double sided fireplace insert. I think this could be a really beneficial way to open and brighten up the space. And, what we finish it with is still to be decided, but I have some ideas to throw out there. 
Here's a look at some of our favorite options for finishes.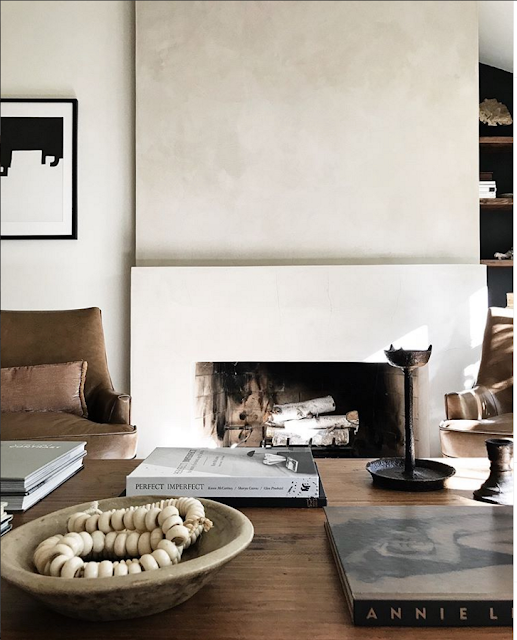 01. Plaster for the Living Room?
I love the clean lines and simplicity of this option! It would bring in a subtle, industrial texture, while still creating a luxurious look that would add a touch of class to the room. This house is going to push me out of my comfort zone in terms of how I would normally design such a large fireplace. However, I think with the high and drafty ceiling being such a focal point, I want the fireplace to compliment it but not necessarily compete against it.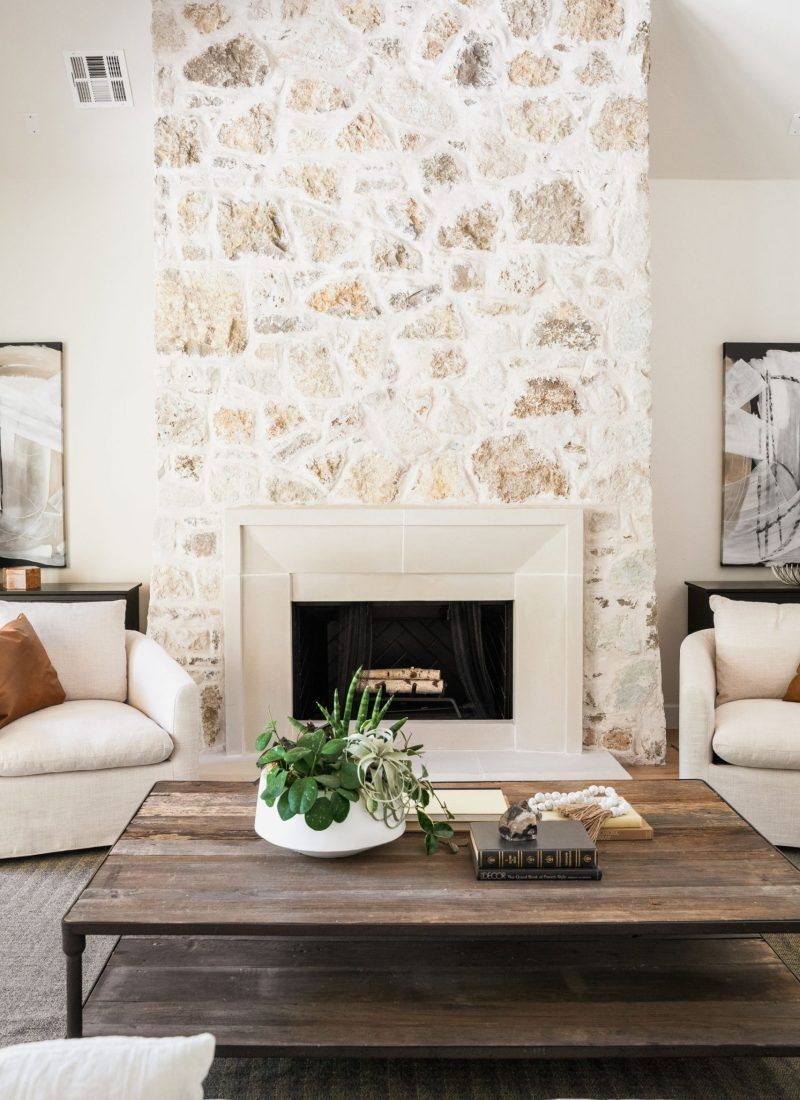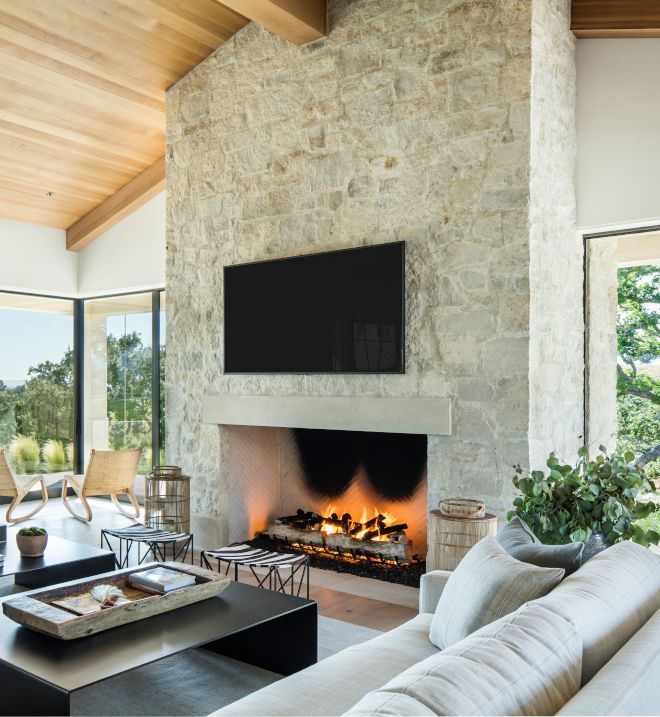 02. Stone or Tile
I love a natural aesthetic for this house — anything that feels earthy. With a variety of colors, textures, and styles, there is sure to be something that will really bring outside energy into the living room. Both options could provide a timeless and rustic feel, while still pairing nicely with other materials like wood.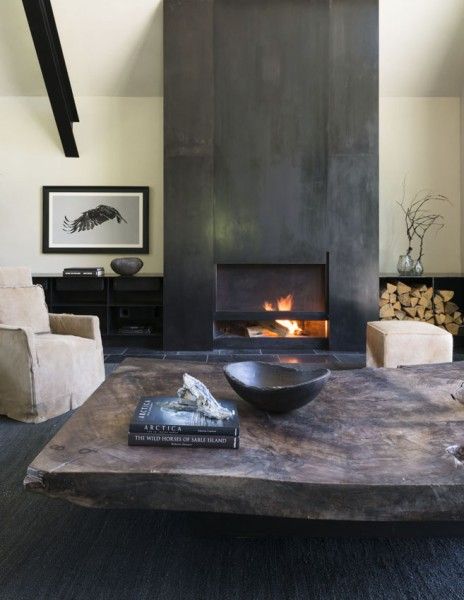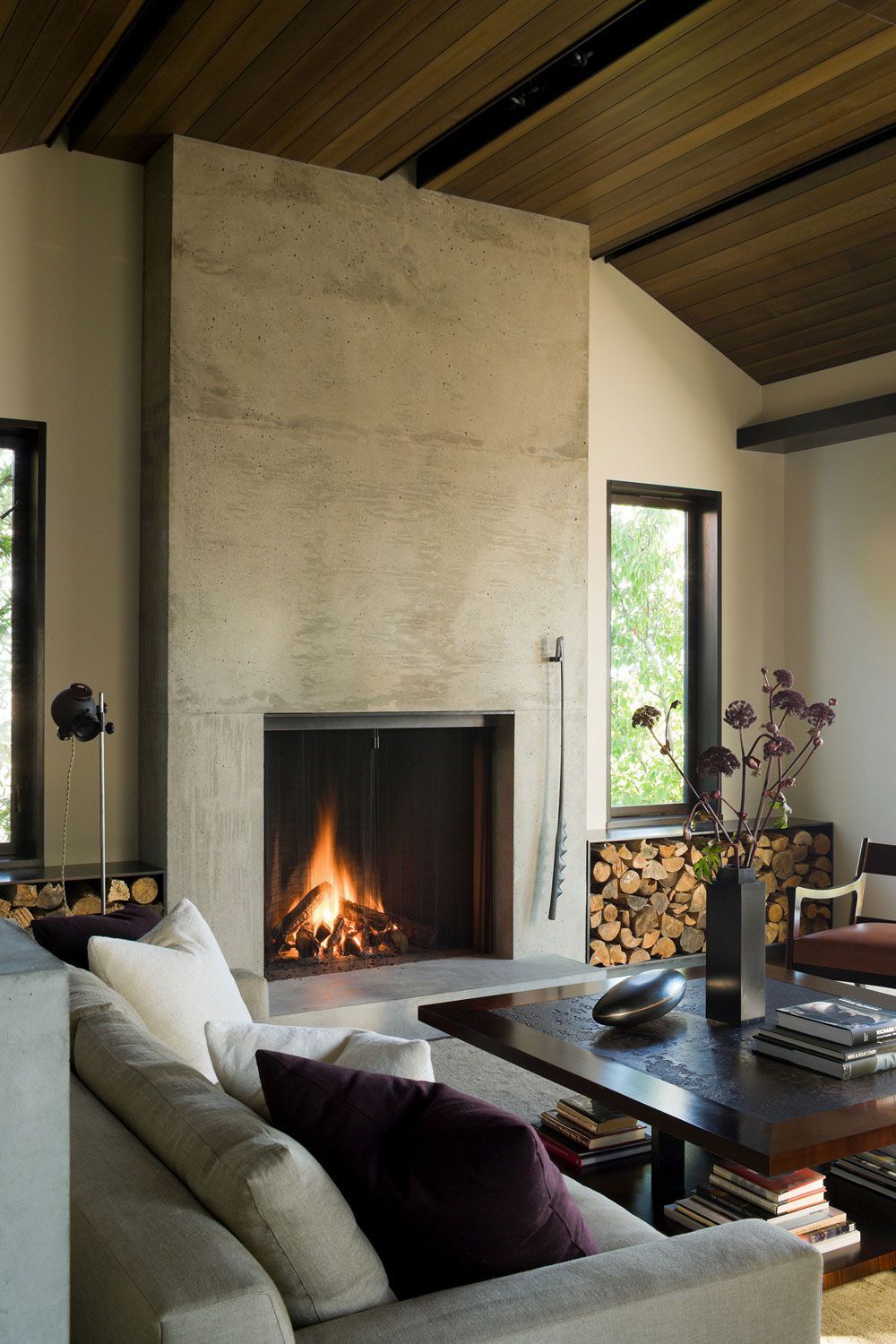 03. Concrete (or faux concrete?)
Concrete is very similar in aesthetic as the plaster option, but I love how concrete finishes are on the rise and offer a modern touch to any space. I really enjoy (and sometimes prefer) a sleek and simple appearance. You know the saying, sometimes "less is more." I love the idea of keeping it airy and light, but a part of me always has the urge to go the high contrast route and stain it dark. I'm all for the drama of the dark, but maybe that would be too heavy for this space? Ugh, I'm torn! One thing is for sure, and that is that we'll definitely add a wood burning insert.
Faux concrete is also a cool concept and another viable option. The finishes are typically made from a variety of materials such as panels, tiles, and even paint, which are used to mimic the look of real concrete. Sounds like a great DIY hack to me!
---
My Thoughts on Furniture
The layout will be conducive for a cozy spot to sit by the fire and visit with family. It's not a big space, so we'll be somewhat limited on what we can fit there. A great way to make the most of a smaller space is to incorporate multi-functional furniture. 
I've always loved double-sided chaises as they are perfect for napping, but not so great when it comes to entertaining. Since they do provide plenty of seating for entertainment purposes, I was thinking a combo would be a good solution. A double-sided chaise paired with a couple of swivel chairs and a big coffee table would make the area feel inclusive and well-utilized. The chairs would make it easy to turn and converse with guests, while the coffee table would provide a convenient spot for cards and snacks. I can already picture it being the perfect night by the fire, enjoying a home-cooked meal and playing some games.
How Do We Warm Up the Space?
With all the natural earthy tones and textures of materials being used, we need to find ways to warm up the space and not make it feel so stiff. Cozy fabrics, a big vintage inspired area rug and lots of soft, plush throws never fail to make a room more homey. Maybe a couple of furry poufs thrown in would help to give a fun look, plus some extra seating.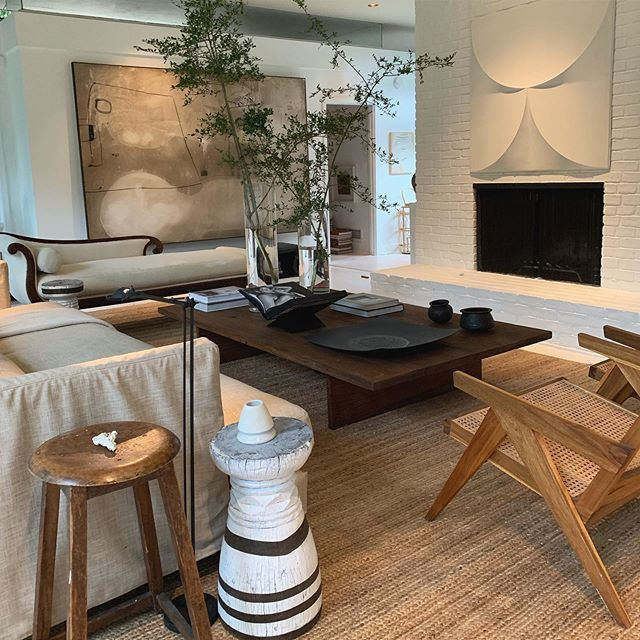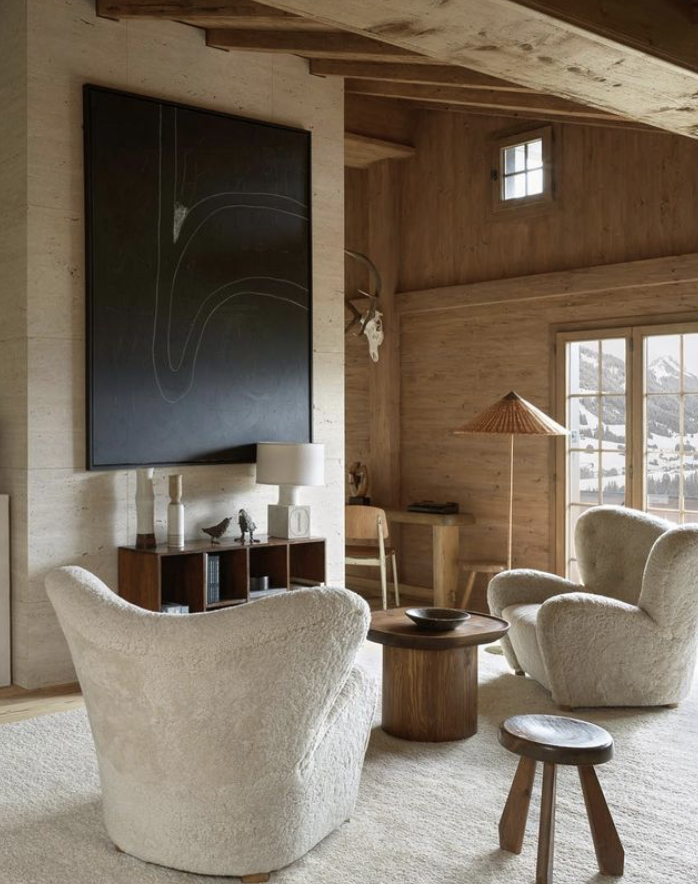 ---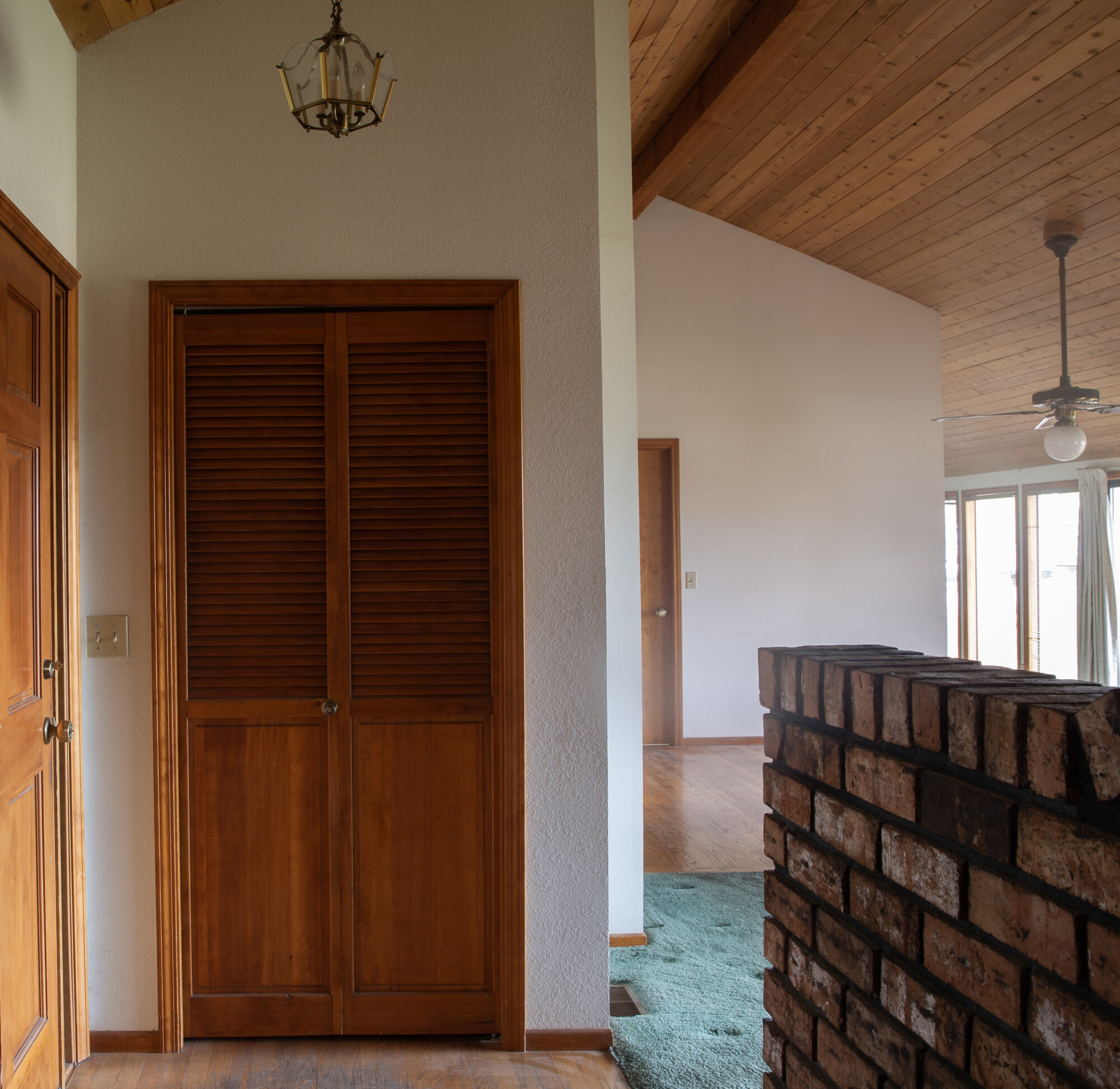 Additionally, I pose the question: How to define an entryway with so little room?
There isn't a proper entryway in this house. The front door opens right up into the living room, so we will just have to make do with what we have in this area. My first thought was that I needed to come up with some way to create a transition zone from one area to the other to break up the spaces. 
So, my goal is to find a spot, either a corner or a wall, where we can put a console or bench and create the illusion of an entryway without actually having one. Make sense? Ha! I am going to have my work cut out for me to figure out these details, but we'll be removing what was the coat closet to the right of the front door to make more room. This will help to create more possibilities for the entry.
I love the idea of a floating console such as this one!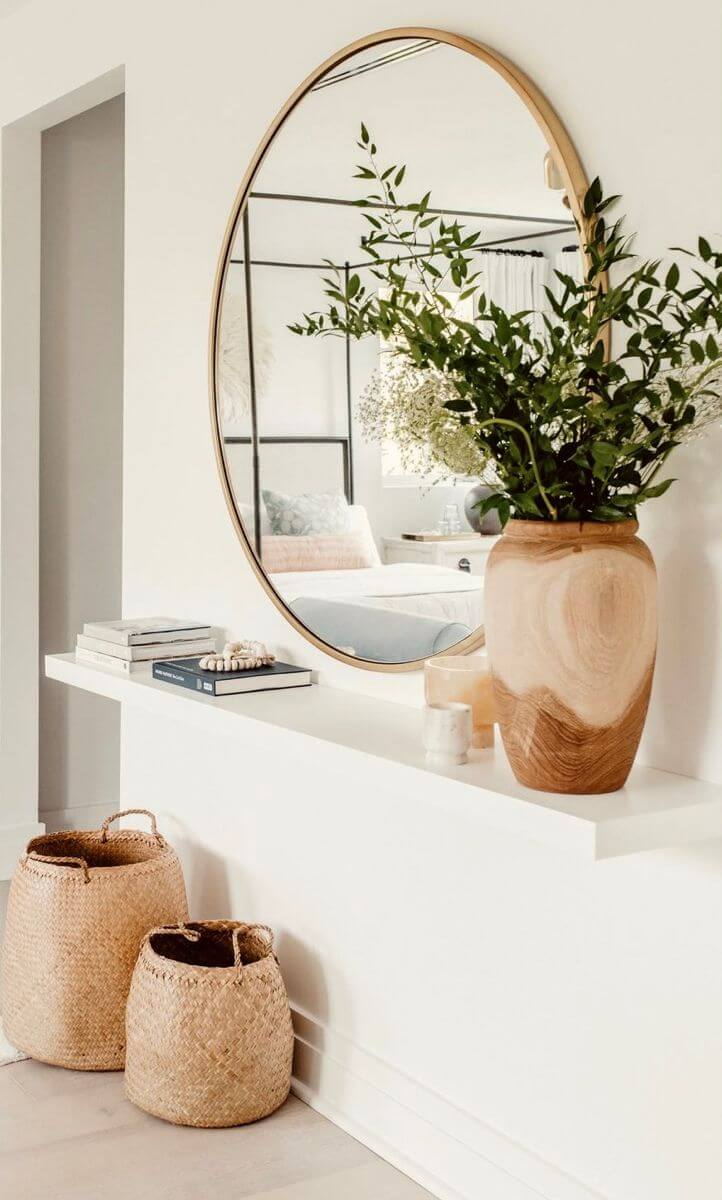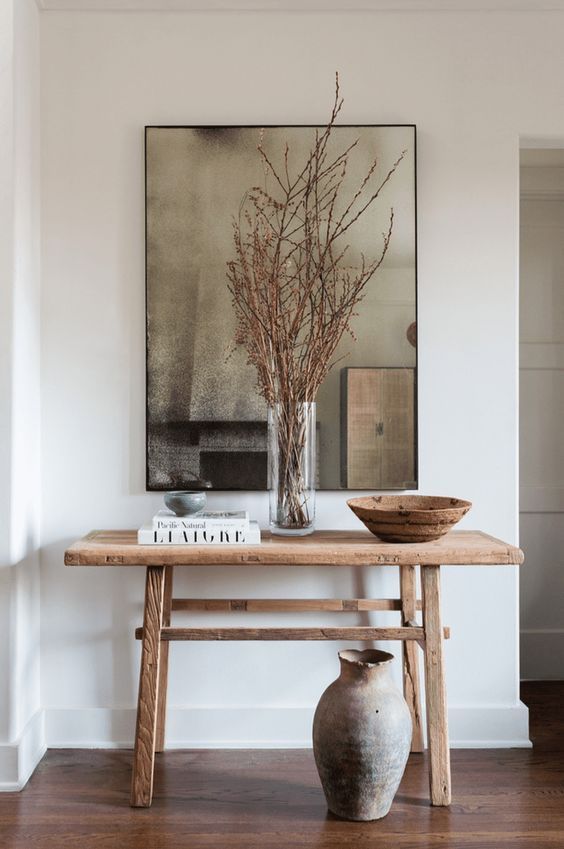 ---
Doors We're Considering for the Living Room
You've heard us going on and on about the spectacular view from the back of the house. Well, I'm sure it'll come as no surprise that we'll be adding french doors, or sliders, to the living room. These will lead out towards the backyard. We want to capitalize on the landscape for this property and make the space feel bigger however we can! Here's some inspo for what we're considering.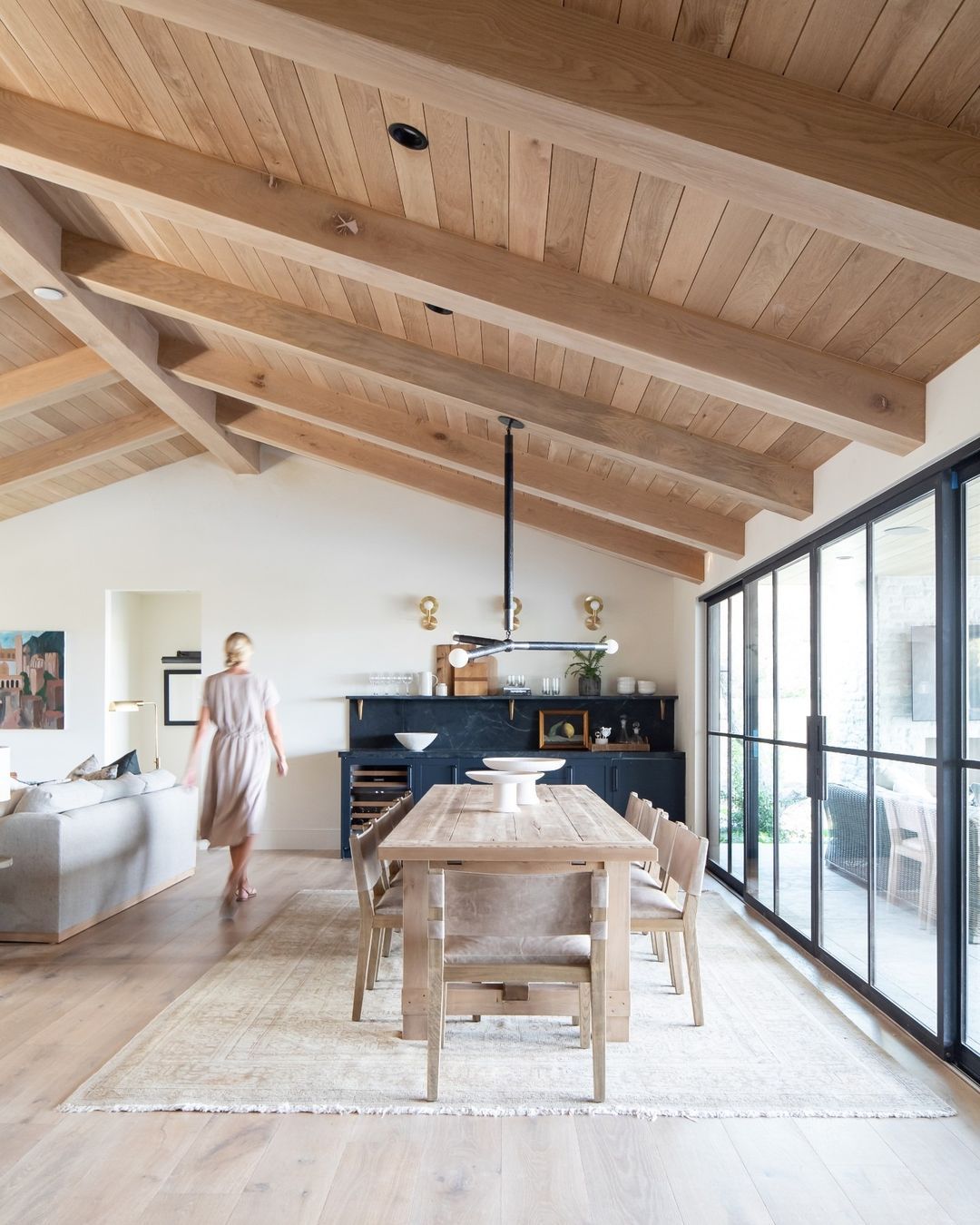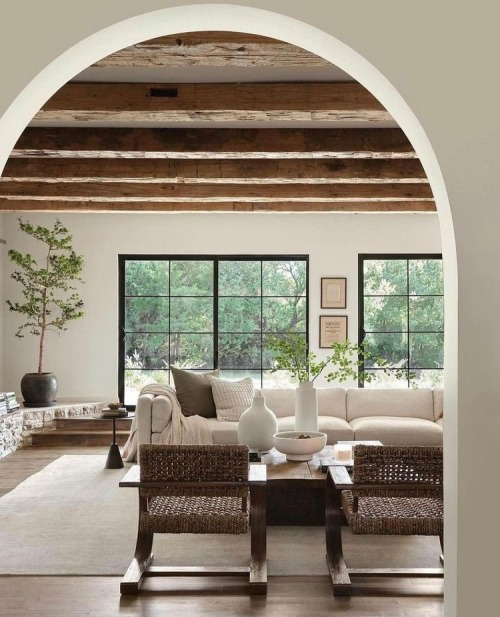 I love the minimalist feel of those window styles. Do we do paned or no pane? That is the question! After seeing this inspo pic, I am now in awe at the way they make the outside look as if it's an image captured in a picture frame. How beautiful! So, there you have it. Please let us know what you think. We can't wait to share this transformation! Fingers crossed that we get our plans approved and permits in the works so we can start implementing all our ideas!