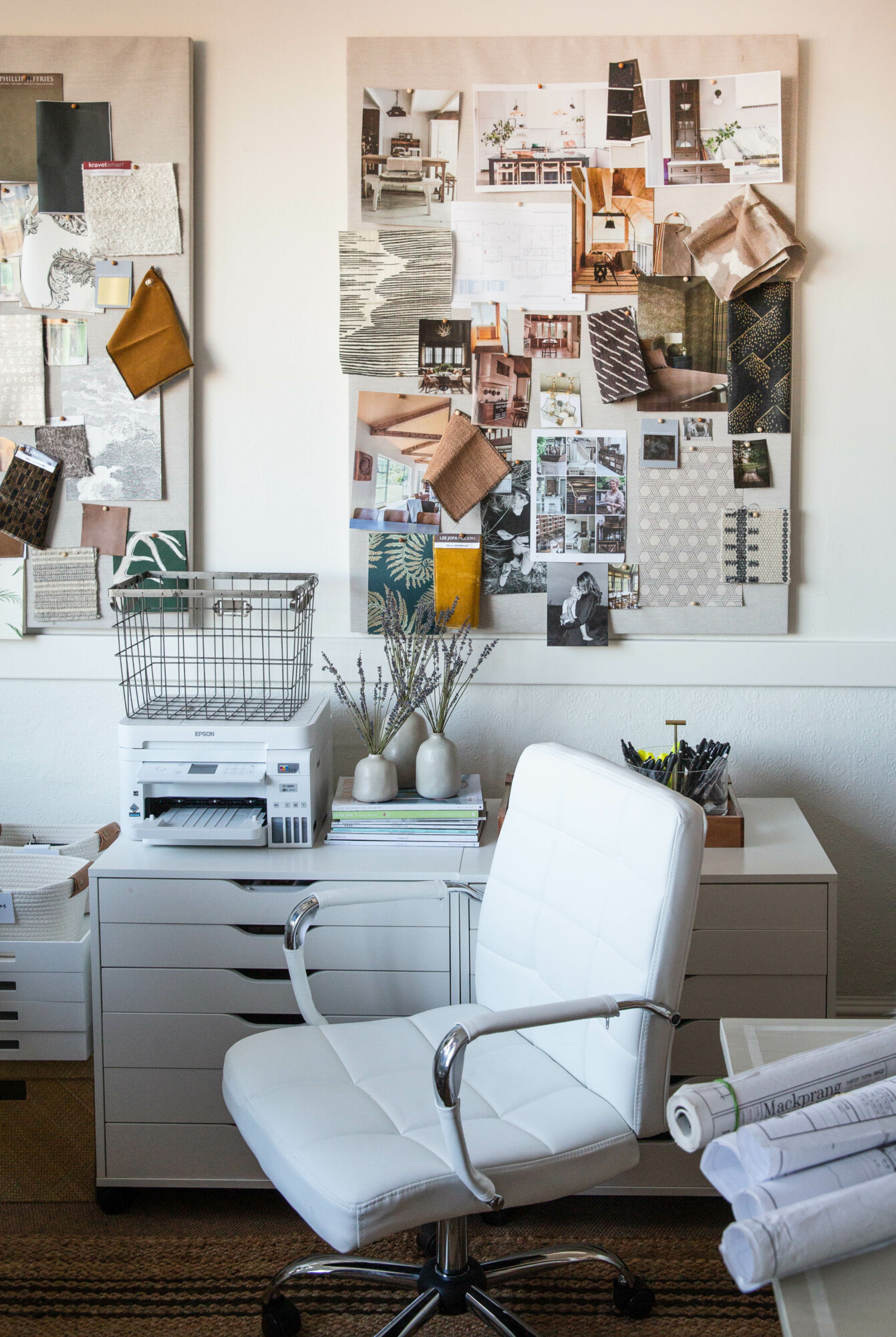 When we set out to revamp our little design studio in the historic Okane Building here in Bend, we had our work cut out for us. For one thing, we knew we needed to capitalize on storage since the space is approximately 210 square feet!
So, here are some things we did to organize the studio, and give the space a little refresh. We wanted it to be not only a great place to work and be inspired, but also a comfortable space in which to meet with clients for presentations and meetings.
Our little space may lack room, but it doesn't lack charm! We're loving how it came together.
Step One: Organization
Let's be honest, a design studio holds lots and lots of samples, materials, catalogs, architecture plans and more. How do you keep them all organized and sorted so that when you need to find something, you can do so easily?! If you are anything like us, we'r more productive in a tidy and organized space than in total disarray. We can be more creative and efficient if things have a "home" and are easy to access. This is the same for a home office. Don't you agree?
Organization is very, very important, especially in a small space. We don't have a ton of room, so we needed to be smart with containers that hold all of our sample library. We used these baskets, which come in three different sizes. They're perfect for sorting all different samples of different sizes. We have the small size for mosaic tiles, the medium size for fabrics, and the large size for large format field tiles and catalogs. In addition, we used these wipeable labels that clip on the baskets, and we handwrote each basket's contents. You can easily wipe this off and re-label if samples and contents change.
We used the IKEA "Alex" drawer unit on casters to hold supplies and client project materials. They're the perfect size, and we love the ability to use them for different purposes. We used these drawer inserts to organize supplies such as a tape measure, stapler, binder clips, tape, rulers, pens, pencils etc. So handy!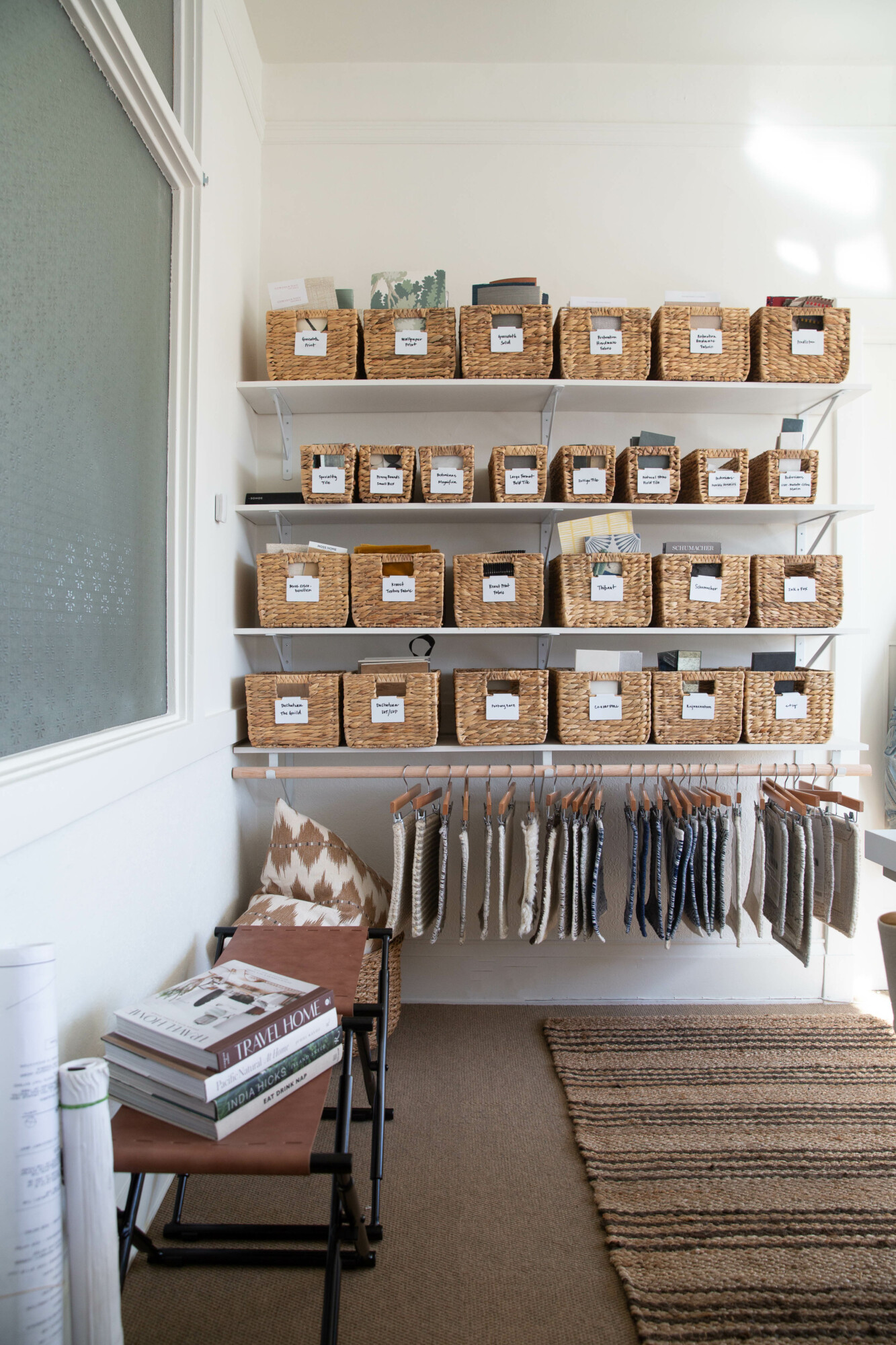 Step Two: Furniture + Decor
With a small office and a team that currently consists of three people, we knew we needed a desk for each of us, along with a large table for laying out presentations and meetings. We chose these desks and love the simple profile and size. They are on wheels which makes for easy mobility, and the white finish is perfect for creating a really clean, fresh feel. We have a black one in our son's bedroom as well, and we love it! It's a great value for the look. Highly recommend for any home office or nook where you need a spot to check emails, pay bills, etc.
We used a large vintage dining table that we've owned for years as our conference table. I found it on Craigslist and had it refinished, and we love the look and feel it brings to our office. We found these chairs to go around the large table, and they're comfortable yet fit our aesthetic of neutral, clean and simple.
These cute leather stools are a great place for clients to drop their coats and bags since we are limited on wall space for coat hooks! They are so cute, and would be a great option in a bedroom at the foot of the bed.
This rug is from a collaboration between Rugs USA and my favorite designer, Lauren Liess. I absolutely LOVE it! It has a chocolate brown stripe running through a natural jute material. A perfect addition to add a little texture and warmth to our space. I would recommend this as well for an entryway or mudroom — it's great for a high traffic area. It hides everything!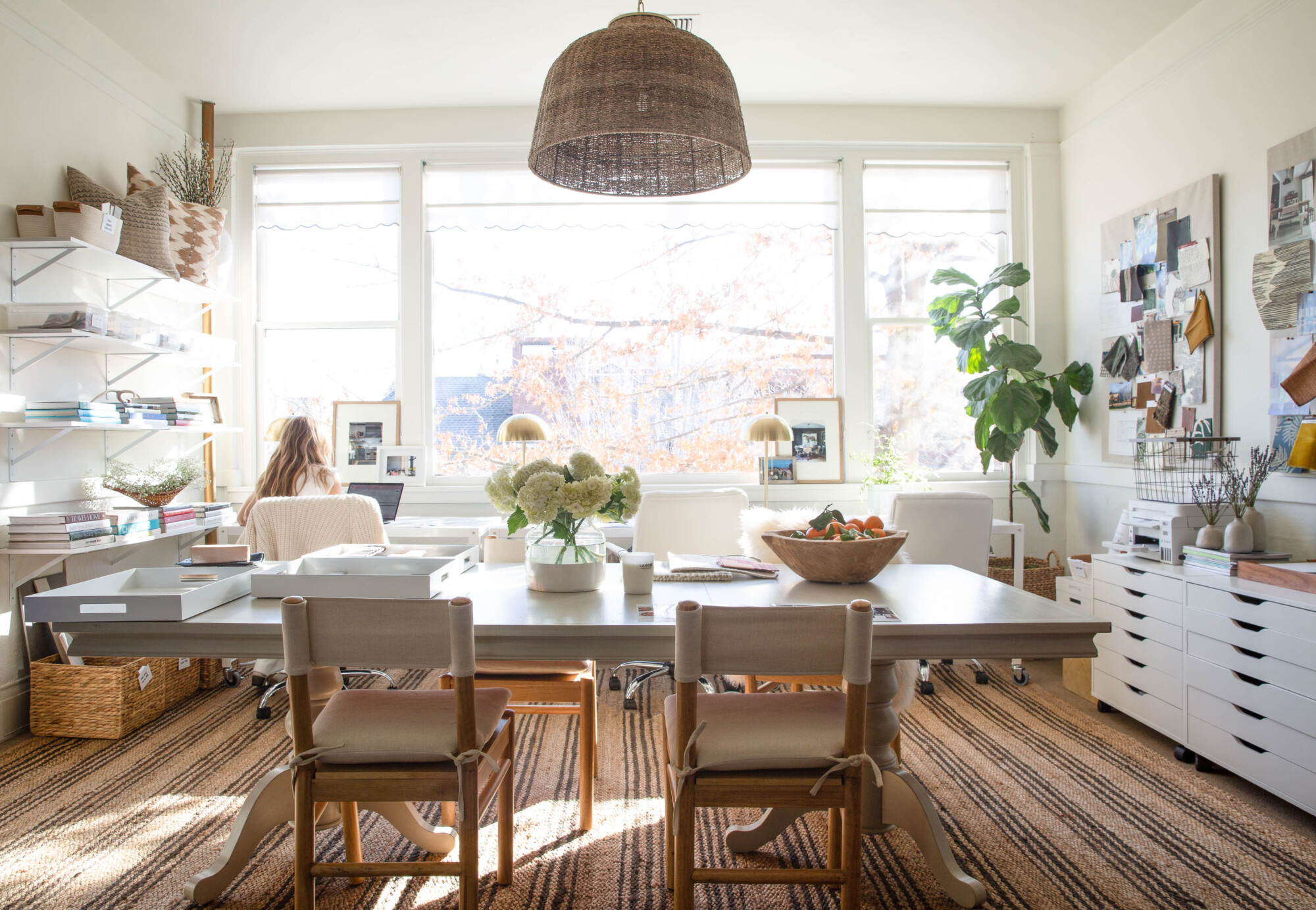 Step Three: Lighting
We used this large pendant light for over our conference table, and it exceeds all expectations! It's from the Studio McGee Collection for Target. The scale is large, and perfect for over a dining table. I could also see it in a large vaulted bedroom over a bed! It's really good, and we're really happy with it.
For the desks, we added these table lamps, also from Target. They are really cute and a great dupe for more expensive versions I've seen. I also love the chains for turning them on/off — it's a nice little detail.

Step Four: Setting up an Office "Honor" Bar
Let's be real … we all need a place to grab a snack and a drink! So, we turned our little kitchenette into a spot where we can store a mid-afternoon snack. And for client meetings? Well, we like to offer a cocktail, a glass of bubbly or a cup of tea. We have a mini fridge stocked with all the things: sparkling water, prosecco and soda. It also happens to hold our lunch leftovers!
This electric kettle is ideal for making instant coffee and tea, and we love it! It's so worth the investment, and it looks really cute on our counter. We added this tray to display cocktail mixers for that after work cocktail with clients 🙂 And this shaker, shot and spoon are a cute set to leave on the counter with the cocktail fixings.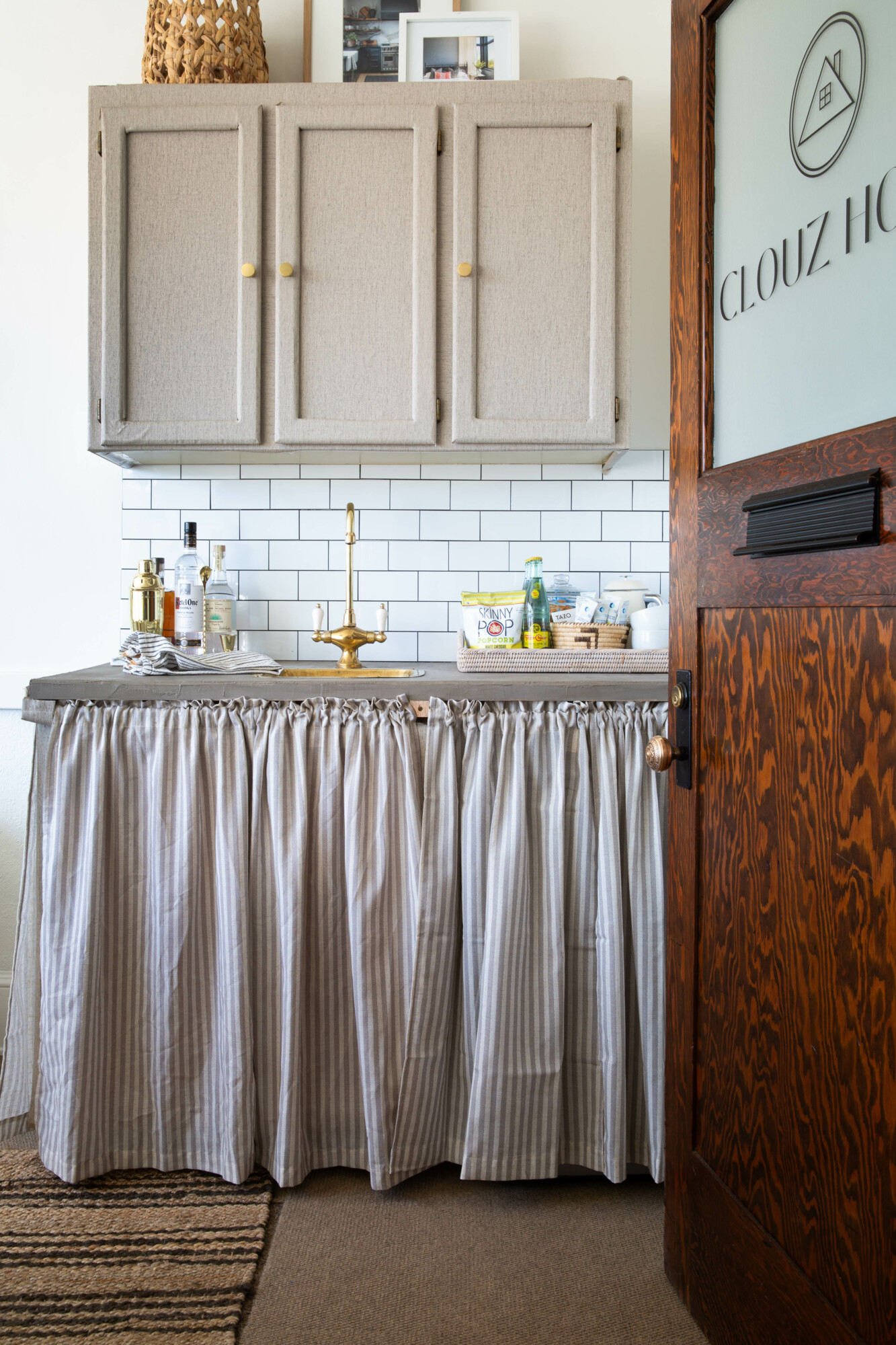 So, there you have it … a big tour for a very small space. But we're so happy with it, and we're ready to tackle 2023 in our new design studio. Come visit! We would love to see you! 🥂