Two Palettes for an Earthy, Rustic Kitchen: Paint and Wood Stains
Brushing Nature's Rustic Palette
Hello design darlings and rustic re-imaginers! Today, we're rolling up our sleeves to create some kitchen magic. Ever been torn between the warmth of natural wood and the allure of a fresh coat of paint? Well you're not alone, and that's why we're here 😌 On today's design journey, we'll explore not one but two extraordinary kitchen palettes that'll satisfy your style cravings. From the timeless elegance of white oak cabinetry to the bold strokes of organic-colored painted cabinets, join us on a rustic rendezvous that'll leave your kitchen transformed!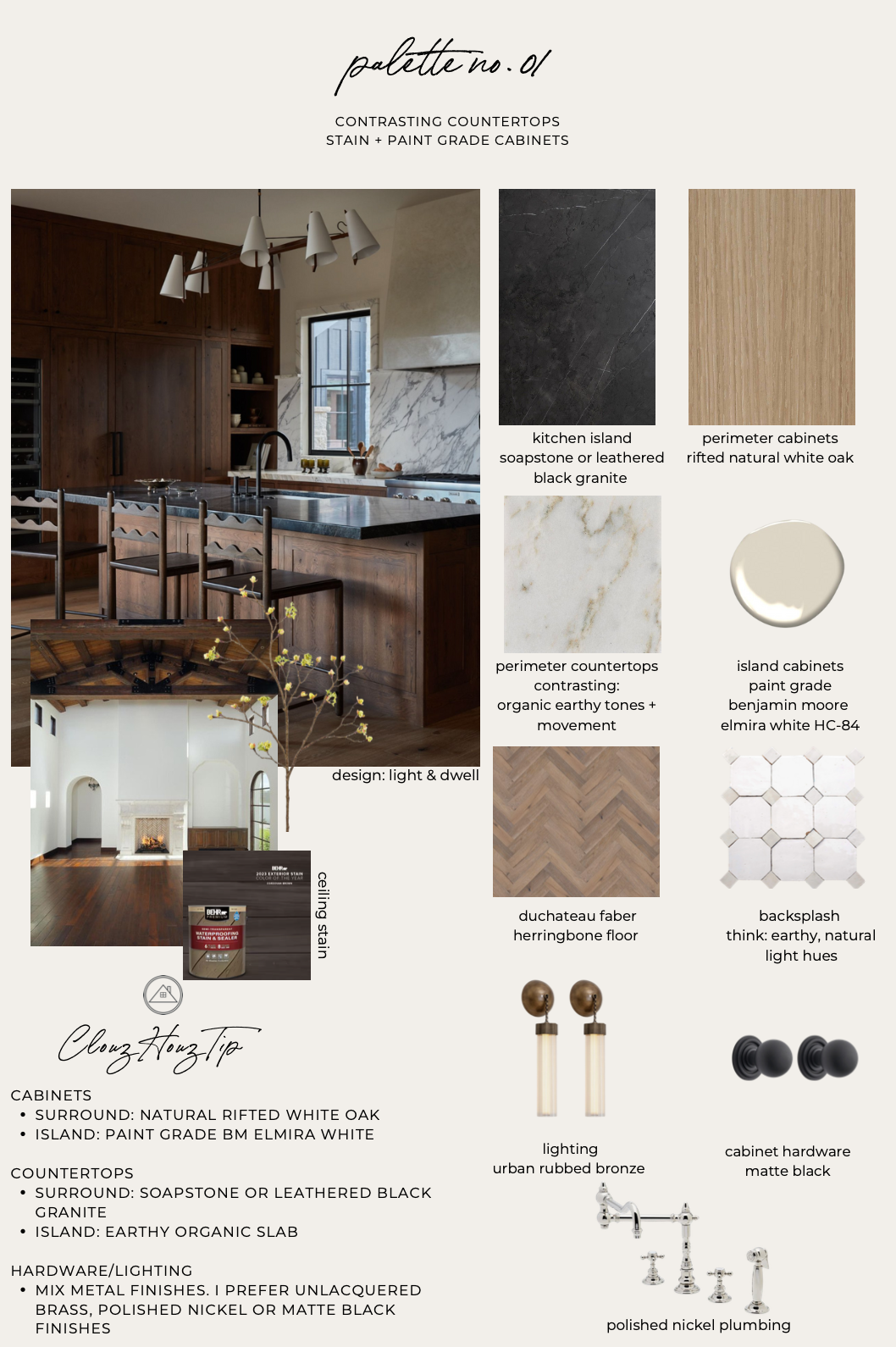 Choosing the Right Oak: Rift vs. Regular White Oak Cabinets
As a designer who's always looking for that perfect blend of rustic charm and timeless elegance, I have a soft spot for the natural beauty of white oak cabinetry. When it comes to white oak, there's a delightful choice to make: rift white oak or the good old regular white oak. What sets them apart you might ask? Well, it's all in the way they're cut, which gives each its unique personality. 
Rift White Oak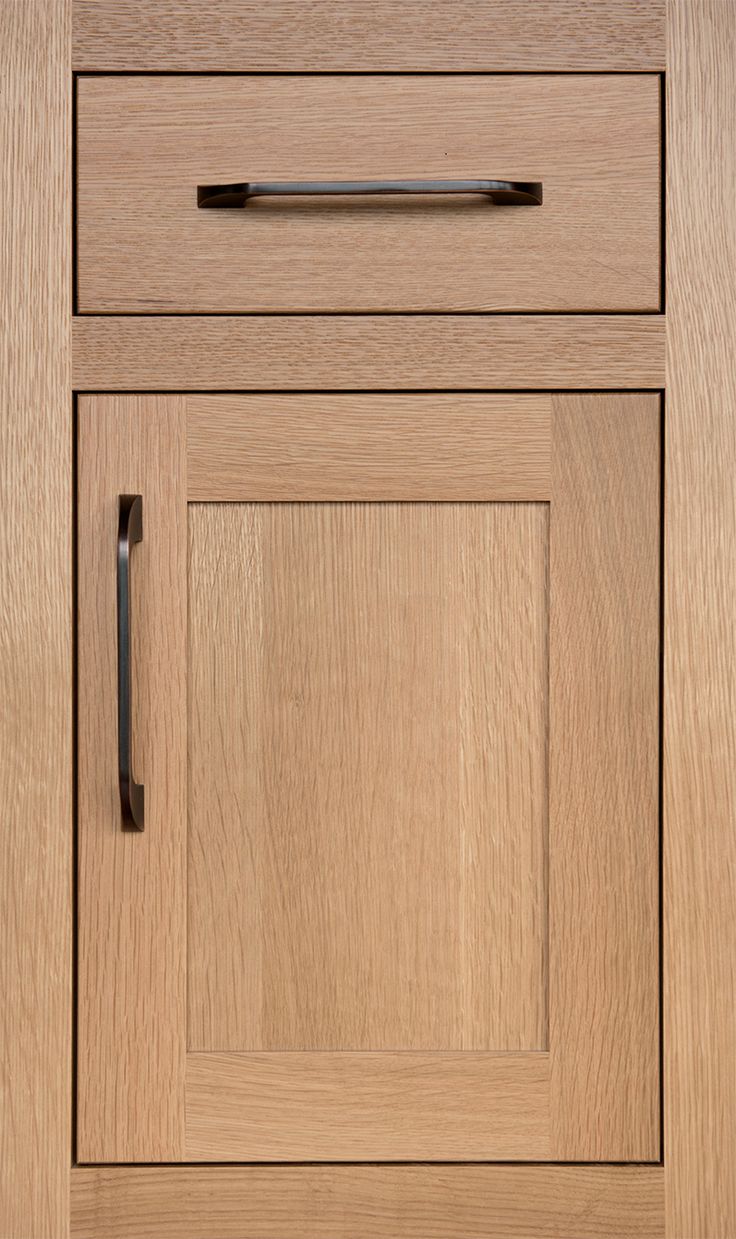 Picture this: straight, consistent grain patterns that run parallel across the surface. This cutting technique, aptly named 'rift,' creates a mesmerizing linear effect that's a hallmark of classic, no-fuss elegance. 
But, you might wonder … what are the pros and cons? Well, it exudes a refined, clean look that's perfect for minimalist and rustic kitchens alike. The straight grain adds a touch of sophistication. Con? Some might find it a tad formal for their taste, but I say it's all about personal style! 
Regular White Oak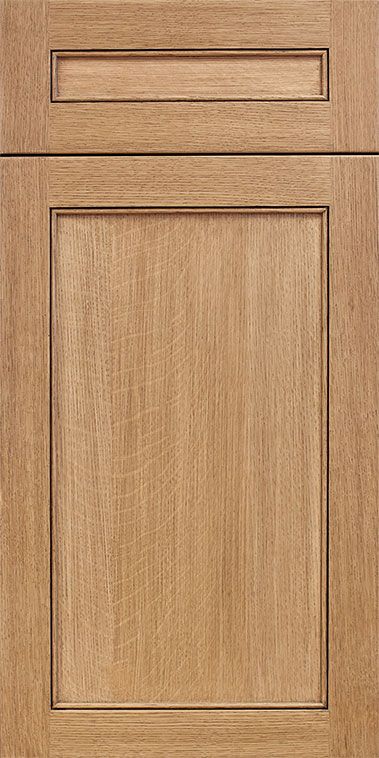 Now, if you're seeking a more relaxed, welcoming vibe, regular white oak might be your cup of tea. The grain pattern here dances freely in various directions, giving it a more casual, organic feel. It's versatile, adaptable, and adds a touch of cozy character to your rustic kitchen. Also, the dynamic grain pattern brings life and warmth. If you're a stickler for symmetry, the freewheeling grain might not be your jam. 
I've recently spent quite some time researching and experimenting with various wood staining techniques for the ceiling over at Tumalo. It feels like I've delved into endless research, exploring a myriad of techniques and possibilities to achieve that perfect rustic look. So, let me share what we've discovered!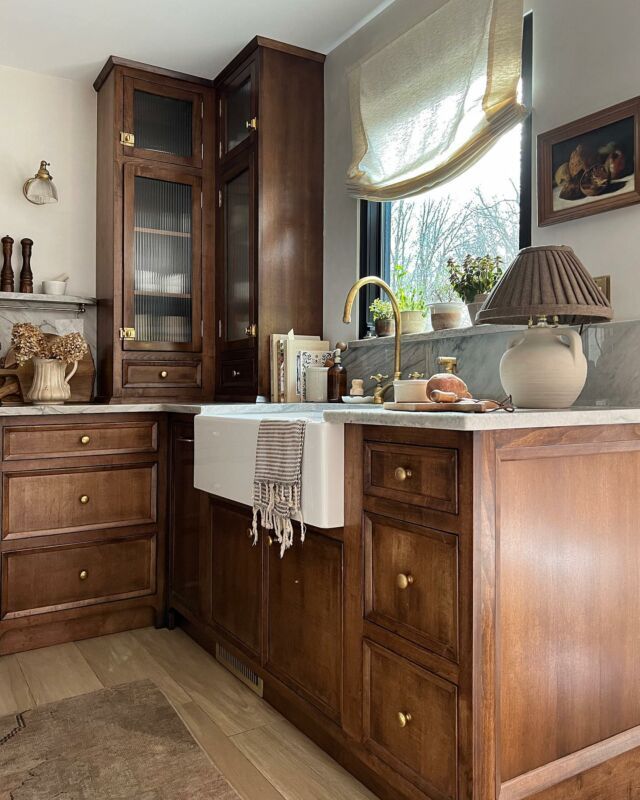 source: Bre Bertolini
Our Favorite Rustic Wood Stains
Miniwax "Weathered Oak"

Miniwax "Early American"

Behr "Cordovan Brown"
Now for the fun part! To amp up the rustic charm of these oak cabinets, consider introducing organic or earthy colors into the mix. Maybe it's a striking green backsplash, a captivating terracotta tile, or the timeless allure of natural stone countertops. These earthy elements not only compliment the wood, but also provide that delightful contrast that elevates the entire palette. So, whether you lean towards rift or regular white oak, know that both are equally beautiful choices for your kitchen canvas. 
 
The Art of Earthy Painted Cabinets
If you're craving a touch of artistic flair in your kitchen, let's dive into the second palette: painted cabinets. These offer a canvas for creativity and allow you to set the mood for your culinary haven. Why? Because they bring a burst of color and personality into the heart of your home, turning it into a space that's not just functional but a feast for your eyes. Remember, whether you opt for soft, muted pastels, earthy tones, or bold, vibrant hues, painted cabinets have a way of instantly transforming your kitchen's ambiance. 
But, their beauty goes beyond aesthetics. Painted cabinets are also incredibly versatile, adapting to various design styles and themes with ease. And, they can infuse a touch of vintage charm, create a contemporary edge, or even evoke a sense of coastal serenity. This depends on the colors and finishes you choose. 
Here are some of our top-pick paint colors to help you achieve the rustic and earthy look you desire in your kitchen. These hues have been carefully selected to harmonize with wood accents, creating delightful visuals that encapsulate the essence of your style.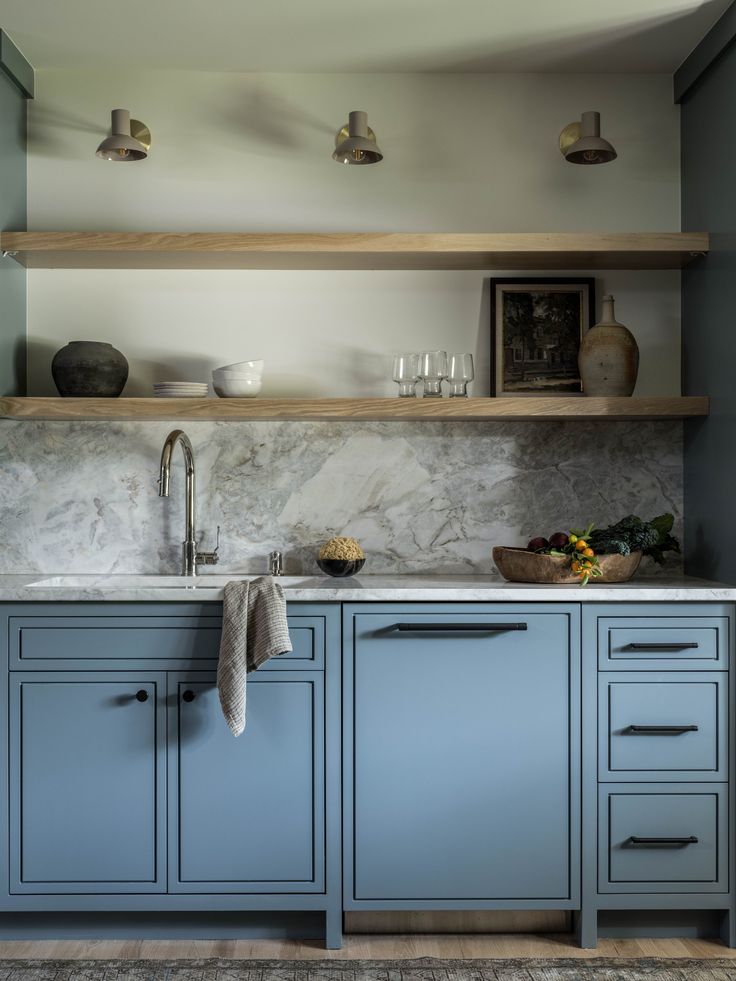 Source: Yond Interiors
Our Top Earthy Paint Colors
Farrow and Ball "Green Smoke"
Farrow and Ball "Drop Cloth"
Farrow and Ball "Hay"
Benjamin Moore "Coriander Seed"
Benjamin Moore "Adirondack Brown"
The Beauty of Combining Painted Upper Cabinets with Stained Lower Cabinets: Rustic Charm
Want to create a kitchen that effortlessly marries rustic charm with artistic flair? Consider the intriguing combination of painted upper cabinets with stained lower cabinets. This design choice strikes a perfect balance, offering both visual appeal and practicality. 

Clouz Houz tip #1: Prioritize stain-grade for lower cabinets
One key advantage of opting for stain-grade lower cabinets is their durability. Of course, lower cabinets tend to endure more wear and tear, with people occasionally bumping into them or kicking the base. And, stain-grade wood doesn't readily show chipping or damage like painted cabinets, making it a functional choice for these areas. This not only adds longevity to your kitchen, but also maintains its pristine appearance. 

Clouz Houz tip #2: Budget-friendly painted cabinets
If you're working with a tight budget, it's worth noting the material used for painted cabinets is typically less expensive than stain-grade wood. So, consider the option of painted cabinets throughout your kitchen, using the budget-friendly material for construction. 
To maintain that inviting, organic vibe, introduce earthy elements elsewhere in your kitchen design. This way, you achieve a cost-effective solution while still capturing the essence of nature.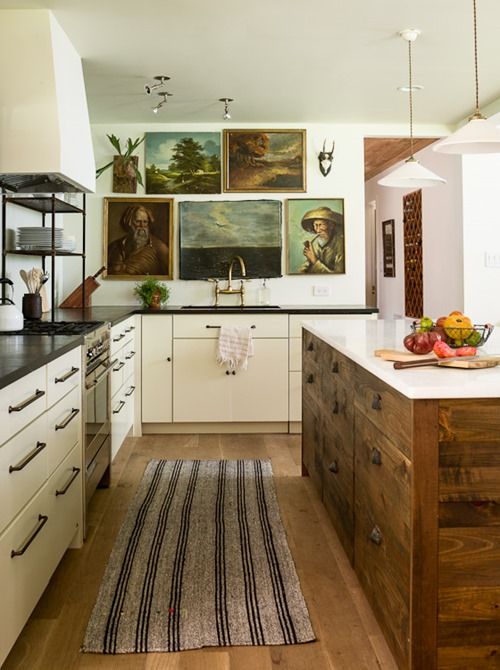 The Realm of Rustic Kitchens
Whew! We've journeyed through the realm of rustic kitchens, and boy, what a ride! From the elegance of the white oak to the rustic charm of painted cabinets and the genius fusion of both, it has been a recipe for success. Remember, your kitchen is like a seasoned chef's secret ingredient. What's that you ask? Well, it's a dash of creativity here, a pinch of practicality there, and voilà, you've got a space as trendy as it is unique. So, go ahead: mix and match, paint and stain, and let your kitchen take center stage. Bon appétit and happy designing!