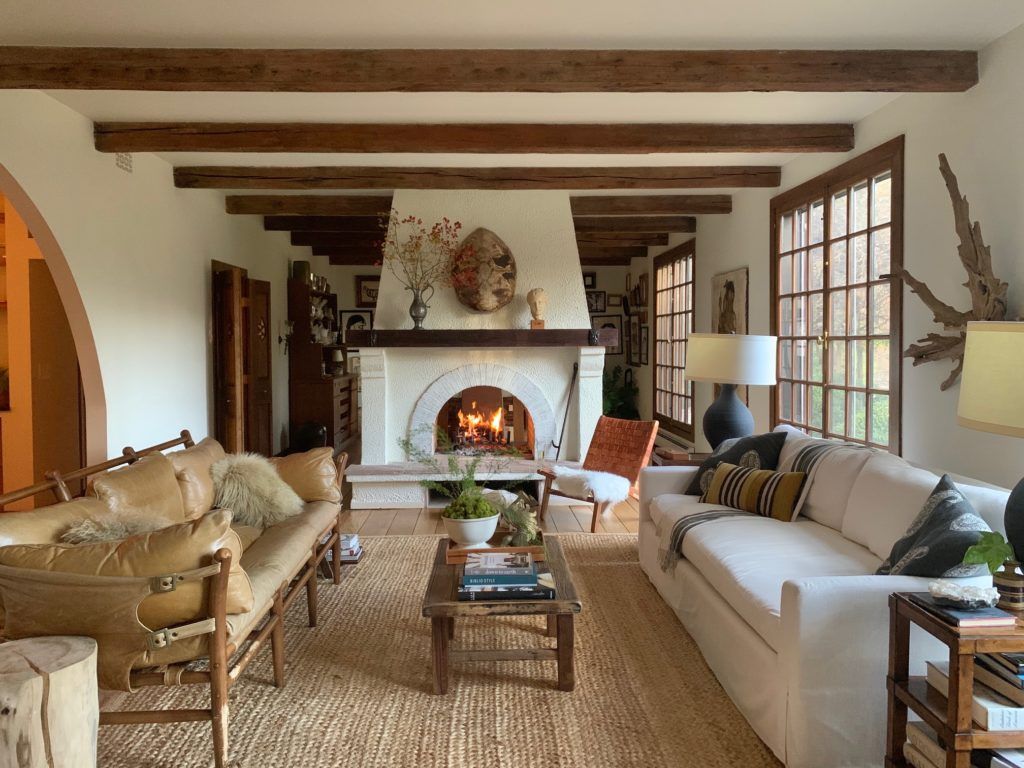 It's time for an exciting update on our latest project: the Tumalo primary bath remodel!
If you've been following along, you know that I've been on the hunt for inspiration and struggling to find the perfect direction for this space. Well, guess what? I've finally discovered the key to unlocking my creativity, thanks to the incredible Lauren Liess and her relaxed interiors. They epitomize a purposeful and meaningful life, and they inspire me! 
Lauren Liess has long been one of my design crushes, and her book "Feels Like Home" has become my go-to source for inspiration. Within its pages, I stumbled upon a quote from her "The House in the Woods" project that truly resonated with me. In Chapter 6, aptly titled "Embrace Imperfection," she reminds us to let go of the pursuit of perfection and instead focus on doing our best and forgetting the rest. She encourages us to stay busy with real life, not obsess over our projects, and not sweat the small stuff. Isn't that just what we all need to hear sometimes? I know I do! 
Armed with this newfound mantra, I've decided to take this Tumalo Ranch project as an opportunity to push myself out of my comfort zone and experiment with design elements I haven't tried before. And where better to start than with the primary bath? This space has always posed a challenge for me, but I'm ready to tackle it head-on.
The Materials and Design Details
01.Stone
One of the exciting aspects of this project is the opportunity to explore completely new design elements. One such element is the incorporation of soft stone for the wet room. The smooth and tactile nature of soft stone brings a sense of luxury and elegance to the space (they are amazing to walk on!), elevating the overall aesthetic.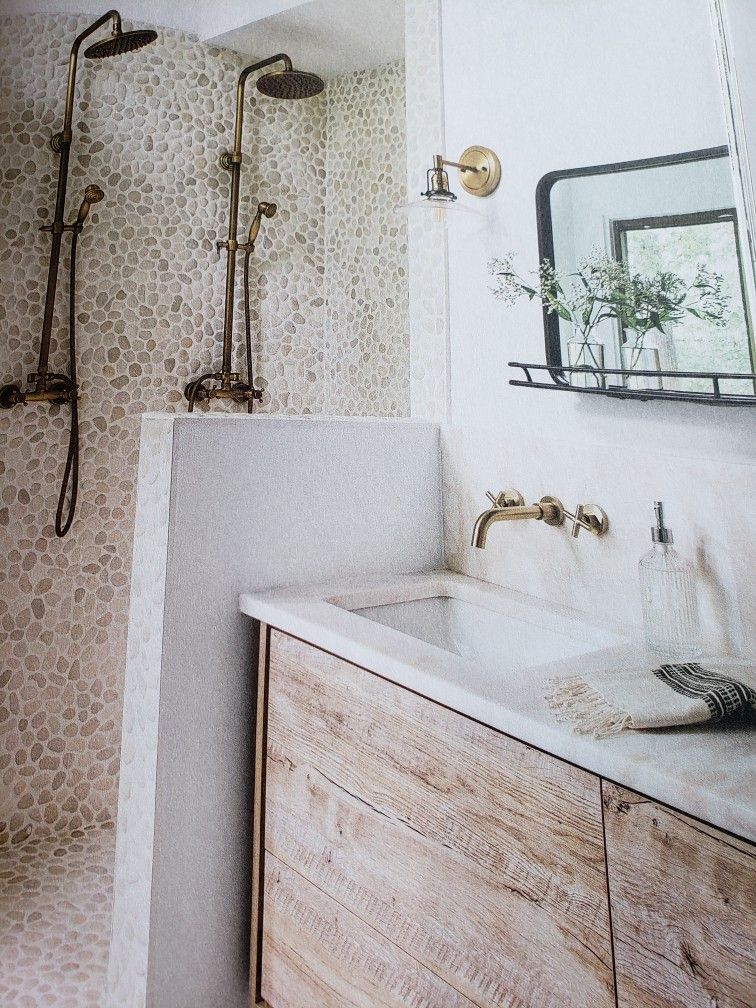 02. Storage Solutions for the Primary Bath
Now, about the functional component! I know it's not as fun, but it's important to talk about, especially in a smaller sized primary bathroom. For the first time, we'll be introducing his/her vanities which will provide individualized storage and personal space. To make the most of this limited space, we've come up with a clever solution: adding wicker baskets to the open shelf beneath the vanity. These baskets will serve as stylish storage options for items like hair dryers, hot tools and towels, keeping the countertops clear and organized. We've never experienced this layout before, but I already think I'm going to love it! It's these small details that make this project so exciting.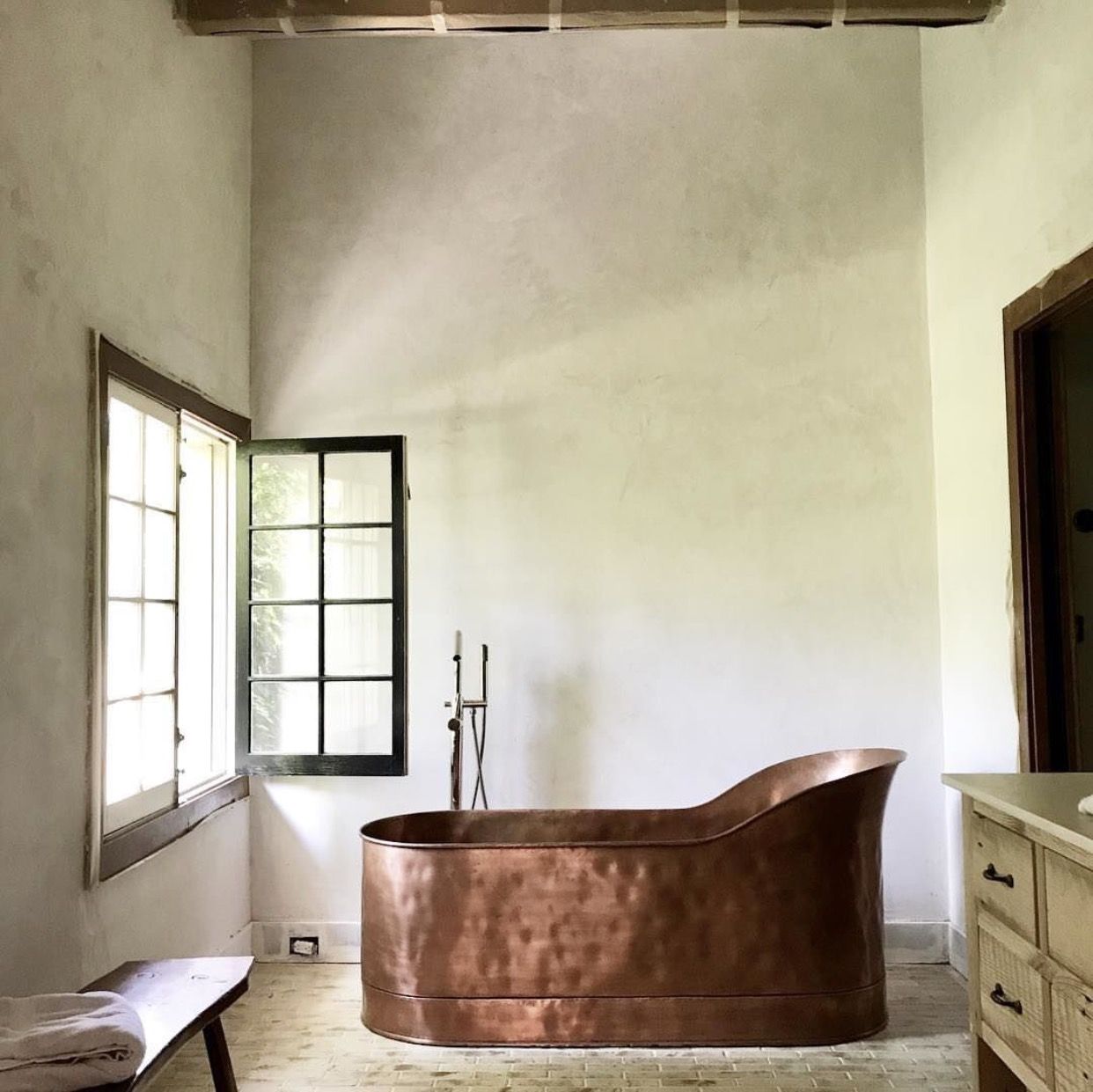 Source: Lauren Liess
When it comes to designing a bathroom with limited space, one of our go-to solutions is to add recessed medicine cabinets. These functional and space-saving gems are absolute lifesavers. By installing the cabinets directly into the wall, we maximize storage without sacrificing valuable square footage. It's amazing how much can be tucked away behind those sleek mirrored doors, from toiletries and medications to skincare essentials! I can't wait to see how these cabinets seamlessly blend functionality and style in the remodel. 

Clouz Houz tip: Limited space? Add a recessed medicine cabinet. This concept has been around for ages, and continues to be the perfect mixture of function and appeal. There are so many good ones out there … check out our favorites below!
03.Wall/Ceiling Treatment
When it comes to creating a cohesive and visually appealing home, it's essential to consider the overall textural program. In the case of the Tumalo Ranch project, we're taking it a step further beyond the soft stone in the wet room walls and flooring. To add depth and interest to the space, we've decided to cover the walls with vertical tongue and groove paneling. This classic architectural feature not only adds a touch of rustic charm, but also brings texture and warmth to the room. The vertical orientation of the paneling creates a sense of height and adds visual interest to the walls. And why stop there? We're even contemplating extending this texture to the ceilings. It's all about creating a home that feels both harmonious and visually stunning from every angle.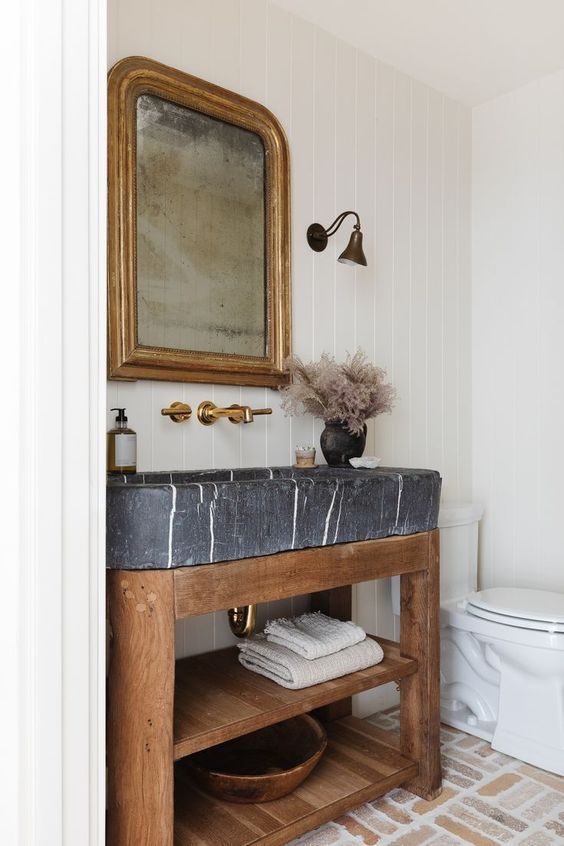 Source: Amber Lewis Interiors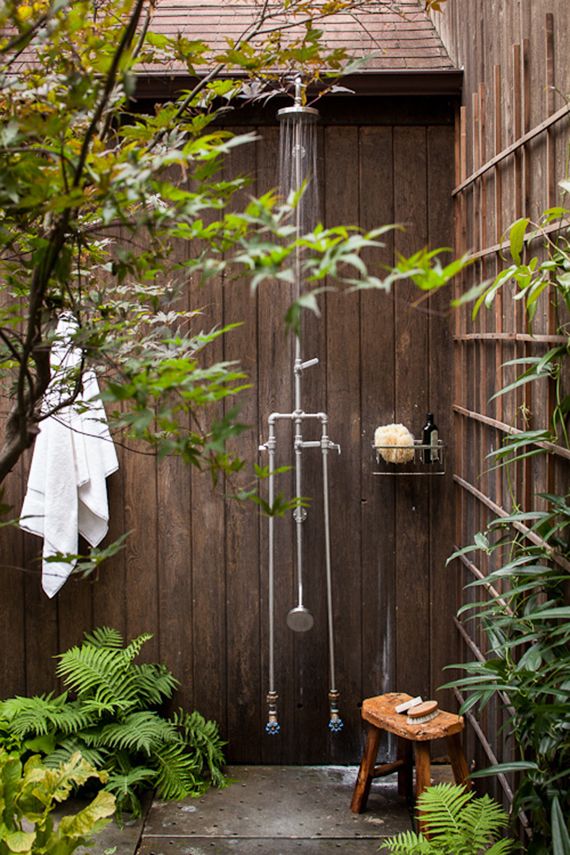 Source: Lauren Liess
Ok, now for the fun stuff … the renderings
So, let's not delay the suspense … here's how this space is coming together. I love the coziness of it, yet the vaulted ceiling adds a sense of volume and beautiful openness. I want the primary bath to feel like a rustic spa. And speaking of the spa concept, stay tuned for more details of an outdoor shower. Yep, that's what the door is for — I want to be able to create a little outdoor shower to enjoy all summer long! Again, my design crush Lauren does it again with this beautiful outdoor shower at one of her previously owned homes. I'm still working out the design details, but this will be a luxury we have never experienced before … and I know that potential home buyers will find it to be an extra perk!
Let us know what you think! We can't wait to get feedback from you all 😊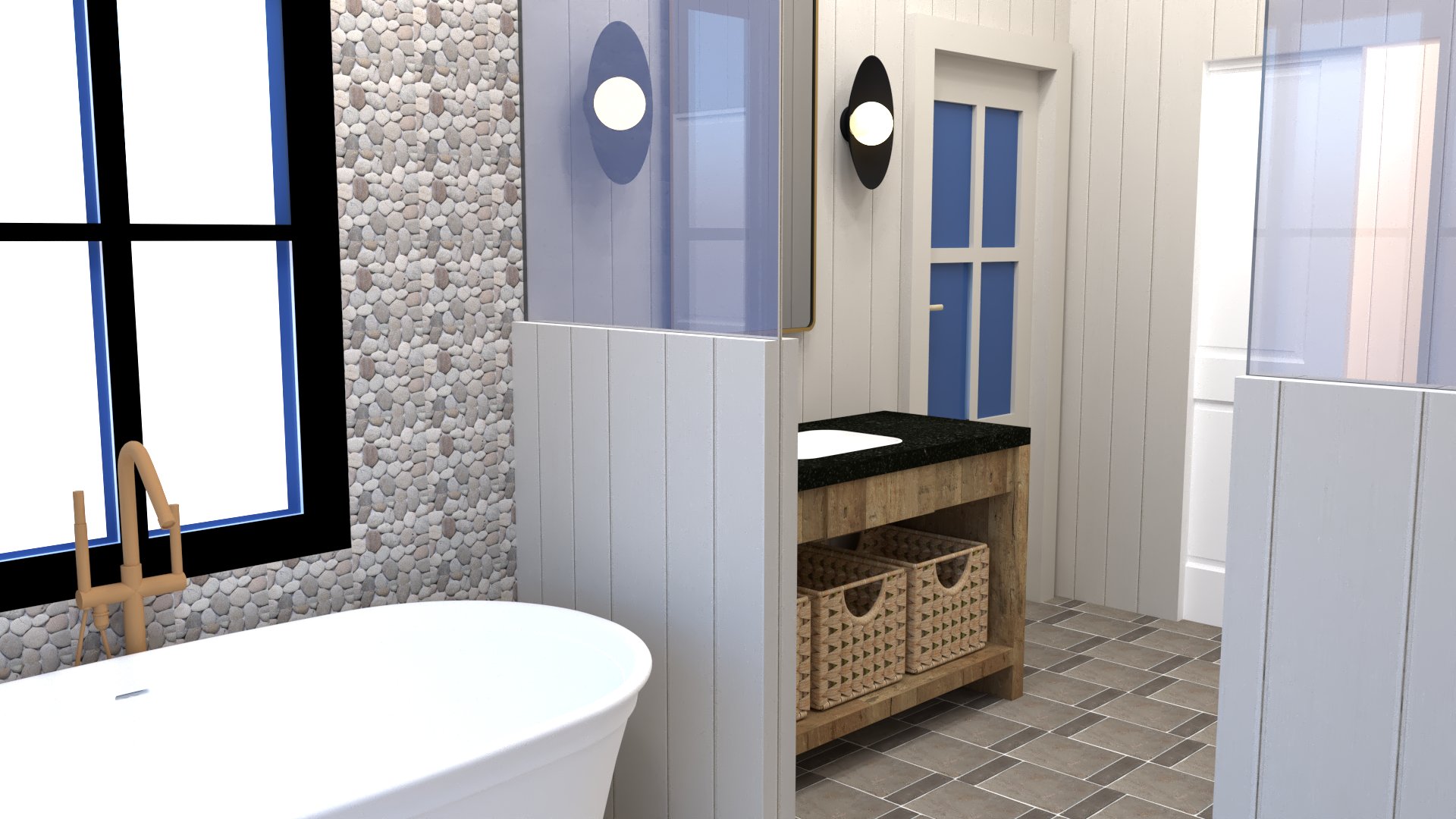 View from Wet Room Looking into Bathroom Vanity Area
His/Her Vanities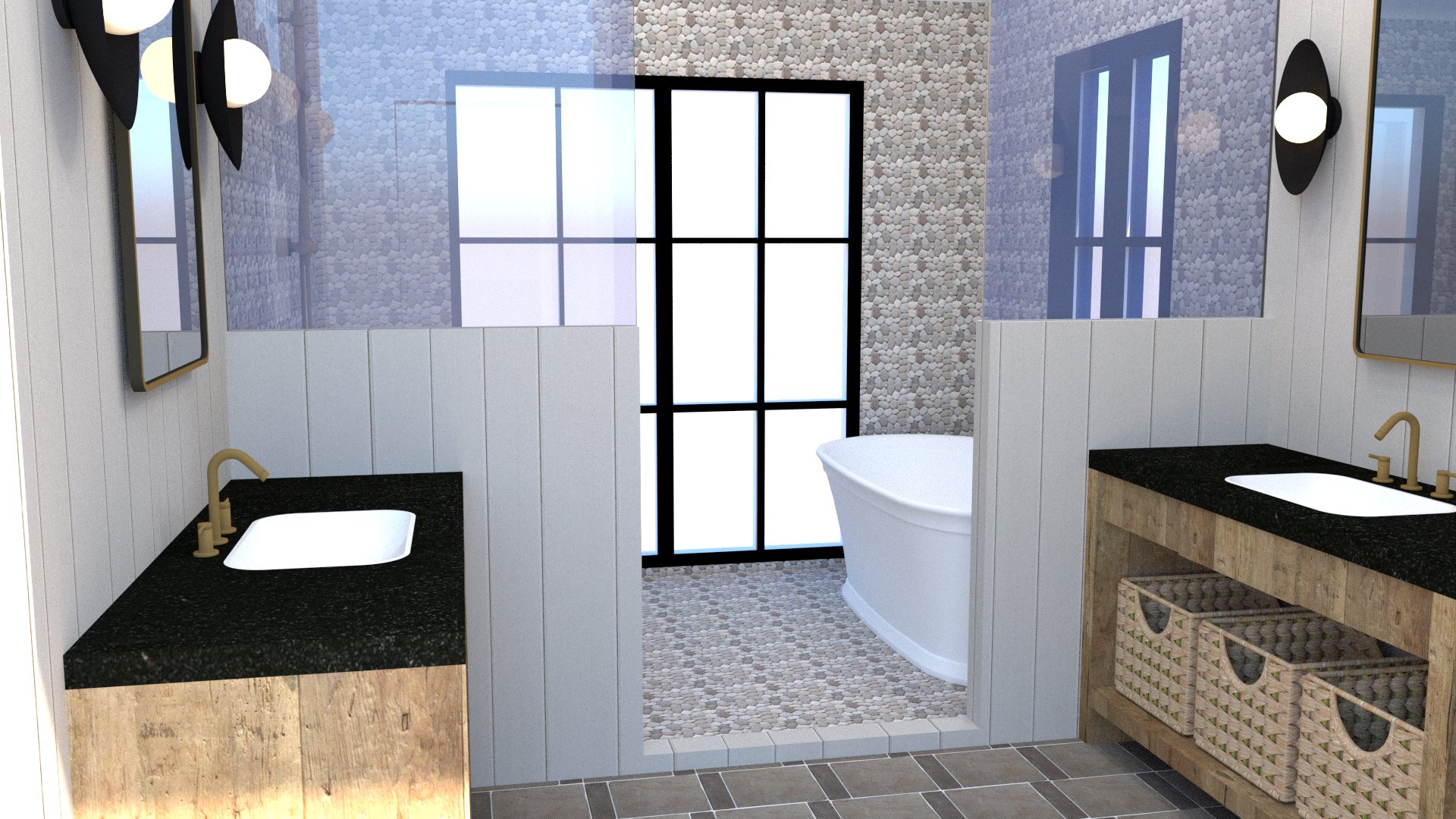 Looking into Wet Room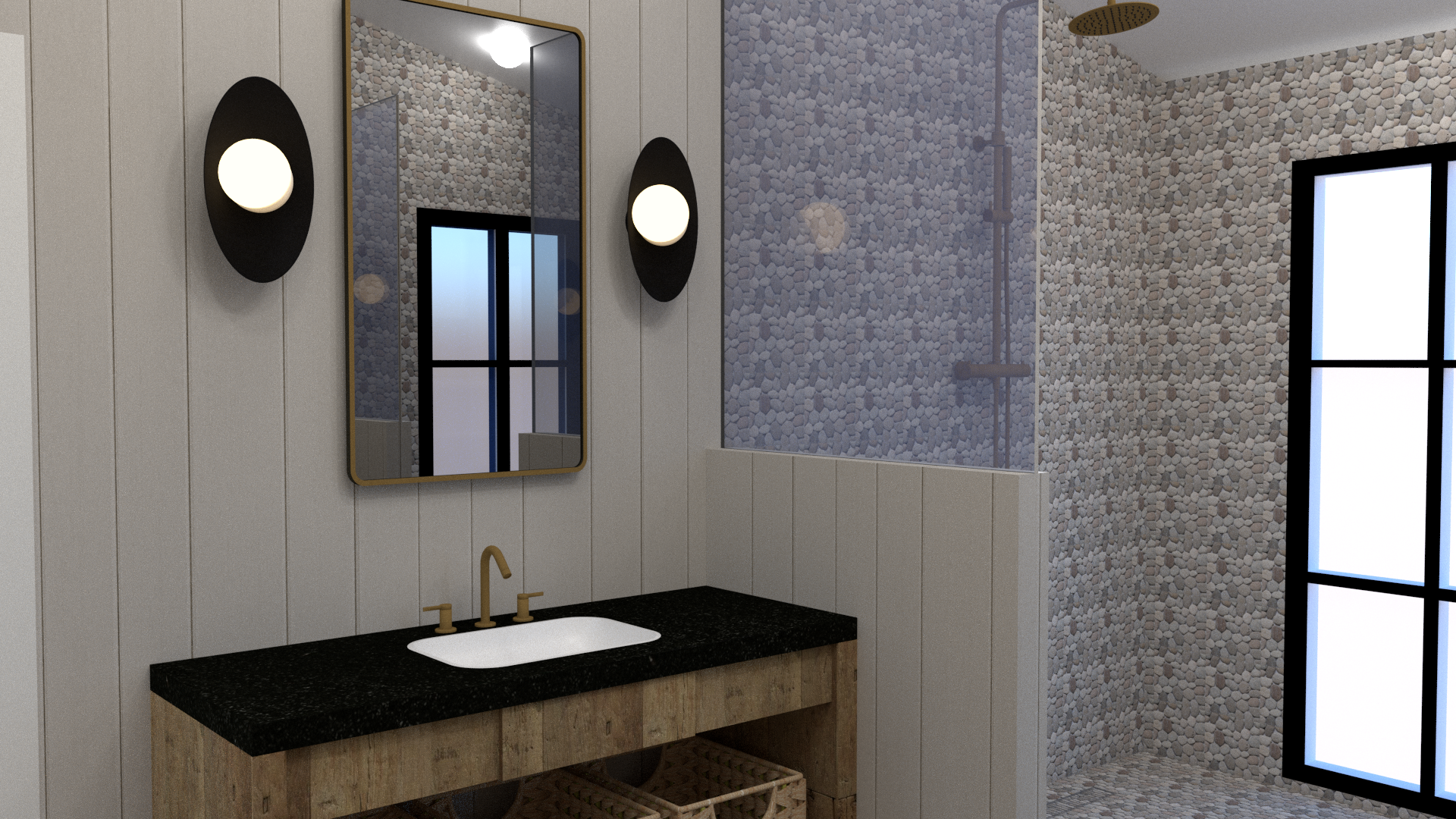 Vanity/Shower in Wet Room