Doesn't it seem like we're diving into the world of holiday shopping earlier and earlier each year? I don't know about you, but I'm all for it! With the way things tend to fly off the shelves, it's never too soon to start checking off that gift list. So, I thought I'd share some helpful ideas for those of you who like to get a head start on your Christmas shopping adventures!
In this holiday gift guide, we're going to cover a variety of categories that will cater to different tastes and personalities. Whether you've got a fashionista friend, a party-loving entertainer, a culinary genius in the making, or some furry babies who deserve some extra love, we've got you covered! I've scoured the realms of fashion, skincare, home goods, lifestyle items and more to bring you a diverse range of options that'll make your gift-giving experience a breeze. So, let's begin this shopping journey together and make this holiday season a little brighter for everyone on your list!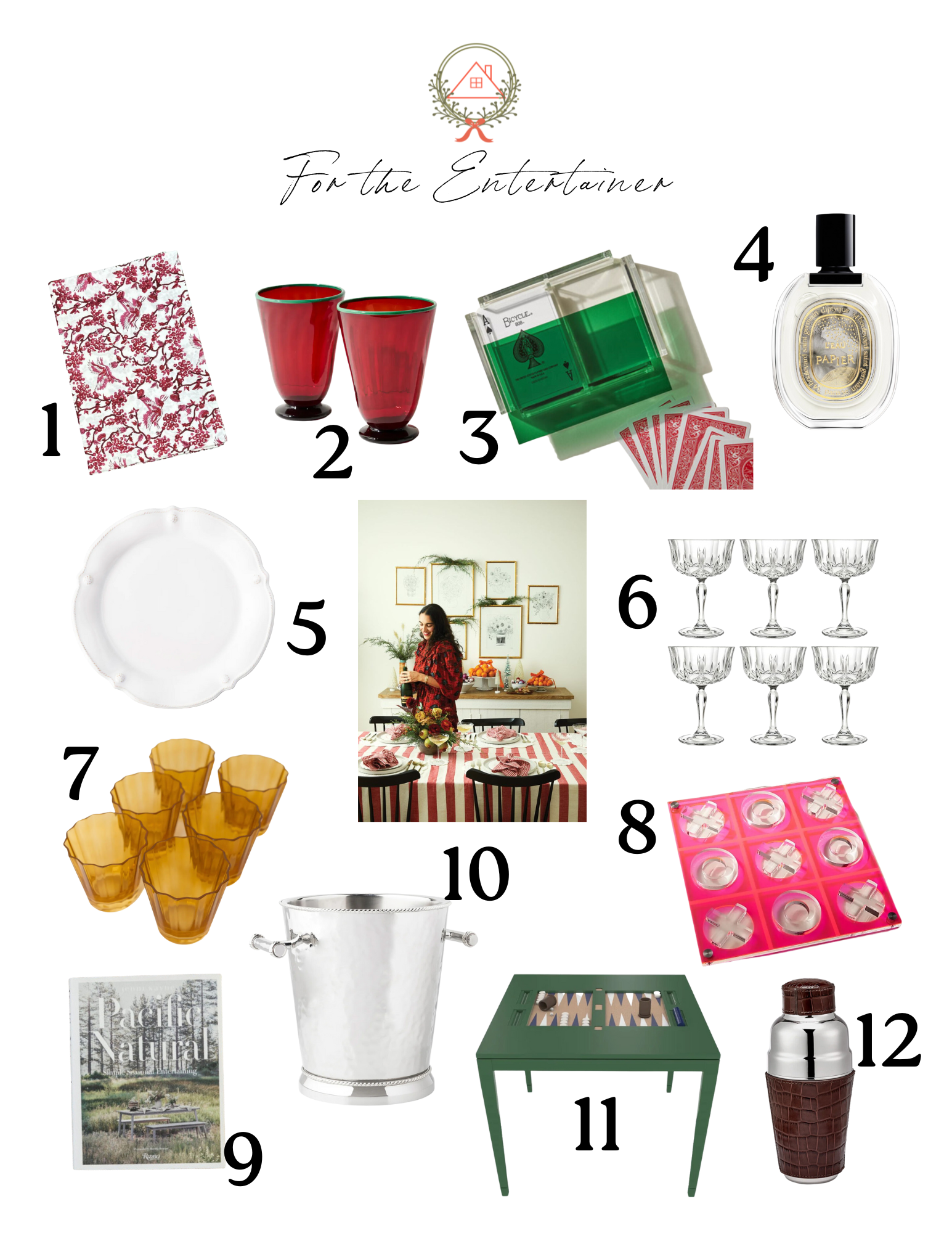 Score the coolest gifts for your entertainment MVPs this season! Whether they're the life of the party or the master of movie/game nights, these trend-tastic finds are all about helping them shine. From chic home bar accessories to the latest board games and gadgets, these picks will level up their entertainment game. Get ready to gift like a pro!
1. This vibrant, wine-colored printed table runner will infuse a touch of charm into any table setting, making it a great gift for adding a pop of personality to their dining experience. Not to mention, it can be used beyond the holidays!
2. These red and green goblets are absolutely darling, and would be a charming addition to a holiday party setup. Plus, they're so versatile that you could even use them to create cute nosegays as unique gifts for friends! I'm all about finding creative, reusable presents that bring joy in multiple ways.
4. The gift of a luxurious eau de toilette is delightful. Not only does it add a delightful fragrance to their home, but it also ensures that every gathering they host is filled with an inviting ambiance, setting the stage for memorable moments!
5. White Juliska plates are an entertainer's dream, offering a classic look. Paired with a batch of homemade cookies, they make for the ultimate host/hostess gift!
10. A champagne bucket is an excellent gift for a host with a flair for luxury, ensuring their bubbly stays perfectly chilled. I also love to use mine for putting a small faux tree in for a tabletop arrangement, adding a festive charm to any gathering.
11. A backgammon game is a wonderful addition to an entertaining arsenal. It keeps kids and guests engaged in fun matches while dinner is in the works. It's also the coziest way to enjoy a quiet evening by the fire. I especially love the green color, which adds a classic charm!
12. The cocktail mixer wrapped in leather is a must-have for any mixologist in my circle. Its stylish design elevates the art of mixology and is the perfect addition to any bar setup. You are sure to impress your guests with this one!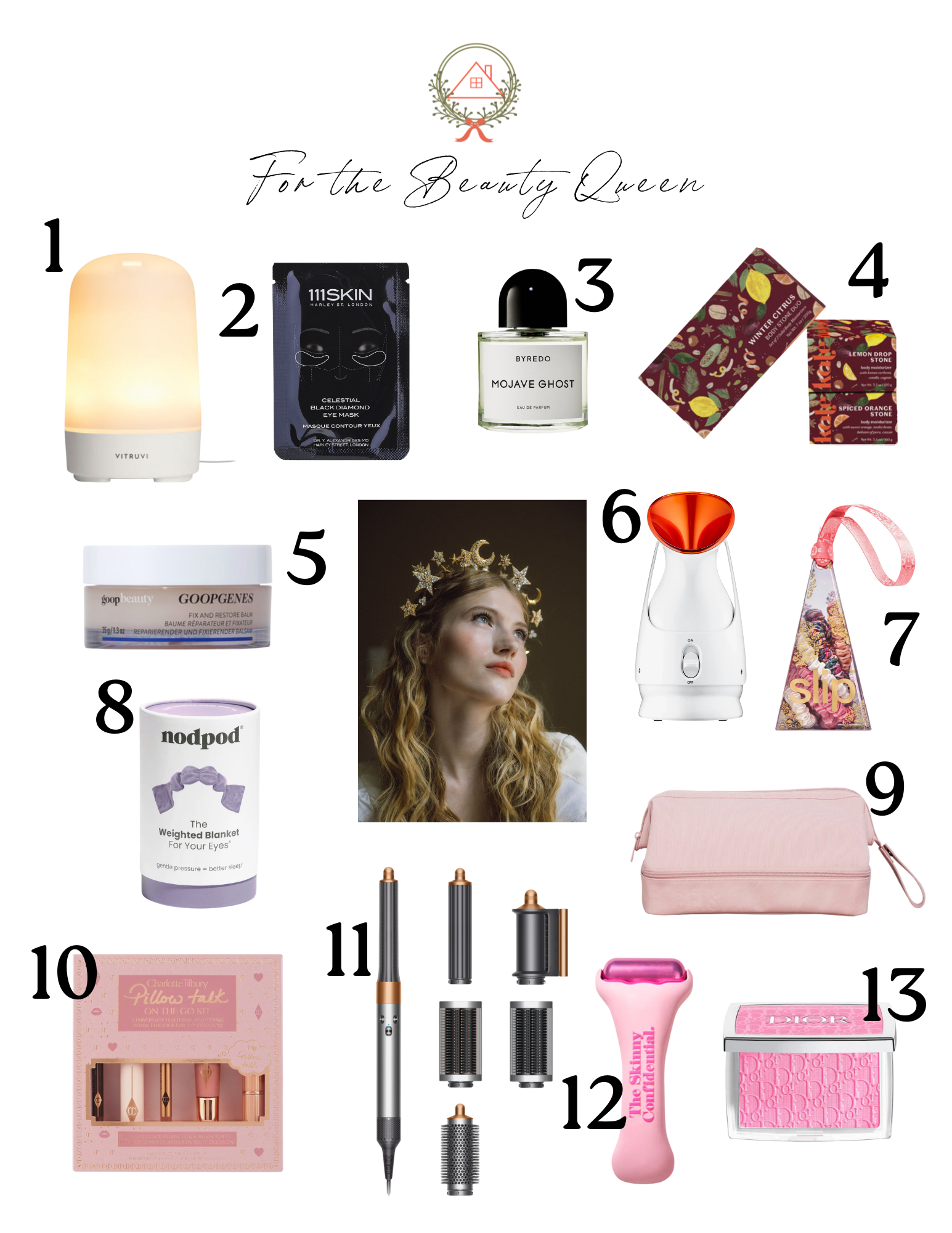 Get ready to pamper the beauty queen in your life with these finds! Whether she's a makeup maven, skincare guru, or just loves a touch of glam, we've found the perfect items to keep her looking and feeling her best. From the latest in beauty tech to high-end cosmetics and self-care essentials, this roundup has everything she needs to slay her beauty routine.
1. This essential oil diffuser is a dream come true! Not only does it fill any room with delightful scents but it doubles as a soothing nightlight, creating a relaxing ambiance.
5. This fix and restore balm is a skincare superhero. This multitasking balm is the perfect solution to soothe and moisturize troubled skin, whether it's for your face, body, or anywhere in need of a little TLC. Give her the gift of glowy skin 24/7.
6. This facial steamer is a game-changer. With its micro-steam technology, it brings the dermatologist's magic home, providing a quick and easy way to purify and revitalize skin.
7. Slip hair ties, the skinny scrunchies, are a secret weapon for maintaining hair health. When my hair is dealing with damage or breakage, these delicate hair ties come in handy, preventing those annoying ridges and ensuring my hair stays effortlessly chic. Plus, the packaging is just adorable!
9. Beis has been killing the game with their travel collections. This dopp cosmetics case offers a smart design with its easy storage for all beauty essentials. The adorable (and trending) pink color adds a touch of personality to your travel routine. It's the perfect accessory for your cosmetics!
10. The Charlotte Tilbury on the go kit is the ultimate companion for the beauty queen always on the move. This compact kit packs the power of lip liner, lipstick, blush wand, eyeliner and mascara into travel-sized essentials. It's perfect for maintaining that flawless, put-together look wherever she goes.
12. An ice roller is the secret to achieving that fresh, radiant look. This cooling roller soothes and depuffs, leaving your skin looking rejuvenated and ready to face the world with confidence. Not to mention, it feels absolutely amazing!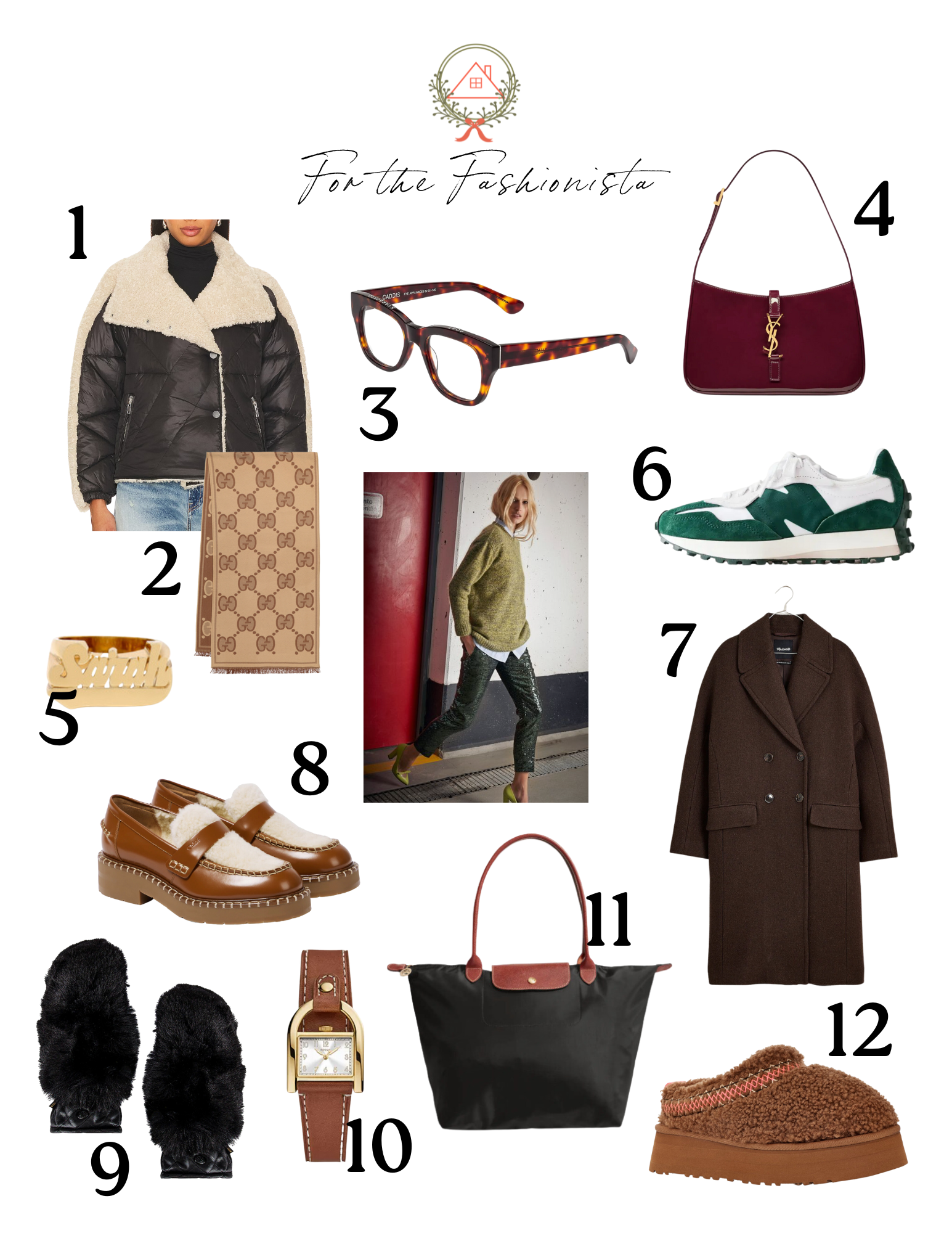 Get ready to dazzle the fashionista in your life! Whether she's always on the forefront of fashion trends, a lover of statement pieces, or an expert in accessorizing, these items are sure to elevate her wardrobe. From designer accessories to versatile wardrobe staples and personalized jewelry, she'll have everything she needs to slay her fashion game.
2. The Gucci scarf is the epitome of luxury, and if I were to receive this as a gift, I'd treasure it and wear it every day in winter. It is definitely a splurge, but its versatility is what sets it apart. It's the perfect addition to any outfit, whether dressing up for a special occasion or keeping it casual for a cozy day out.
7. A trench coat is always relaxed yet classy. It adds a touch of comfort and style to any wardrobe. This piece is so versatile — you can catch me wearing these all winter long. The perfect fashion statement for the season!
8. These loafers are a fun twist on traditional footwear that anyone would adore as a gift. The leather with plush shearling trims and a lug sole adds a unique touch of comfort and style. They're perfect for pairing with cozy socks and wearing to a brunch. They are a trendy and versatile addition to any fashionista's shoe collection!
10. Watches have made a huge comeback this year as an accessorizing staple, and this medium brown leather watch with three-hand movement is a beautiful piece anyone would cherish as a gift. It's not just a timepiece — it's also a stylish addition that compliments your everyday jewelry. This watch adds a touch of sophistication to any outfit, making it very fashion-forward.
11. A classic tote bag is a gift I'll always love giving because its both timeless and practical. Who wouldn't want to use it? Whether for travel or just running errands around town, it's the ultimate accessory that carries all your essentials, making it any fashionista's best friend!
12. Ugg slippers? Yes please! How cozy and chic! I can't think of a more perfect gift. They're incredibly comfortable with their plush shearling, and the added thick sole ensures durability and style. Ideal for those who love running errands in their sweats and slippers.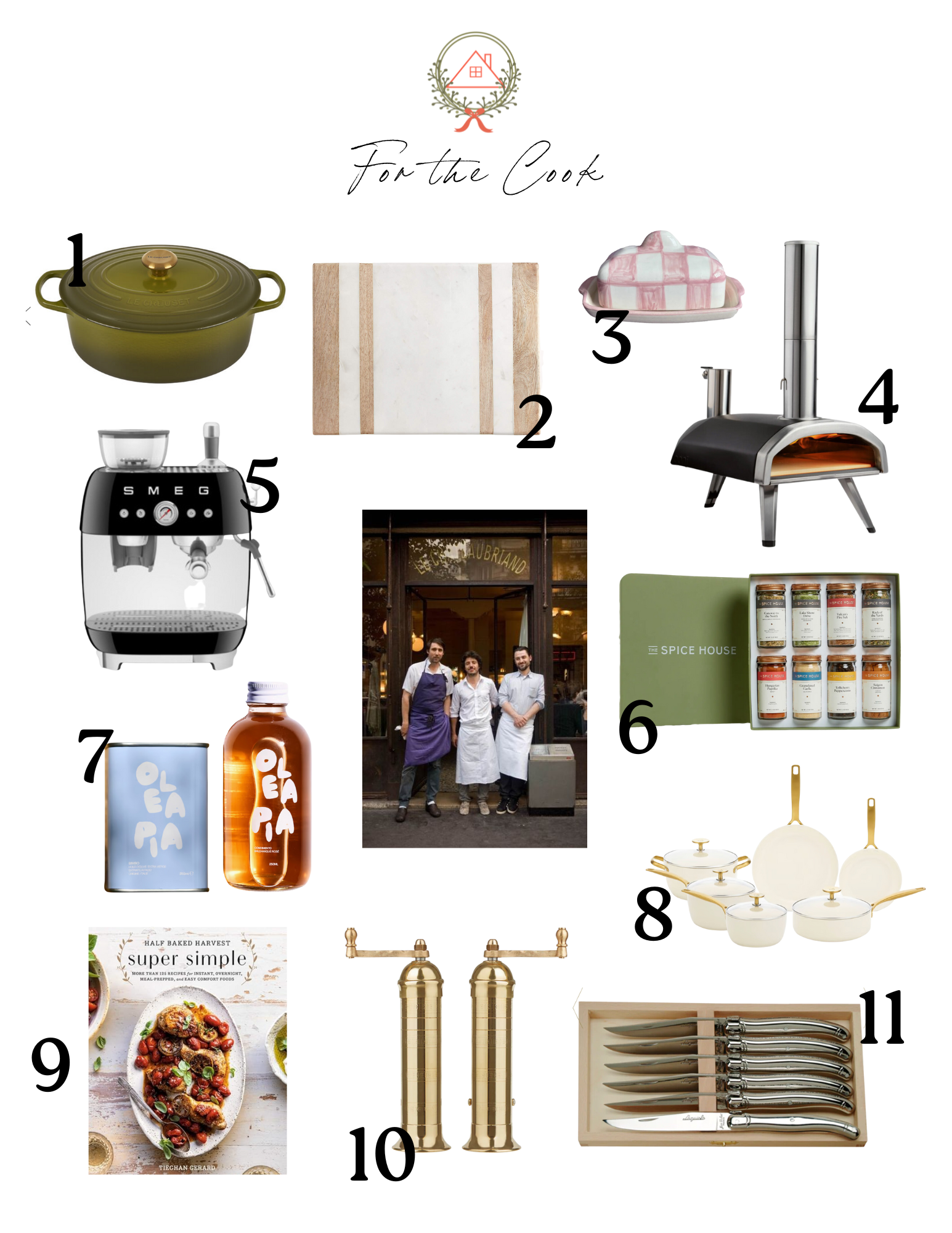 Get ready to spice up the life of your favorite kitchen wizard with these sizzling hot gifts for the cook! Whether they're a Michelin-star wannabe or just enjoy preparing delicious food, we've rounded up some culinary treasures that'll make them the real kitchen rockstar. We've got everything from gadgets that do the cooking for you to top-notch cookware, and ingredients that could charm even Gordon Ramsay! 😉
1. A Le Creuset dutch oven is a dream come true for any cook, including me. I've been eyeing them for sooo long, but it's not often that I splurge on pricey kitchen gear for myself. However, as a gift, it's a resounding "yes, please!" The perfect addition to elevate your chef's culinary creations and bring a pop of color to their kitchen.
3. This butter dish, inspired by French tradition, is absolutely adorable. A perfect blend of functionality and aesthetics!
4. The Ooni pizza oven is a family favorite that we cannot get enough of. It's not just a kitchen appliance; it's an experience. Perfect for using all year long, especially if you have a covered area where you can cook outside. Enjoy homemade pizzas with a wood-fired taste anytime you want!
7. Investing in high-quality olive oil and pink balsamic vinegar is crucial for any cook, and the packing on this set is just too cute to resist. They're now essential kitchen staples, and they also make a wonderful gift.
10. This brass salt and pepper mill set has been a beloved item in our kitchen for quite some time, and I can't recommend it enough. This set is the perfect gift for a chef who likes to look chic while they work.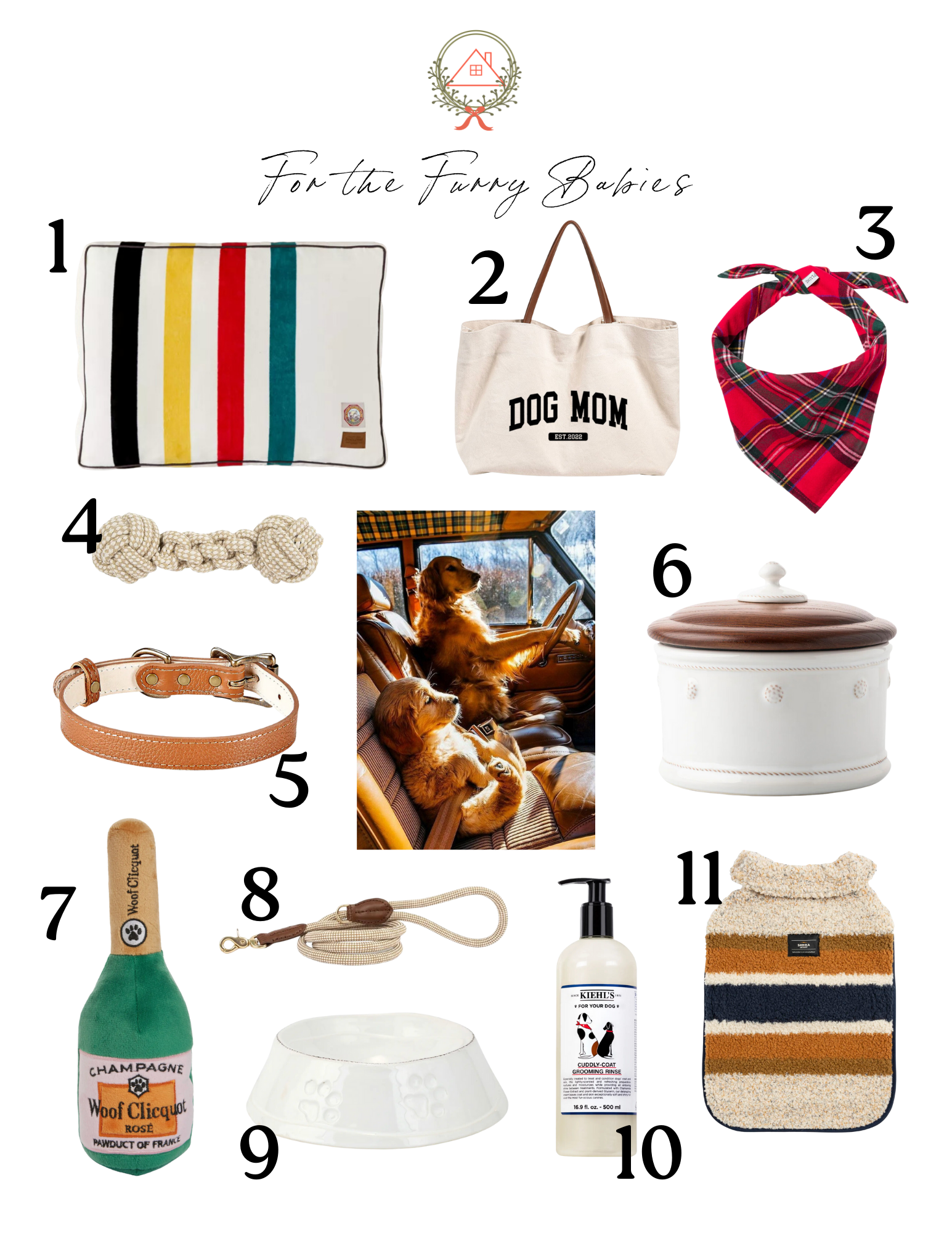 A little something for your furry babies! Let's dive into why giving your furry companions a slice of the holiday gift-giving pie is a must-do. Our pets are family, so why not infuse their gifts with your home's unique style?
1. Consider a chic dog bed that offers comfort and seamlessly blends with your interior aesthetics. It's like a win-win for your pup AND your décor game!
5 & 8. Spruce up those daily walks with designer collars and leashes, because your pet deserves to strut their stuff in style.
4 & 7. Keep them entertained with sleek, eye-catching toys that won't cramp your style. This knotted rope and champagne plush toy are sure to impress your pets and keep them entertained while you open presents on Christmas morning.
6. This treat canister compliments the Juliska white plates (mentioned above) and seamlessly fits into any home's vibe. It's a thoughtful gift that brings joy to both pet owners and their furry friends.
3 & 11. A plaid bandana and a striped sherpa coat are fantastic gift choices to keep your best bud looking stylish and festive this winter season. Add a touch of holiday charm to your pet's ensemble!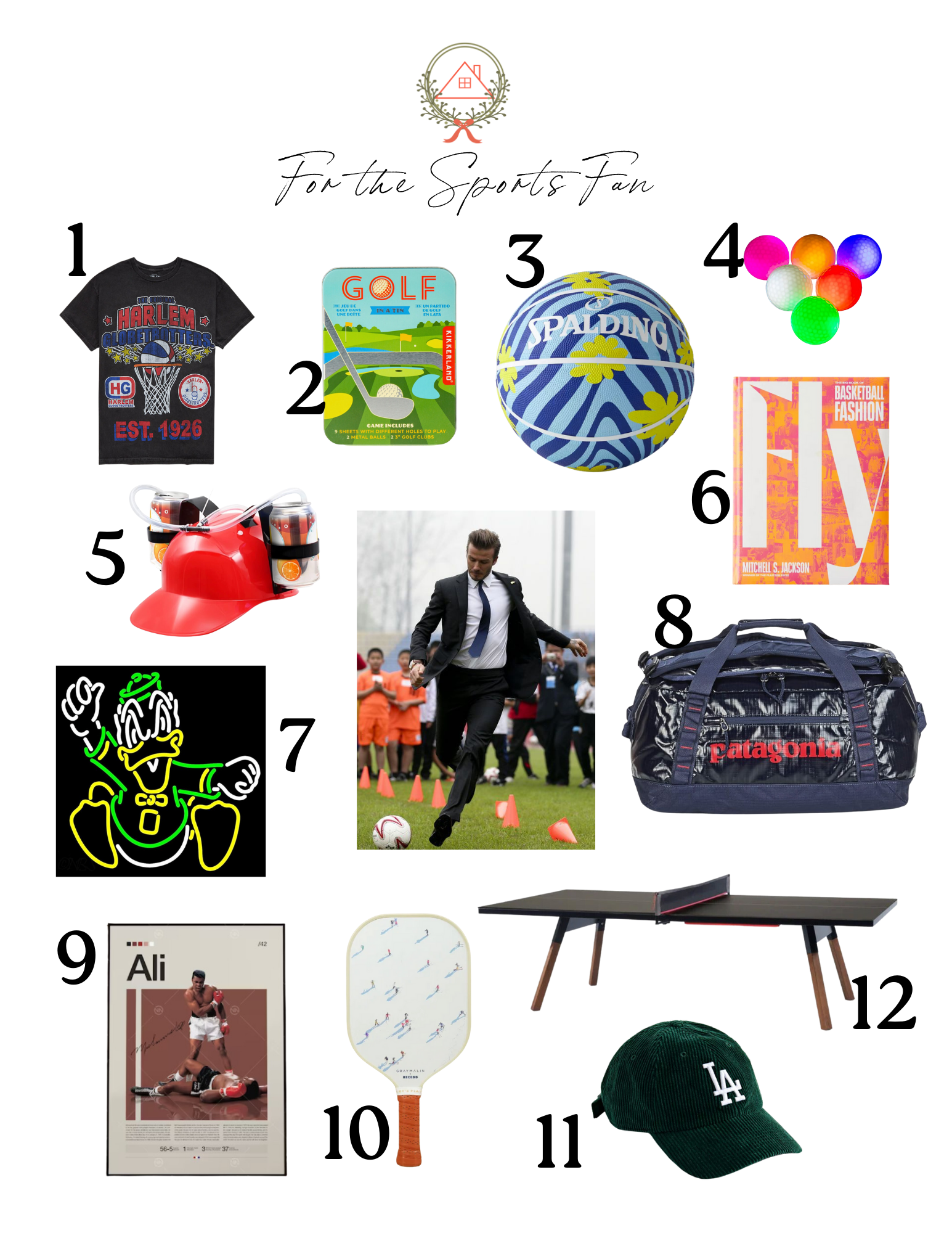 When it comes to spoiling the sports fan in your life, the options are as endless as the highlights reel. These gifts celebrate their favorite teams and athletes and enhance their connection to the sports world. Show your appreciation for their enthusiasm and score big points with these treasures.
2. "Golf in a tin" is the perfect idea for the golf enthusiast who can't get enough of the game. This portable nine hole game allows them to enjoy a round of golf no matter where they are.
5. A beer helmet is a hilarious and practical gift for those die-hard sports fans who never want to miss a game-changing moment. This quirky headgear allows them to keep their hands free while enjoying their favorite beverage, ensuring they're always ready to cheer, high-five or celebrate when their team scores. Perfect for game days or tailgating parties!
7. A neon sign, like this Oregon Duck light, is an excellent addition to any room or man cave. It's not just a way to rep the team you're cheering for; it's a bold statement of passion and support. The glow of the neon sign adds an electrifying atmosphere during game days, creating a stadium-like feel right at home.
8. A two-in-one duffle and backpack is the ultimate gift for those always on the move with loads of gear, and comes in a variety of fun colors. It adds a stylish touch to their travel gear, whether they are hitting the gym, the slopes, or just need a reliable bag for daily use.
10. These pickleball paddles with a skiers design are an ideal holiday gift for families who love this trending sport. These paddles not only serve as high-quality equipment for pickleball enthusiasts but also add a unique and personalized touch to the game.
11. An exclusive hat is a fantastic addition to any sports lovers' collection, adding a fun twist to the classic ball cap.
12. A ping pong table is the ultimate gift for anyone who loves intense yet friendly competition. Whether it's a family gathering or a hangout with friends, ping pong matches are always the best. Designed for outdoor use, it's a stylish addition to any environment. It's hard to resist the thrill of ping pong! This table will provide hours of laughter, bonding and energetic games, creating endless memories for years to come.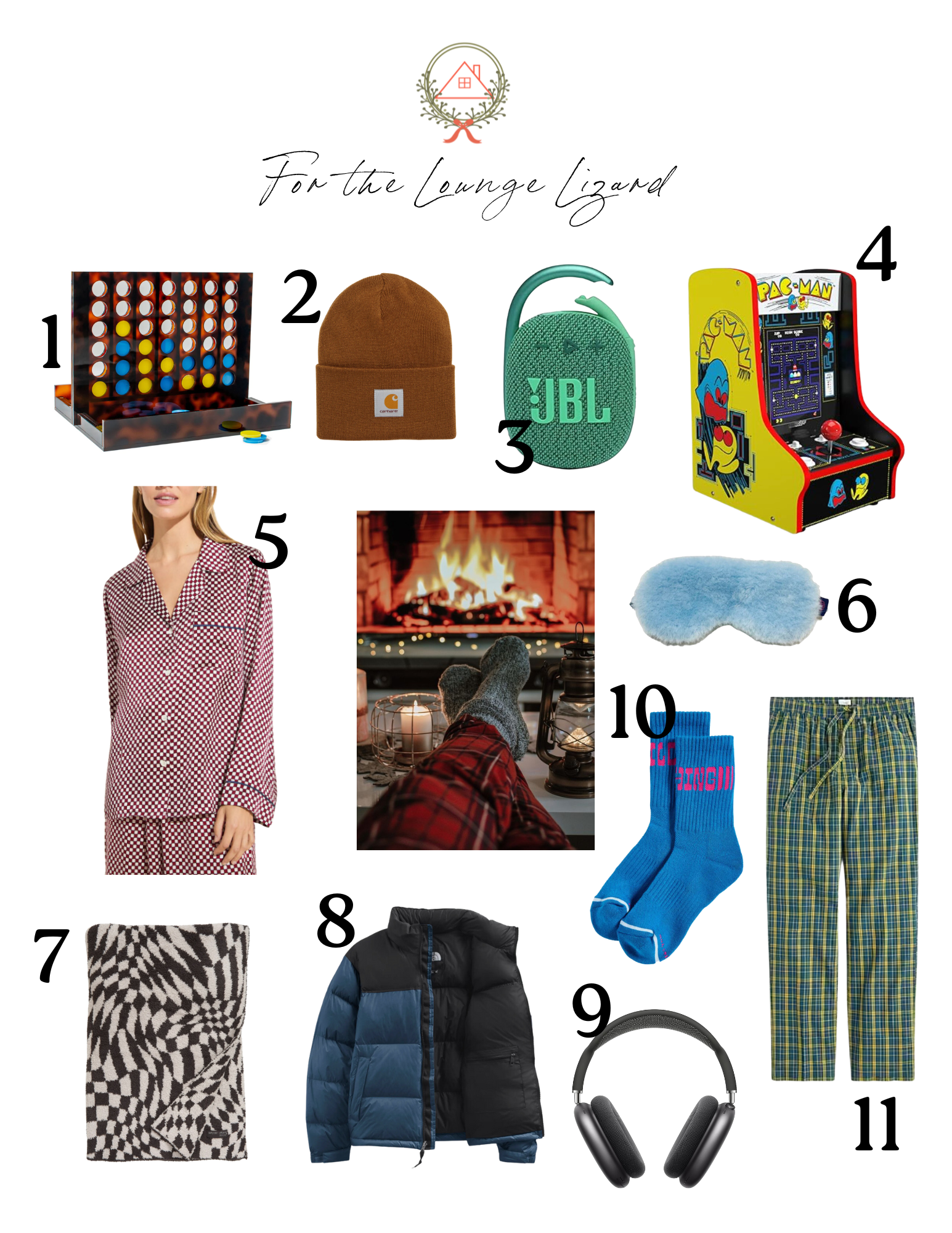 Gifts for the "lounge lizard" are all about embracing relaxation and comfort in the sanctuary of one's home. These individuals revel in the art of unwinding, and these gifts are tailored to enhance their cozy moments. They appreciate the little things that make home a haven. These items are sure to add a touch or luxury and style to their surroundings.
1 & 4. Entertainment is key, and these games make for the perfect pastime. A beautifully crafted version of Connect Four not only adds an artful statement to your home, but also encourages strategic fun! And, when it comes to iconic nostalgia, the countertop Pac-Man arcade game is a must-have.
2. Let's face it, not everyday is a good hair day. When you're indulging in hours of lounging, having a beanie on standby is a game-changer. It's the perfect solution for those moments when you haven't quite mustered the energy to tackle bedhead, allowing you to look stylish while maintaining a relaxed vibe.
3. Whether your lounge lizards are kicking back in their favorite chair or creating a serene ambiance in their space, music is essential. This portable speaker is for those who appreciate the fusion of comfort and convenience. And, did I mention that it's waterproof? Perfect for tunes around the pool.
5 & 11. Pajamas with bold patterns and comfy materials are the go-to uniform for those who adore lounging in style. So, whether it's catching up on your favorite series, curing up with a good book, or simply enjoying a leisurely breakfast, these make every moment of relaxation a chic and comfortable experience. They're not just sleepwear; they're a statement of laid-back luxury that turns any day of lounging into a masterpiece.
7. A checkered throw blanket is the best accessory for cozy movie nights on the couch. This is your ticket to relaxation! It's a visual delight that enhances your lounging experience, and is perfect for anyone who appreciates the art of snuggling up and escaping real life obligations.
* * *
As the holiday season approaches, the excitement is building quickly. We hope this holiday gift guide has given you some creative ideas for the special people in your life! Head over to our LTK page, or shop directly on our website for those pictured items that we didn't mention in this post. Additionally, sign up for the Sunday Subscriber, our weekly newsletter where we will be sharing more holiday ideas regarding gifts, recipes, and fun projects. If you're ever in need of more inspiration, feel free to comment and let us know how we can help. Thanks for joining us on this gift-giving adventure, and we look forward to sharing more holiday delights with you in the coming days.
Happy holidays, and may your gift-giving be filled with warmth and cheer! 🌟