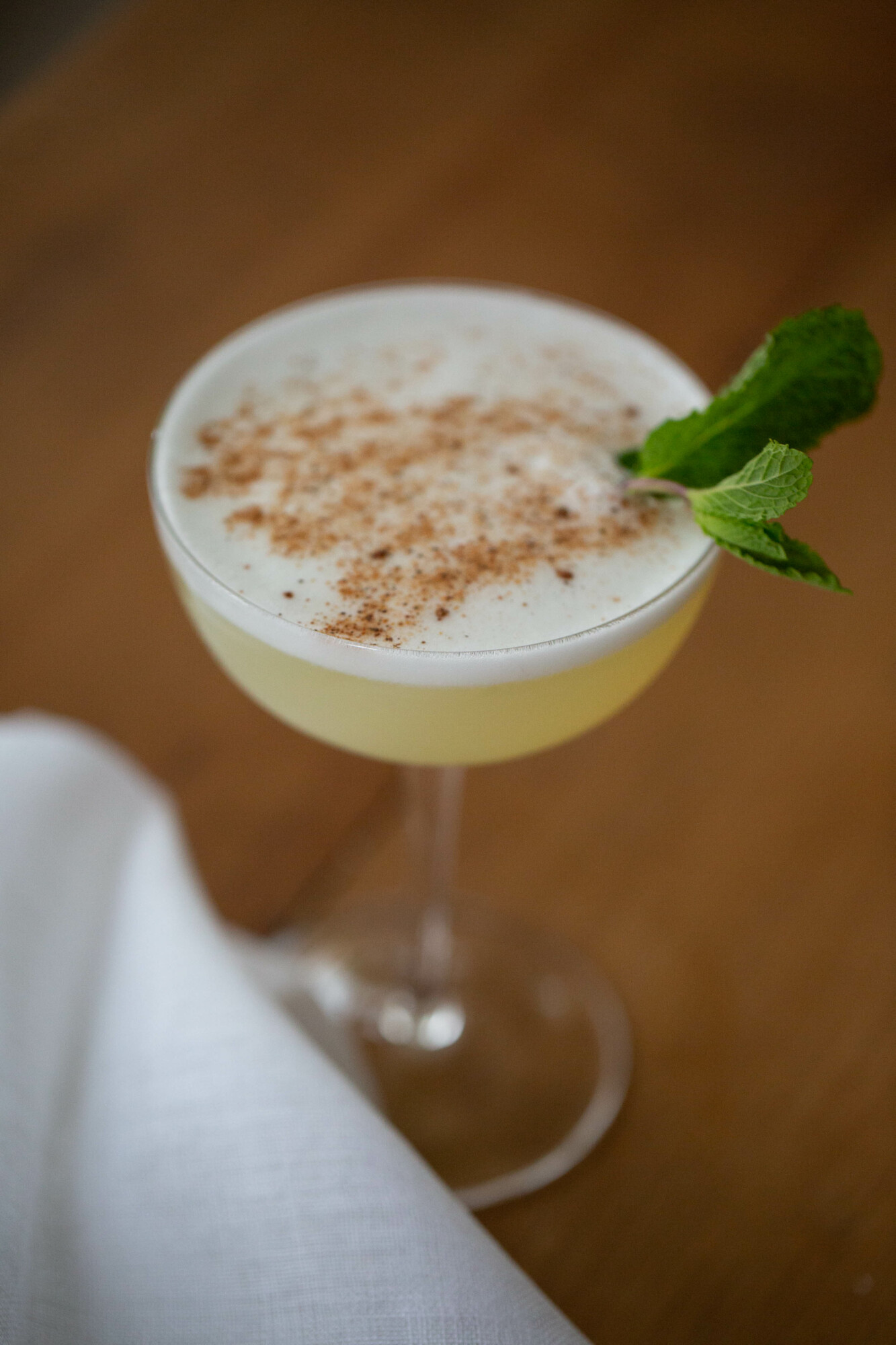 It's the weekend, and we're ready for some R & R … so what better a time to whip up a new cocktail? I found this recipe on Pinterest, and it does not disappoint! Of course, it took me down a rabbit hole on Pinterest, and I discovered that the recipe is from a mixologist at Deep Dive in Seattle. This bar looks right up our alley for a special date night — but, until we can actually get to Seattle, I'm just going to give it a try at home. 😉
The key is making the Pineapple Shrub. I had never tried this before, but it's sooo easy! It's an extra step for sure — in fact, you have to let the pineapple sit overnight in sugar, Then you drain the solid pieces of pineapple with a colander or cheese cloth, and mix the reserved pineapple-infused syrup with champagne vinegar. It makes plenty, so you can store some in the fridge.
The recipe calls for Yellow Chartreuse, which we have used before. But, it was years ago so I didn't have any in our little bar. And let me tell you, I called several local liquor stores to see if I could track some down, but no luck. I guess there's a shortage in Oregon. Who knew?!? Anyhoo, our friends at Newport Market in Bend suggested we give this brand a try as an alternative. (As a bonus, it's made in our hometown, Portland, Oregon!) We don't know any differently since we've never tried this recipe before using the Yellow Chartreuse, but it worked beautifully. It's so refreshing and unique! What a great cocktail to serve friends this weekend 🍸

CLOUZ HOUZ TIP: Don't skip the grated nutmeg on top … it really adds a fun kick to the flavor. Trust us!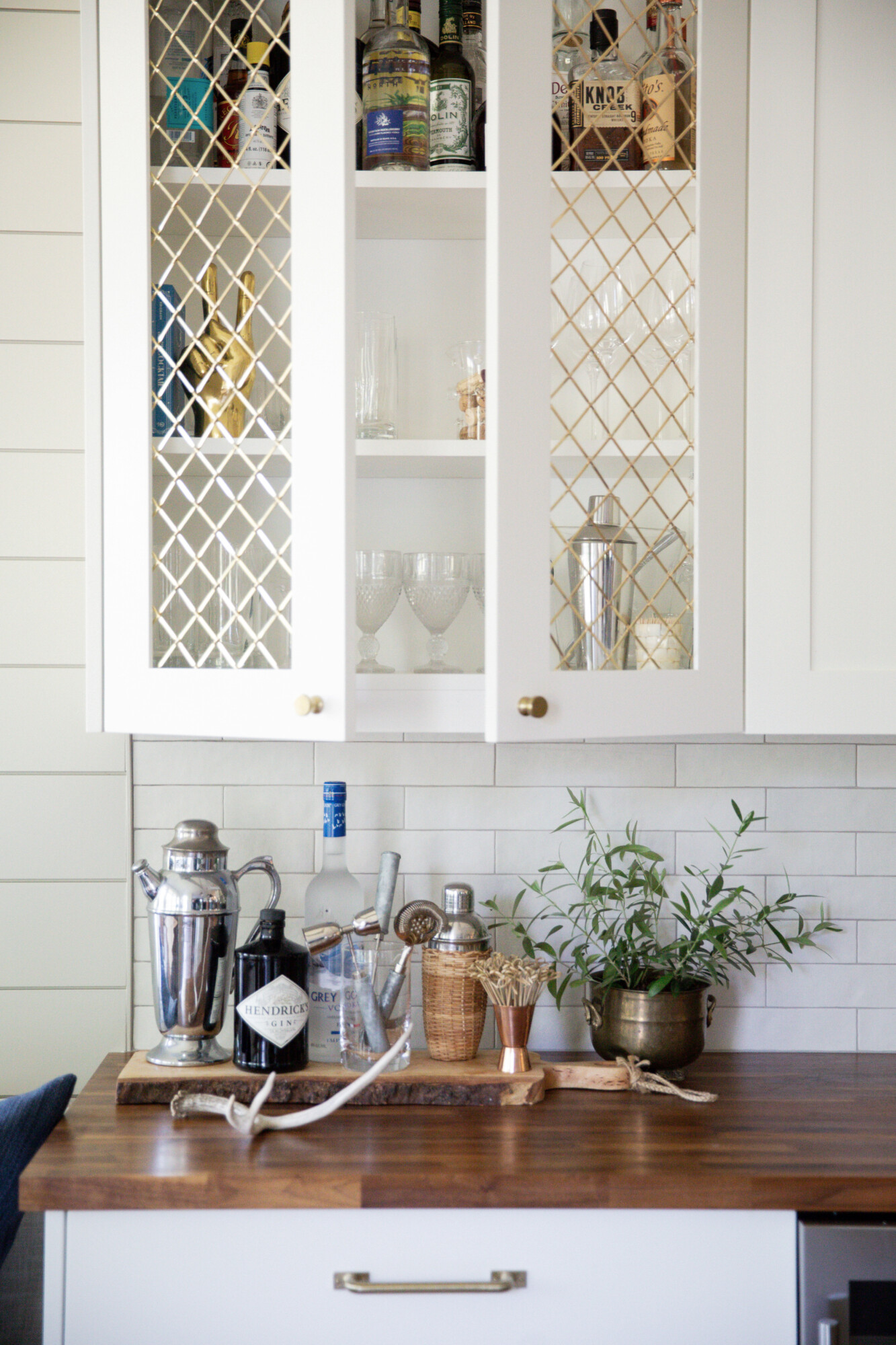 ---
THE CHILL PILL
2 OZ. VODKA
1/2 OZ PINEAPPLE SHRUB
1/2 OZ FRESH LEMON JUICE
1/4 OZ YELLOW CHARTREUSE
1 FRESH EGG WHITE (PASTEURIZED IF YOU PREFER)
Combine the egg white, simple syrup, lemon juice, and pineapple shrub in a shaker and shake, without ice, until frothy. Add the vodka and Chartreuse and shake again with ice to chill, then double-strain into a chilled glass. Garnish with a spray of Angostura bitters from an atomizer (or drip the bitters on the drink's surface), and add fresh-grated nutmeg.
PINEAPPLE SHRUB: Peel, core, and cube a fresh pineapple (I bought pre-cut pineapple chunks) and add it to a large container along with 1 quart (32 oz.) of raw sugar. Stir to coat the pineapple with the sugar and cover the container; let the mixture rest at room temperature for 24 hours. Use a cheesecloth-lined strainer to strain out the solids, and mix 16 oz. of Champagne vinegar with the reserved syrup.
---
We served ours in a coupe glass with a sprig of mint, and it looked fancy and professional with the frothy top and sprinkles of nutmeg. Maybe we should take up mixology?! 😂
Cheers to the sunshine and gorgeous weather this weekend. Let us know if you give this one a shot.