If there's one thing I've learned throughout the years about how to really enjoy your holiday, it's to plan ahead and have these essentials on hand as you approach the busy season. Let's be honest, we can all feel a bit anxious about the holiday season when there are so many errands to run, events to attend and gifts to wrap! So, today's blog is about how you can make this year different. Here are my tried and true methods for setting myself up for success so I feel rested, prepared and ready to be present. These items will help you feel equipped to entertain family and friends, get party ready and host drop-in guests for an impromptu cocktail hour (my favorite kind). 😊
Trust me, this list is your secret weapon to spreading joy and turning heads all season long. Here's what we're adding to our carts as the most wonderful time of the year rolls in. Consider this a guide for the essential holiday items you'll need to get you through non-stop festivities this season … cheerfully!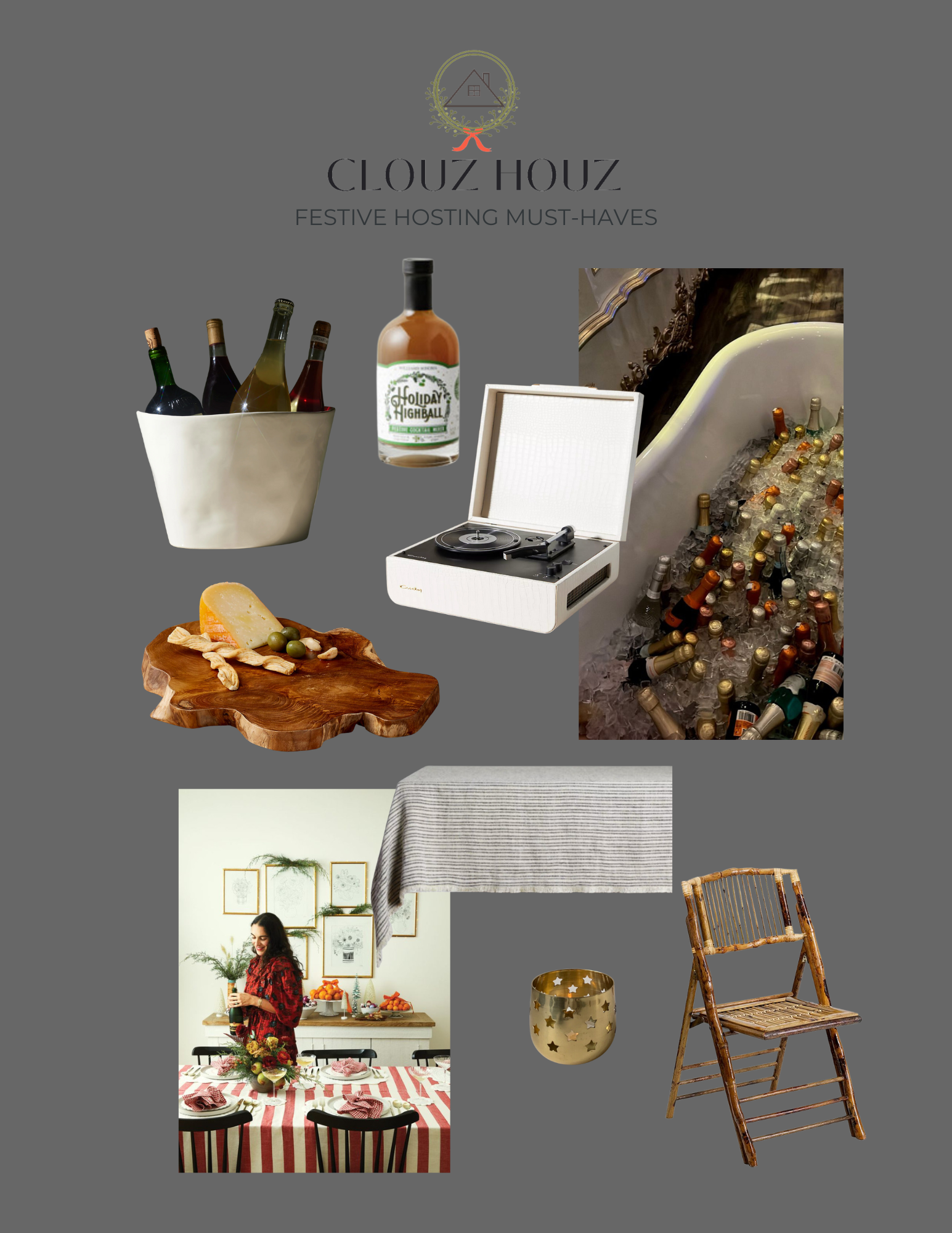 Gear up, hostess with the mostest! These items will save the day when you're in a last-minute hosting bind. You can transform your home into the ultimate festive hotspot with these lifesavers for the spontaneous party planner in you. I swear by having plenty of extra seating and votive candles (works to set the mood EVERY TIME), as well as cocktail mixers, sparkling water and champagne in the fridge.
Start with a cooler bucket for your wine and champagne because seriously, who wants warm bubbly? This stylish solution keeps drinks chill and the party vibes even cooler. And, for those impromptu cocktail moments, a festive mixer is the secret weapon. No need for fancy prep — just whip up some quick, delightful drinks for your guests without breaking a sweat. I love anything pear flavored, and this mixer sounds delicious! Currently in my cart to have on hand this year.
Then, elevate your holiday hosting game with a touch of vintage charm: a record player. Because nothing sets the mood like the cracking warmth of classic holiday tunes on vinyl! Our son, Andrew, has quite the record collection and I'm thinking I might want to start one too.
When in doubt, cheese it out! A cheeseboard is the unsung hero of last-minute hosting. Seriously, keep a few yummy cheeses, nuts, and fruit stocked, and pull them out for a last minute appetizer. It's always a crowd pleaser and is easy to throw together if you have the right items in your arsenal.
Level up your hosting setup with a timeless touch: a linen tablecloth. Like the denim of the hosting world, it's a classic and effortlessly adaptable, ready to be dressed up or down for any occasion. Pair it with a variety of votives, because you can never have too much ambient glow on hand. And, let's talk seating with these Amazon bamboo folding chairs. They were on my holiday essentials list last year, and they're back for good reason. Quality meets convenience, and they're perfect for adding extra seats around the table without compromising on style.
Get ready to welcome guests with open arms and a touch of holiday hospitality! Let's dive into the must-haves that will make your friends and family feel right at home during the festive season. Who doesn't love to feel spoiled, as if they're staying at a luxury mountain lodge? From cozy comforts to thoughtful touches, these items ensure your home is the ultimate holiday haven for those special moments with loved ones. If you can have even just a few of these on hand for your family and guests, you will feel so good when you're spoiling them. I know I do!
Let's set the cozy vibes with a touch of holiday magic for their nightstand. I've got my eyes on this match cloche and striker combo in this gorgeous olive color — it's not just functional, it's a stylish little addition. Paired with a yummy smelling candle, it's the perfect welcome treat on a nightstand for your guests. Make their room feel like a winter wonderland retreat!
The ultimate guest lifesaver: a charging cable. This braided one with a leather cord keeper is not your average essential; it's the epitome of elevated convenience. It's all about the little touches that make your guests feel like royalty.
Keeping the guest experience top-notch, place a carafe and glass set at their bedside. Because let's be real, who wants to stumble to the kitchen in the middle of the night? Cheers to a night of comfort and convenience! And this one is so chic and affordable.
A silky eye mask is a game-changer for a good night's sleep, shutting out the hustle and bustle. And, for those moments when they're getting ready, why not treat them to a plush robe? They had these at the Surfrider in Malibu, and Emma and I fell in love with how soft and cozy they are. (Hint, hint Derrick!) Privacy and comfort rolled into one. To complete the ensemble, throw in some fuzzy slippers — because nothing says "home away from home" like warmth and relaxation. The ultimate trio for a stay that feels like a spa retreat!
Elevate the winter cabin vibes with a leather tissue box cover. A simple upgrade, and a stylish solution for a guest bath! I'm grabbing one for each bathroom.
A Marshall speaker is the perfect way to add a touch of festive ambiance and keep the good vibes rolling. Portable, powerful, and ready to turn any room into a holiday party.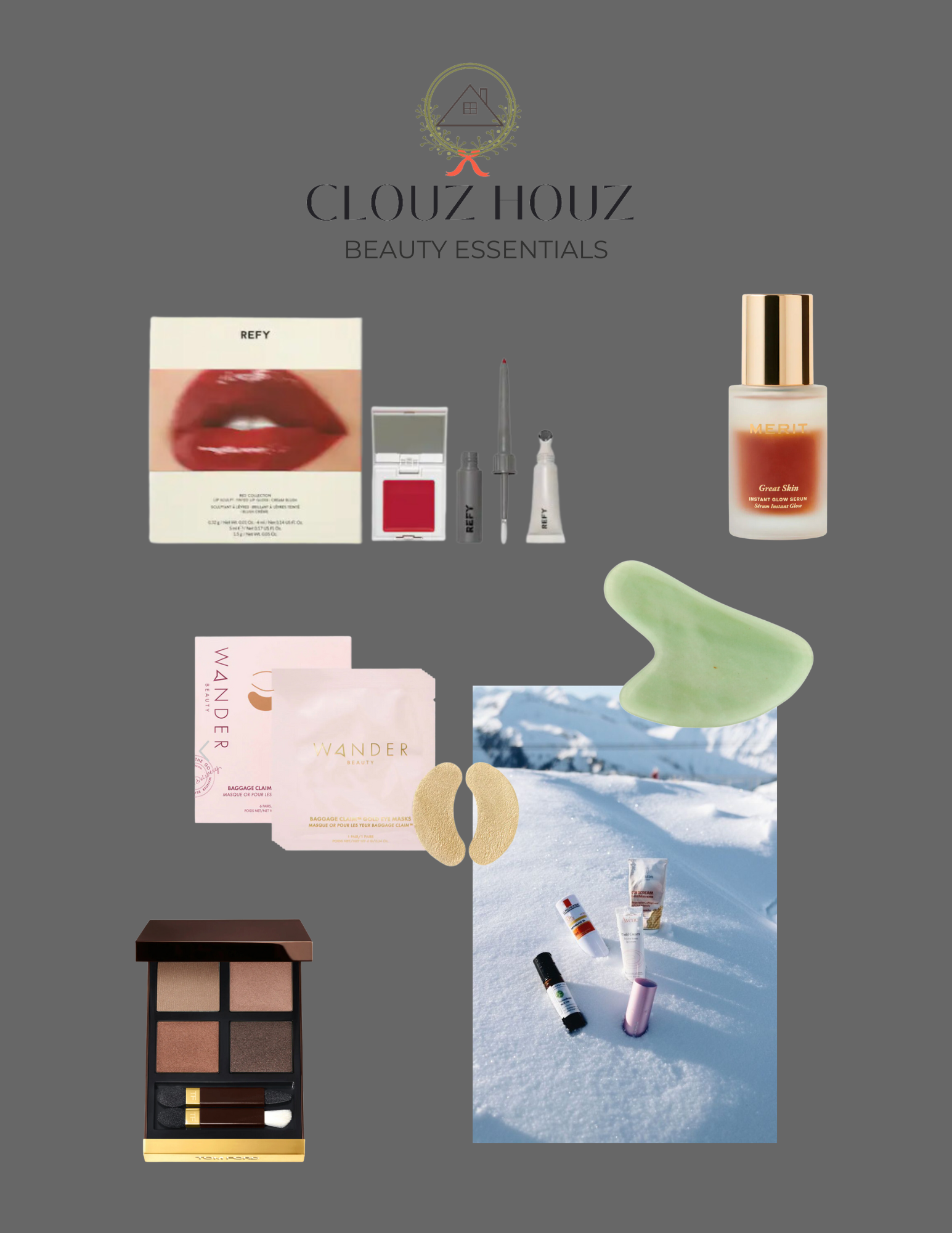 Alright, beauty aficionados, let's spill the beauty tea for the ultimate holiday glow-up! I've been known to be a product junkie (yes, Derrick if you are reading this, I'm admitting it). We're diving into the essentials I love or want to try. These are the things that'll have you looking your best at those festive parties. And guess what? We're not stopping there. After the party's over, we've got some skincare heroes because let's face it, we've all had those mornings when we needed a little extra magic to look alive after a late night! So, stock up on a few of these faves and you will feel equipped and ready- – who needs a glam squad?!?
Let's talk about the showstopper of the season: RED! I mean, is it even holiday season if you're not rocking that bold, festive lip? Normally, I'm not a red lip kind of gal, but 'tis the season to break the rules, right? Enter Refy Red Collection Lip and Cheek Set. They're bringing the glam with their long wear lip liner kit that has a special bond to set the color on your lips all night long. They're even upped the game by throwing in a cherry cream blush to complete the look. Emma talked me into this one, so I'm giving it a try!
The Merit Glow Serum is a lightweight wonder, like a sip of water for your face — hydrating and plumping your skin in a hot minute. Trust me, you want that glow 24/7, especially when you're prepping for the holiday glam. But here's the bonus — you can use it as part of your bedtime routine, and voilà, wake up feeling fresh, dewy, and brighter than a holiday morning. Say goodbye to dull skin and hello to that lit-from-within glow!
Tired eyes, meet your holiday superhero: the "Baggage Claim Eye Masks!" Not only do these gold eye patches scream holiday glam (I've been known to give these as gifts to my girlfriends), but they're also the ultimate rescue mission for those under-eye bags and dark circles. Trust me, after all that holiday chaos, you'll want to treat yourself to a little extra TLC after a marathon of Christmas errands.
Time for a relaxing facial! This magical Gua Sha is not just for depuffing; it's like giving your face a spa day whenever you please. Use it before your makeup routine, and boom — instant face lift vibes. I swear by this — it DOES work!
My go-to for that smokin' hot holiday look? This Tom Ford eyeshadow palette is my ride-or-die for a night out. Lightweight, buildable, and oh, so subtle sparkle is just what we need. Try a smokey eye for your next holiday event, it's the ultimate eye-catching look!
When it comes to fashion, I say plan ahead and buy early! I can't purchase an entire holiday wardrobe every season, so I think through events I have on my calendar and determine how to build upon what I own to feel a little extra festive. I always treat myself to something new heading into the holidays 😉 We have a couple of dinners out with friends planned, so I've been looking for a few new pieces!
First things first, I'm all about staying cozy, so I'm snagging the warmest and softest sweater I can find. Now, to amp up the glam, I'm pairing it with a chic leather skirt. I just got this and I'm loving it! It is so flattering with the gathered waist. Oh, and some tall boots — these knee high stunners from Schutz are my absolute faves. Kitten heel for the win, I currently have them in this cream croc style. But, I recently purchased them in black as they truly keep me the most comfortable during those long events where I'm mingling and making the rounds. Toss in a chic purse, spritz on my favorite holiday scent and I'm ready for any holiday soiree!

Clouz Houz Tip: Buy things that can be worn multiple ways! I wear these boots with mini/midi skirts and skinny jeans.
* * *
As we wrap up this essentials list, consider your festive season officially upgraded! Remember, it's the little touches that make the biggest impact during the holidays. Wishing you a season filled with joy, warmth, and the perfect touch of festive flair. Happy holidays, and may your celebrations be as fabulous as you are 🤍
All of these beautiful, curated items are conveniently available on our shopLTK page. Explore and shop, so you can step into festivities feeling more than ready for all the great moments ahead. We love that we're able to help make this holiday season extra special and relaxed for you all — it's our way of spreading the holiday cheer! Live in the moment, because … Life is Short. Make it Beautiful.