Our proven, 3-step method to Designing Small Spaces
Small spaces might seem like a breeze to decorate, but let me tell you, at times they can be trickier than more spacious rooms. While larger rooms do have a lot of space to fill, it's the smaller ones that need to be thoughtfully designed in order to insure efficient and functional traffic flow. Don't stress, I'm here to drop some wisdom on nailing that perfectly balanced layout in a tight space: our proven, 3-step method. Smaller spaces call for the VIP treatment when it comes to functionality. Think about it – every inch counts, and we are not here to play around. 
Cue our Tumalo project! This cozy home design has taught me a thing or two about optimizing petite areas, especially the living room. It's crucial to create a thoughtful layout while also maintaining the aesthetic of your home. Don't feel like you have to sacrifice your personal style just to fit existing furniture items into a tight space.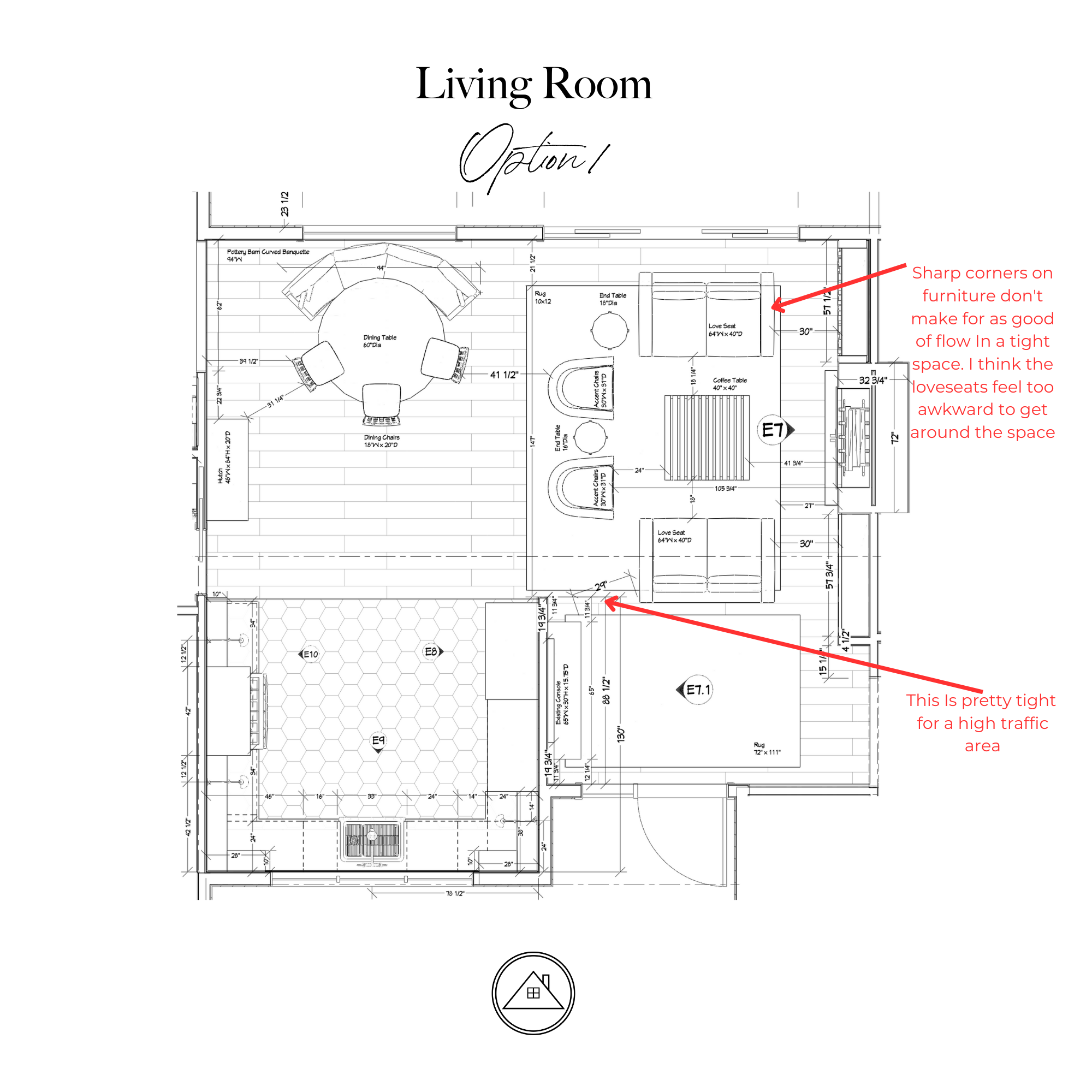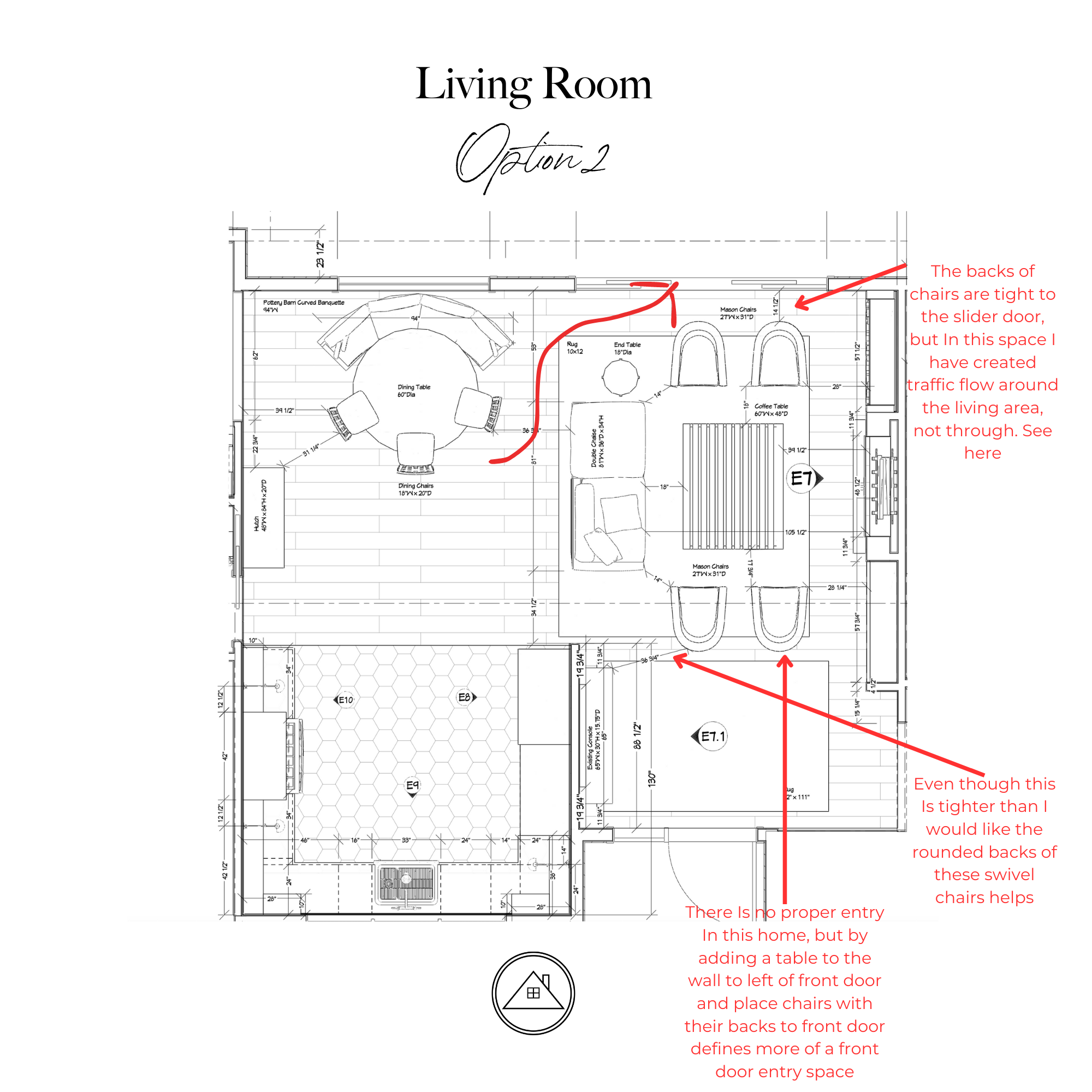 We are choosing option #2 as it has more of an inviting charm with the swivel chairs, which effortlessly guide traffic and flow throughout the space (unlike traditional sharp-cornered couches). By placing swivel chairs in the entryway, we've created an open and welcoming ambience, creating a comfortable atmosphere for guests. This strategic furniture arrangement harmoniously balances functionality and aesthetics.
This proven 3-step process has remained my tried-and-true method over the years. So, let's break it down for you step by step!
Step 1: Put Your Plan to Paper
First up on this journey is to put your plan onto paper. Let's take a nostalgic trip down graph paper lane. Remember the good ol' days when graph paper was our trusty sidekick? Well, now in 2023, I am still bringing my graph paper along to client projects in case I need to draw a few quick sketches. 
Start by envisioning your room, then mapping it out to scale. Got your heart set on that 7-foot sofa, but unsure if it'll be a good fit next to your coffee table? Plot it all out and see how they groove together. It's like designing Tetris with a twist! In today's age of an app for everything, there are many free options such as Spoak if you want to work on a computer when playing with furniture pieces and layout. 

Clouz Houz tip: My rule of thumb is to leave 18 inches between your sofa and coffee table. You want to be able to stand up and move around comfortably. Think of it as insuring that your furniture relationship is drama-free and spacious enough for easy-breezy movement.
Step 2: Walk the Talk – Test Your Layout
This step is all about bringing your paper plan to life! It's not just about furniture placement; it's about creating a smooth traffic flow too. So, grab that trusty painter's tape and outline where your furniture pieces will sit. This creates a life-size, invisible blueprint right there on the floor of your space. Think of the area as a busy intersection – you want those pathways to be clear. That means no tight squeezes, and no awkward twists and turns … just a well thought-out arrangement. 
As you walk through the imaginary layout, ask yourself: "Does this feel right?" Think about the most traveled routes in your home — the ones everyone takes, whether it's to the kitchen or to the bathroom. 
Step 3: Hunt for the Perfect Pieces
So, now that we've created our paper plans and perfected our tape outlines, it's time to take the plunge into the world of furniture sourcing. It really can be a treasure hunt like no other when you're designing a small space. With the knowledge of which dimensions fit like a glove, start looking for new pieces that will compliment what you already have. Let's say your tape-tested room is calling for a 7-foot sofa. Now you are able to search for that perfect piece, either online or within your own home. You'll be amazed at how existing pieces can come to life in a fresh, new context. 

The Clouz Houz Method
There you have it, the ultimate Clouz Houz guide to cracking the small space code while still reflecting your personal style. Whether you're looking for all new furniture or jazzing up existing pieces, this method has made for some happy clients. We are here to deliver if you want a whole new look and would like us to plan it all! If you just seek to spice things up a bit, we can also help guide you in the right direction for how to rearrange your existing pieces. 
Small spaces may be limited in square footage, but they are boundless in potential. Keep dreaming, scheming, and letting your design prowess shine! 
Remember: Life is Short, Make it Beautiful 🤍