Our Client Design Process: A Holistic Approach
Welcome to the magical world of interior design, where we work our magic to make your home dreams come true! Today, I am thrilled to give you a sneak peek into our exciting design presentation process — it's not just a meeting, it's a journey to your dream space. 
There's more to our mission than meets the eye. We're all about creating a luxurious experience for you. That means we prioritize clear communication, proactive thinking, and handling every detail with finesse. You won't have to deal with the usual design project headaches because we've got it all covered, from contracts to working with builders.
We even take it a step further. Picture this: white-glove delivery, your plates neatly displayed on your new shelves, and even your bed expertly made. We're here to make sure your design journey as smooth as silk. But, before I get ahead of myself with all of our design superpowers, we'll dive into the heart of our design presentation process. That includes the prep work, the key elements, and how it all leads to creating your dream space. Get ready for an inside look at how we turn your design dreams into a reality that'll leave you in awe!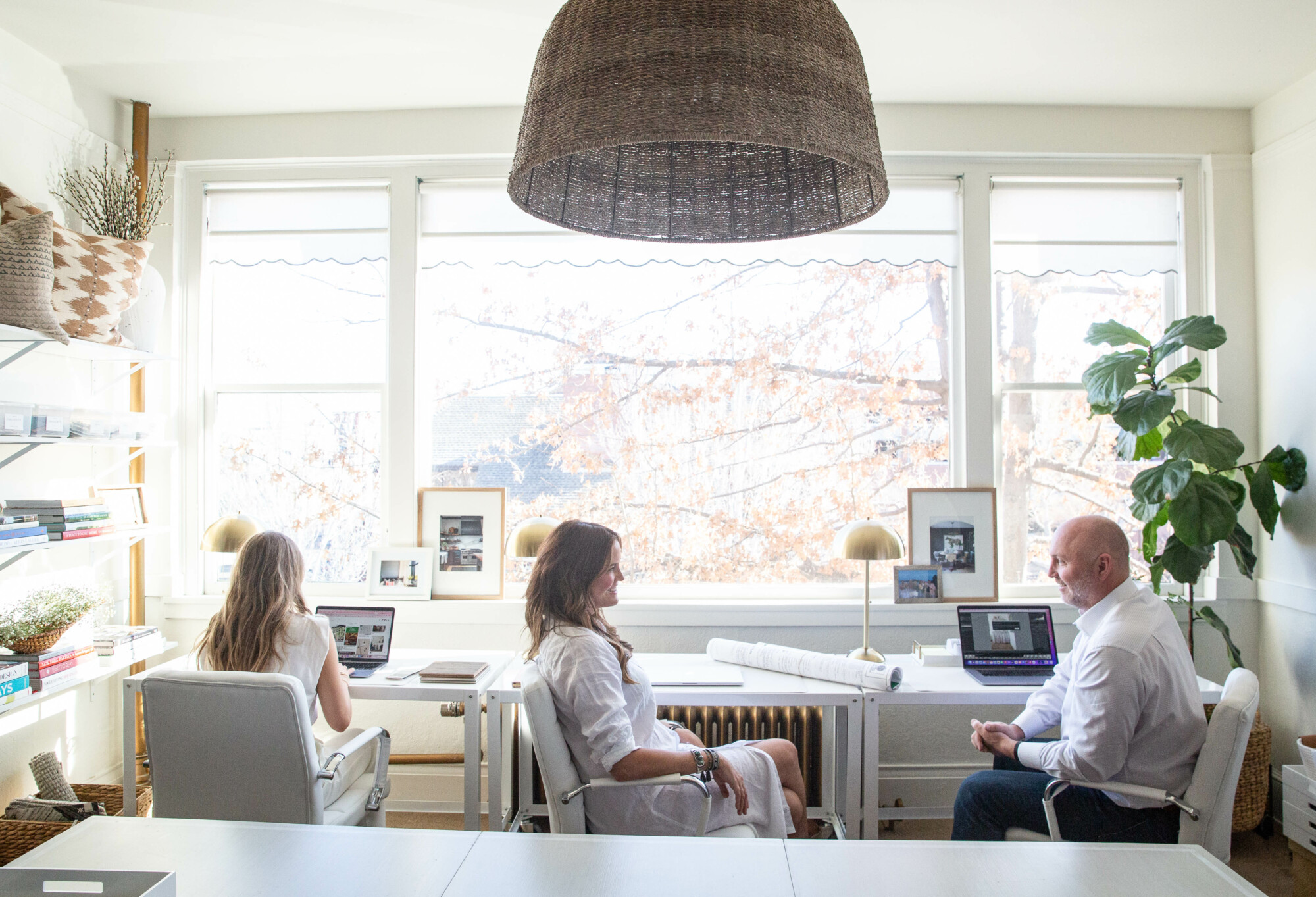 Step 1: Inquiry
It all starts when you, our wonderful clients, take a moment to fill out our client inquiry form on our website. From that very instant, our team begins visualizing your dreams. We delve into listing photos of your home, allowing us to envision the canvas and your needs. We're excited to get a look into your world and see if we are the right fit. But, hey, sometimes, it might not be a perfect match. No worries, though! It's all about providing the best service for our clients, and if we're not the best fit aesthetically, we'll be the first to let you know. 
Step 2: Consultation
Next, we move to the "consultation." This is where the magic deepens: we offer an on-site consultation. If you are not local, we can schedule a Zoom meeting to meet face to face and ask for detailed photos and videos of your space. We absolutely adore working with clients virtually, so if you're miles away, don't hesitate to reach out. Right now we are manifesting projects in Whitefish, Montana, and Sun Valley! Anyone, anyone?? 😉 During the on-site consultation, we walk through your home, but here's the twist — it's not about offering design advice just yet. Instead, it's all about building trust, getting to know your space, and seeing if our visions align … at least to some degree. Your dream space knows no bounds.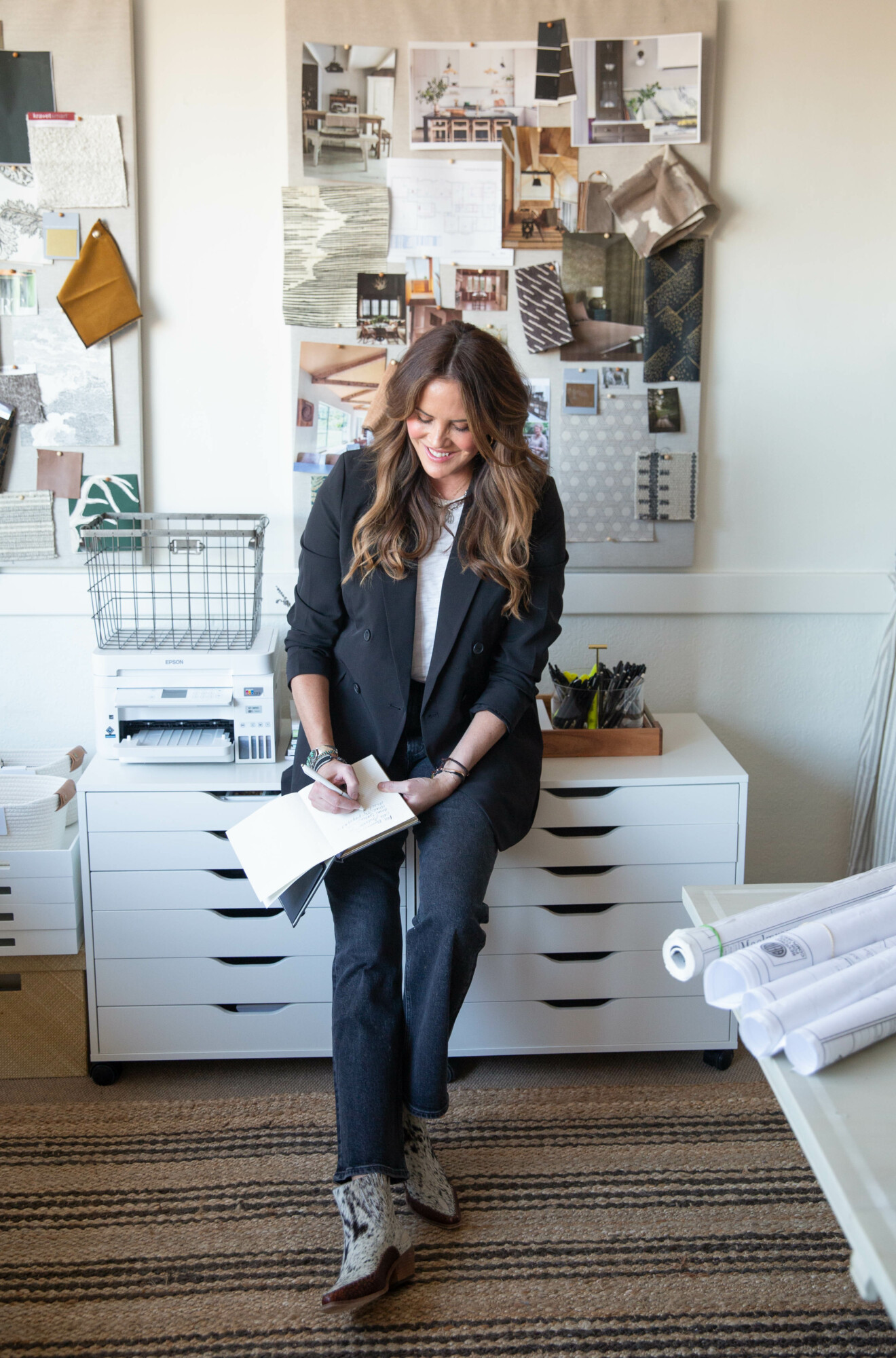 Step 3: Proposal/Contract
Now, let's dive into the enchanting "design proposal/contract>" This is where the real magic start to take shape! After our consultation, we take about a week to craft a comprehensive design proposal that lays out the entire scope of work. But here's the exciting part: it's not just a vague outline. We break it down by each room: from the primary bathroom to the kitchen, laundry, and beyond. You'll get an estimation of the design hours for each space so you know exactly what to expect. Please note, though, that project management admin hours aren't included in the proposal, because they're billed by the hour. At the end of every month you are billed for design hours and any project management hours accrued in that given month, so you're kept up to date on billings.
We love using IDCO Studios' template on CANVA to create our proposals. It's a fantastic tool that helps us bring your dream to life. (Here's the link to IDCO if you want to check it out yourself: https://www.idco.studio/)
Step 4: Design Questionnaire
Our questionnaire is where we like to add a little sprinkle of personal touch. Here's where we get down to the nitty-gritty details that make your design uniquely yours. We'll ask you to fill out your "design homework," a fun list that covers everything, even the tiniest details. Expect questions like, "Do you prefer a high bed or a low bed?" "Do you want drawers in your nightstand?" And we'll get creative with it too — "Do you lean towards geometric patterns, stripes, paisley, Indian block prints, or a solid, texture-rich look?" Your answers to these questions help us weave a design that's truly "you" into every corner of your space. Your dream is in the details! 
Click the link to get started with our client questionnaire , we cannot wait to work with you!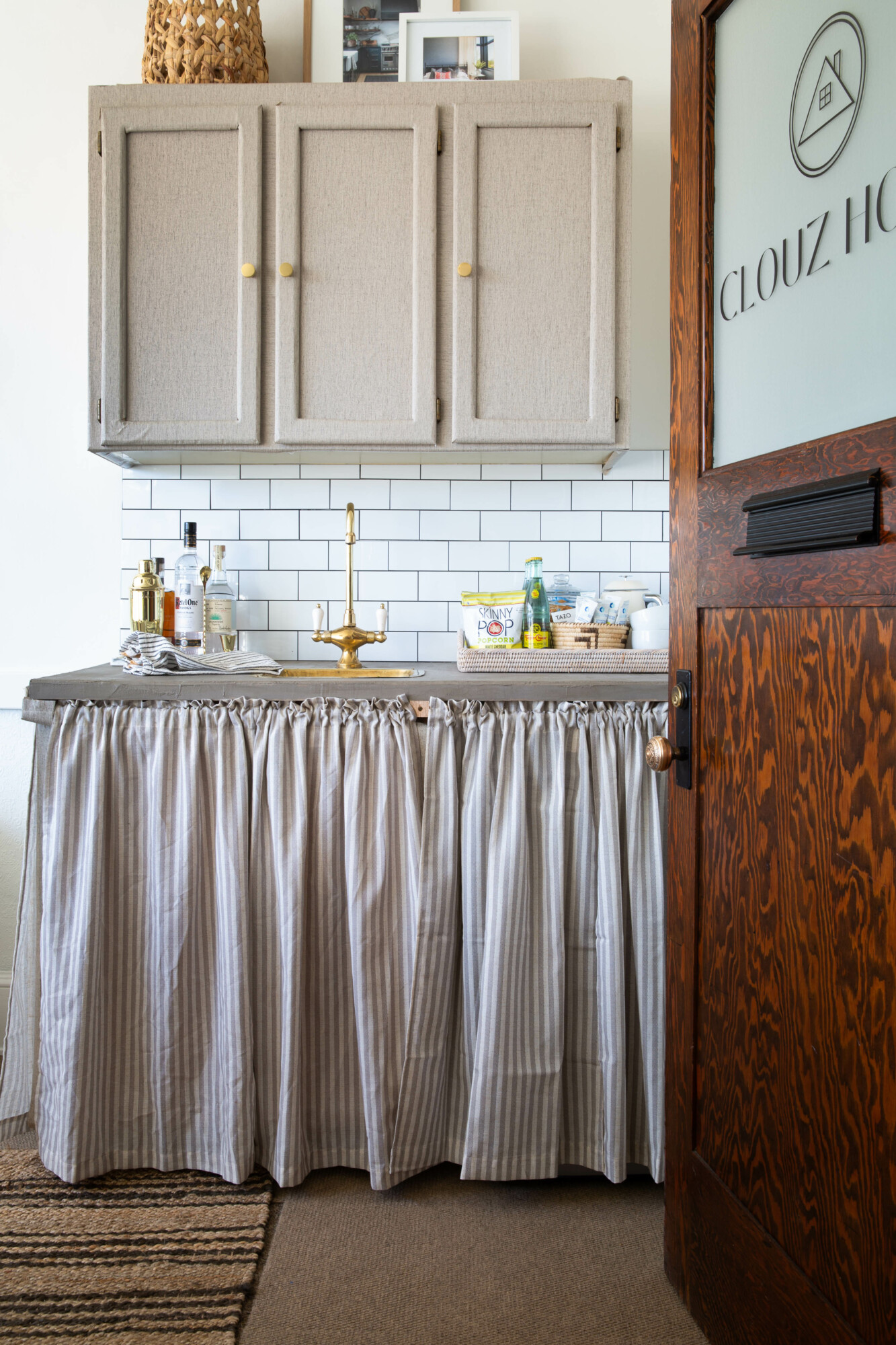 Step 5: Discovery Kickoff Meeting
Let's kick it up a notch with the kickoff meeting, where we take everything we've gathered and turn it into a design journey you'll love!

Clouz Houz tip: If you're stepping into our studio, it's not just a meeting; it's an invitation into our home. Our cooler is stocked year-round with your favorite bubbly drinks and brews. We've got snacks to keep your energy up, and we often grab pastries from our local baker because, hey, every meeting should feel like a fun get-together. 
During this meeting, we're bringing the initial concepts to the table … things like furniture layouts, floor plans, and elevations for review. But here's the beauty of it — nothing's set in stone just yet. We're diving into the finer details. We'll chat about cabinet styles — slim shaker or traditional, inset or overlay. Then, the faucet talk — do you prefer a side spray or a pull-down? And let's not forget the real gems, like discussing if you need a water filter or where to place the microwave. Plus, we're throwing in a curveball — wear on living finishes, light or dark flooring, engineered hardwoods throughout. These are all the ingredients that make your space yours! So no stone is left unturned.

Clouz Houz tip: If you're making decisions about your flooring, we stand proudly behind DuChateau flooring. We  highly recommend it if you're on the hunt for top-notch, quality, engineered hardwoods. Your floors are the foundation of your design, and we want to make sure they are both beautiful and durable.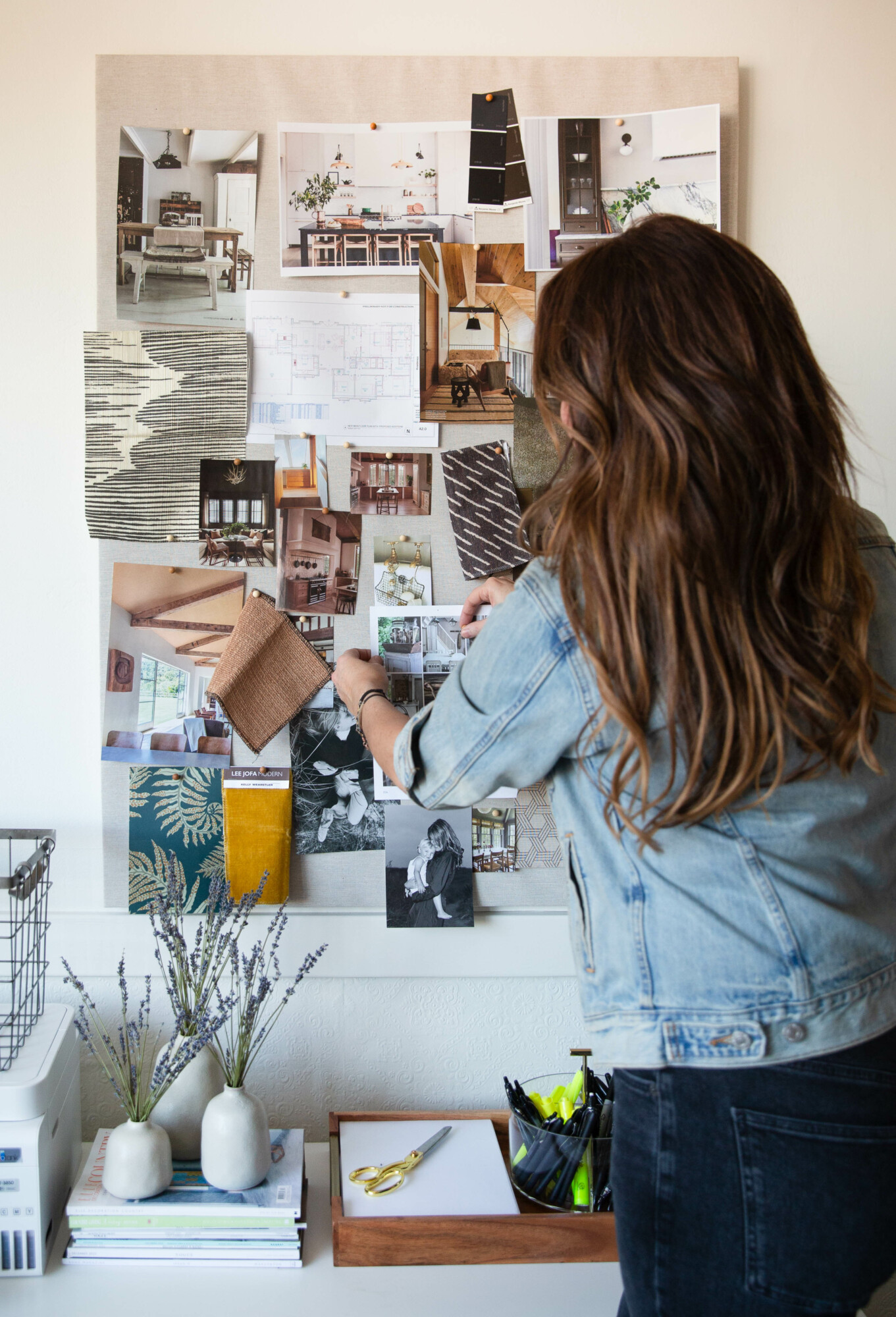 Step 6: Then We Disappear … quite literally!
Well, not literally, but almost! For the next 6-8 weeks, we're in full 'ghost' mode, working behind the scenes to craft your dream space. This is when we take the wheel and steer the ship straight towards your vision. You might find us working from home, diving into design books, scrolling through Pinterest late at night, or simply taking a refreshing walk in nature. The creative process is like a fine wine; it takes time to mature. While it may seem like we've vanished for a while, rest assured, we're working on a multitude of details. 
We're also collaborating closely with our draftsperson, furniture makers and showrooms, as well as ordering samples. We're handpicking the exact tile, floors, fabrics, wallpapers, paints, finishes, hardware pulls, knobs, lighting, and even the faucet that's perfect for your space. Oprah once said, "The best gift you can give yourself is time." It's during this time that the greatest ideas come to life, and the results are truly enchanting. 

Clouz Houz tip (for designers): Don't be afraid to step away and take the time you need. Be open about the magic-making that's happening behind the scenes. This is how you show up as your best self and offer the most amazing designs. 
Step 7: Holistic Presentation
This is where we unveil the entire masterpiece, in its entirety! We're not just presenting isolated elements; we're looking at all the finish materials as a harmonious whole. And, we're diving deep into elevations and layouts. Here's the most thrilling part: you get to witness your entire dream coming to life right before your eyes! 

Clouz Houz tip: We may just pop open some champagne to celebrate this milestone. It's a moment to savor as we bring together every detail into one breathtaking design. Your dream space is about to take its final form, and it's an absolute triumph!
Step 8: Bidset to pass along to your Builder/General Contractor
Now we are at the "bidset" stage. This is where we hand the wheel over to your general contractor and become their best friend in the world of design. We present them with the comprehensive 'bible' of instructions that contains every single detail and selection that we've carefully crafted. 
But here's the thing — if there's ever a need to make revisions due to budgetary considerations, rest assured, we're here to adjust and revise selections as needed. Your goals are our top priority, and we want to ensure it's up to par, no matter the twists and turns along the way. 
* * *
In the world of design, our ultimate goal is simple: to make our clients as happy as can be. We're here to ensure that this experience is not just efficient but also inspiring and creative. We treat your project with the same care and love as if it were our own home, and we're incredibly proud of the bonds we build with our clients along the way.
Big shoutout to Julia Miller from Yond Interiors for helping us fine-tune our client process. We're beyond grateful for our call using @theexpert. If you get a chance, check it out — we highly recommend it!
And the excitement doesn't stop there – next week, we're gearing up for the Haven List Retreat in beautiful Sonoma. We can't wait to soak in all the wisdom from experts in our field. It's the industry's top business retreat for interior designers, and we're ready to dive in and learn even more! 
We hope this glimpse into our process sheds some light for those seeking to transform their space and who want to know more about how we work here at Clouz Houz. Your dream space is just a few steps away, and we can't wait to make it a reality!
1
Marble Elegance
The perfect catchall for the small office items that are tricky to keep organized and all in one place.
2
Chic Serve-All Tray
Impress your guests upon arrival with yummy pastries arranged on this chic platter.
3
Bud Vase Bliss
Throw in your favorite wild flower, such as baby's breath, and watch as your tabletop comes to life! Plants and flower arrangements are an office essential.