How To Incorporate this Into Your Home
Neutrals are nothing new when it comes to interior design, but brown is taking the stage as the new "it" color for creating a moody and inviting space. Different from what some may remember from the 90's, these brown shades, ranging from chestnut to chocolate, are making a huge comeback in the interior design world. The depth of the color brown, whether cool or warm, is so inviting and comforting! We used Farrow & Ball's "Salon Drab" when we painted the paneling in our primary bedroom, and we absolutely love the vibe it created.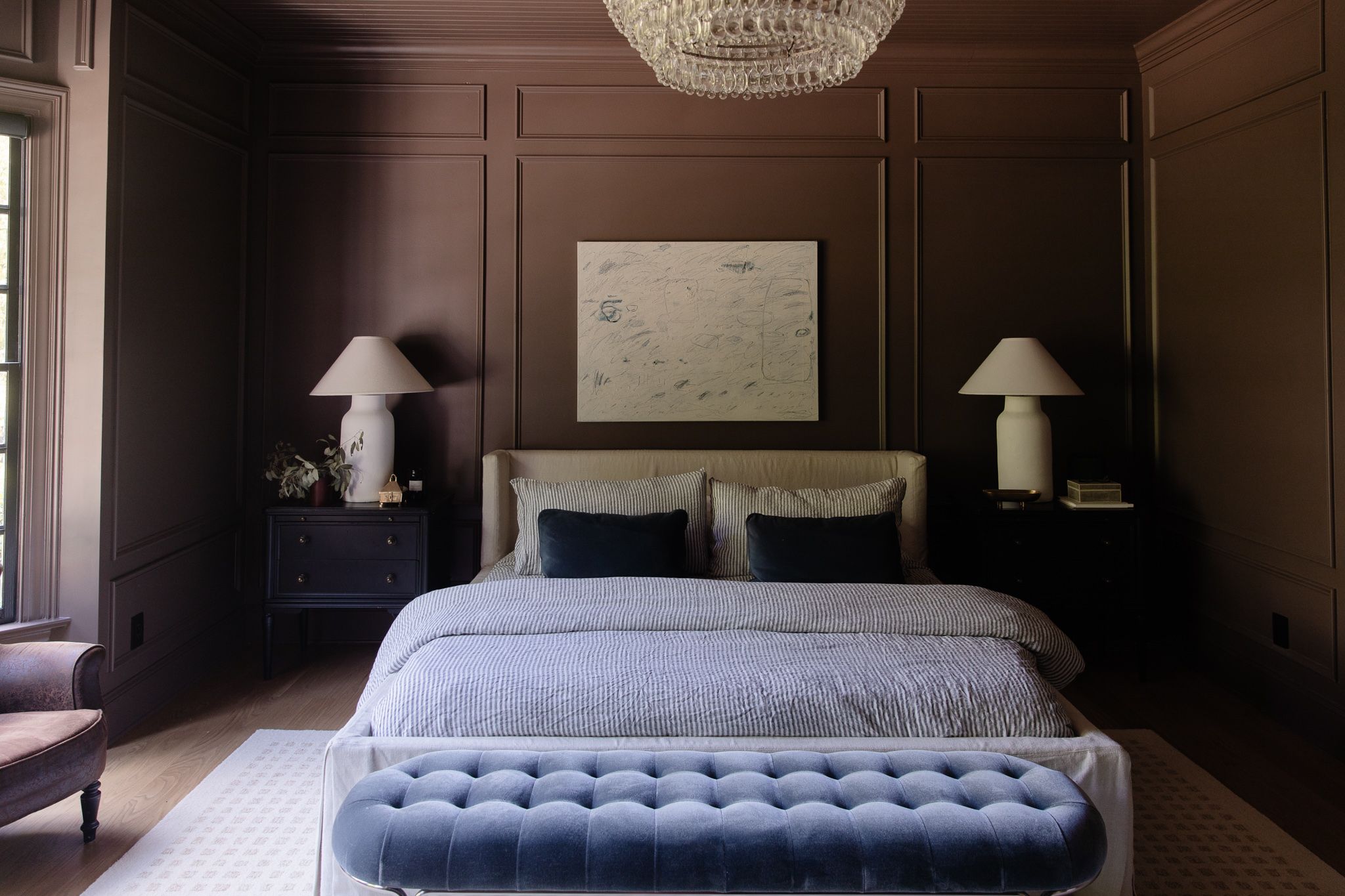 We've always loved the color brown. In fact, Derrick gravitates more toward brown in his wardrobe than black because he likes  the warmth and contrast it brings to his outfits. Incorporating shades of brown in your home can be appealing as well. For instance, it's gorgeous in a family room — think stoking a fire and curling in for the night surrounded by a deep shade of brown (cue a Ralph Lauren ad – hah!).
Of course, you can paint to get this look. But if you don't want to take that leap, simply adding accent elements of deep rich brown to a space will give it some interest without having to resort to the beloved black we've all relied on for so many years! Follow along below as we share ways to achieve this look.
How to incorporate the brown interior trend into your home
1. A FEW COATS OF PAINT MAKES ALL THE DIFFERENCE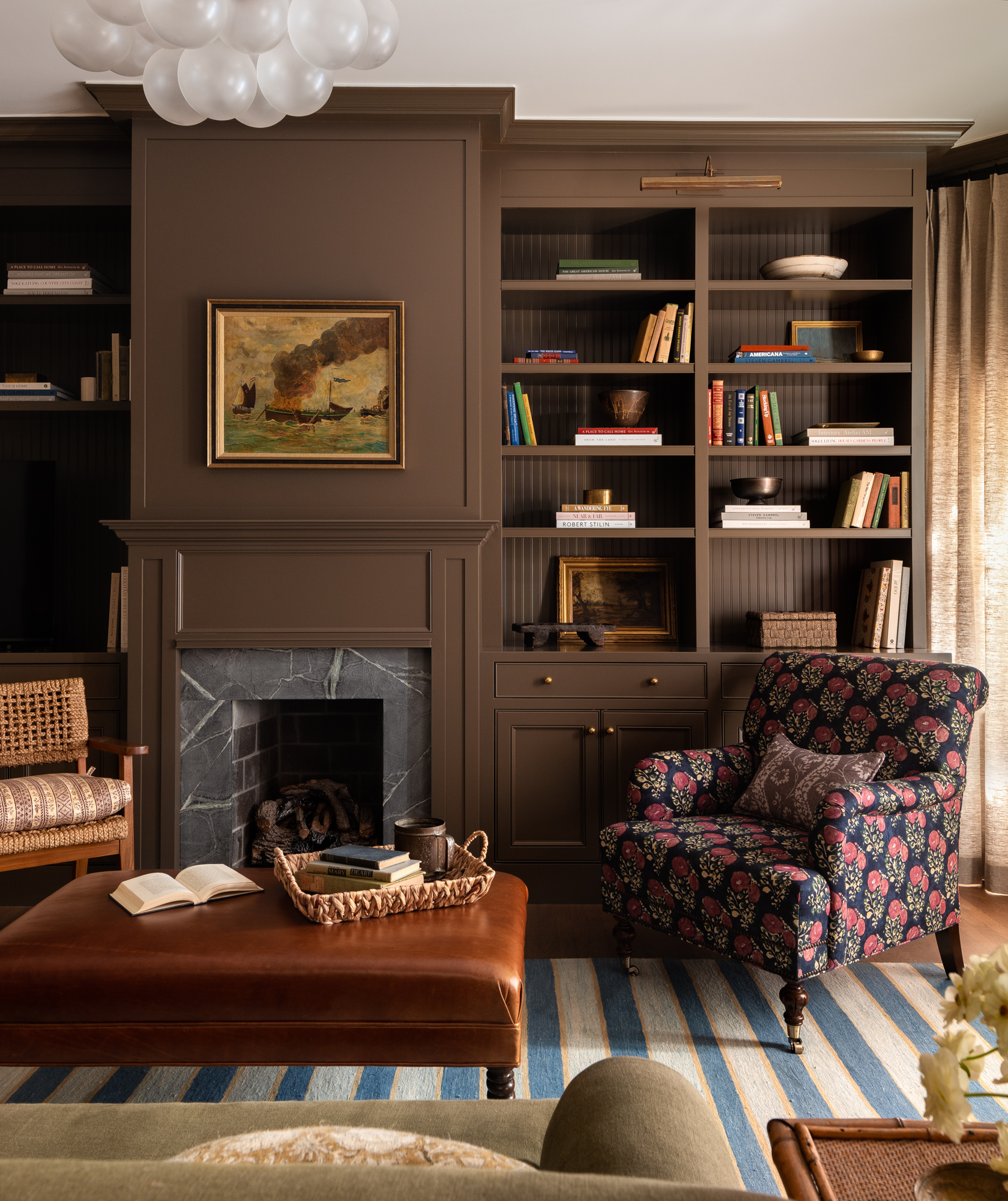 Of course, you knew we would say "paint, paint and more paint." It's the easiest, and quite honestly, the most cost effective way to bring this trend to your home today. If you have a neutral palette including shades of linen, ivory and maybe even black (would also look incredible with gray and deep blue), pair with a rich brown for a luxurious contrast. And, as in the room above, we prefer to paint the trim the same color as the walls. I creates a beautiful saturated palette that really shows off the furniture in the space.
Here are some favorite paint colors you can use to achieve this look:
Benjamin Moore "Mississippi Mud"
We absolutely love the look of our primary bedroom below. Painting the walls made all the difference, and we're so happy to crawl into bed at night in a room with a rich and moody feel!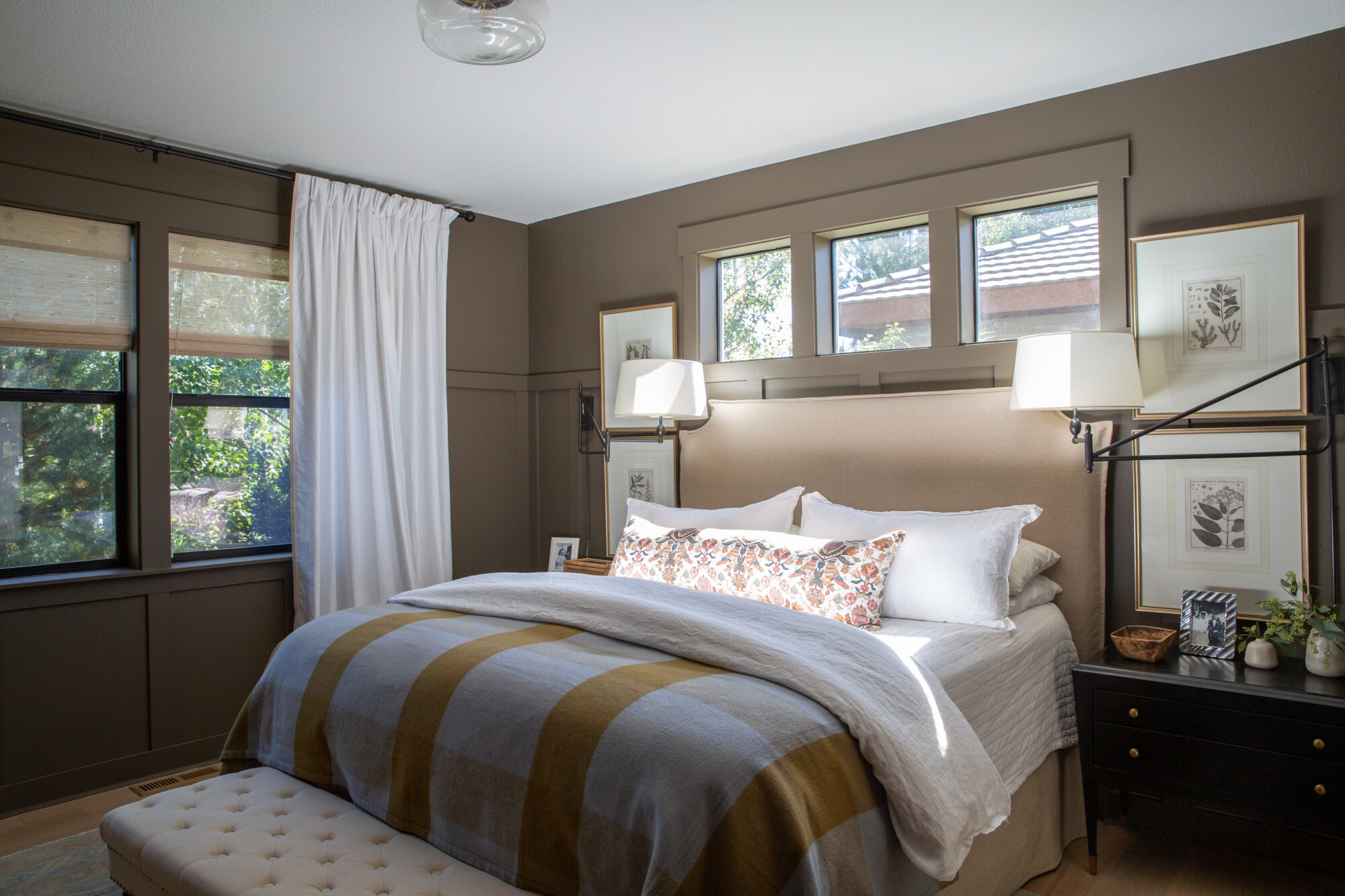 2) ADD BROWN FURNITURE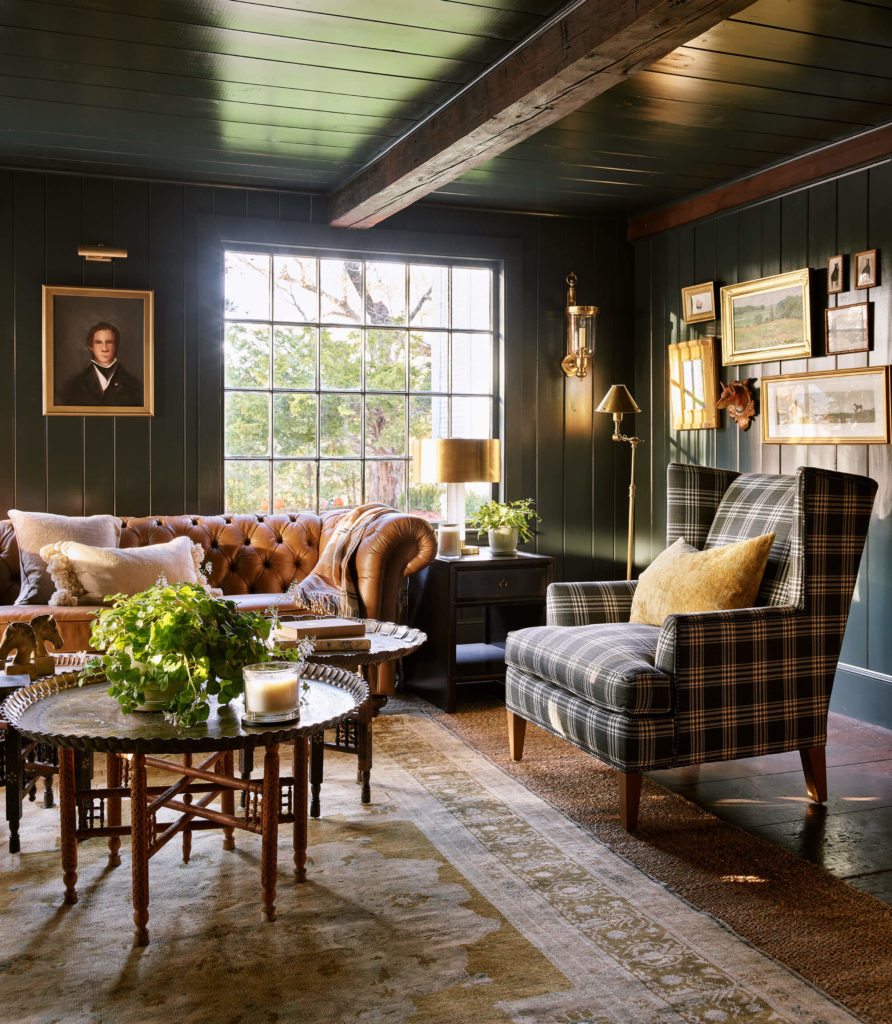 In one of our first homes, we had a large sofa that I covered in the most beautiful chocolate brown linen. It always received compliments! And, I just loved how it looked with any color I added for contrast, such as deep blue, brick red and ivory. We moved that sofa to at least three different houses through the years, and it was always a focal point in any space where we placed it. A furniture piece in brown can command attention without being too harsh, so if you want to dip your toe into this trend, try adding a piece of furniture in a gorgeous shade of brown. Another option is a sofa in a saddle brown or cognac leather (see photo above). This is another way to add some warmth and depth that will never go out of style! Pair it with walnut or mahogany vintage pieces to create a charming and interesting space you'll enjoy for years to come.
3. STATEMENT CABINETRY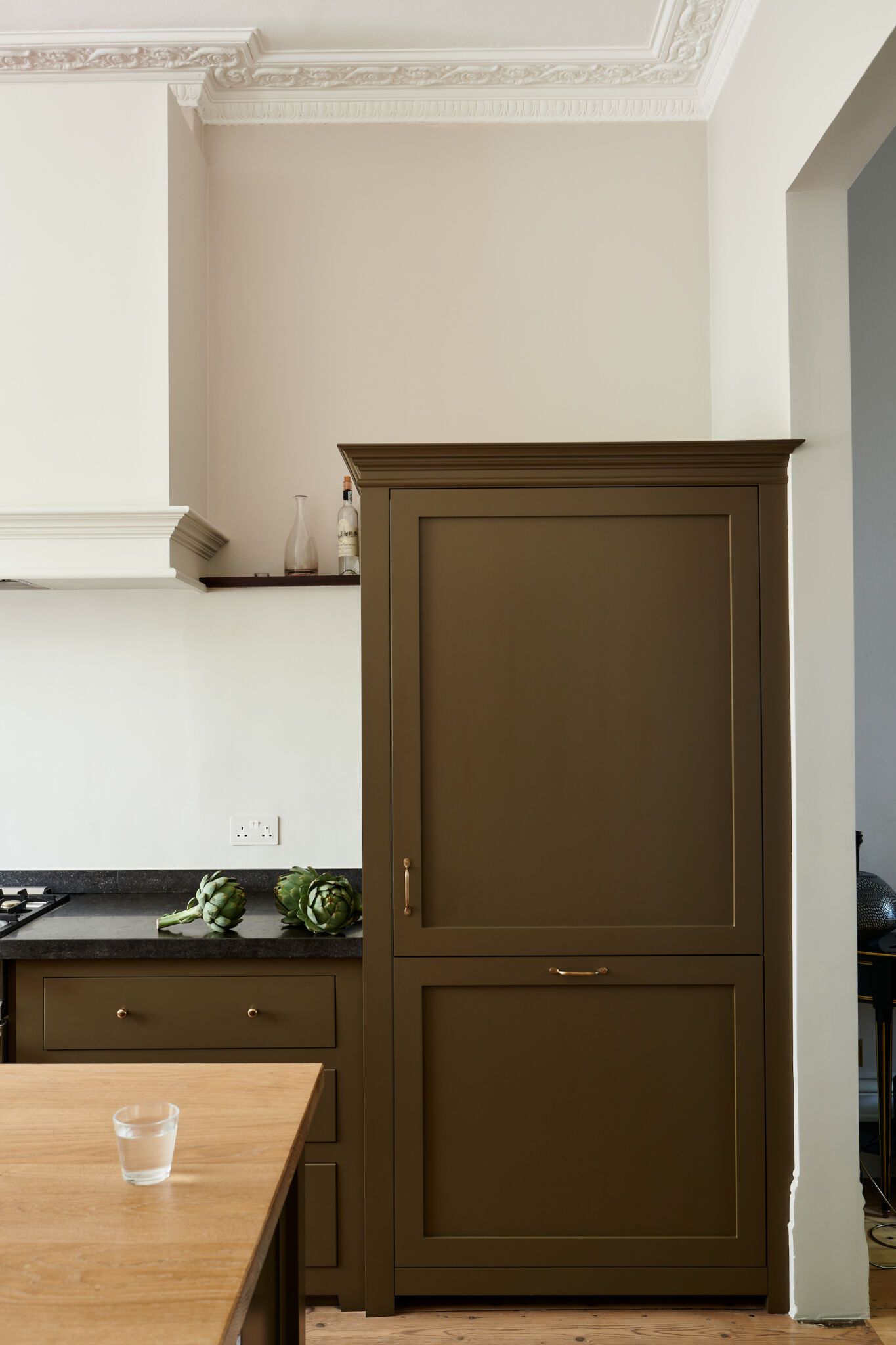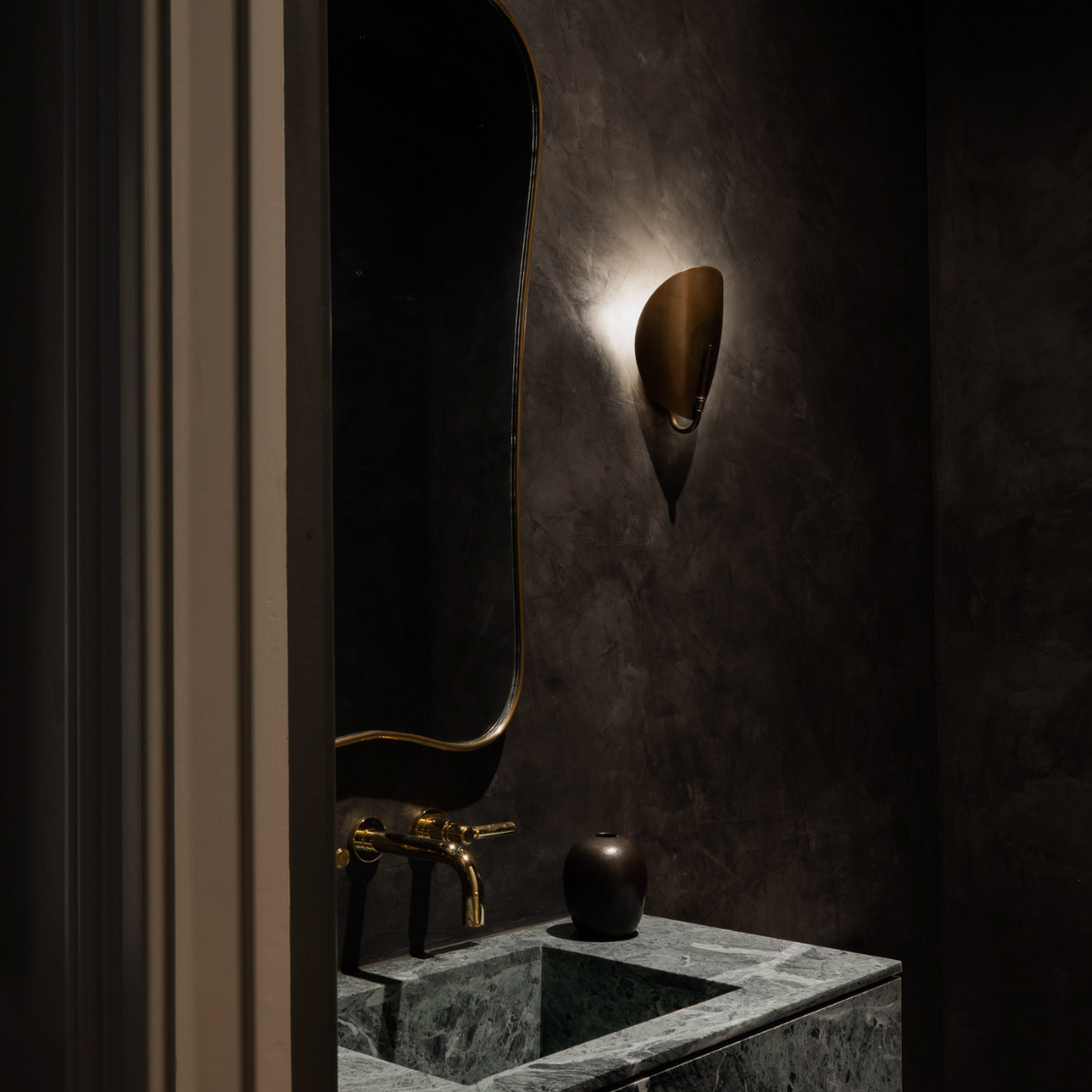 The idea of creating a dazzling, elegant kitchen with dark brown cabinetry is not only unexpected, but also very very stylish. You can try adding a punch of contrast by painting the cabinets either brown, or a carefully stained walnut. And don't think the kitchen has to be the only place to try this look … the powder bathroom above is a perfect example of another room where brown creates richness and depth.
So, what do you think? Would you want to try shades of brown, classic and redefined, in your own home? Check out items we've selected below that pair beautifully with brown and consider a shift in palette. Let us know what you think!