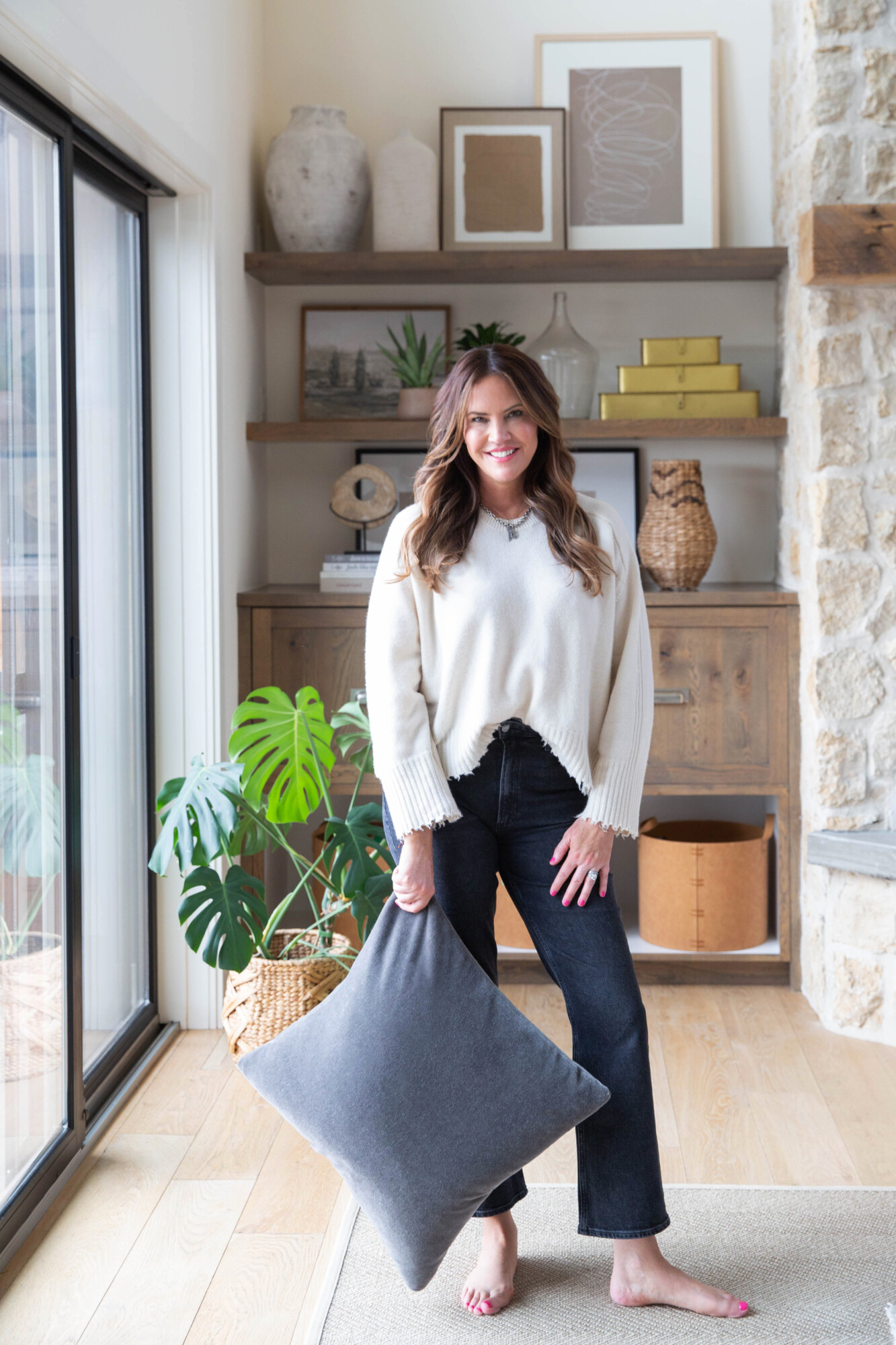 It's almost spring! That means time to clean and refresh 🙂 Today's post is short and sweet. I'm giving you my top five tips for styling your shelves! Our goal is always to make things simple for you. We're excited to show you how easy it is to give your home a stylish, new look this season. We wanted to share a fun little project we just completed, where we helped our clients style some shelves in their gorgeous living room. Studio McGee for Target's Spring collection was our primary source for décor.
With the sun starting to make a regular appearance, what better way to start transitioning into spring than by sprucing up your shelves with some fun, new accessories? By mixing natural materials, modern silhouettes and contrasting colors, I gave these show-stopping shelves some personality. Layering is KEY to making large shelves look intentional and not an afterthought. You want to tell a story with your shelves — a collection of personal items that have a cohesive look and just make you … happy! 
Here are My Simple Go-To Steps for Styling Shelves
STEP ONE
Start with larger items, such as baskets or larger pieces of art or prints, and display them on shelves in a zigzag pattern (top shelf: large piece is on left, middle shelf: large piece is on the right, and lower shelf: it's back on the left). This way, your eye flows smoothly from shelf to shelf. With this technique, you're able to give the area a cohesive look. This technique grounds each shelf as well — if that makes sense? Ha!
STEP TWO
Speaking of smaller items, I think that vases are beautiful for filling in the gaps. (Style tip: for larger shelves, I typically like to pair vases — either two identical ones, or one big and one small). They give the shelves another 'layer' to the larger pieces. Try experimenting with different arrangements of sizes, shapes, and colors/textures to decide which suits your style best, while also adding a contrasting element. 
STEP THREE
Books! Large cocktail books are your friend when it comes to styling bigger shelves. They are particularly effective when it comes to these types of shelves because their size simply speaks for themselves. Plus, the bold colors and beautiful covers can make the space a bit more vibrant and interesting. Not to mention, they can be great conversation starters! 
STEP FOUR
Go for the greens! Whether faux or real (my personal favorite), bring any room to life with some succulents or pots of moss. But let me warn you, potted plants can be a full-time responsibility. For those who have trouble keeping them alive, I recommend some dainty dried flowers to add in your vases. There are also many good faux stems to try. Check Alfloral — I've been very impressed by the quality of their faux flowers and greenery. 
---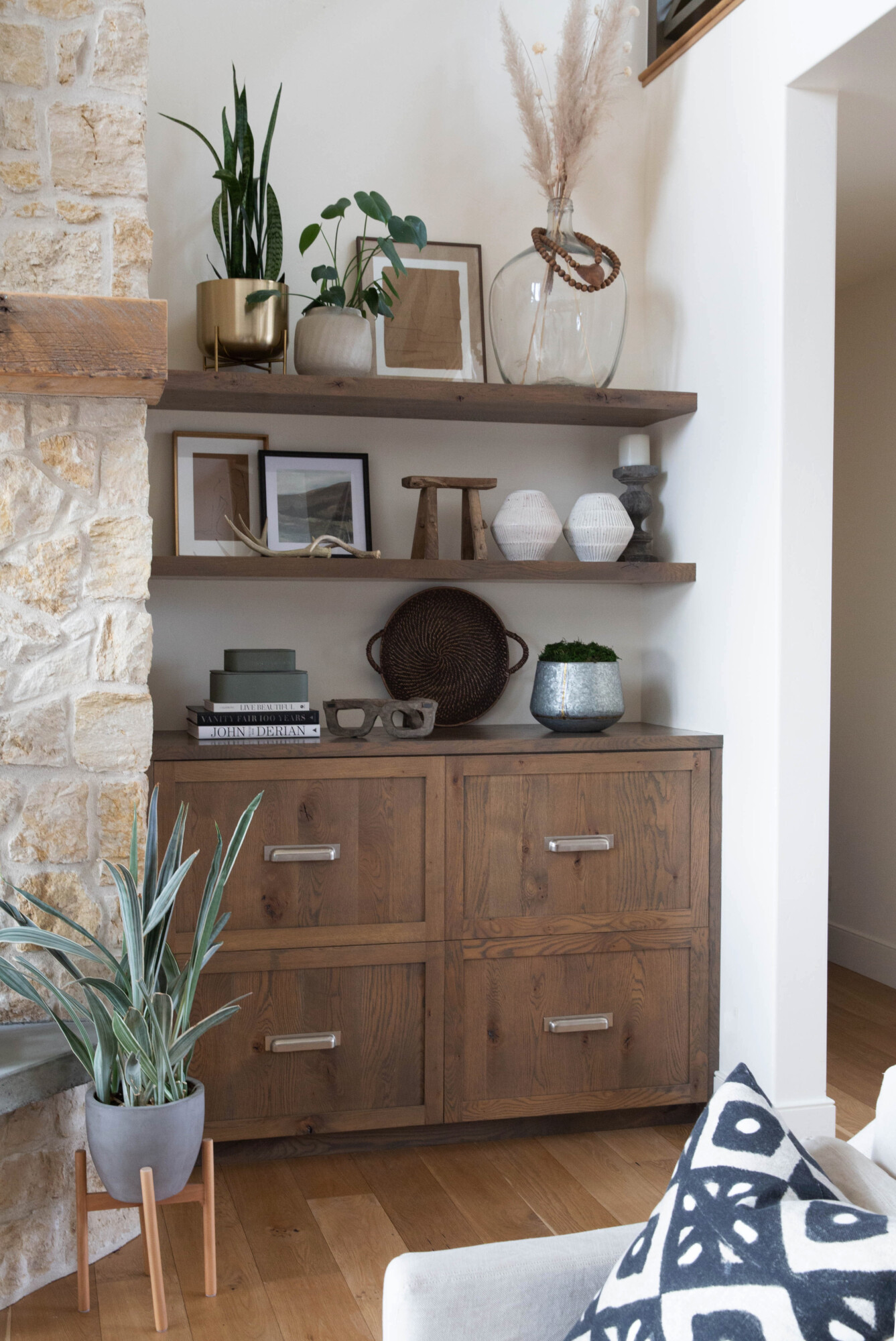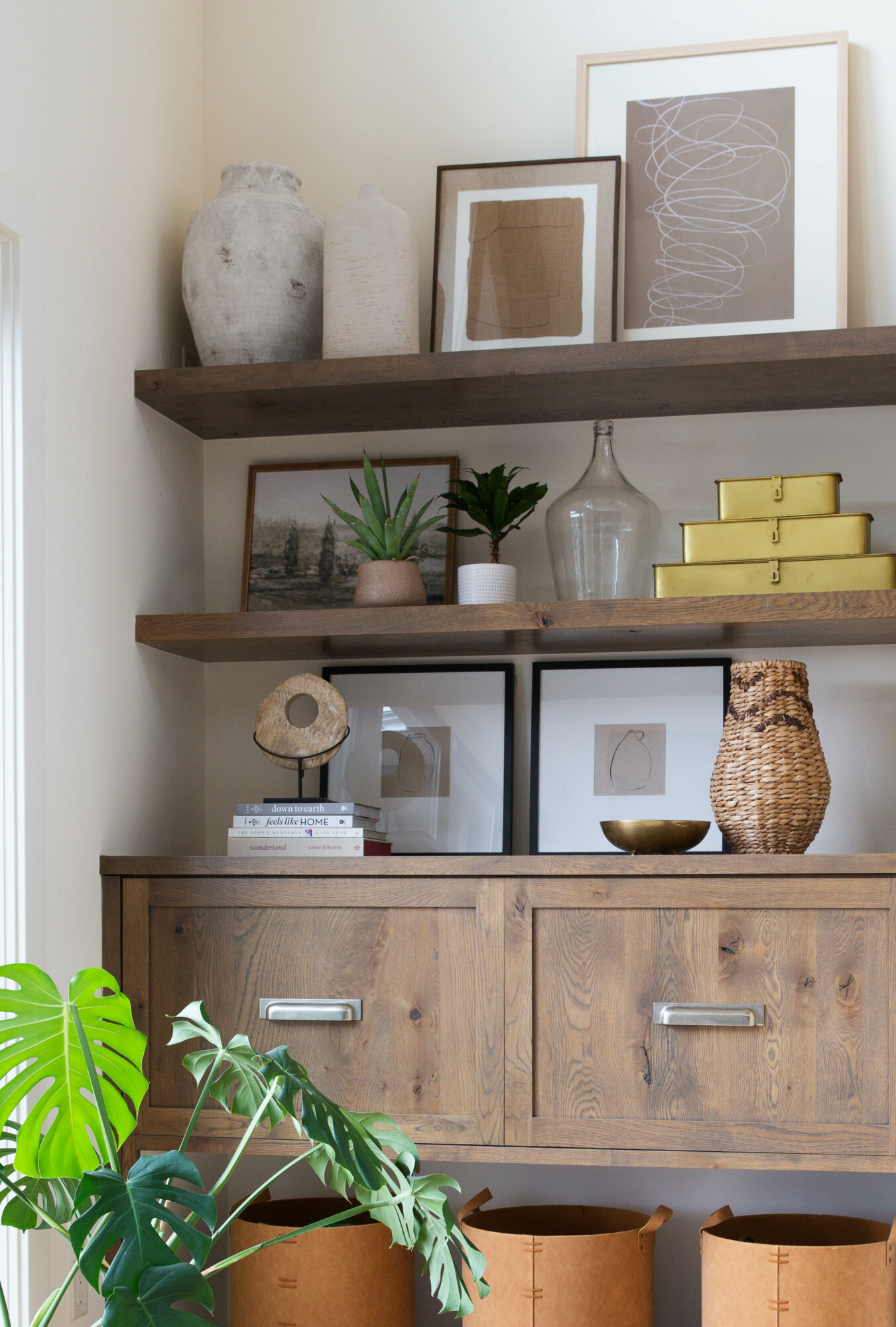 STEP FIVE
Lastly, add small architectural elements like antlers, favorite kids' pottery projects, book ends and/or small vintage ornaments. These are perfect for stacking on top of books, and they complete the shelving ensemble. They also help give the space a more unique and personalized charm. Checkout your local antique store or flea markets to find great second-hand steals.

CLOUZ HOUZ TIP: Organize the clutter! Add some baskets or decorative containers for holding remotes, blankets, pet toys, and other miscellaneous items. This idea pulled the shelves all together and made the room feel more cozy. Consider it a life hack for tricking your guests into believing you are always this tidy! 
OK, so there you have it! Whether you're looking for a few statement pieces or just a couple of small accessories, you can find all the items you need to create your perfect look. We hope this helps inspire you and get your creative juices flowing. Below is a list of items that we used for styling this project. Happy shopping, and tag us if you style something utilizing these tips — we want to see your handiwork! 
1
Pair of Vase Drawings
I am thoroughly impressed with the quality of these prints! They were the perfect backdrop for these beautiful white oak shelves. They're neutral, yet add a graphic punch. If you're in need of smaller prints to use at the rear of your shelves like we did here, you won't be disappointed with these.
2
Carved Cream Vase
These vases are simple and elegant. I purchased a pair since these shelves were too large in scale to use just one. This is a favorite hack when I want something to feel 'heavier' than a stand alone. The ridge design gives texture to the shelves, and I absolutely love the color. There is a slight fleck in them that gives off a great vintage vibe.
3
Large & Small Faux Shagreen Lidded Box
These boxes are the most beautiful color, and they are a steal for the price! Real shagreen would be at least four times the expense. I love to stack boxes on top of each other, and these would also work well for hiding remote controls, keys, etc.
4
Woman Figural Sketch
Again, what can I say? I'm amazed at the quality of these prints! This neutral sketch was the perfect compliment to this neutral palette, but it would be equally attractive with a colorful palette to help neutralize the look.
5
Rattan Woven Serving Tray
This could be used as a styling piece on a countertop, but I loved it at the rear of the shelves to give more texture. Treat basket trays such as these like artwork!
6
Faux Camel Leather Storage Bin
This is from the Hearth & Hand Collection at Target. We used three in the large size at the base of the cabinet. This was originally designed to hold firewood. But, the clients decided they didn't want the mess, or bugs inside from real wood -- so there was a void. By adding the bins, we incorporated some color with the rich leather. They hold blankets and puppy toys, and are a great look that makes the space feel intentional for storage.
7
Brass Footed Bowl
This is on the smaller size, so it's perfect for adding in at the end phase of your styling project. It looks great in front of a print, or stacked on top of some gorgeous cocktail table books!