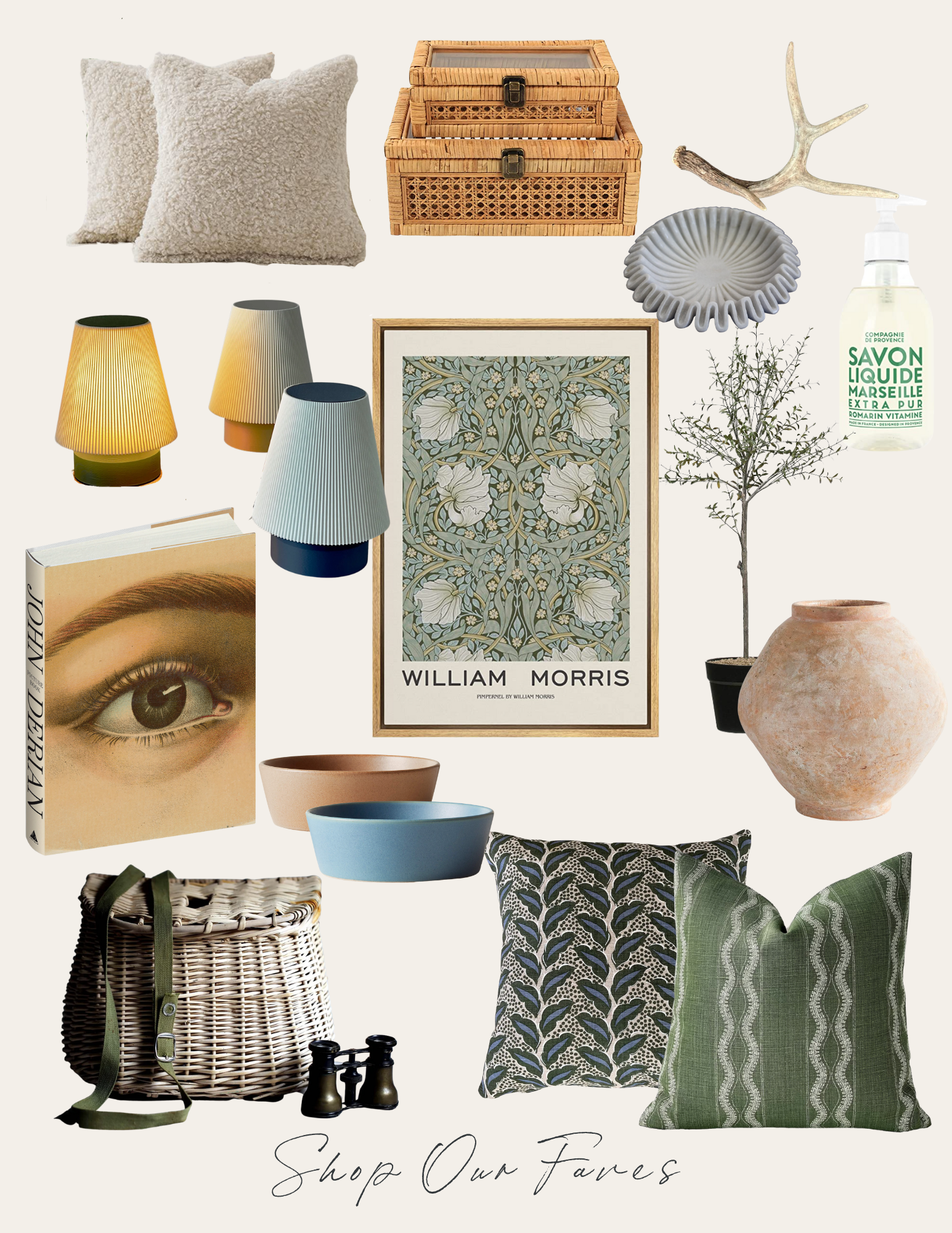 Hi y'all! I thought I would share some of my favorite items for getting your home refreshed for spring 🌸 Better yet, they're all under $100! I'll be honest, when I style my clients' homes, I look for a mix of high and low priced items. My goal is to achieve a beautiful — yet affordable — highly curated look. But today's post isn't about the "investment pieces." Instead, it's all about items that are serious finds for the cost! Making our services accessible to everyone demonstrates our commitment to the Clouz Houz mission. Good design is achievable, no matter the price point. Sprinkle some (or many) of these items into your home. I promise these little touches will make your spaces feel fresh and updated!
How do you do this? Well, my main recommendation is to mix and match your home décor for a beautifully layered and personal look. Don't forget to incorporate family heirlooms, photos of vacations, and special occasions. Then use some of the beautiful items below to supplement those more meaningful and personal items.
So here you go, I'm giving away all my secrets (well not all 😂) but, if someone called me up today and asked for help with a speing refresh, I guarantee you these items would be on my install list!

CLOUZ HOUZ TIP: If you're refreshing a space (or just simply want to finish one), buy MORE than you think you may need. You can always make returns! But, in my experience, you always need more than you think when putting the finishing touches to any space. 
Lastly, I've highlighted several items below and why I love them. If you want access to all items, you can shop our faves on the @Shop.LTK app here. Follow us there to stay up to date on all the things we're loving for your home and lifestyle. Happy Spring refreshing! 😍
1
Scallop Bowl
Have you guys seen the latest trend in home décor? Marble ribbon edge bowls are all the rage right now, and let me tell you, they are seriously stylish! I am absolutely obsessed with this classic material and the modern twist of the ribbon edge detail. Not only do they add a touch of elegance and sophistication to any space, but they are also super versatile. I've been using mine as a catch-all for my keys, sunglasses, and other small items that usually clutter up my entryway. They are perfect for anyone who likes to mix traditional and modern styles.
2
John Derian Picture Book
I also wanted to share one of my favorite coffee table books: it's this one by John Derian. It has been a staple in my home for years now. The illustrations in this book are absolutely stunning, and they add a unique and whimsical touch to any space. I've had mine on my living room coffee table, in my office, and even in my bedroom, and it always looks perfectly placed. It's a versatile piece that can be used to add a touch of personality really anywhere you put it. Trust me, you won't regret adding this one to your collection. 
3
Faux Topiary
This faux topiary has become a staple in my home, and I'm convinced that it brightens up any space. One of the things I love most about it is that it adds some much-needed greenery to the room without feeling heavy. And, it's perfect for those of us who are too busy to devote time to plant care 😉 I personally like it on my kitchen counter to add a touch of green. It's also a great conversation starter when guests come over, as they're always surprised to learn that it's not a real plant!
4
Terracotta Vase
One of my all time spring faves: terracotta pots. Not only are they a classic, but they also pair beautifully with greenery and are the perfect vessels for your favorite plants. The combination of the natural, earthy tones of the terracotta and the vibrant green of faux plants (insert cute topiary above) creates a stunning visual display that I can't get enough of! Plus, they're durable and long-lasting, which makes them a great investment piece for any home. I never see these going out of style and I would highly recommend adding some to your home this spring!
5
Bedside Table Lamp
This mini lamp is incredibly functional, and it also comes in an array of beautiful colors and styles. I love the cute pleated shade! Personally, I'm a huge fan of the color forest green, and I think it's a gorgeous pop of color for spring. It also provides some ambient lighting to your bedroom. It's small and compact size makes it easy to move around, and would also look great displayed on a kitchen counter or desk. Perfect for those short on space. 
6
William Morris Print
Checkout this William Morris print! It's a great deal for the price, and also a classic piece to have. One thing that makes this such a good décor option is that it isn't too large, which makes it the ideal choice for smaller spaces like a powder bath or pantry. Or, you could just prop it up on a shelf or table. At the moment, we're really loving the Morris & Co collection from McGee & Co. They have a variety of different prints and patterns inspired by William Morris for outdoor pillows. Yes please!
7
Vintage Fishing Basket
Let's chat a little about vintage décor finds. I'm a huge fan of incorporating vintage pieces into my home décor, and baskets are one of my go-to choices for adding a touch of old-world charm. What I love about this vintage fishing basket is its rustic style. It's a piece with a lot of character, and it adds a sense of history and personality to any room. One of my favorite ways to use baskets is in an entryway. It's the perfect place to slide one under a console or chair, and it's a great spot to store last-minute essentials when you're walking out the door. I like to use mine to hold scarves, gloves, my dog's leashes, and other odds and ends that I might need on the way out.
8
Pair of Sherpa Throw Pillow Covers
This set of teddy pillow covers is my latest discovery. These pillow covers are simply amazing! They're incredibly soft and fluffy, making them the perfect addition to your bed or couch. Add a down alternative or down feather fill and you'll feel like you're resting on a cloud -- it's pure bliss! One of the things I absolutely love about these covers is their natural color. It's the perfect hue for spring, and will make any room feel warm and inviting. Plus, the natural color allows you to get creative and pair it with a printed pillow. Trust me, the possibilities are endless! And, I would be silly to not mention how incredibly inexpensive they are for a pair!
9
Jade Indigo Pillow Cover
I recently came across an incredible pillow that I just had to share with you all. It's this Serena Dugan pattern, and let me tell you, it's so fun and colorful! I fell in love with it the moment I saw it and knew that I had to find a way to incorporate it into my home refresh. This Etsy vendor makes the pillows to order, and they come in a variety of sizes. I opted for the 12 x 24 size, which keeps the price under $100. However, if you have a larger budget, you can order larger sizes as well.