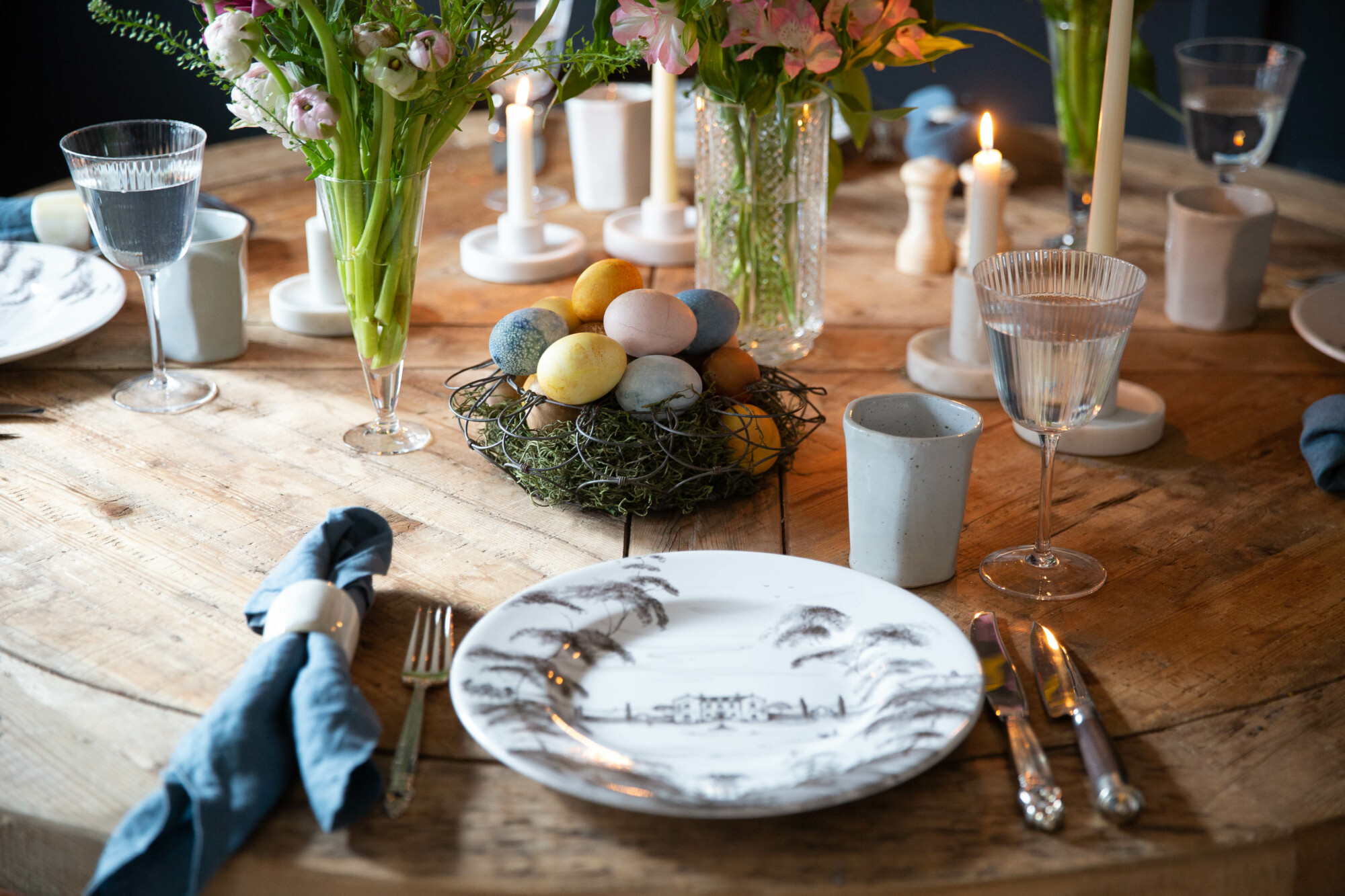 Easter is early this year! For me, Easter sparks so much happiness … after all, it's the start of a new season (and one of my favorites). Birds are chirping, grass is turning green (in Central Oregon everything really turns brown in the winter), leaves are popping on trees, and the smell of freshly cut grass fills the air. I can feel it already, even though it snowed here last week! 😂
I thought I would share with you everything I think about when starting to plan my Easter table and menu. We like to keep things fairly simple around here, but still use items that are meaningful. For example, I'll bring out a cut crystal vase that was a wedding gift (and always reminds me of the best day of my life); my grandmother's pretty china and silver; and special mementos I've collected through the years. I truly believe that what is on the table has an interesting effect on what happens around the table. One of my favorite things to do is create memorable moments for our family.
When you set out (ha, see what I did there) to planning your table, pull all the pretty things out of your cupboards, dust them off and … use them!! Don't ever think "these are TOO nice" to use. Indulge yourself and your guests. It will feel good and look elevated — trust me!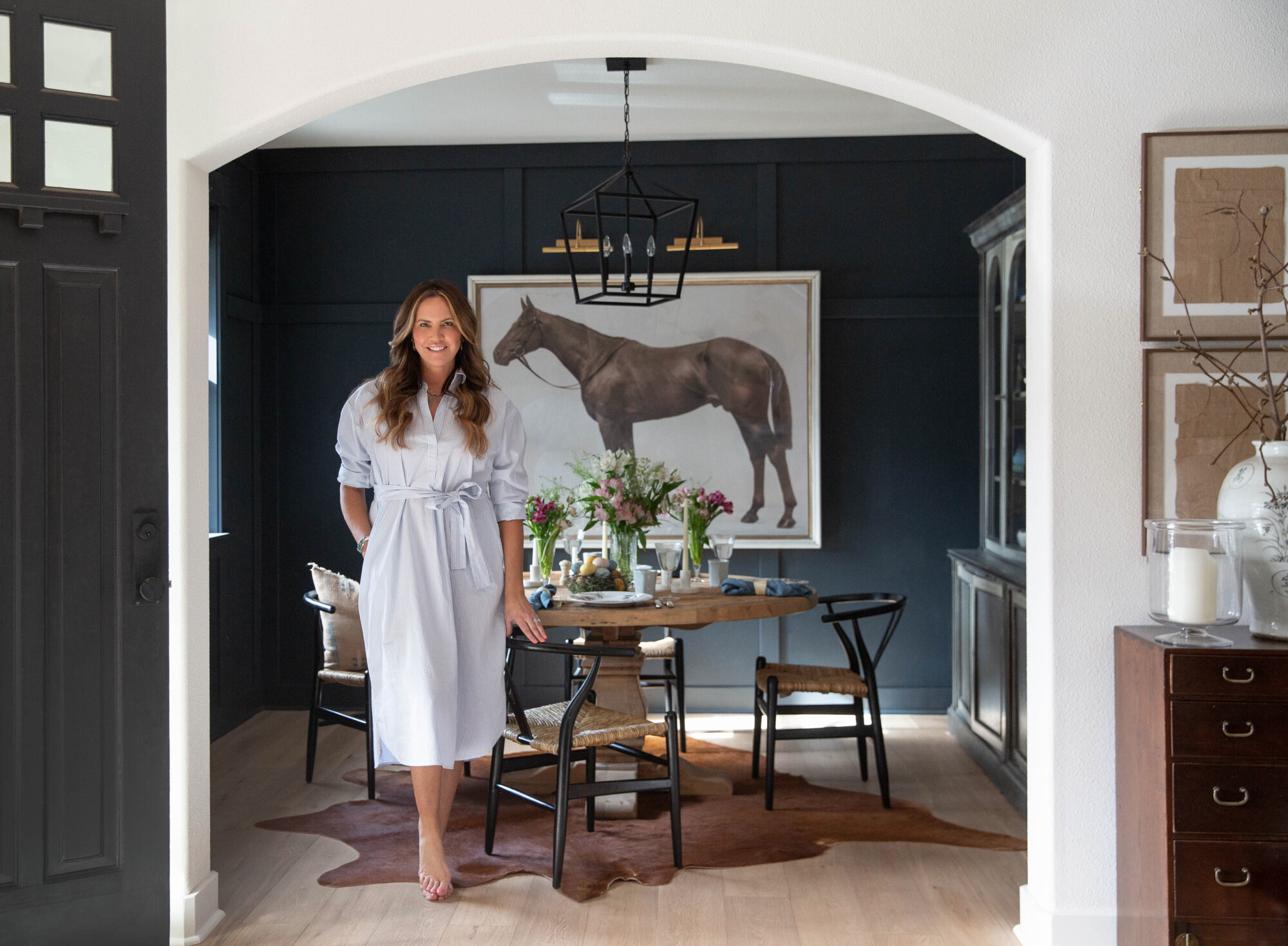 A Simple but Beautiful Place Setting
Lately, I've been on a mission for a new set of plates. Some may think this is silly, but honestly, I think I get this from my grandmother … she had four sets of china! She would use them all the time, not just for special occasions, and I've always taken a page from her book. I have these white dishes from Juliska that we use everyday, and I recently purchased this set of six dinner plates that I can mix in with the solid white ones. They're just so charming, I plan to use them all year long.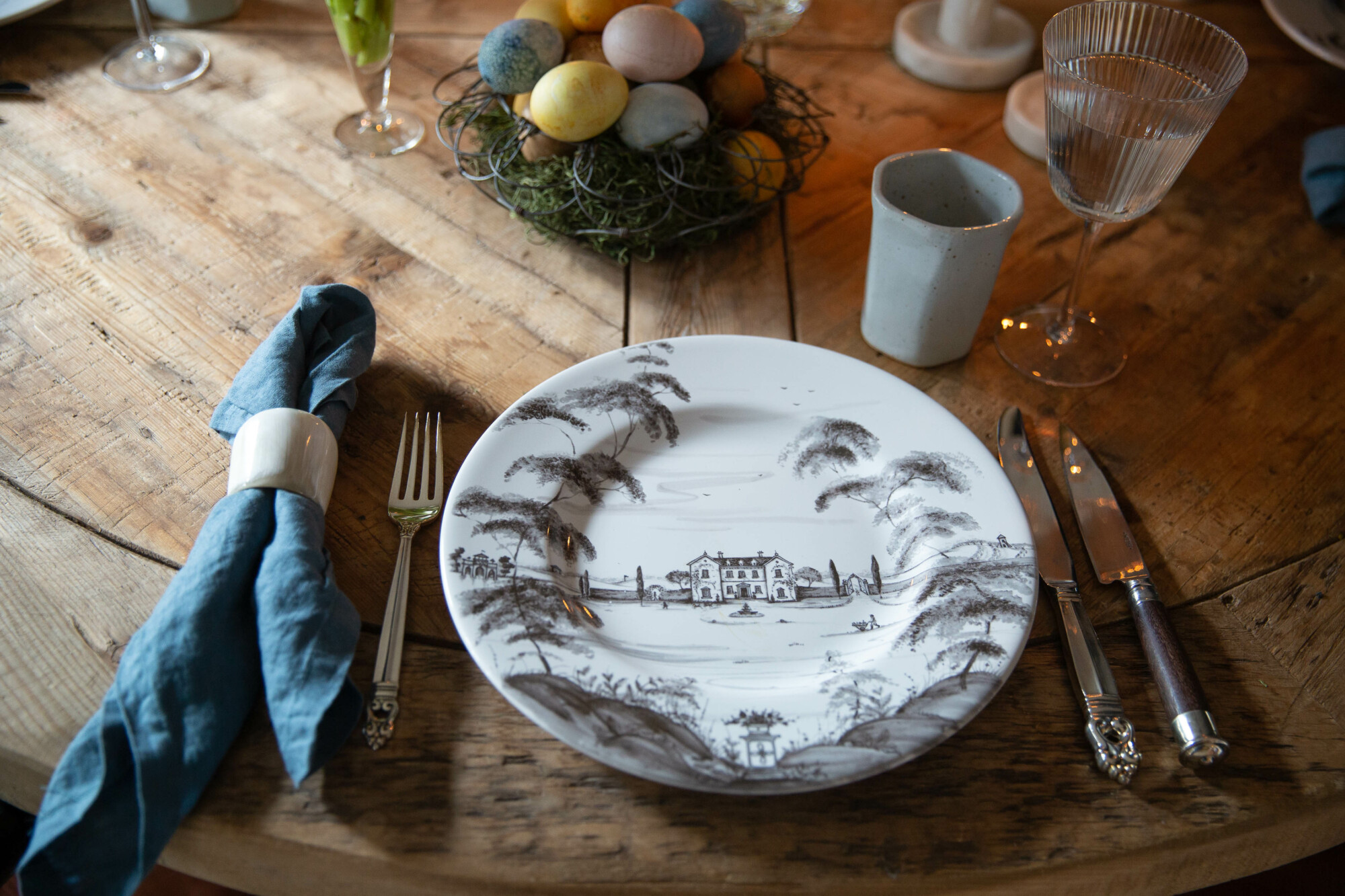 Mix the Old with the New
To make your Easter table feel fresh and current, try incorporating something modern with the old world charm of china and silverware. So, I combined these marble candle holders with pretty taper candles. They're very reasonably priced, and I love how the natural marble compliments the dishes. In my opinion, the more candles the better — so I scattered them around the table in varying heights for added interest.
Also, I purchased these Athena Caledone x Crate & Barrel wine glasses right before Thanksgiving last year, and we've been using them ever since. I love the fluted glass, and the shape is just … well, cool. 😊
---

An Easy Flower Display for Easter
My mother is a master at flower arranging, but I'm pretty sure she didn't pass that skill onto me 😂 I've always been kinda intimidated by scale, colors, which varieties to use together, etc. But I've come to the conclusion that your arrangement doesn't have to look professional. In fact, the more natural and organic, the better. Or at least that's what I tell myself! For this Easter table, I bought several bunches of different flowers and greenery. I wanted a light and ethereal effect, so I chose delicate stems such as white Larkspur, Ranunculus in different shades of pink, and an assortment of Alstroemeria — all of which I found at my local Trader Joe's!
It's also nice to make a few smaller arrangements in glass vases to keep the look light and airy. I used a beautiful crystal vase I've owned for years for the larger of the three arrangements in the center of the table. I didn't have other smaller glass vases that worked in shape and scale, so here's a thought …

  CLOUZ HOUZ TIP: Just use glassware you already own to make smaller arrangements! I chose two vintage champagne glasses that were the perfect shape in order to create these arrangements, and I love how they turned out. I hope you like them too!
---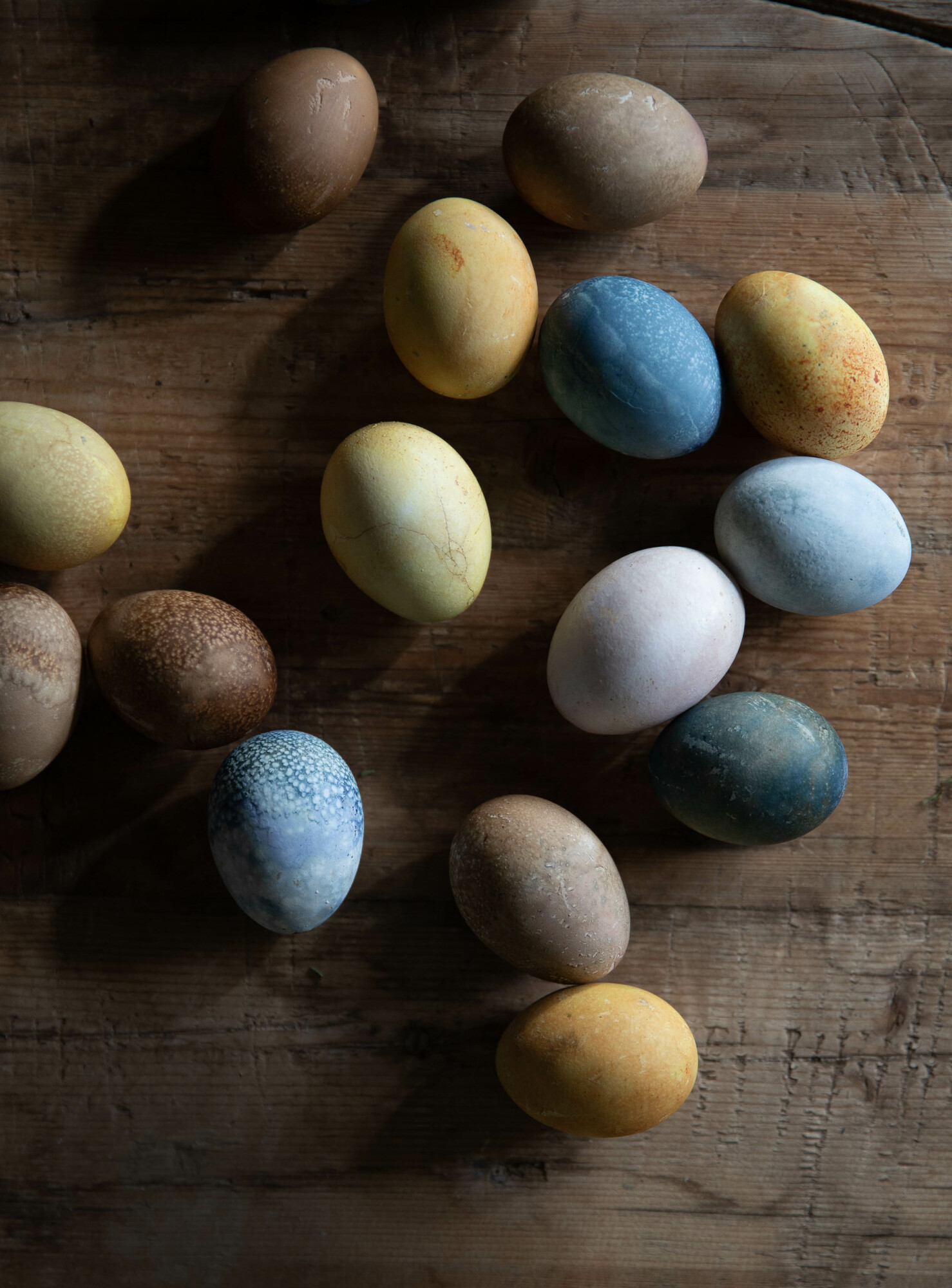 Dyeing Easter Eggs … Naturally
Dyeing eggs at Easter is a tradition in our family. Even though the kids are grown, we still do it every year! This year, I tried my hand at using dyes from vegetables and fruit, coffee and turmeric to get these beautiful hues. I'm sure the kids will still want to do more when they get home, but I really love how these turned out. The colors are so so much better than the dyes you buy! They do take a bit longer — in fact, I let all of these sit overnight in the dye, so be sure to plan for that to get the best results. Use these in a basket as part of your tablescape! They add a nice touch alongside your flowers.
You can find many techniques on Pinterest to dye eggs this way. Do you use Pinterest when you want to get inspired for a special event or holiday décor? I do 😊 Check out our Pinterest board here for more ideas and inspo!
---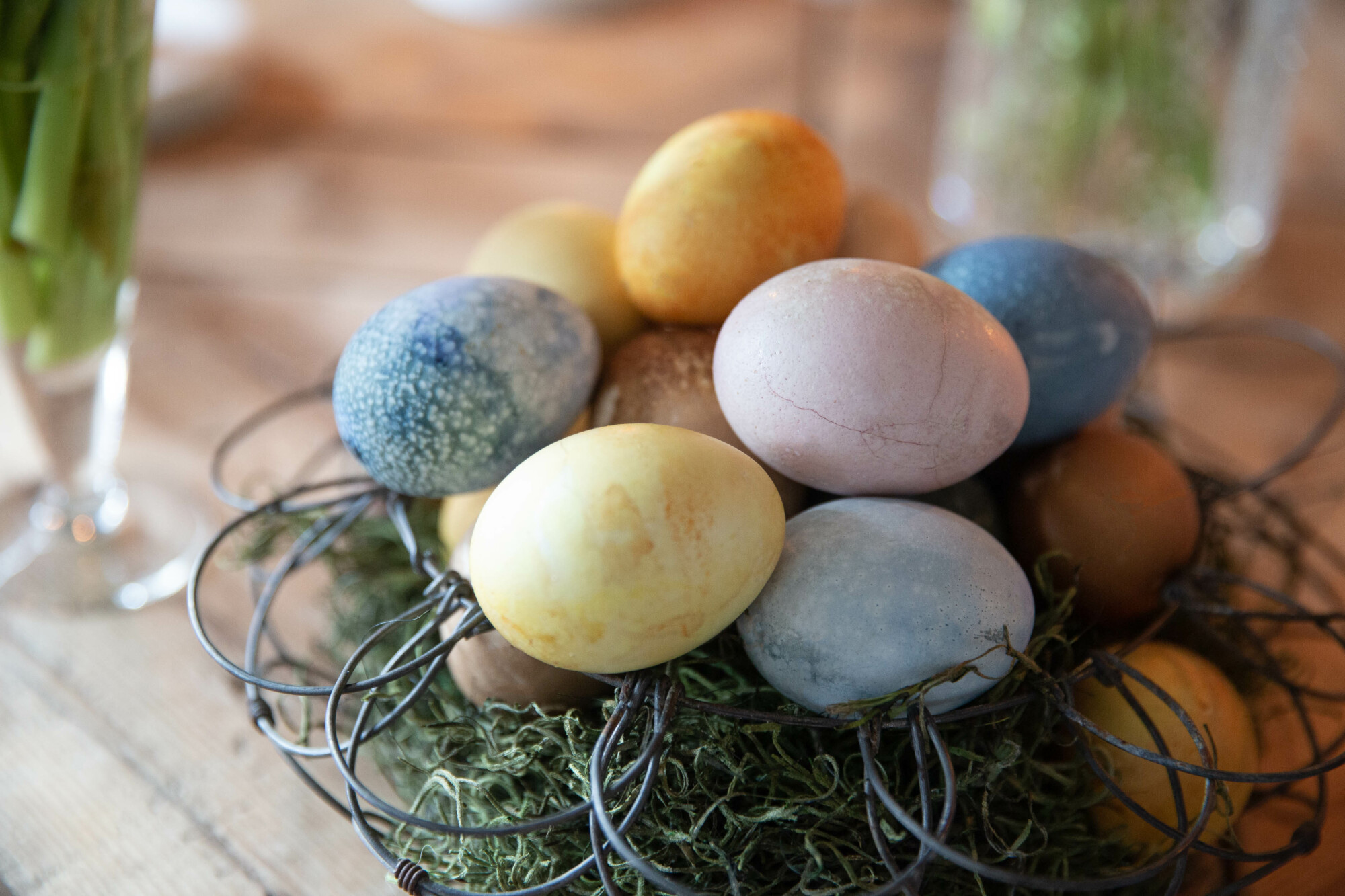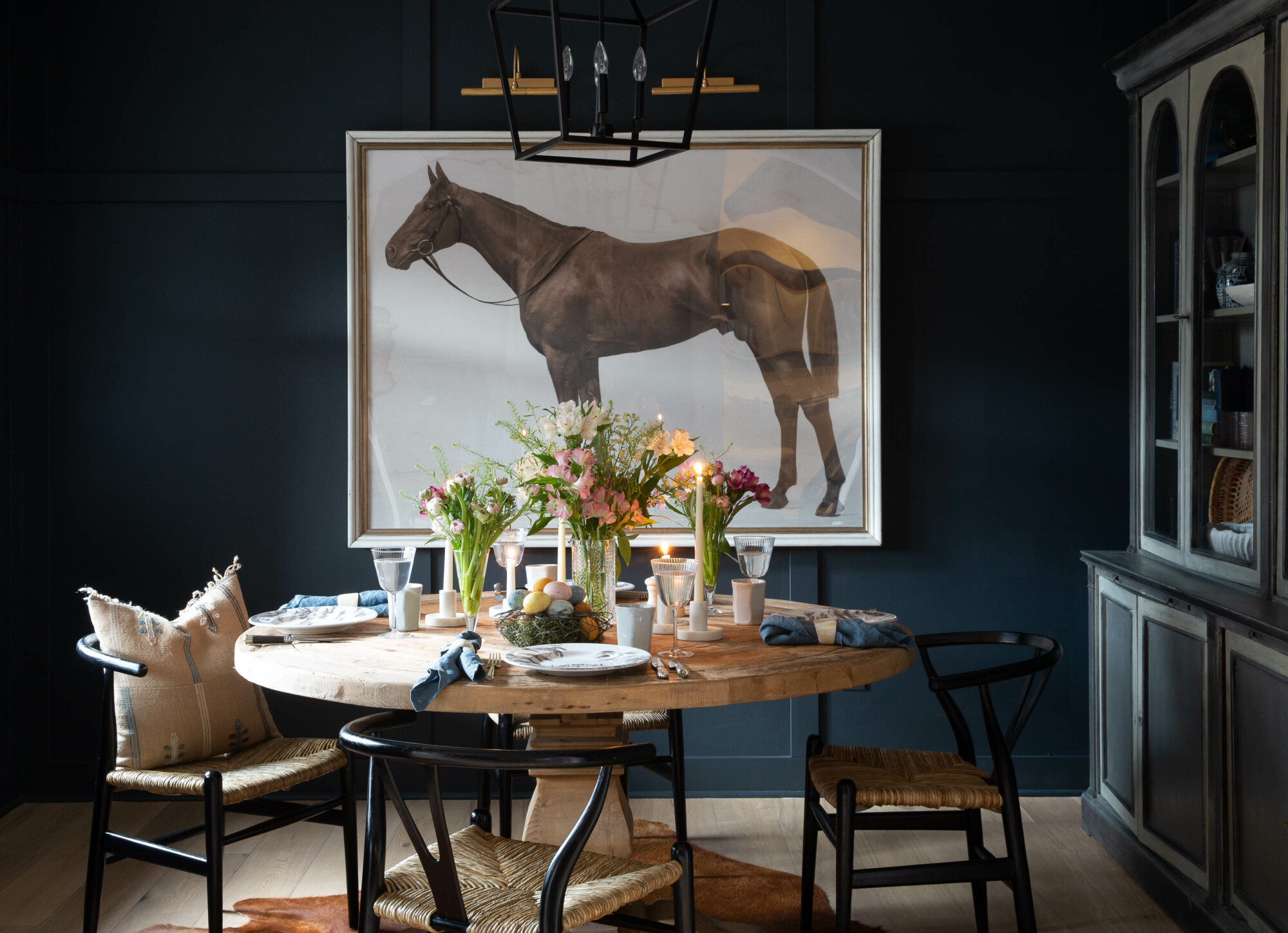 I hope these ideas inspire you when you're setting your Easter table this year. Next week, I'll share our family recipe for my grandmother Virginia's deviled eggs. Charlie has become a master at making them, and they are a favorite every year! Cheers friends 🥂