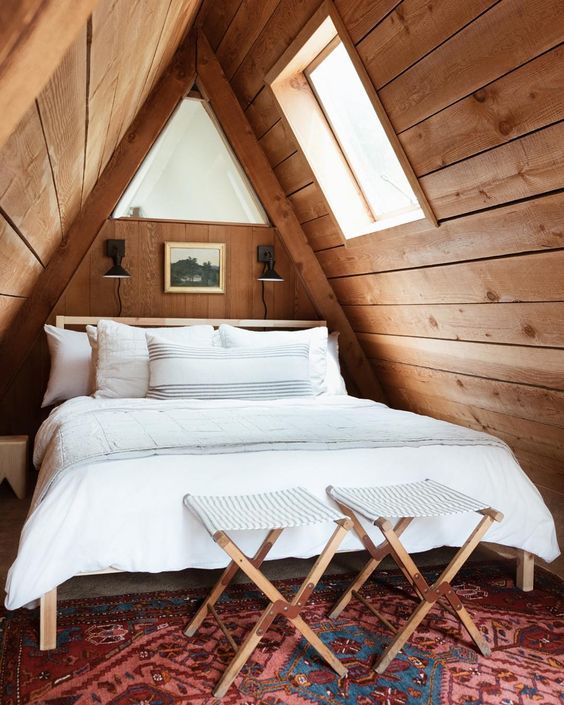 Today we are diving into the world of cabin bedroom makeovers. Our clients over in Black Butte, with their vibrant and eclectic taste, have inspired us to infuse their bedrooms with a playful mix of old and new. Originally housing bunk beds for their young kids at the time, these rooms are now ready to embrace queen-sized comfort. So, grab your favorite blanket, settle in, and let's explore how we can create an eclectic and cozy cabin bedroom retreat!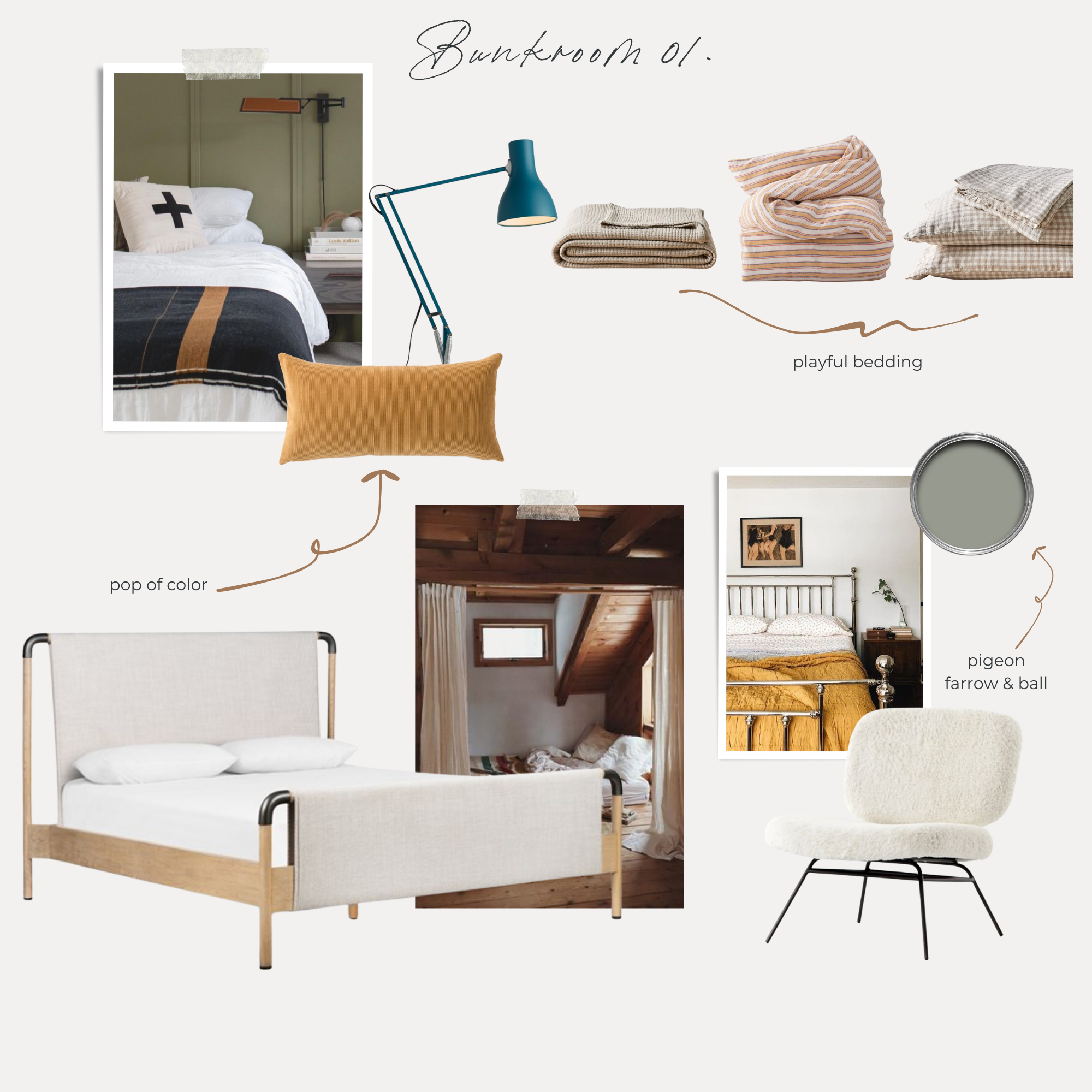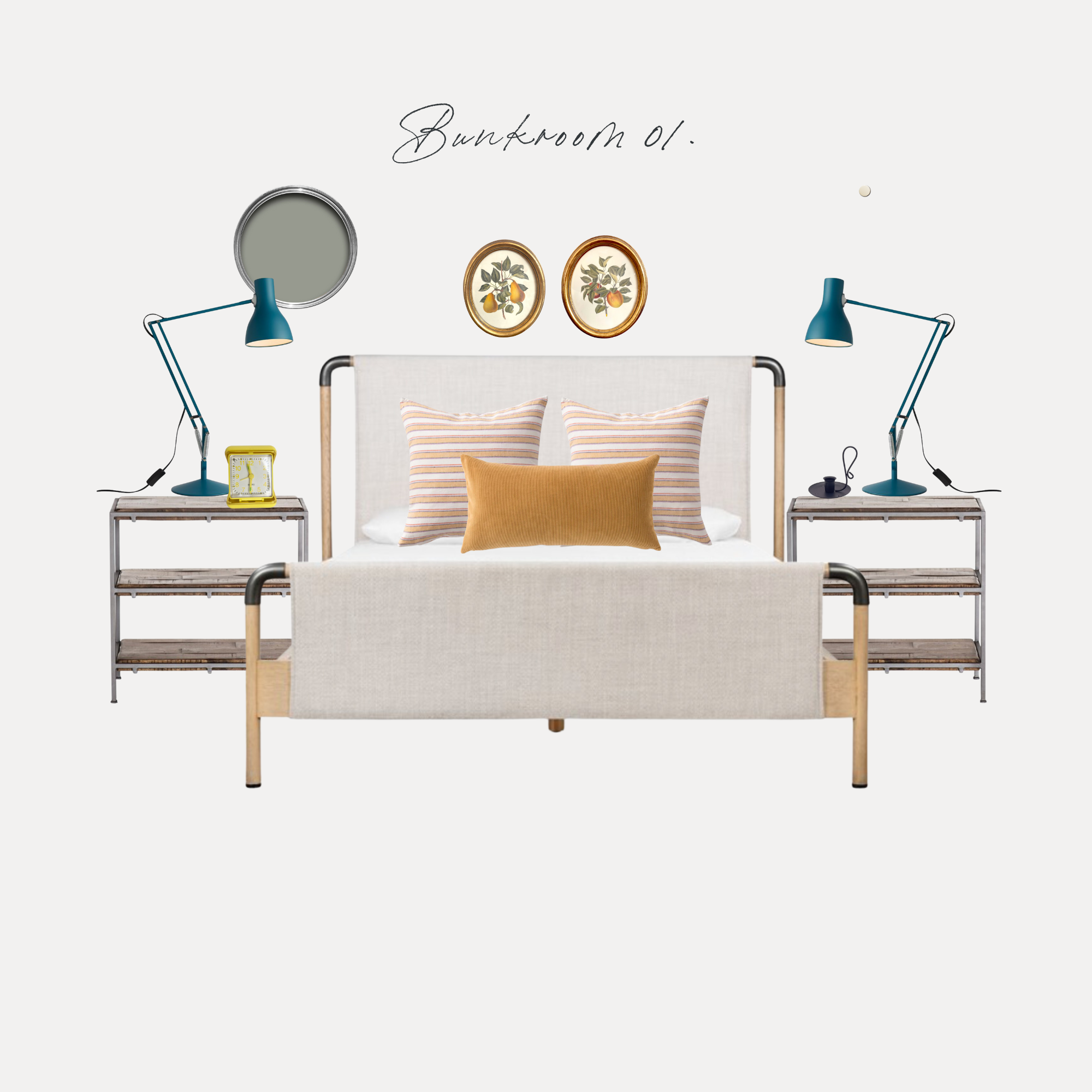 Bunkroom 1
For the first bunk room, we wanted to embrace the charm of eclectic patterns. Schoolhouse Electric has become one of our go-to sources for bedding inspiration! The bedding we fell in love with is called the "Lived-In Linen Striped Duvet." Its charming stripes and cozy texture add a touch of timeless elegance to the room, while also capturing the essence of comfort. Their collection features a wide array of beautiful stripes and patterns that strike the perfect balance between traditional and contemporary. To create a cohesive look, select patterns of different scales that compliment one another harmoniously. The result will be a visually stunning and vibrant space that showcases your unique style !
---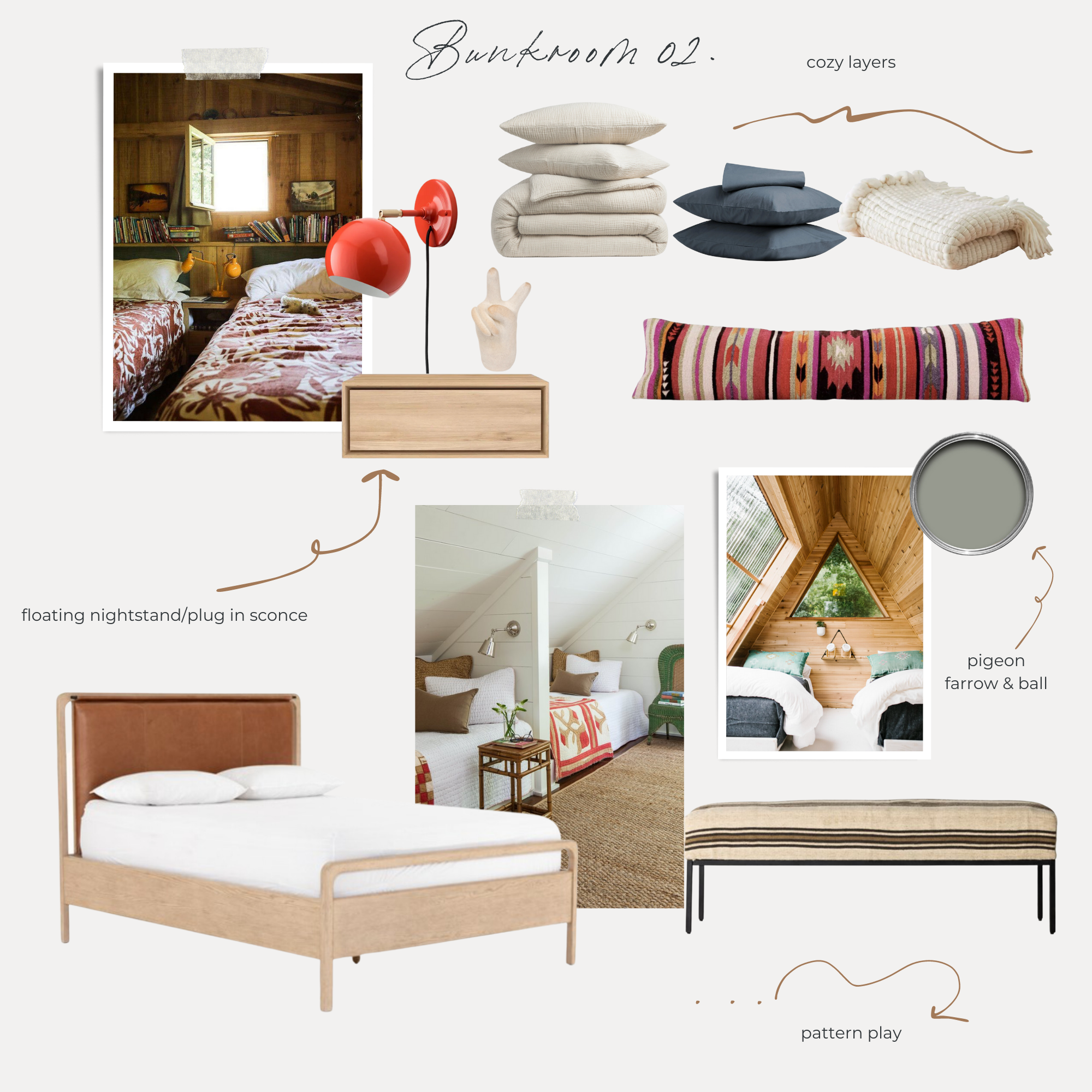 ---
Bunkroom 2
To achieve the eclectic aesthetic we envisioned, we sourced the market for the perfect elements. If you're interested in replicating this look, head over to our @shop.LTK page where we've compiled a list of similar (and exact) items for your convenience. 
In the second bunk room, we wanted to make the most of the limited available space. That's where the genius of wall-mounted nightstands comes into play! Not only do they save valuable floor space, but they also provide a sleek and modern look. Denver Modern offers a range of wall-mounted nightstands that perfectly fit the bill, seamlessly blending functionality and style. 
When it comes to bedding, we understand that vacation time should be spent enjoying yourself, not fussing over making the bed 😉 That's why we recommend keeping it simple yet delightful. Try to opt for high-quality bedding that ensures a comfortable and restful sleep. To add a touch of personality, choose one big, fun accent pillow that reflects your playful side. Citizenry offers fantastic options with their vibrant colors, bringing lively energy to the space. And, they're on sale! 
Don't miss out on our exclusive content delivered right to your inbox every Sunday by subscribing to our newsletter!

CLOUZ HOUZ TIP: When it comes to transforming a space, paint has incredible power! In these cabin bedrooms, we opted for a subtle color palette that enhances the bedding and furnishings. Two of our personal favorites are Farrow & Ball's Pigeon and Farrow & Balls Dead Salmon. They effortlessly blend with the overall aesthetic, creating a soothing atmosphere that allows the furnishings to shine. Remember, paint can really breathe new life into a room, so don't underestimate its transformative abilities.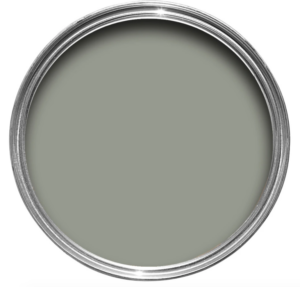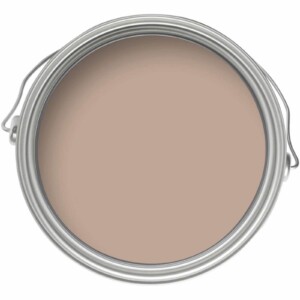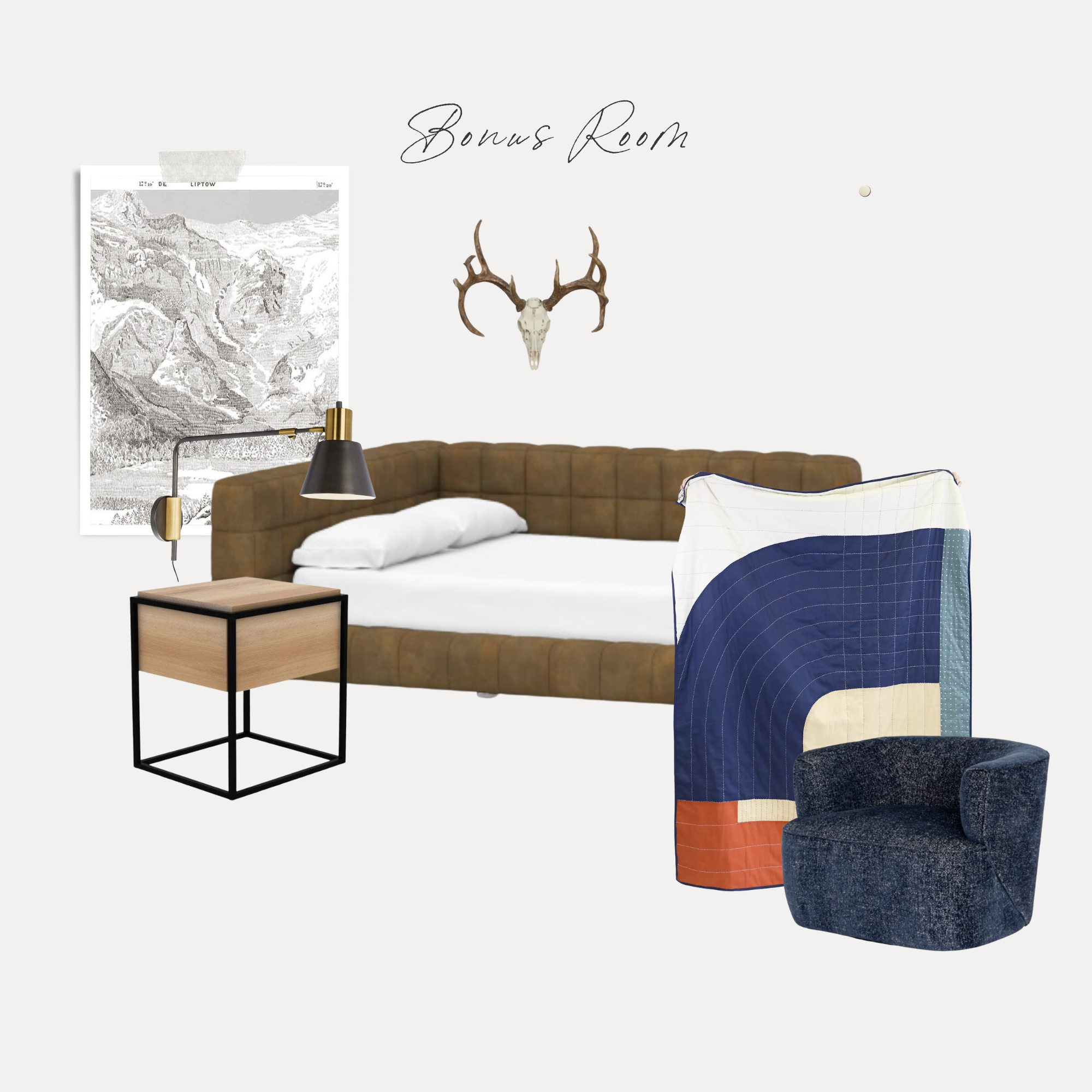 ---
Bonus Room
The bonus room is truly a multipurpose haven for both guests and kids. It's where movie nights, reading sessions, and relaxed lounging all come together. The corner queen bed from Pottery Barn Teen is the ideal spot for unwinding and catching up on your favorite shows. The design inspiration for this space comes from Raili Caulsen, one of our favorite designers. Her use of stripes in the bedroom image we mentioned adds a retro vibe that we absolutely adore!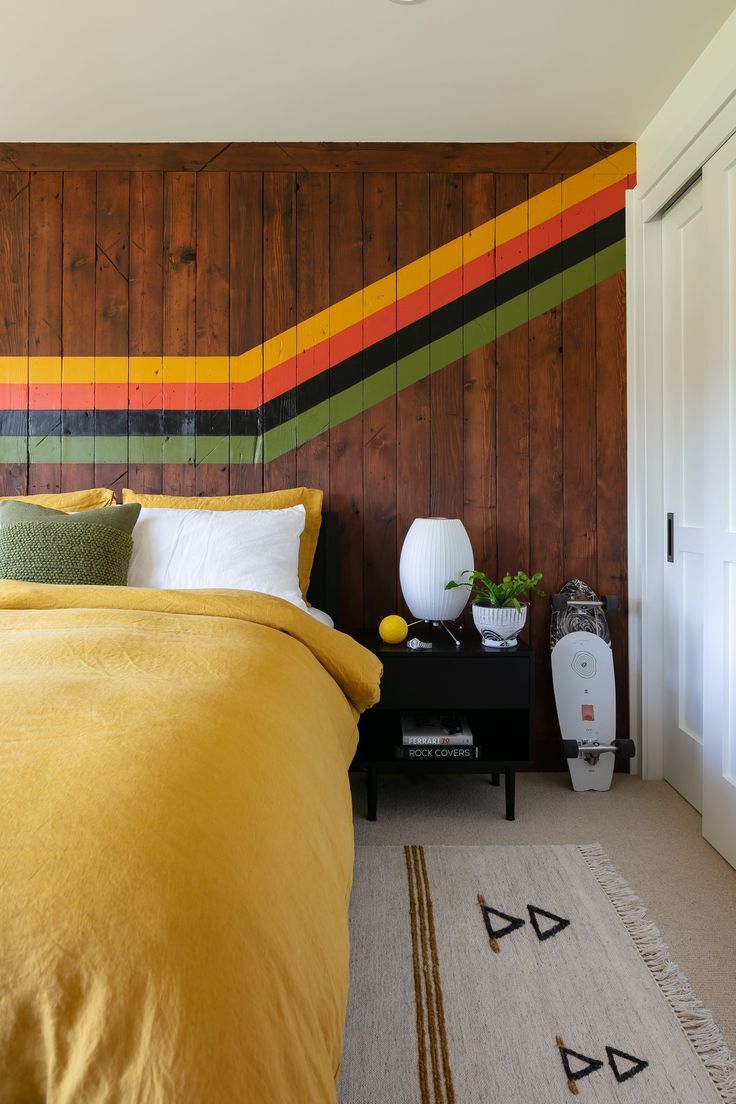 In an effort to add a touch of whimsy and charm to the room, we discovered a remarkable mountain scape mural. Spanning the entire wall, this black-and-white mural creates a sense of wonder and adventure. It's the perfect backdrop for a cozy and inviting atmosphere that will captivate both kids and adults.
Additionally, we stumbled upon a beautiful blanket that caught our attention. This special collaboration between Anthropologie and Anthal not only provides warmth and comfort, but also supports a meaningful cause. With each purchase, you contribute to empowering women – a fantastic way to add a philanthropic touch to your cabin bedroom.