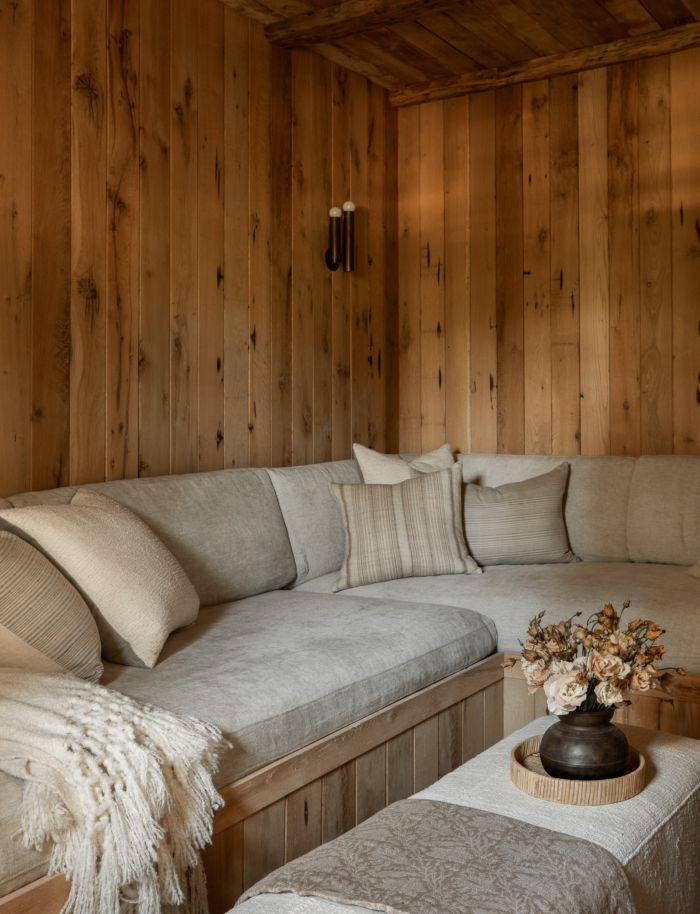 Okay guys, we're going to share with you how to create a multi-functional family room … because we're doing it ourselves! Here's the inside scoop on all the ideas we're discussing and considering for the Rumpus Room (aka our family room) renovation. I'm sorry I can't hold back, I'm just so excited for all the directions we can go in when designing this cozy family room! Why do we call it the Rumpus Room? Well, I see a lot of commotion in this space: kids hanging out watching sports, dogs wrestling, cocktail- making, snacking, and in general, just a casual "hang out zone" for family and friends.
As a designer, it's always my priority to create something timeless in its design — and I intend to do just that. Since it's obviously a more compact space, I need to remember when selecting pieces that they need to be equally as functional as they are beautiful.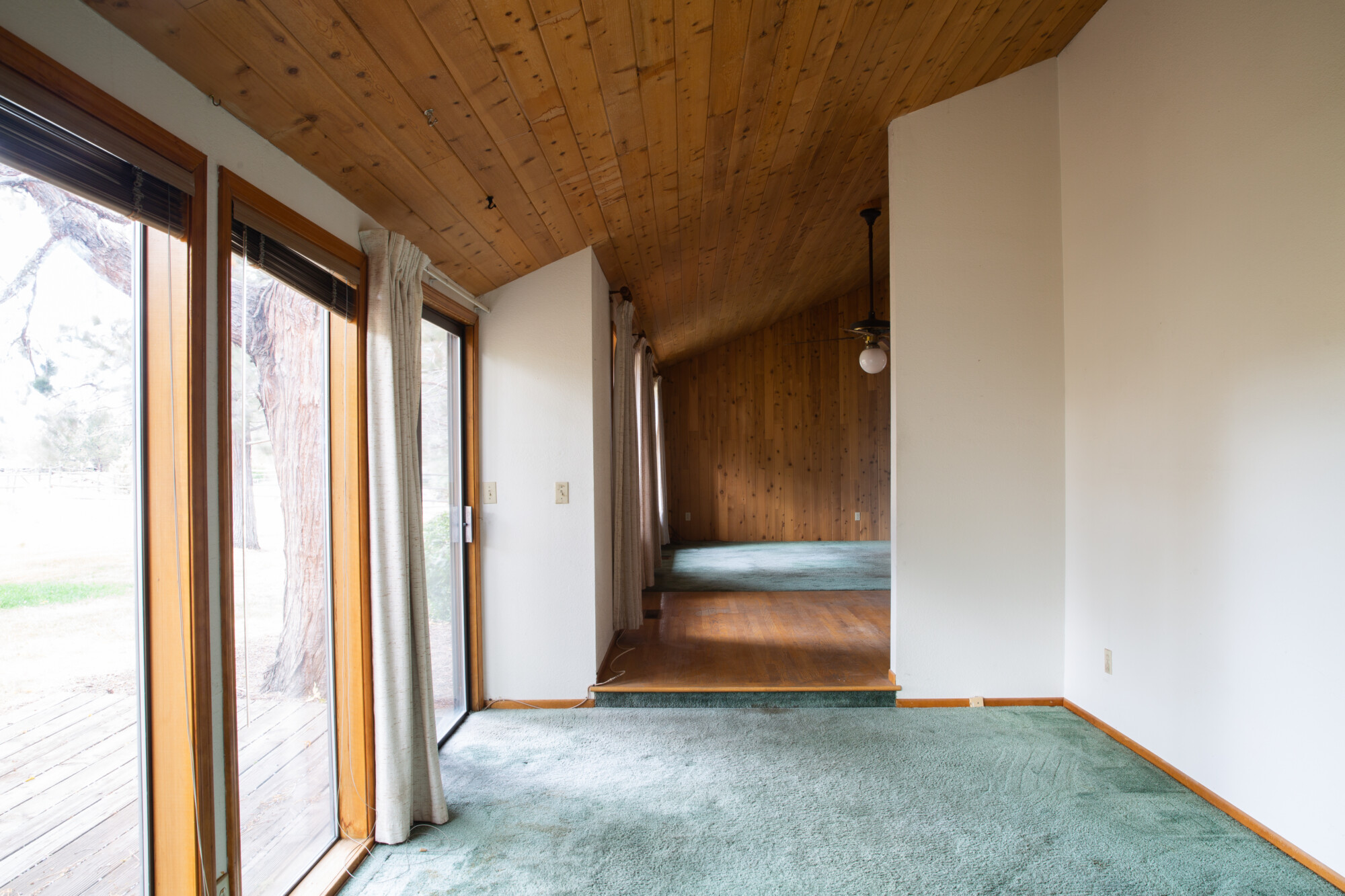 This room is located at the back of the floor plan, adjacent to the dining space, and we envision it to be an indoor/outdoor area. Inspired by the textural and tonal elements in the landscape, I want this area to feel versatile and create a sense of refined comfort. Eventually, I'd like to add an outdoor fireplace right out in back of this room, so it can be a hang out zone during the warmer months. But, that's a blog post for another day. 😉 
For now, I want to focus on some ideas that I've come up with to transform this space. Just because it's sort of like a "bonus" room doesn't mean we can't turn it into the main event, right? I can imagine it will be a high-traffic area, so the way the layout is designed will entirely set the scene for the rest of the space. This sitting area will hopefully bring a shapely contrast to the rest of the house, offering a relaxed conversation space, as well as a cozy spot to watch tv and movies. We are a big movie family!!
A stylish sofa … that also seats a crew!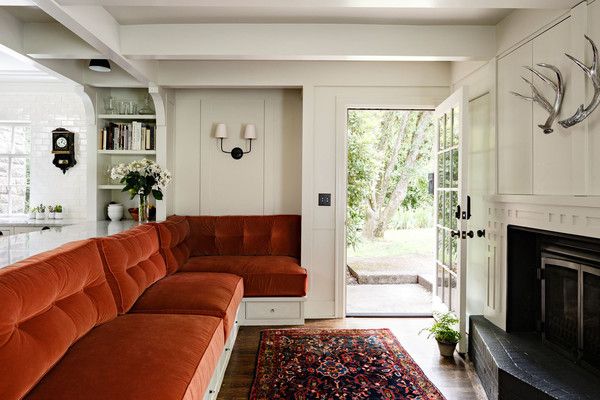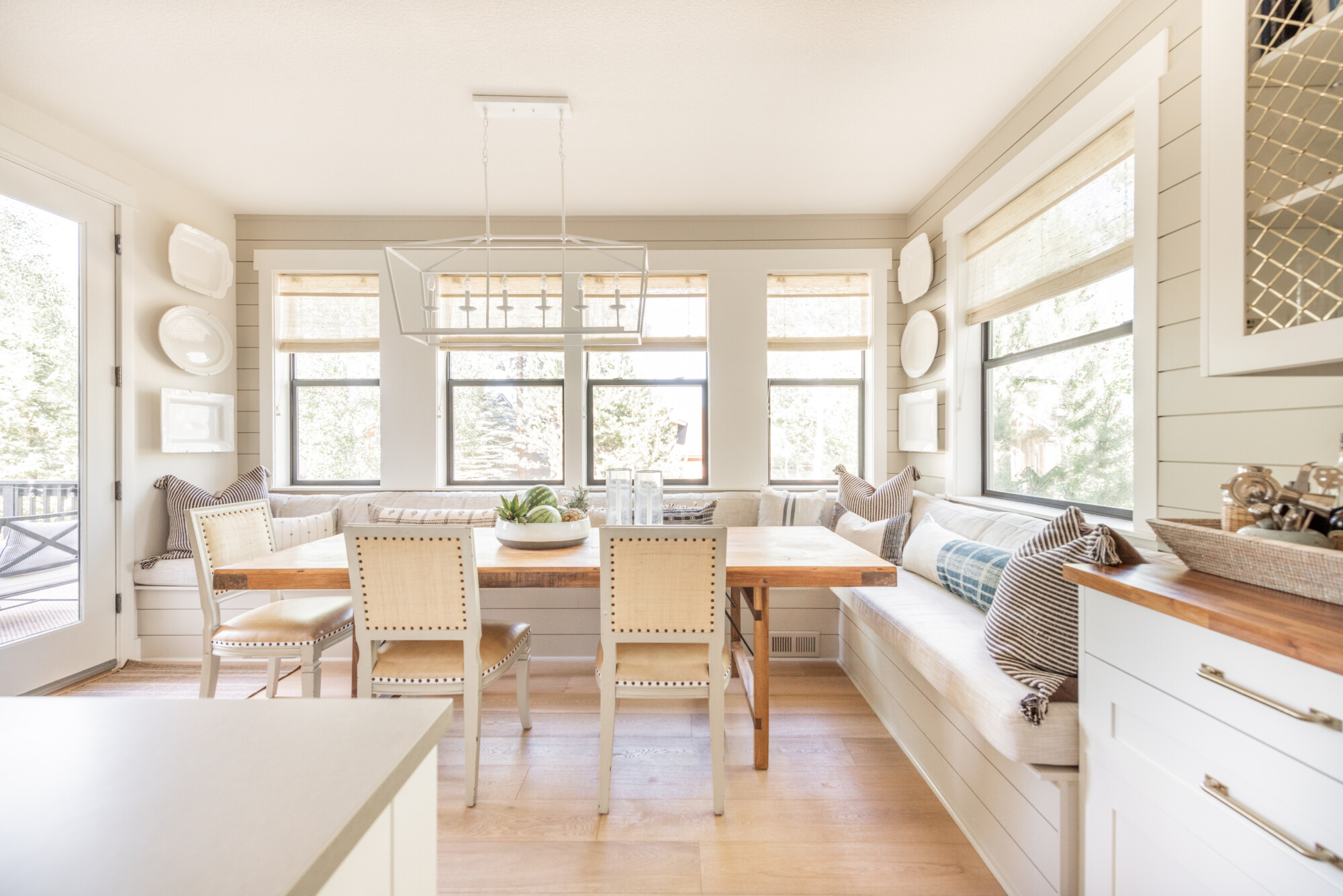 Choosing a sofa can be one of the hardest decisions to make when designing a room. I'm thinking of going the route of a relaxed, built-in sectional. It honors the kids' request for comfort, while making it easy for everyone to watch TV. I'm taking a page out from of own book with the built-in banquette we had custom made by a furniture maker for our current home. But, I still want it to be extra cozy, mimicking a comfy, down-wrapped sofa. 
I'm even considering covering it in plush mohair or performance velvet fabric. Both are luxurious! Mohair is extremely durable and stain resistant, while performance velvet features a stain resistant finish and the fabric stays looking fresh, longer. Of course, I'd have to layer it with various pillows to break up the weight that a velvet fabric can sometimes bring into a room. Can't decide quite yet, so let me know which fits your style best!
In addition, we need a great big comfy chair to lounge in. One that everyone is going to fight over! But seriously, you know the one — comfy, generous in size- — maybe a pouf or ottoman to kick up your feet? We all know what I'm talking about … just not a recliner! Ha!
Let's talk TV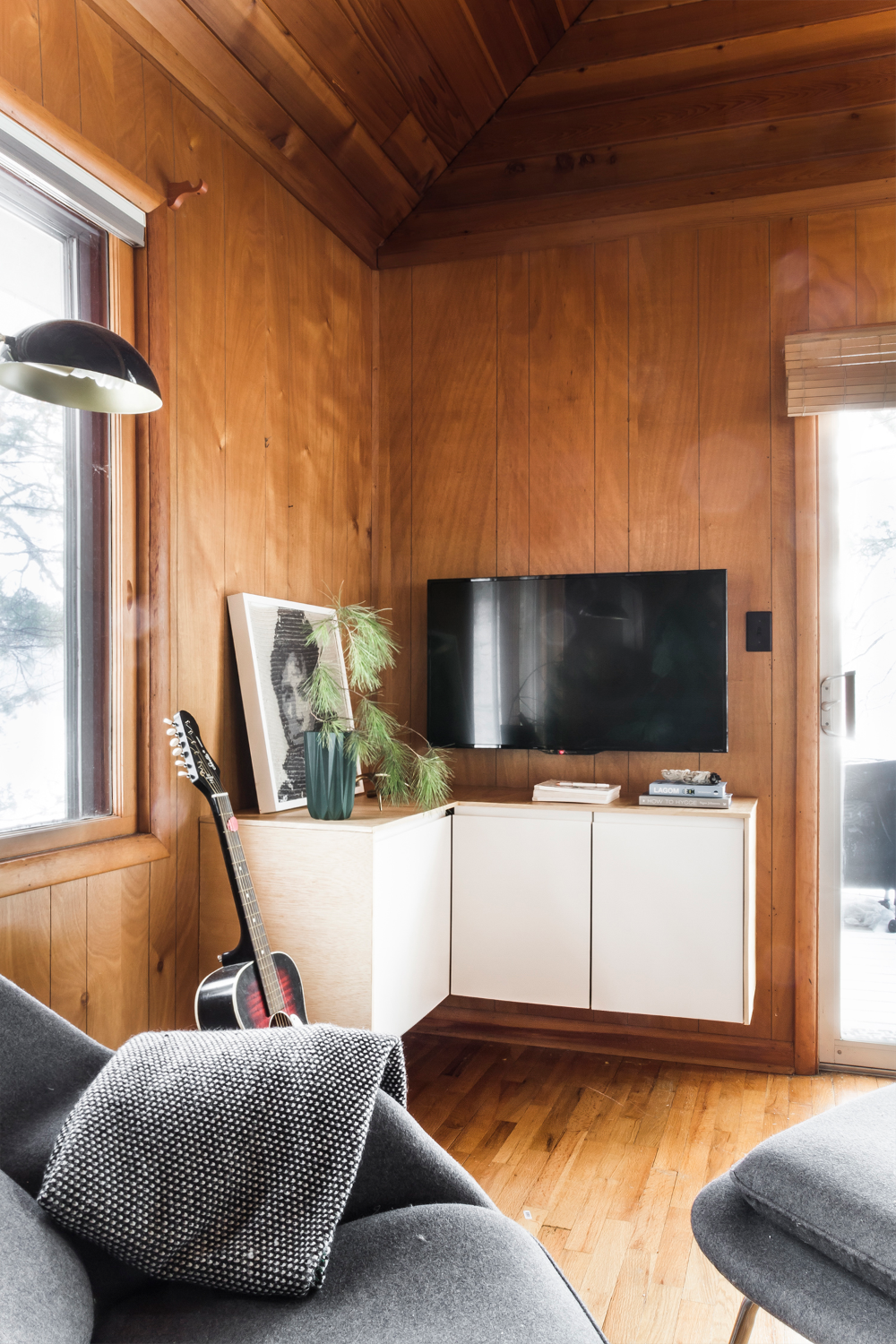 I already mentioned my thoughts on not putting a TV in the main living area, which of course, has created much controversy in our household. However, the rumpus room is only a few steps away, and is a more casual area meant for lounging around. Since this will be the main hangout room in the house, there will definitely be a TV in there for all our cherished movie nights! The problem is, we want the sofa to face out so you can look out the windows/door to enjoy the view. But, that only leaves the corner of the room for a wall mounted TV. I saw the image above, and thought it was clever to create some corner cabinetry below the TV. This achieves an intentional space for the TV to live.
An element of luxury: the Wet Bar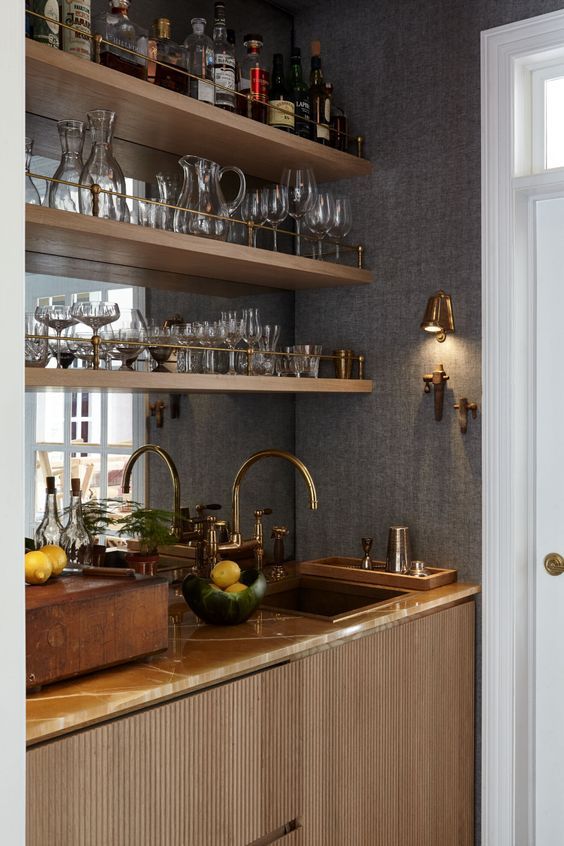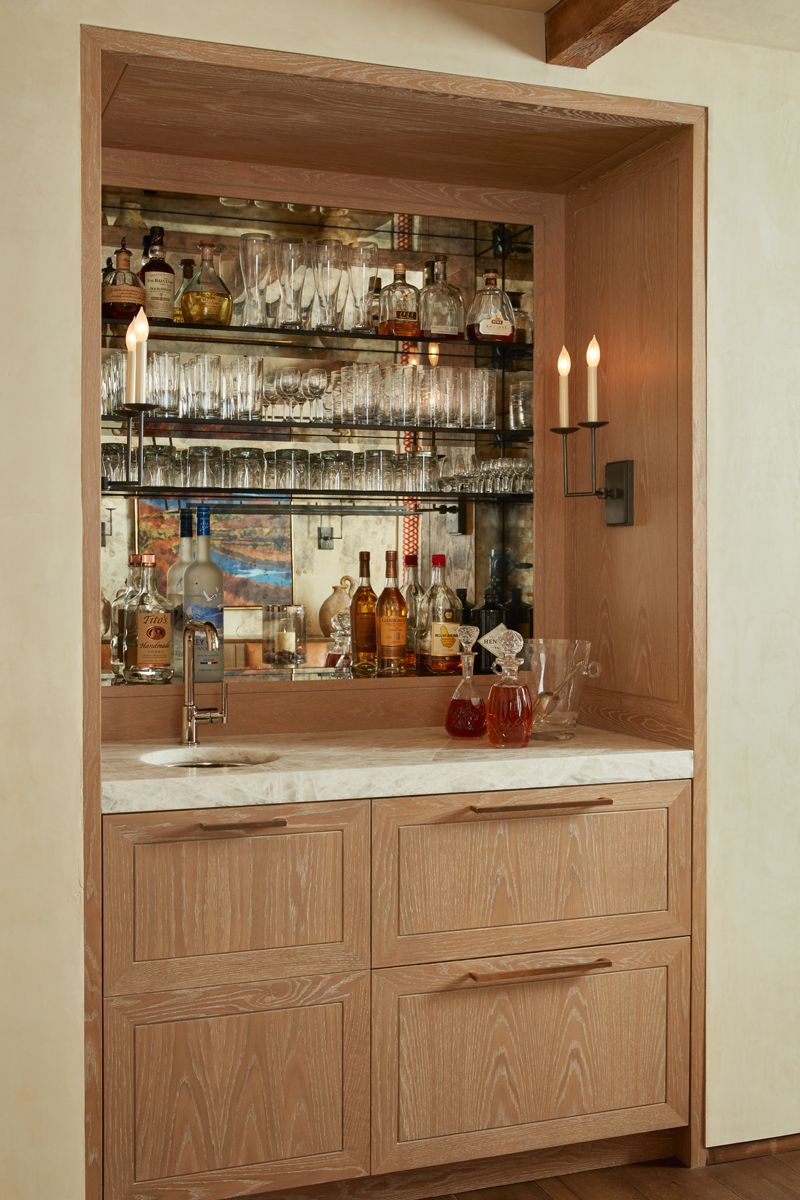 Now for some fun talk! What better addition is there to a room than a wet bar?! Since the back deck hangs right off of this room, it's an ideal spot for hosting because of its easy access. As Happy Hour enthusiasts, we know it's essential to create a little "whiskey bar," including a bar sink and some shelving to store glasses, as well as barware for mixing up our favorite cocktails. Perhaps we could even incorporate a small dishwasher in order to avoid the extra hassle of dishes. I can already picture us sitting outside on a sunny day, sipping on something Derrick has whipped up, and gazing off into the view!
Okay, now I hope you guys are getting a better picture of my vision for this future outdoor living space. The goal is to create a fun vibe for hanging around the fire, making some drinks, and spending time with friends and family, especially in the summer when we're lucky enough to see the mountains on a clear day or watch the stars light up the night sky.
Beautiful Flooring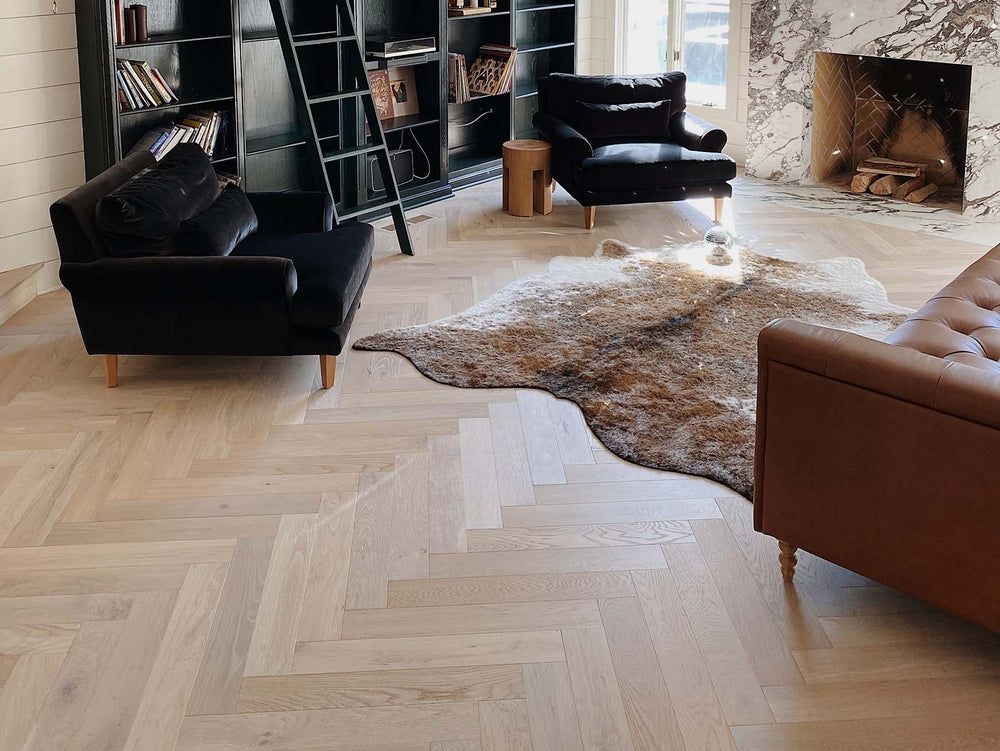 For the floors, we've discussed adding a herringbone version of the hardwood floors that we'll be using throughout the rest of the house. Since we want this room to feel different from all the others, why not spice it up? Adding a classic herringbone pattern will add more uniqueness to the space, and let it have it's own 'moment.' I love the texture it brings to a space, and how it breaks up the long planks, especially since you can see all the way into the Rumpus Room from the front door. 
A rug to enhance the style of the room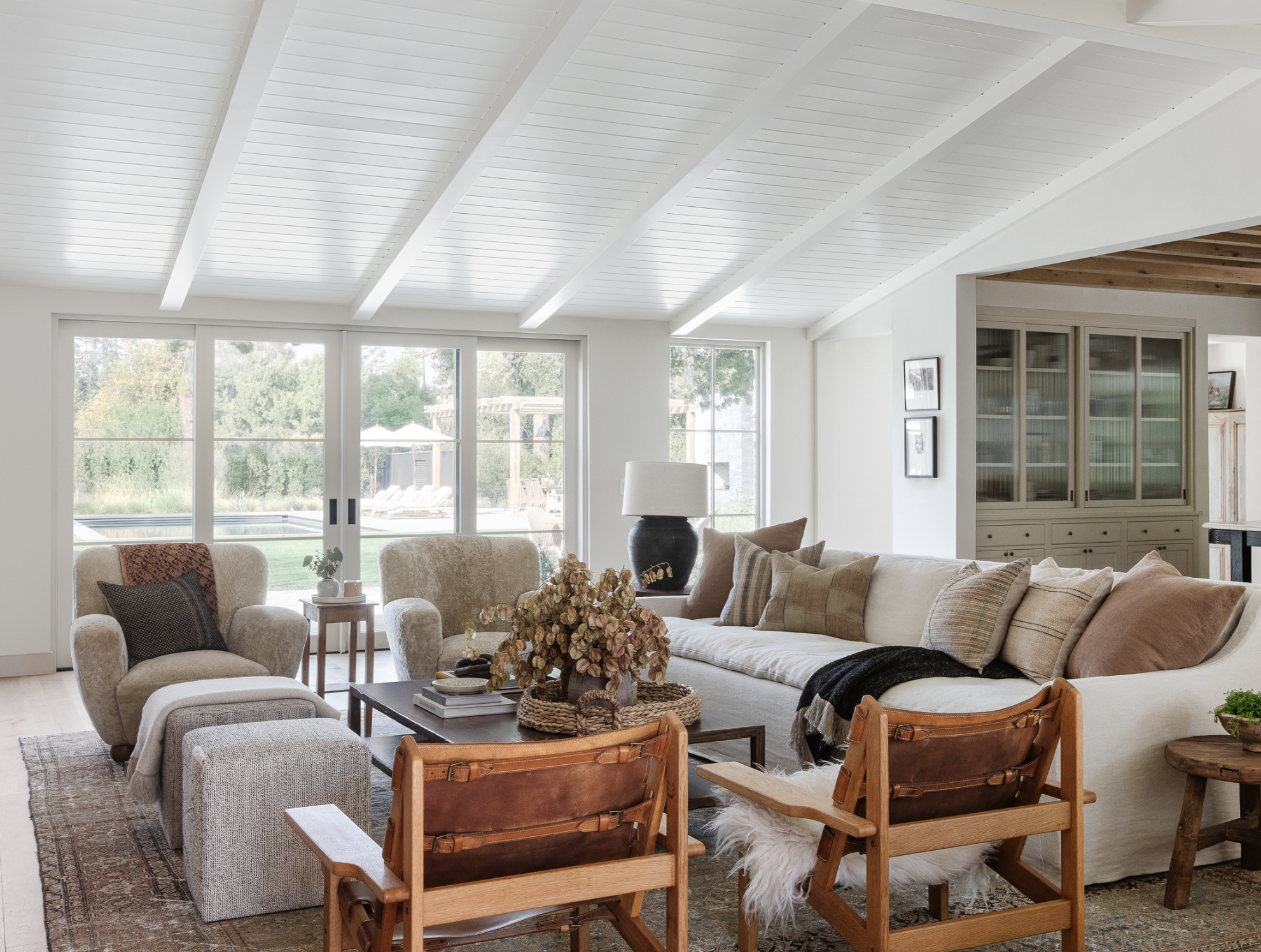 Lastly, I love the idea of a fluffy area rug to ground the space with warmth. We've made it very obvious how much we love rugs. But, as the owner of two Golden Retrievers, I'm not sure something furry would be the most realistic option. I swear it feels as if they never stop shedding! Not sure I'll have it in me after this remodel to keep up on hair maintenance duty 😂 While I do want something thick and comfy to make the room feel warm, a vintage option that hides things might be more ideal. It's better to go bigger with rugs to ensure all of your furniture can sit on it. 
And one of the most important elements in a room: lighting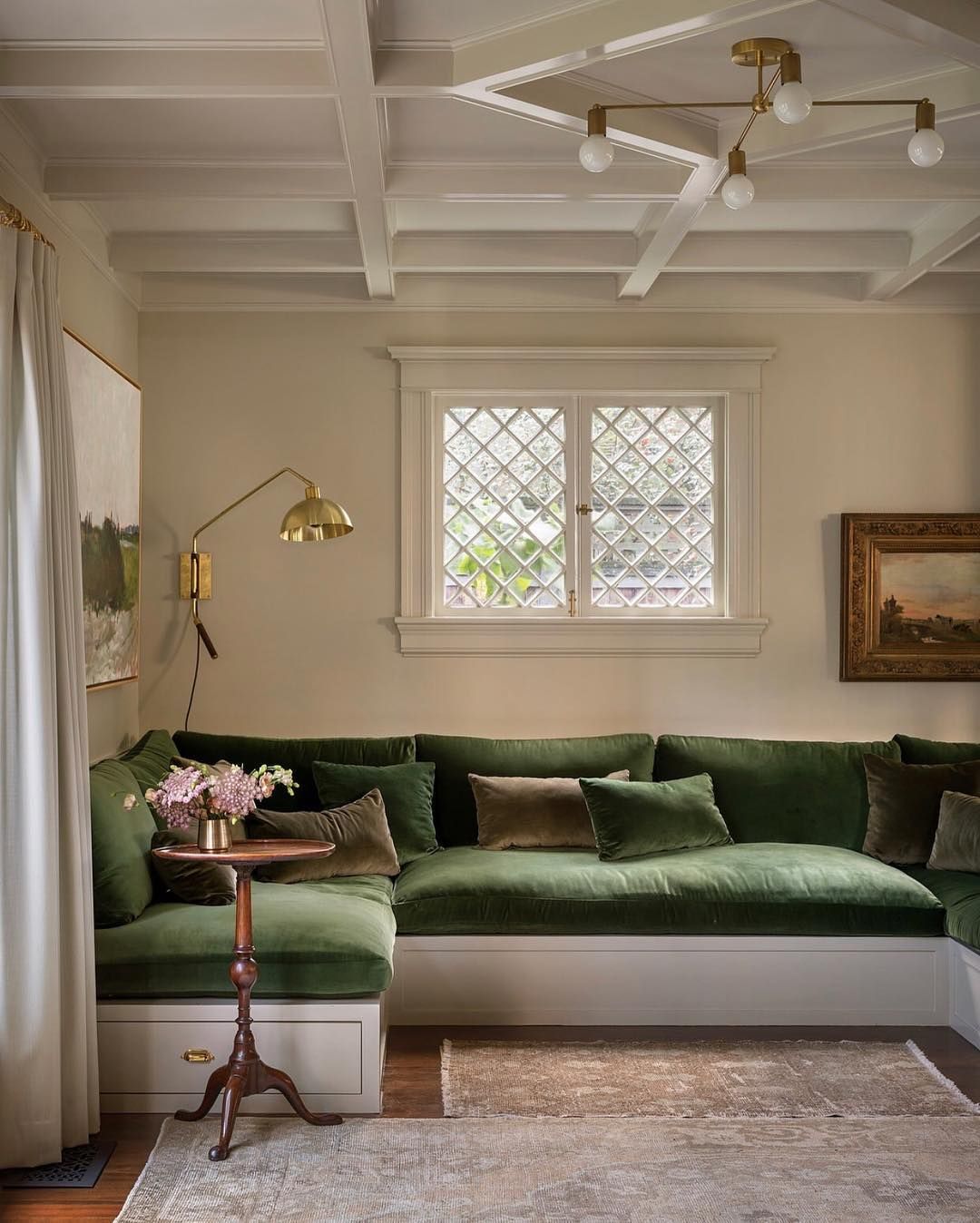 We're still trying to figure out the best possible solution for lighting. Right now, we're dealing with a sloped panel ceiling, which means that not just any fixture will work up there. However, the room already does have a great source of natural lighting from the windows. One option is to upgrade them to French doors that lead out to the back. If that were to be the case, we could probably make do with a floor lamp. We'd have to get creative with other ways to add artificial light for when it gets dark. Possibly wall sconces above the built-in sectional? This built-in sofa with wall sconce checks all the boxes for what I want to achieve here.
The Rumpus Room!
Below is a mood board with some of the furnishings I've been eyeing for this space. Of course, this isn't set in stone. In fact, if you ask Derrick, I will probably change my mind 50 more times ! 😂 But, the key elements are here. You can shop all these items on our LTK account.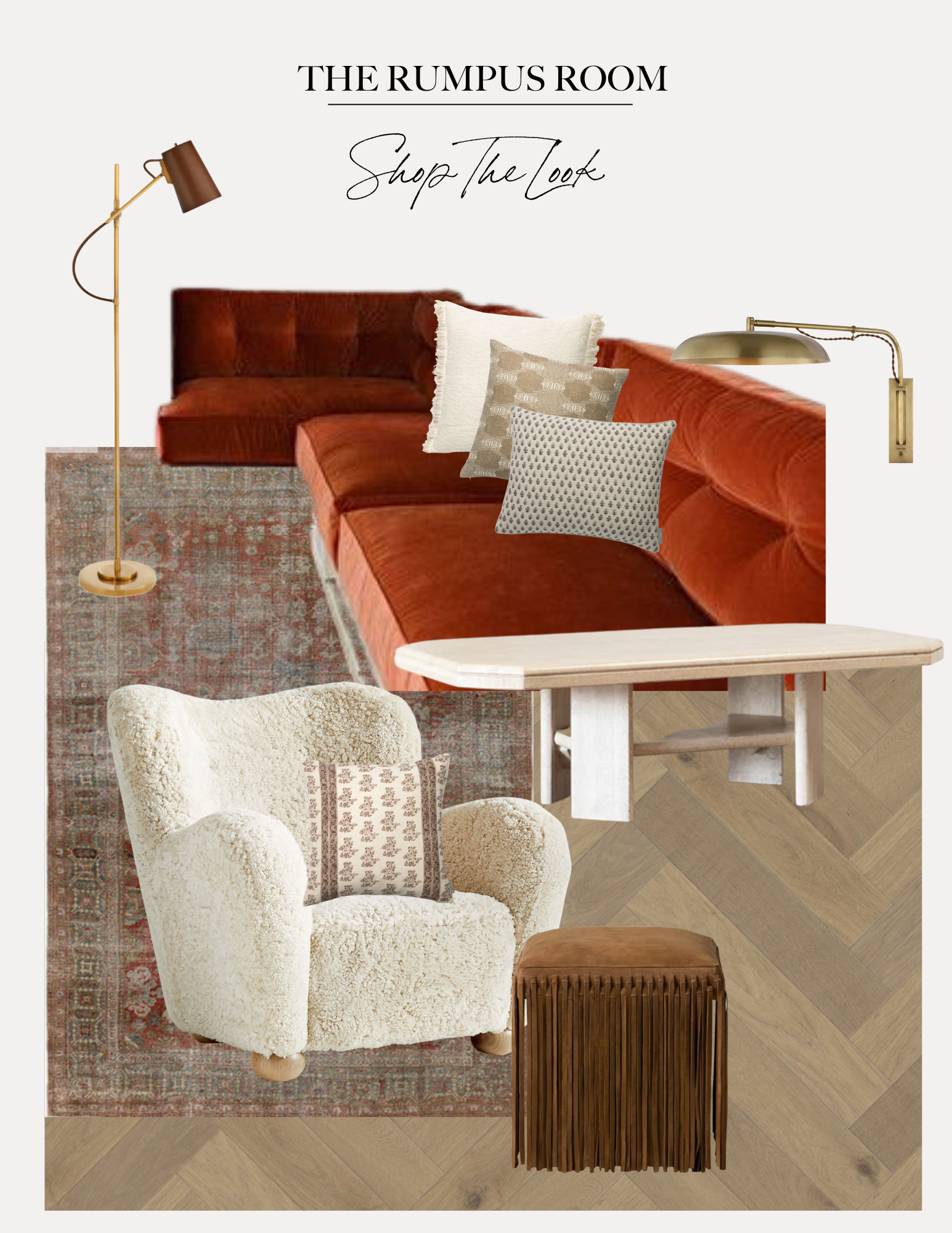 Ok, that's it for now! I'm so excited about this cozy and fun spot in our soon-to-be new home. There is still a lot of work to be done and many decisions to be made. But, I'm really looking forward to seeing this space come together! Check out our socials for updated photos and video content on the other elements that were incorporated into this space. We will keep you "in the know."