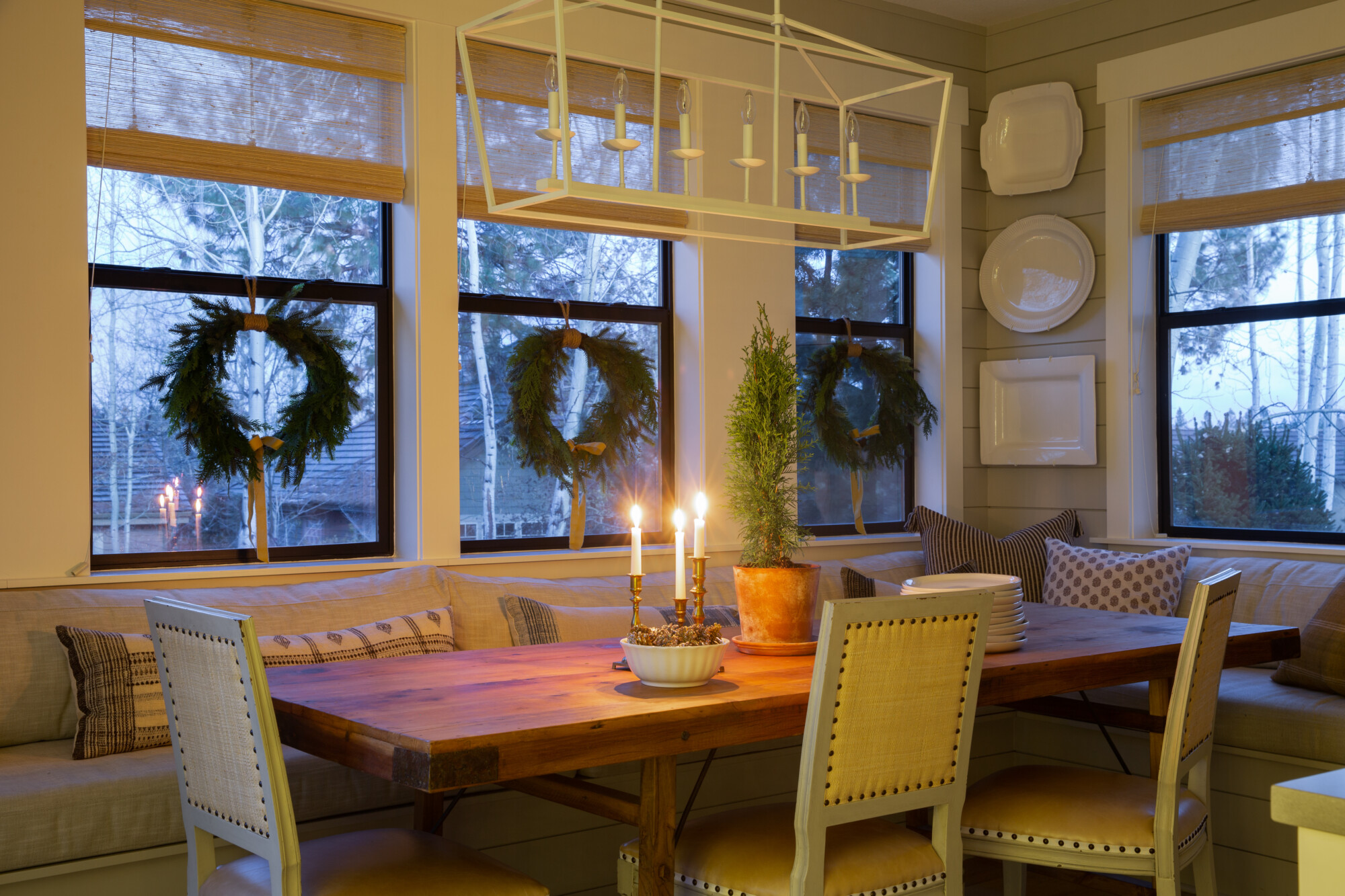 Holiday Home Tour 2022
It's our third Christmas in our Fall Creek house, and this one feels more special than ever …
We've invested so much into this little home of ours, and it's feeling more and more like us each year. I love how it's coming together, and I especially love decorating it for the holidays. There's something beautiful about setting the tone for another year of memories to be made. In just a couple of weeks, we will be a full house again with all kids home, meaning lots of laughter, activity and festivity!
As you might know, I love to create a cozy and comforting vibe in every space I design, and that couldn't be more true than for our own home. With three kids, two dogs and lots of teenagers coming and going, I want everyone to feel welcome and at ease. For the holidays, I like to infuse traditional and vintage pieces with lots of greenery, candlelight and soft textures. And, of course, there are plenty of throw blankets to curl up with!
Over the years, I've found that I use less and less of the quote/unquote holiday décor that I have collected (that said, I'll never give up my nutcracker collection!). I've learned that what I love to use most for decorating is greenery and other things from nature. Throughout the holiday season, you'll find me at places like Trader Joe's selecting the most recent variety of holiday greens, berries and magnolia. I'll be infusing these stems with really, really good faux garlands, and this year — a faux tree!
Never did I think I would ever use a faux tree, but there is something refreshing about not having to worry about it drying out or falling over!! To say it has saved my marriage to Derrick may be an exaggeration, but seriously, it's nice to know the tree will last throughout the entire season! 😉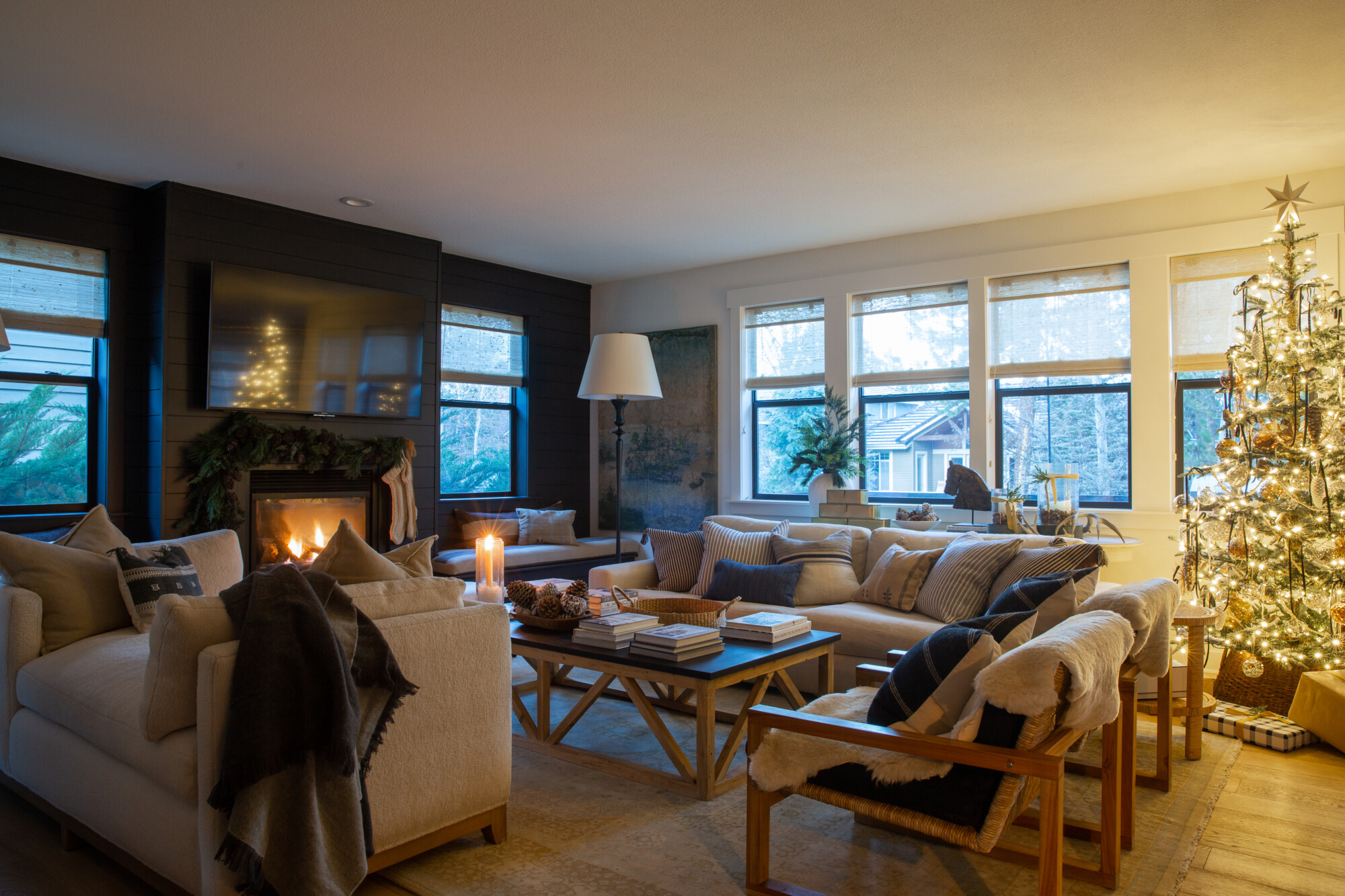 I love to add some whimsy and a bit of the unexpected to every space I can …
Our dairy cow, "Milkshake," has done that for the many homes we've lived in throughout the years. I found her at a favorite store in Portland years ago, and knew I had to have her. The kids have loved having her in our homes … she is a conversation starter for sure!
Milkshake lived at Design Bar here in Bend for the last couple of years, and when I left I knew I needed her to come with me. Some may say I'm crazy for such a display, but we adore her. And, for those of you who are wondering, she was a dairy cow who lived on a farm and died of natural causes. In fact, the farmer who owned her thought his cows were so beautiful he went into business as a taxidermist and began selling them to preserve their beauty! She is pretty gorgeous, isn't she? I mean, look at those lashes!?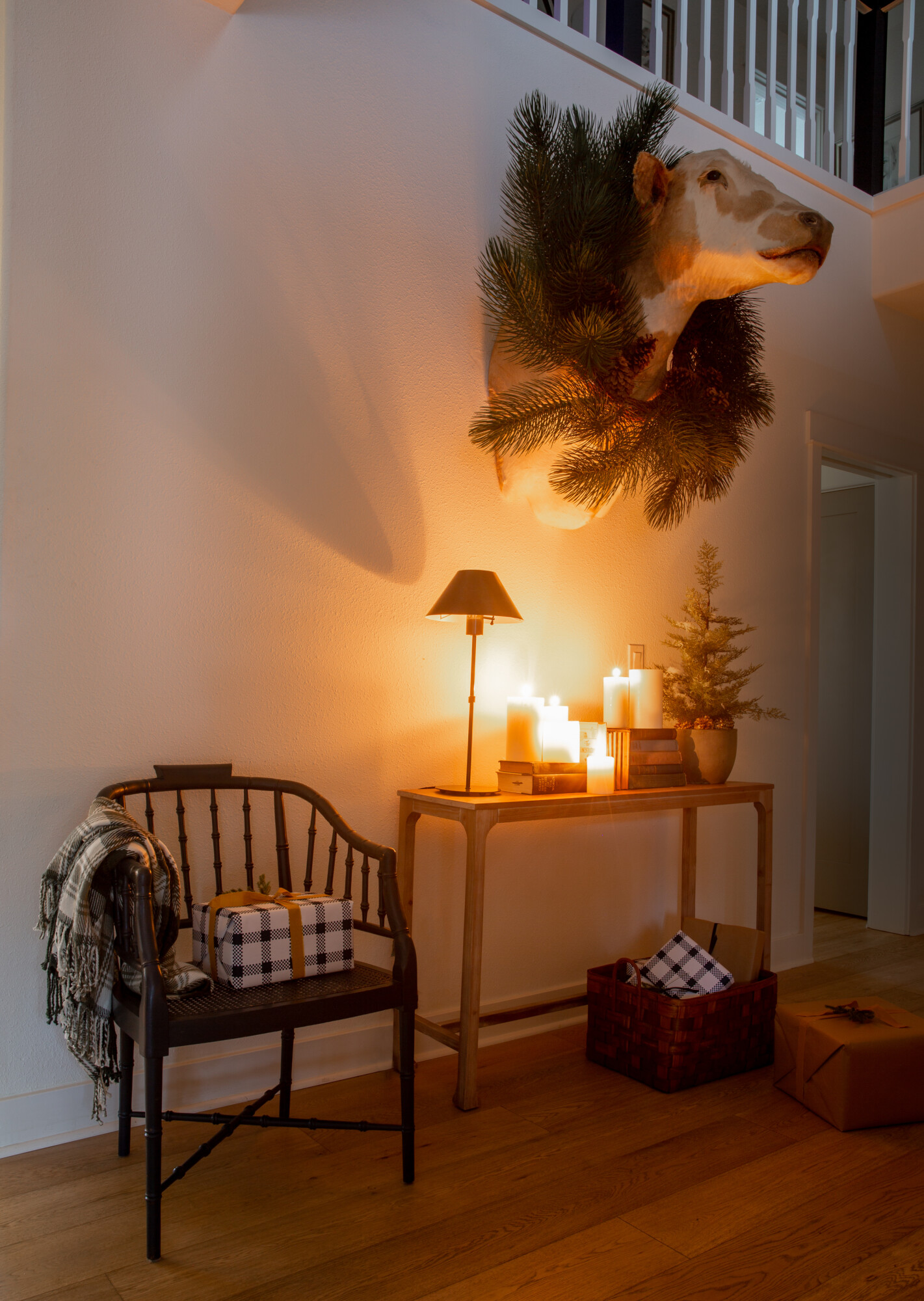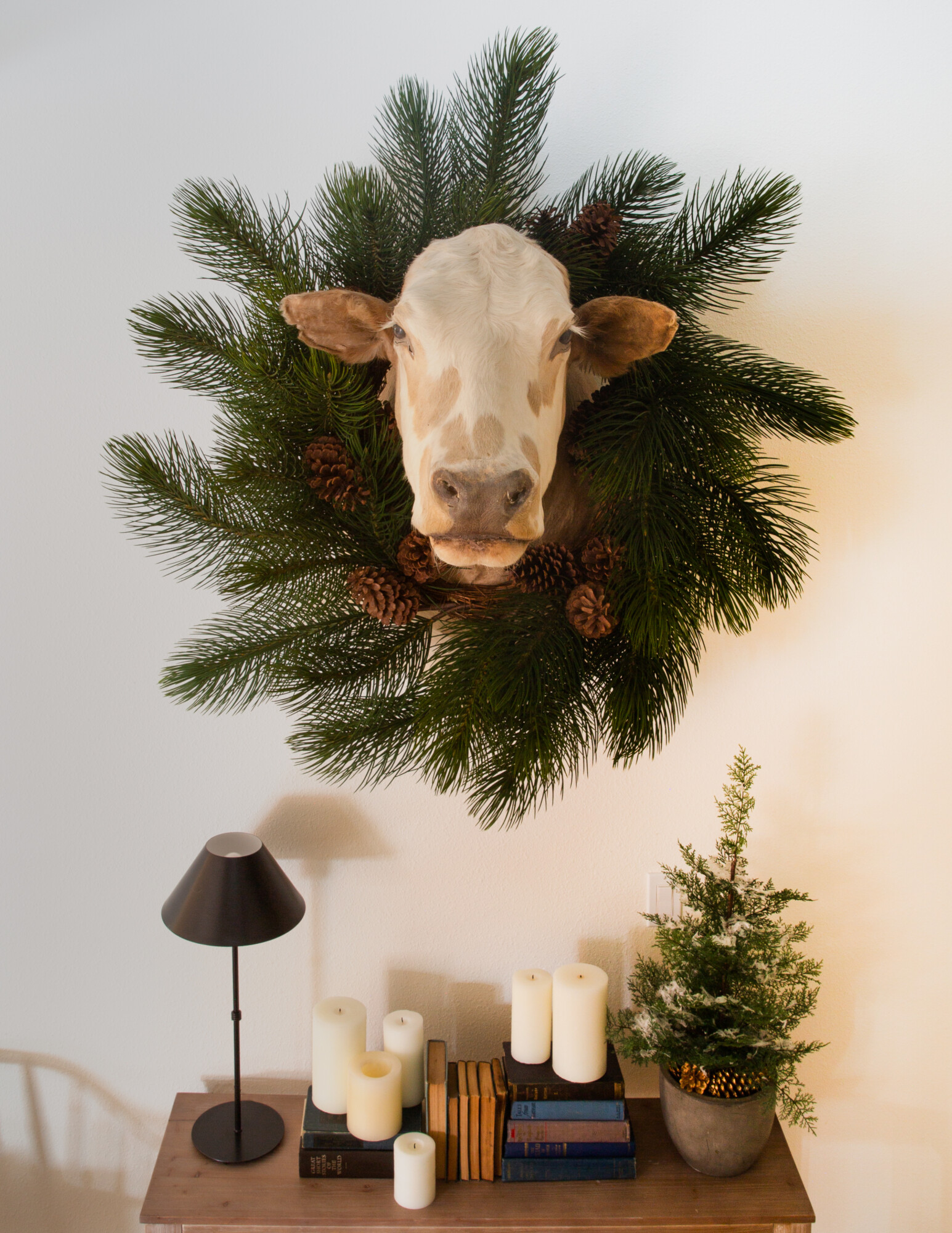 The kitchen is the hub (and the heart) of the home …
And in our house, this couldn't be any more true since it's in the center of our main floor! We love gathering around the big island while cooking, mixing cocktails and catching up with family and friends. This year, I kept things super simple and used a large vintage crock filled with fresh greens, and one single large hurricane with mini pinecones and candle for holiday accents. I use pinecones all the time — they extend beyond the holidays and through the winter — which in my opinion is a huge win!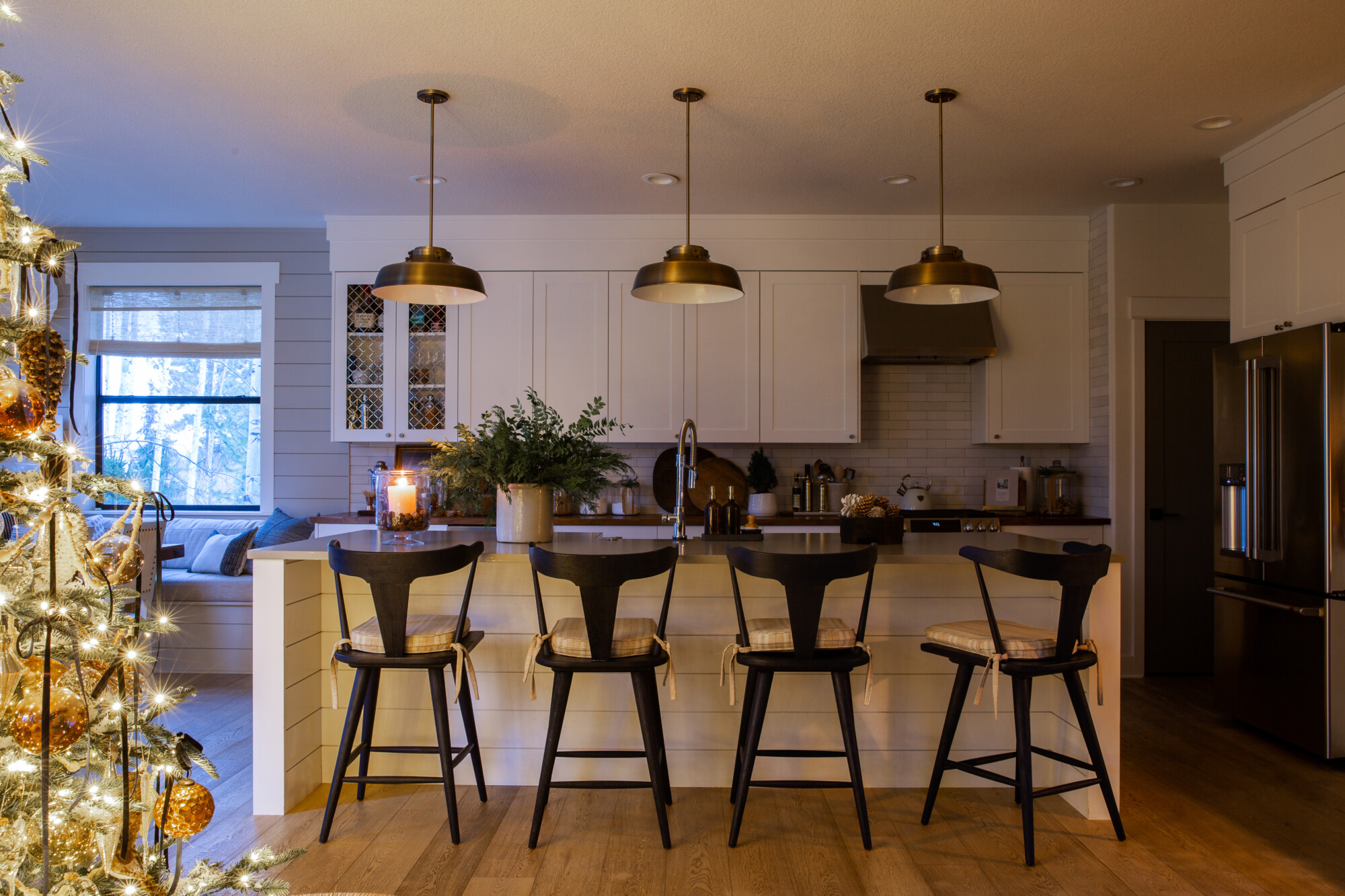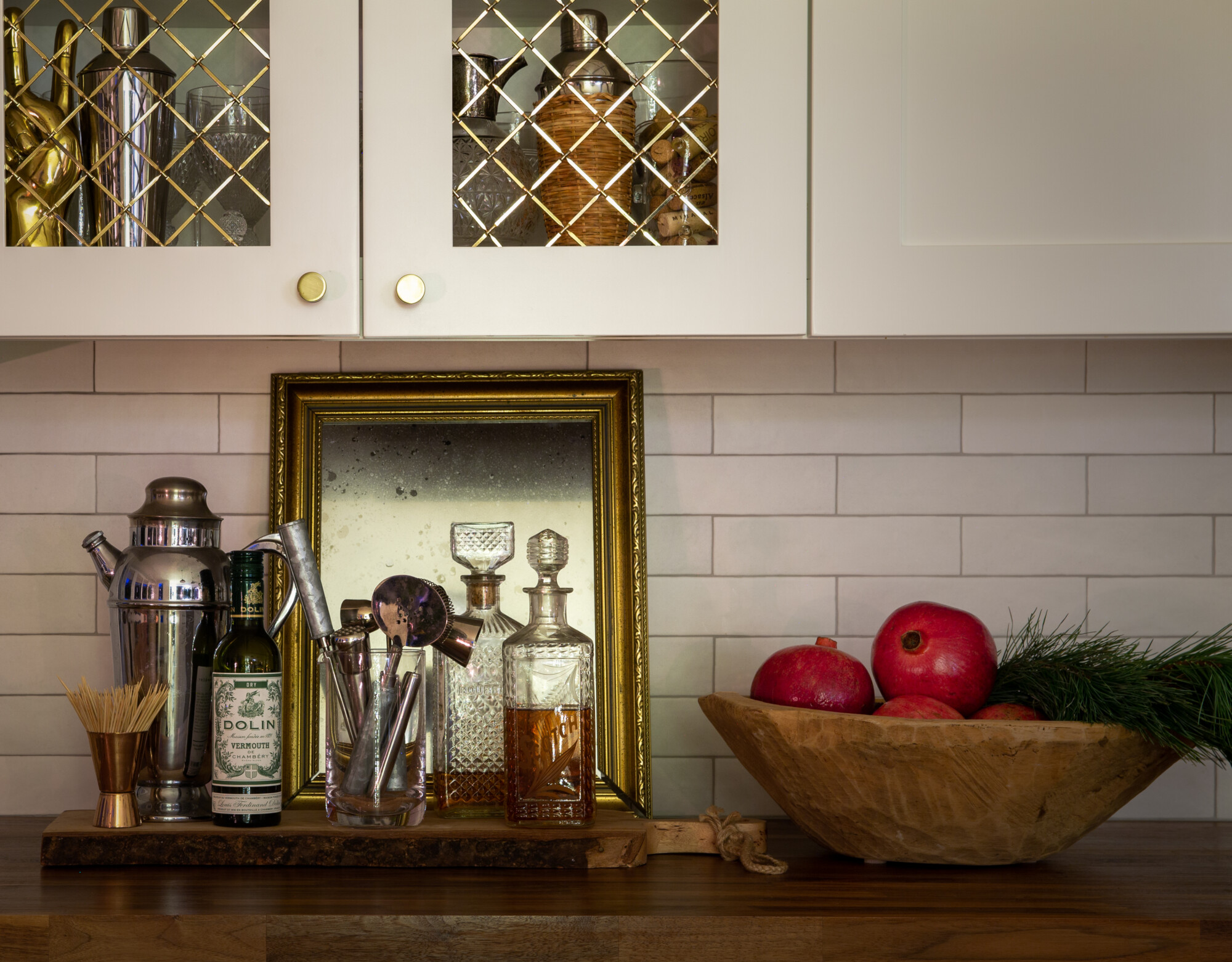 We hope you have fun decorating your home and preparing for the most magical time of the year. Can't wait to share more tips and favorites for making your home feel welcoming and festive. Cheers to you this holiday season!