Our next fixer upper project is full of charm and potential. We can't wait to get our hands on it and make it everything we know it can be! Check out all our ideas and "before" photos to document where we begin this sure-to-be-exciting and wild ride!
When we set out to look for our next investment project, we knew we needed something that checked all the big boxes: potential for expansion, location and aesthetic. This little 1700 sq ft home checked all those boxes, and then some! See below for some "before" pictures … we always think it's good to appreciate where you came from, and this labor of love will be no different. You can also learn about our priorities when planning new spaces, and the ways we will make this home really come into its own.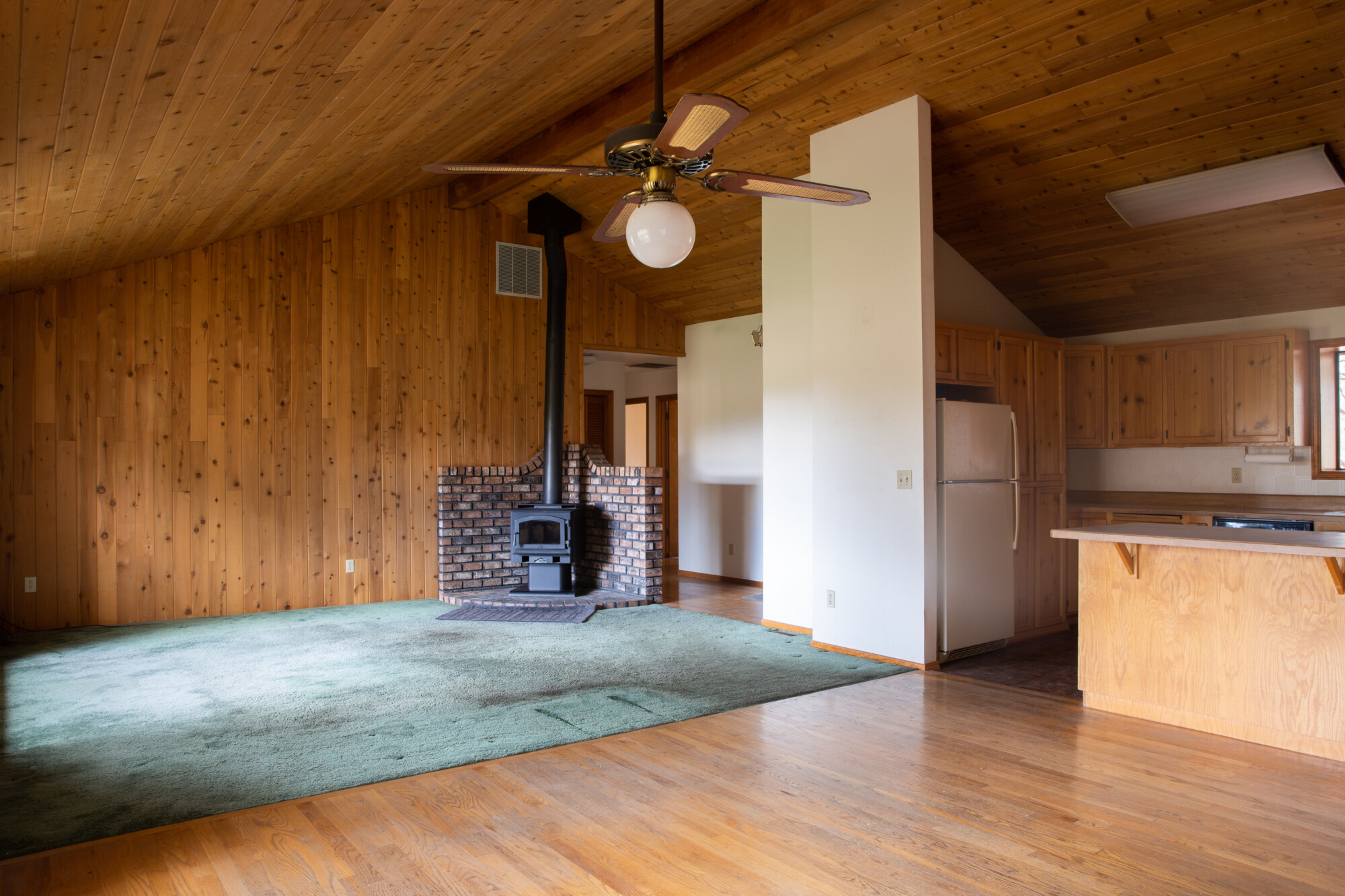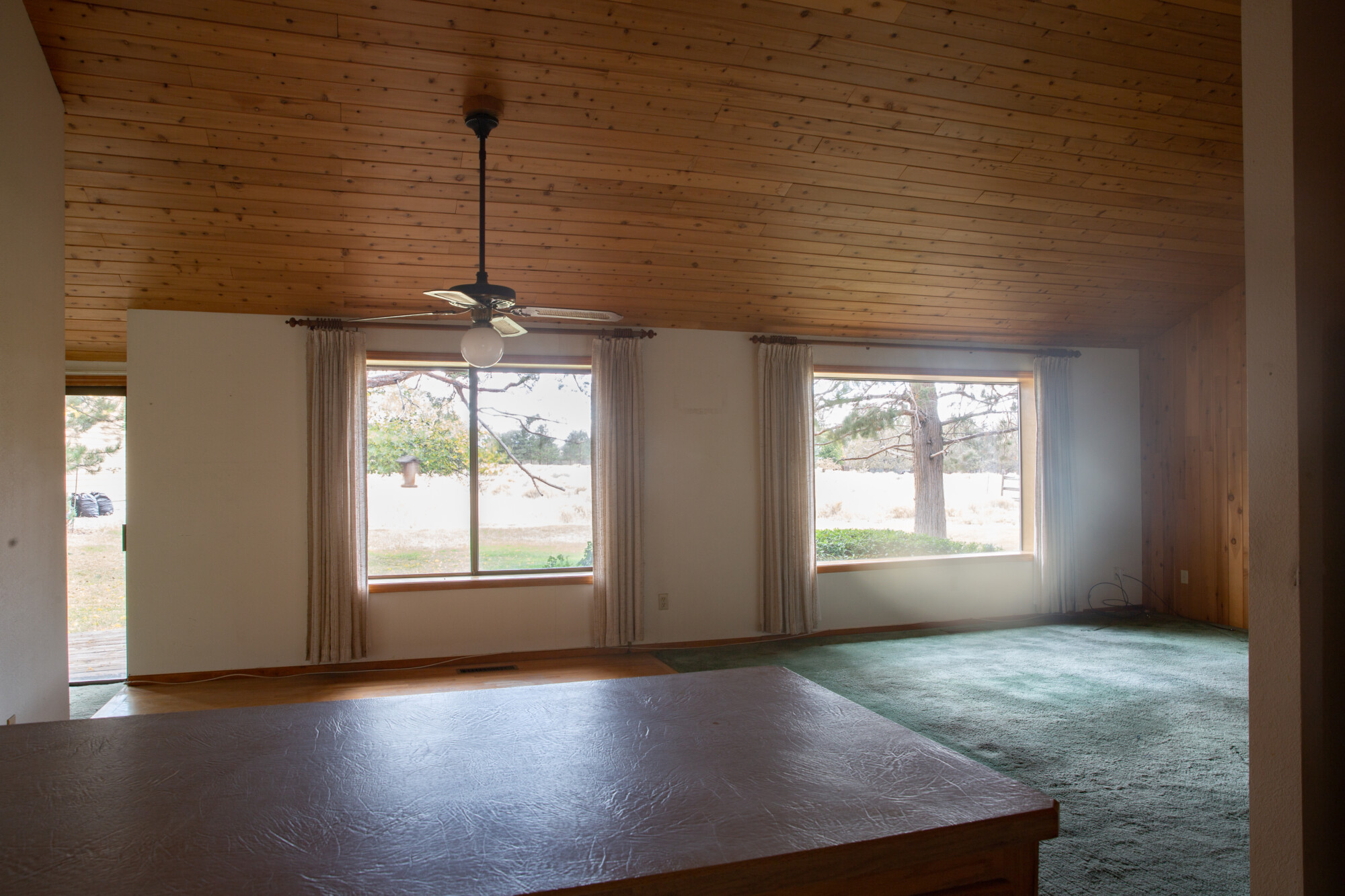 Living Room
The main living space is right off of the kitchen and dining area (and the footprint of this space isn't that big). We know we'll want to make this space feel cozy with a new fireplace and cabinetry. We'll store a TV in the cabinetry, since it will most likely be the main space in which the future homeowners will be hanging out the majority of the time. Our goal is to make this a space that not only works for relaxing, but also that is conducive for entertaining guests. Look at these images of living rooms below — we think they're the perfect reflection of the style and function of this space.
Do you see the two large picture windows looking out at those killer views? That's where we intend to add french doors or large sliding doors … anyone have opinions on which we should choose? Of course, budget will play a role in what we can afford, but we really want an indoor/outdoor feel in this main hub of the house. We want to capitalize on all the beauty that you can see out back! So, in our opinion, the more glass the better.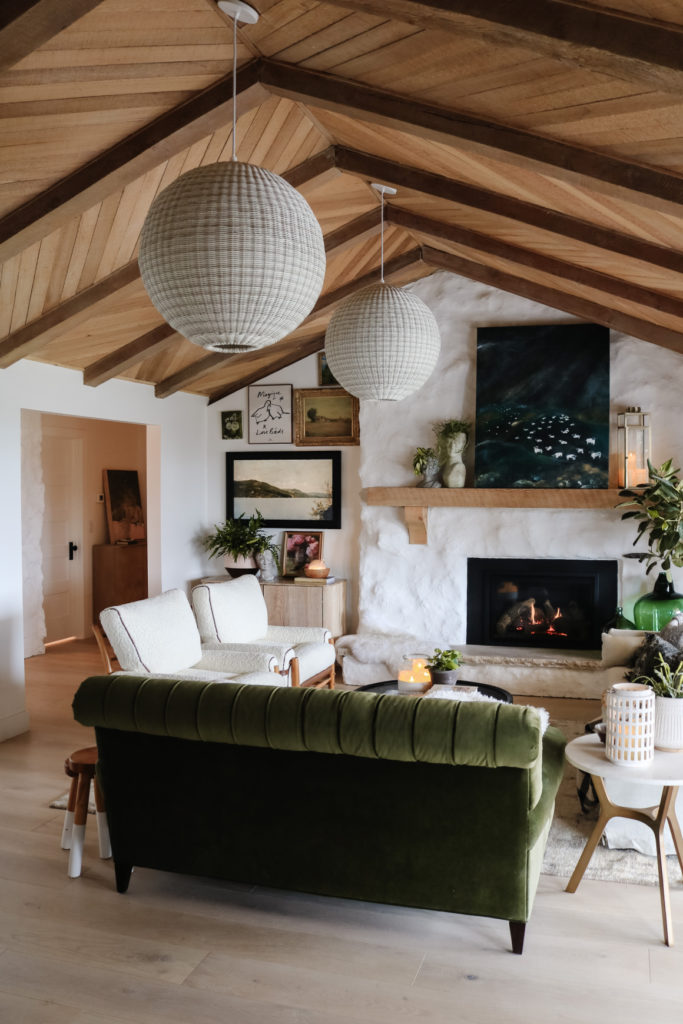 I love light hardwoods if we keep the ceiling natural. But, we have had mixed feelings about the ceiling. Do we just paint it a creamy white or beige? Or leave it natural, and play off that with a really light floor like this? I also think the white stone fireplace over-grouted is gorgeous!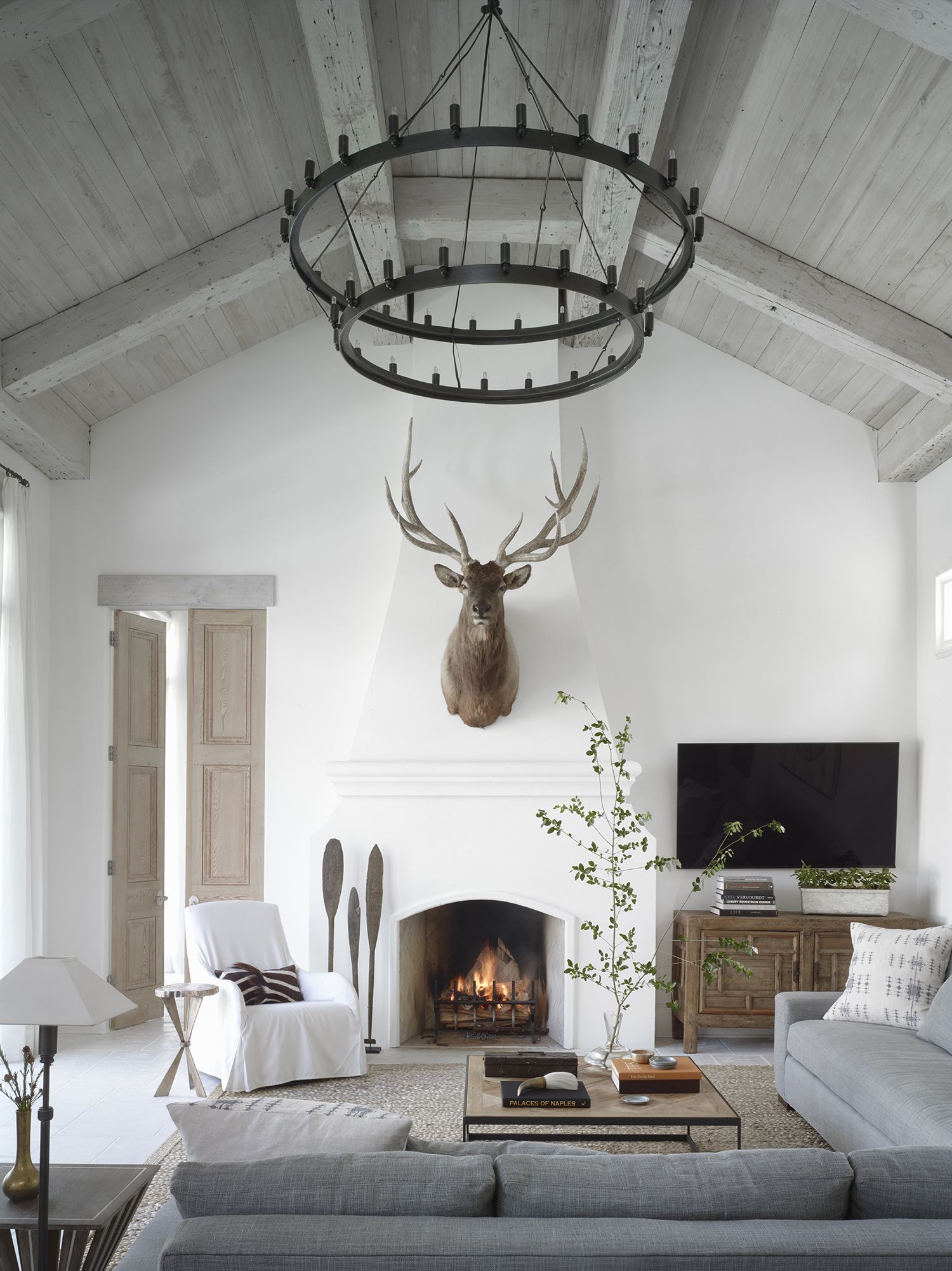 If we decide to paint the ceilings, I think I would want something like this. I have been researching all the techniques out there for achieving this beautiful washed effect. I don't want it to look "shabby chic" but more pickled. Or, if we go with a solid color, I might choose a contrasting color that is slightly warmer than the wall color. There's something so peaceful about this … and I love how warmth and texture is contained with furniture and accent decor, such as the area rug.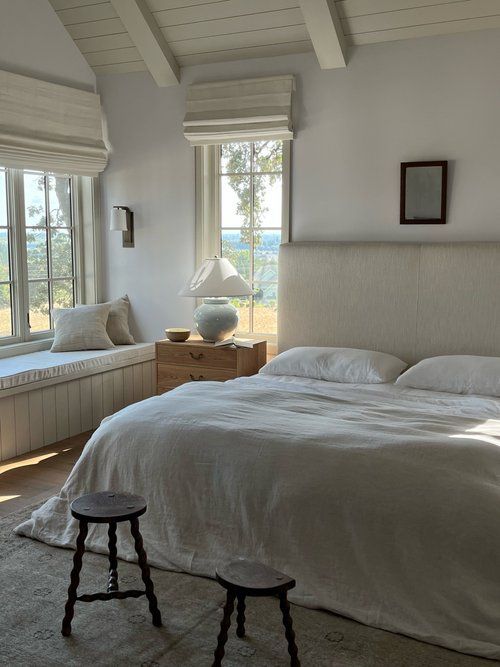 I love the revival of all the greigey colors I have been seeing again and again. And, here's a beautiful example of a slight contrast to the wall color, and yet it warms the space with that accent hue on the ceiling.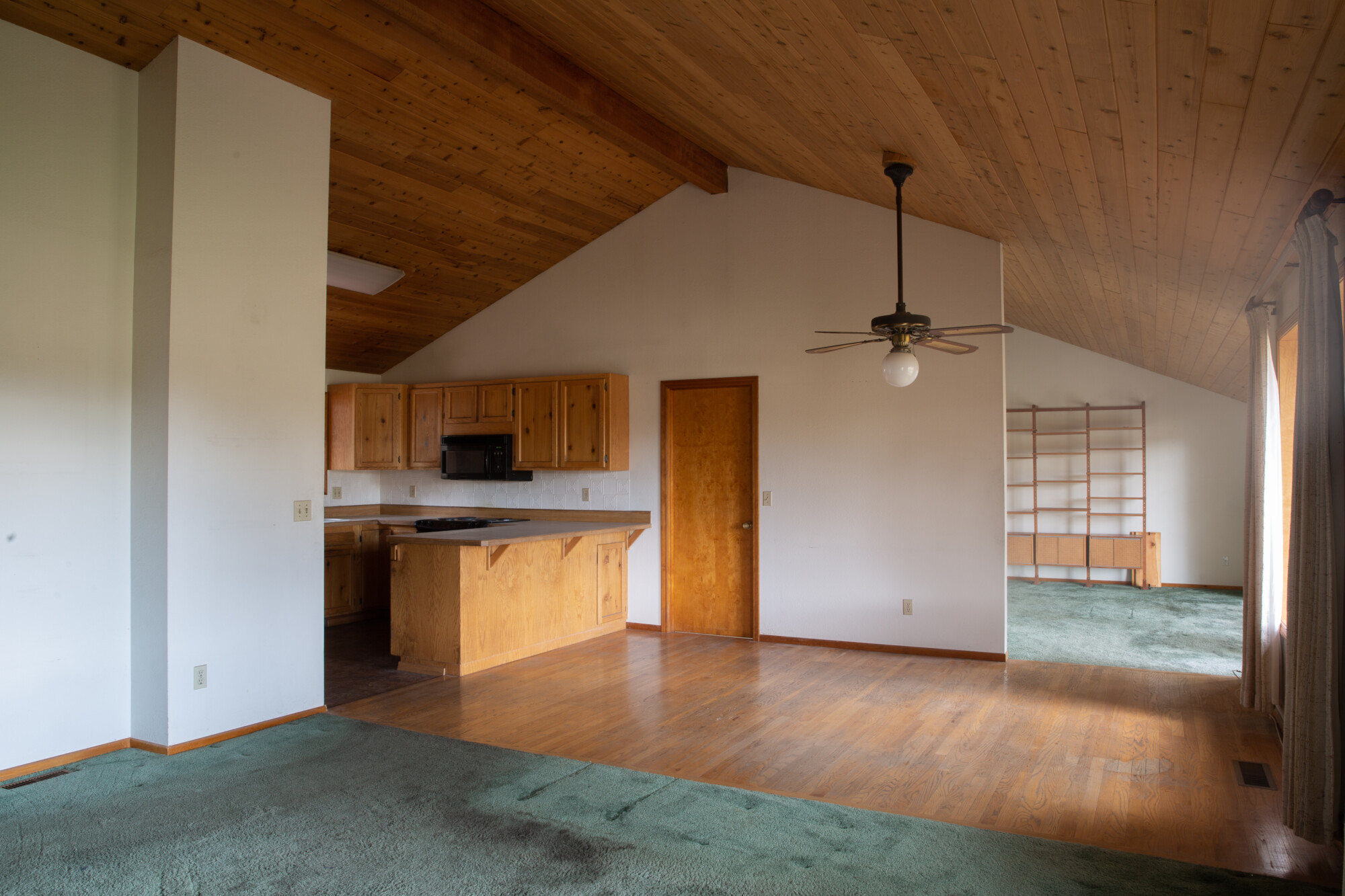 Dining Room
The dining room is right off the living room and kitchen. Our plan is to create more of an eat-in kitchen, with the dining room becoming more an extension of the kitchen. Off the kitchen will be a wet bar and chairs for enjoying a cocktail or just relaxing. This will allow for a casual vibe for dining and cooking. We want the space to feel as big as we can, and we think by combining the kitchen and dining (remove the peninsula counter dividing the two spaces) we can create one big space for cooking, entertaining and enjoying family and friends.
I absolutely am obsessed with the idea of designing an eat-in kitchen with your dining table in the center of the kitchen space — it's very European — functional and beautiful. See this image below that shows some of the inspiration I have been turning to when designing this space.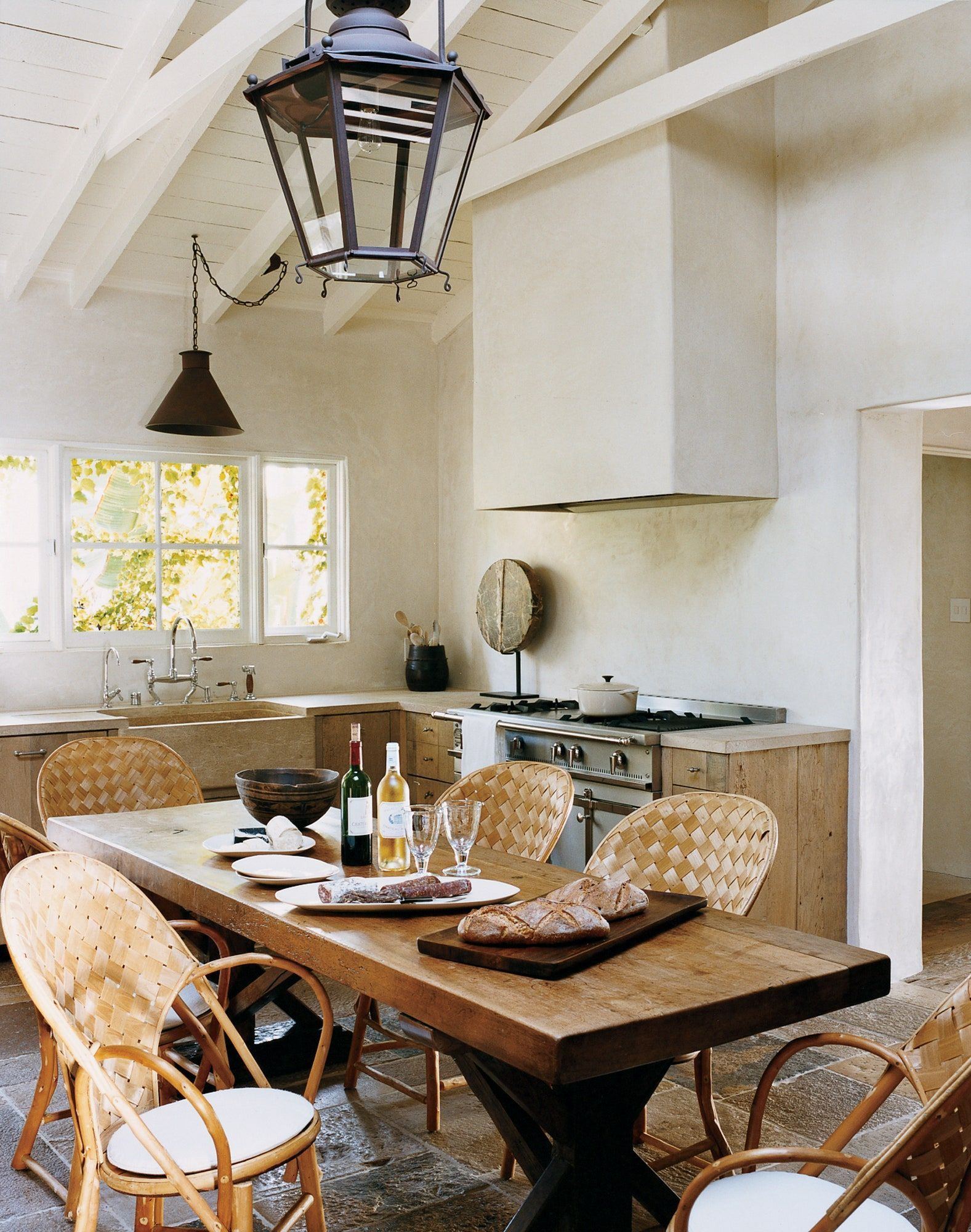 Clouz Houz Tip: When combining two different spaces into one, don't think that it makes the space feel smaller. In fact, it will do the opposite and make it feel more spacious without any "division" in the room. You can still make the space feel intentional. We plan to define "zones" with a wet bar area for cocktail mixing and relaxing, and a "zone" for prepping meals and dining. Finding a way to create zones helps the space feel cohesive without feeling closed off.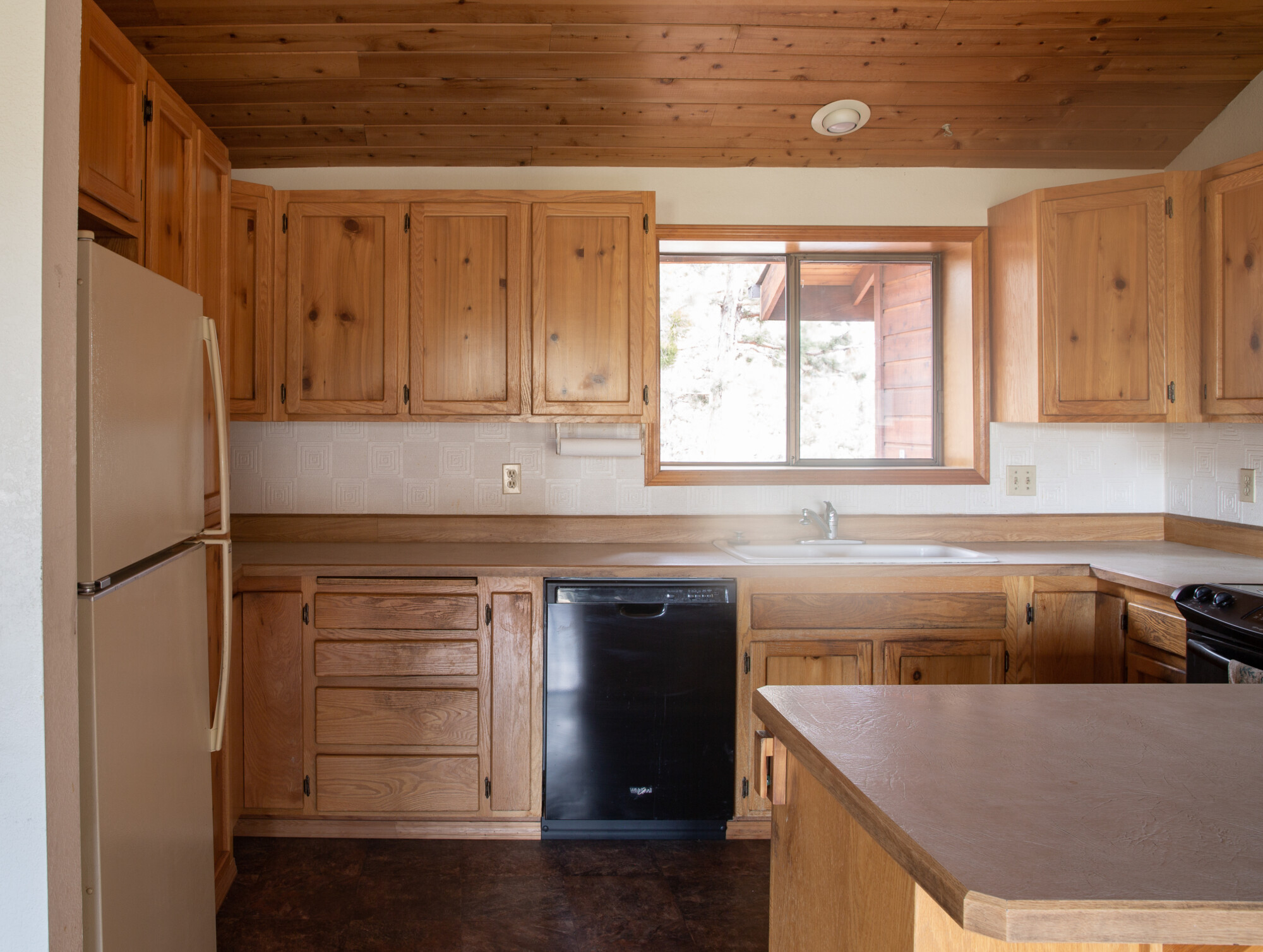 Kitchen
The small kitchen will be turned into a space that is better suited for cooking and visiting. The footprint of this room is not big at all, but by changing the cabinet layout and adding some windows, we will create a sense of more space. We have so many ideas for cabinetry style, appliances and hard materials! We can't wait to share what we have selected for these areas in more detail. Here are some inspirational images that speak to the aesthetic we want.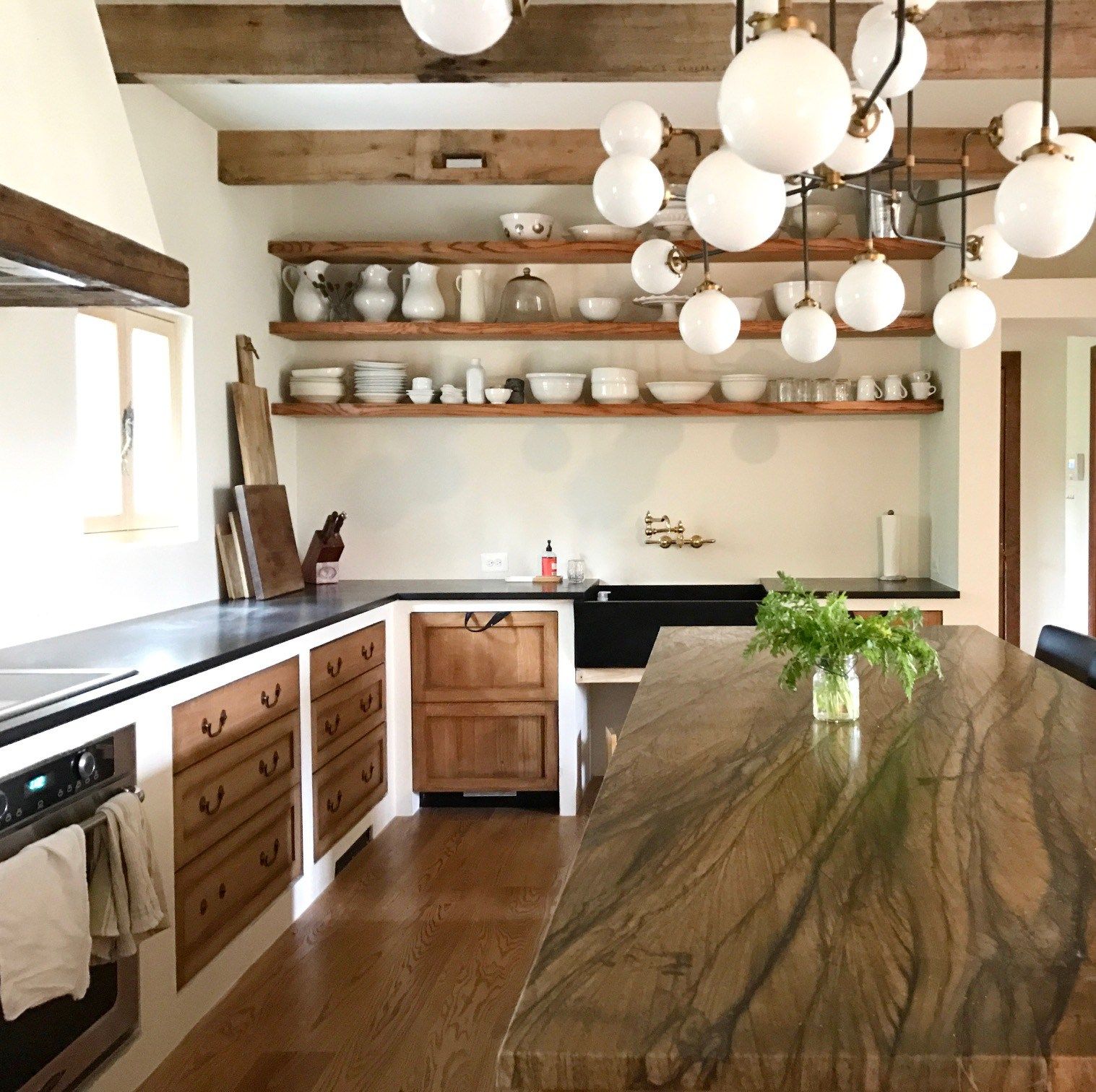 I not only love the natural and textural element to this space, but also the retro and funky lighting to make things feel not so serious! I would like to incorporate elements like soapstone countertops and sink. And all those white dishes?!? Yes please — I love open shelving for your everyday dishes. Makes things easy and will make the kitchen feel bigger without all those upper cabinets!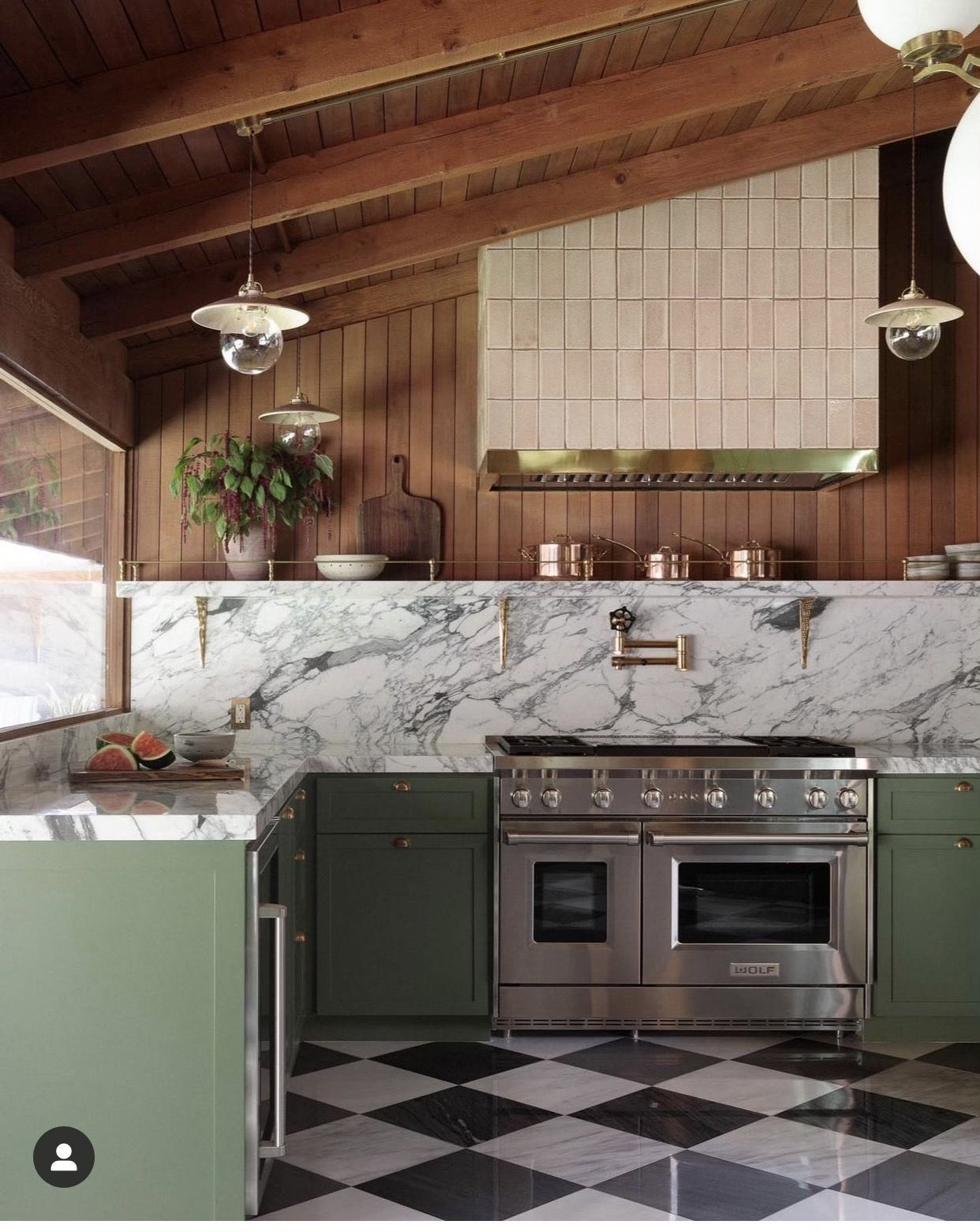 This kitchen is soooo cool, it definitely would push me outside my creative boundary, but I'm kind of wanting to do that! I don't think we can make the checkerboard floor work in the main kitchen (but maybe you will see it make an appearance in the new butler's pantry/mudroom). I just love the idea of a painted cabinet, against some natural stone and cedar (unfortunately though, our cedar is much knottier than what you see here).  For it to give a more rustic vibe, we may need to use the cedar in smaller "doses."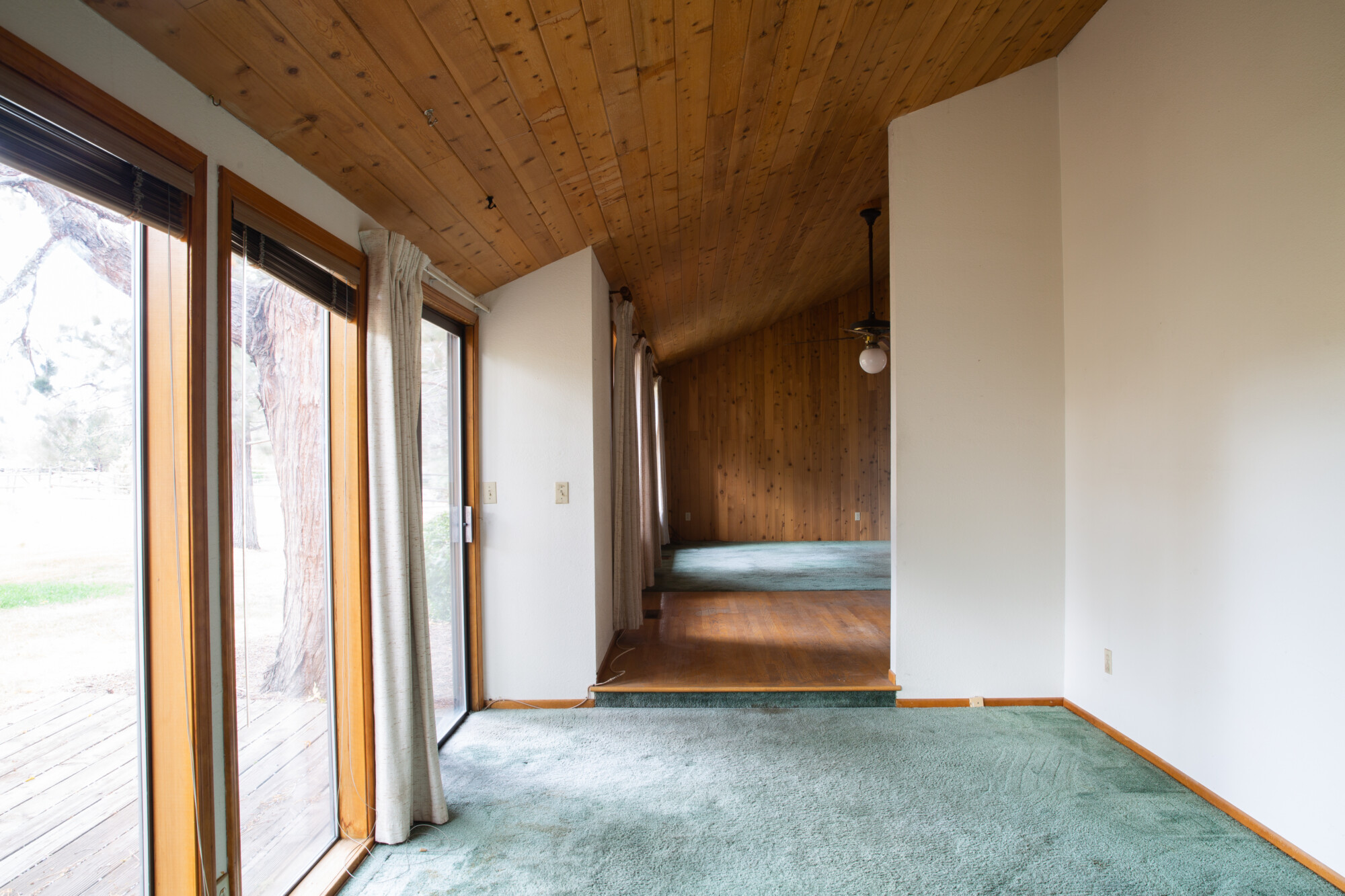 The Rumpus
So, for lack of a better term, we are turning the space off the dining room into a hangout zone for kids and adults. We'll add a comfy built in sectional with thick cushions and pillows. We want this area to feel like a place you can truly kick up your feet and watch a movie or play cards. We'd like it to be an "annex" to the main living areas, but an extension for family and friends to enjoy each other.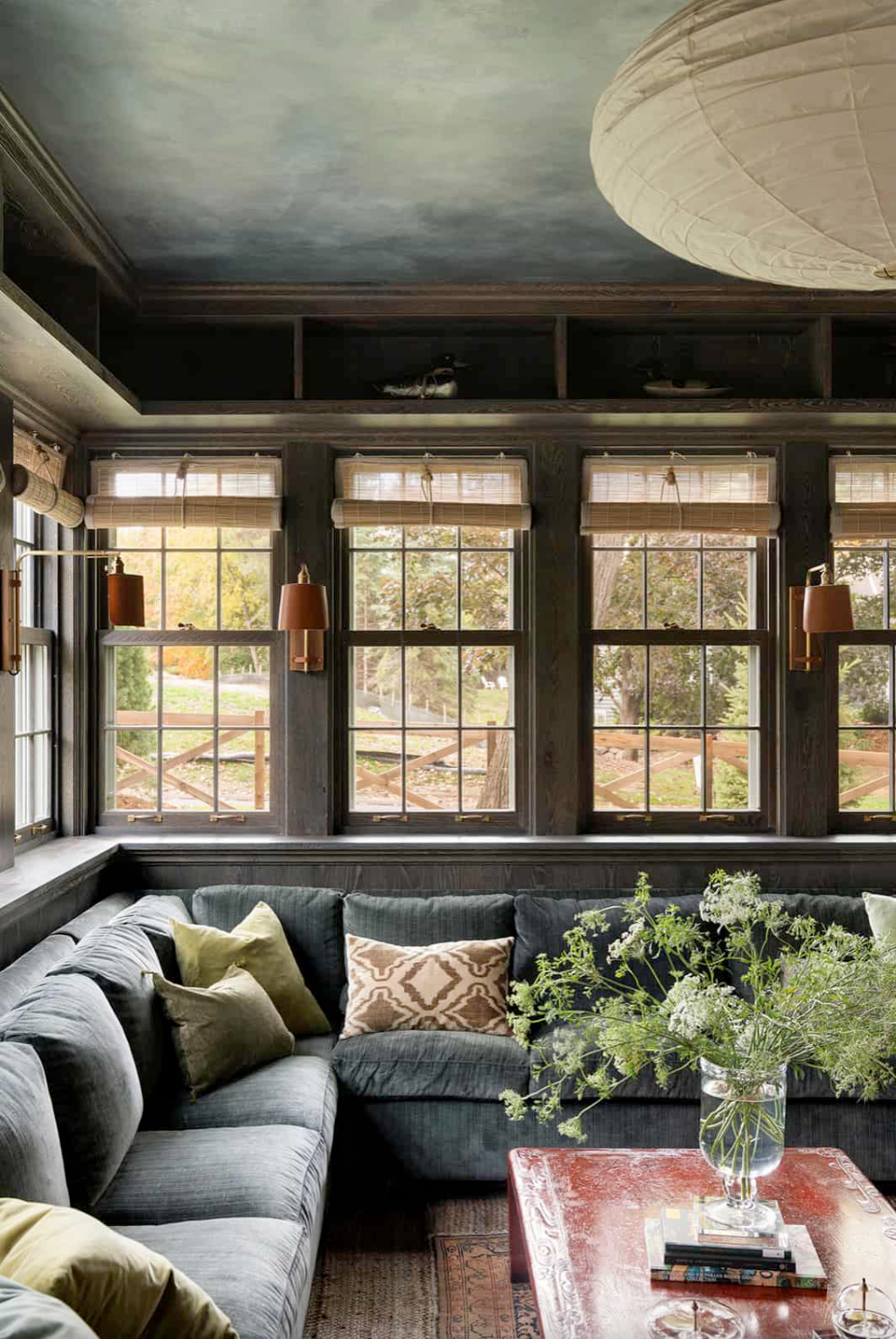 I love the cozy vibe of this space above — the luxe sectional in velvet and rich colors to offset all the natural light this room gets. And those sconces?!? So charming for night time reading and dim lighting while watching movies! Ambient lighting is something we never forget – I'm always thinking about this at the beginning stage of any project as its necessary to be sure you have all your electrical boxes set appropriately. Although, you can see a reel here where we show a hack to add battery operated puck lighting if you can't deal with hardwiring!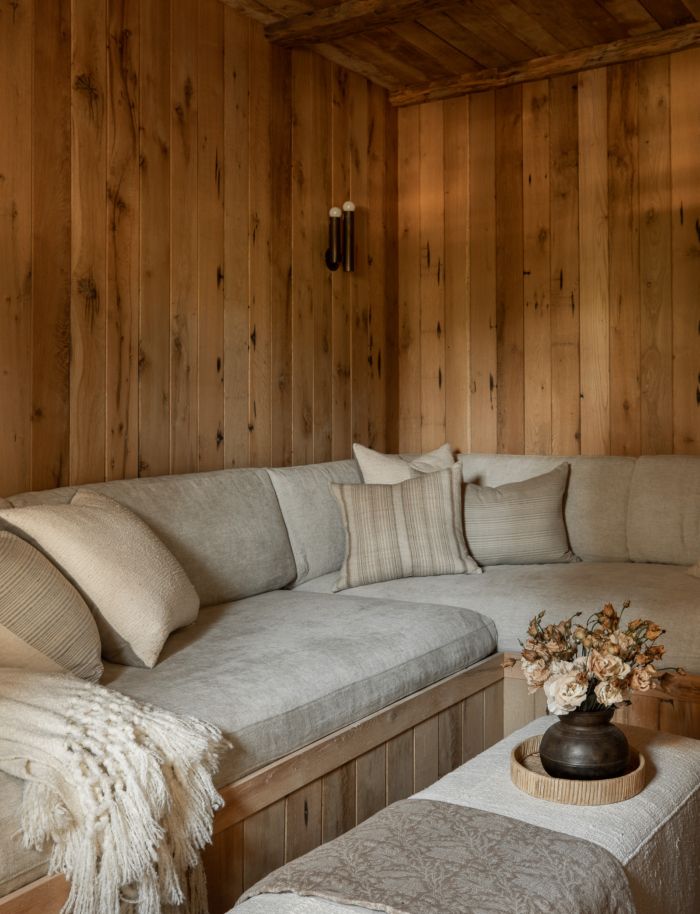 There's nothing about this built-in sectional in a neutral linen fabric that I don't love!! Notice the serenity and calmness this room exudes, especially against the natural grain of the knotty pine. I'm wondering if we could repurpose the wood panelling in the living room to the Rumpus so we can achieve the warmth of this space … I know that the wall that the fireplace sits on in the living room will get covered up with new fireplace hearth/mantle and cabinetry so I want to use it in some way where we can enjoy it!
So, that's all the inspiration behind the main living spaces of the home. The footprint of these spaces will stay the same; however next week we plan to share all the deets around the addition for the house! This will provide us another guest bedroom, new laundry space and a bigger owner's ensuite… can't wait to share the floor plans and inspiration to explain it all.