Our Office/Dining Room
When we purchased our home, the room off the entryway was somewhat awkward and out of place. We weren't sure if the previous owners had used the space as an extra room, like an office or dining room, but regardless — we knew we needed to make it over- and the moodier the better!

We needed a space that could be multi-functional. This house doesn't have a formal office or dining room, so we decided to make it work both ways! I love using the table as a place to get inspired and work, but also as a cozy nook for dinners with family and friends when we need it. In my opinion, dining in a dark and moody space is not only more intimate but a little sexy!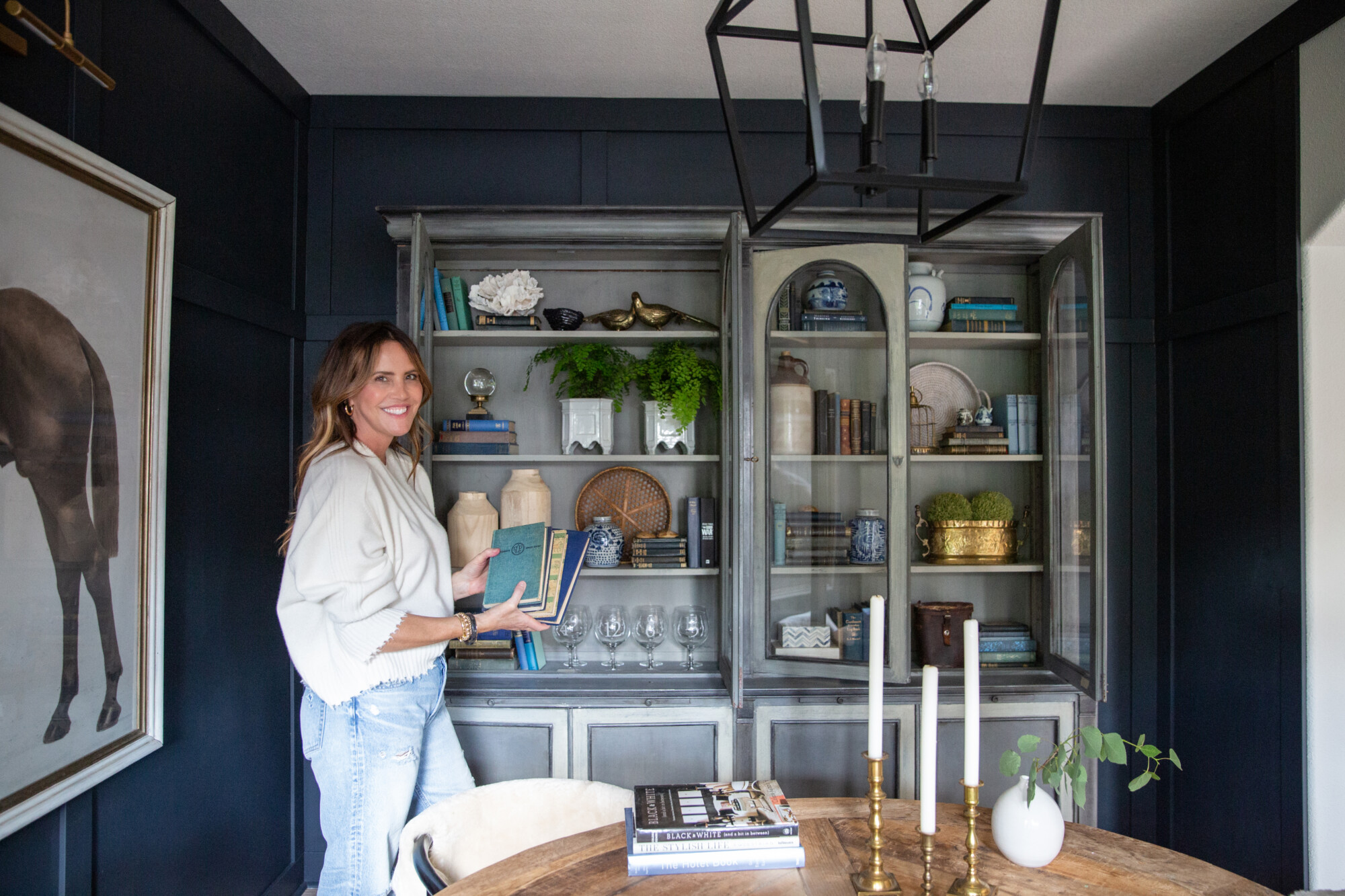 Step One: Paint
We painted our dining room/home office "Midnight Blue" by Benjamin Moore. It's one of our faves and we have to say- it really makes a statement. It calls you into the space- asking you to to sit and stay awhile.
Here's some of the moody colors we are currently coveting! Think dark, rich and saturated hues that envelop a room! You can't go wrong with any of these. Our advice, buy re-usable sample sheets from Samplize. They offer a vast array from some of our favorite paint brands like Benjamin Moore, Sherwin Williams and Farrow & Ball. You can stick them up in your room and move them around to see them in different light at different times of the day… live with a color for a day before you decide is another tip- color can change so drastically as the sun rises and sets!
Moody Paint Colors
BENJAMIN MOORE "MIDNIGHT BLUE"
Step Two: Add lighter accents with warm wood, fabric and leather.
Creating a moody space is somewhat of a dance… you want to balance out the depth of the room with some lighter accents- you can do this with furniture, rugs, artwork and decor. We have incorporated pieces that we have owned for years… for instance, the lighter natural wood table and large horse artwork (no longer available) from Restoration Hardware sets off the space to bring warmth and depth to the room.
Check out these inspirational images that show this "balance" so beautifully. Whether it's furniture covered in lighter shades of linen or off-white; or also a beautiful cognac or saddle brown leather, these materials contrast the moody color on the walls! It gives the space that ultimate rich and cozy feel.

Clouz Houz Tip: If you don't have lighter furniture pieces to balance out the space, I love to layer sheepskin throws over chairs and other furniture (I use them all the time in my designs!) . You can find the most beautiful ones online- see the one I linked below. The quality is good and they give another layer to the space that adds that accent of light and cozy!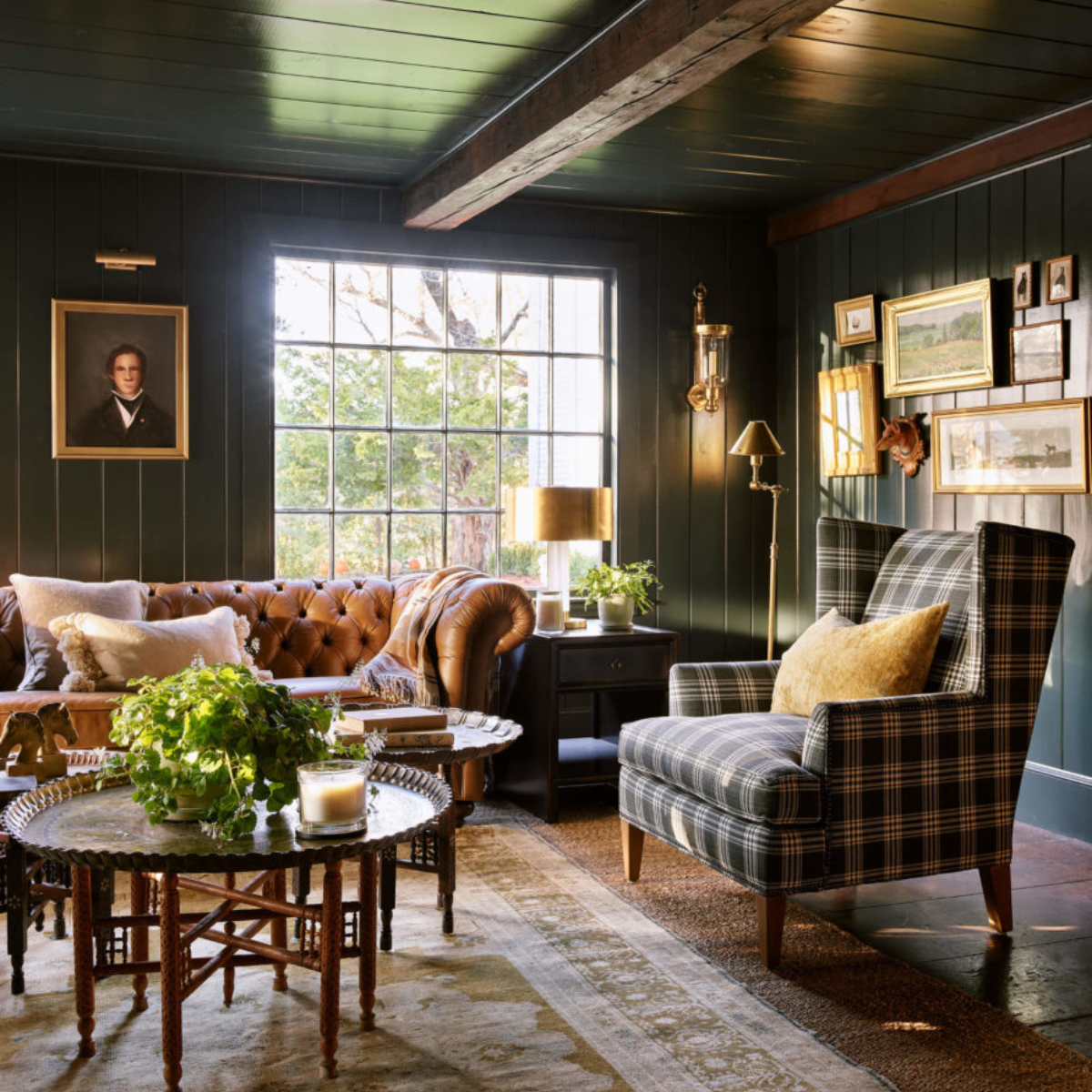 Step Three: Incorporate Vintage Pieces
In our Dining Room and Office space, we added some beautiful accents with antiques and vintage decor. I'm always a proponent of mixing old with new and this is no exception. It gives a space soul and character. There are so many places to find great vintage pieces. Some of my favorites are Chairish, Facebook Marketplace, and Etsy.
Again the goal here is to give layers to the space, so choose lighter and accent pieces to display- whether on shelves or tabletop. I found some great brass candlesticks on Etsy and then added a collection of old books and other decor. I love the way the lighter wood accents and white pottery "pops" in the early 19th century vintage armoire that we have owned for years!