Our little laundry room lacked some key necessities for our family of five, and it was dated and cramped. So we decided to give it a major refresh ... see below for all the details!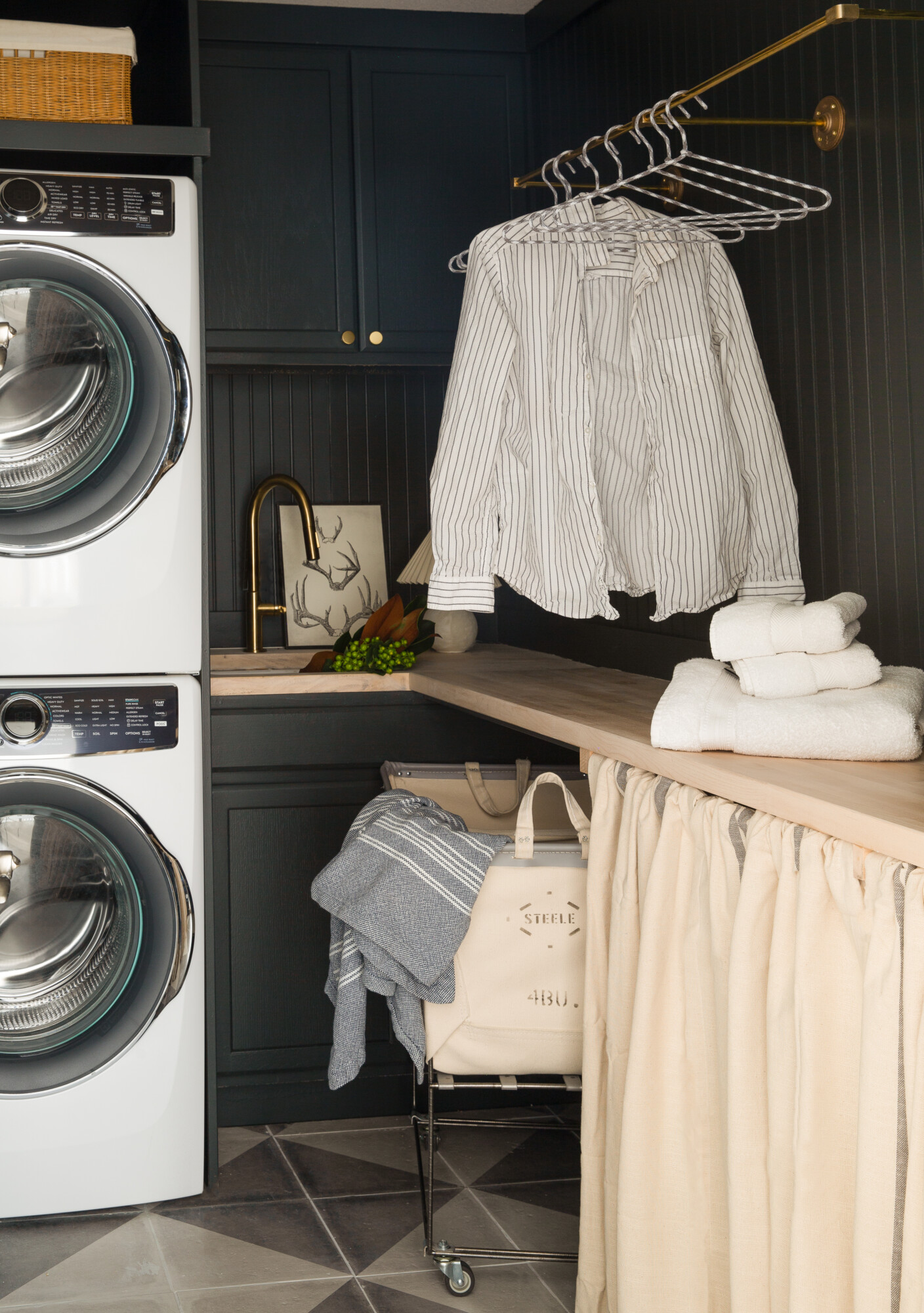 When we set out to revamp our laundry room, there were some key things to consider. For example:
#1: How to make the 5′ x 10′ space feel a little more spacious and bring it into this century (!)
#2: How to incorporate a utility sink for a place to treat stains, soak clothes, fill vases and such
#3: How to keep some storage space but without upper cabinetry
#4: How to install a hanging rod for delicates and create a place to fold piles and piles of laundry
#5: Create a classic and unique look for such a utilitarian space (in other words, how do you create a space to do laundry and feel inspired??)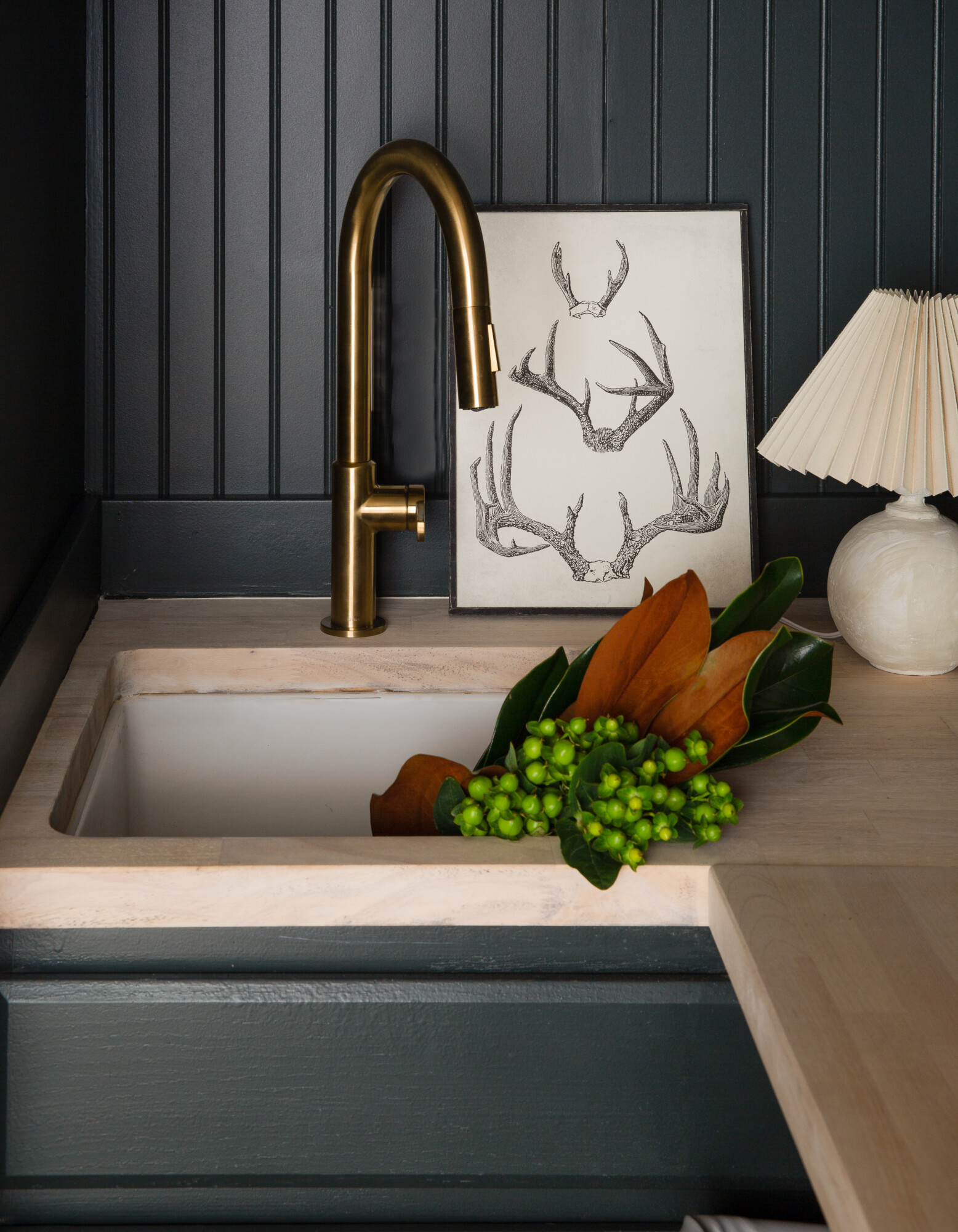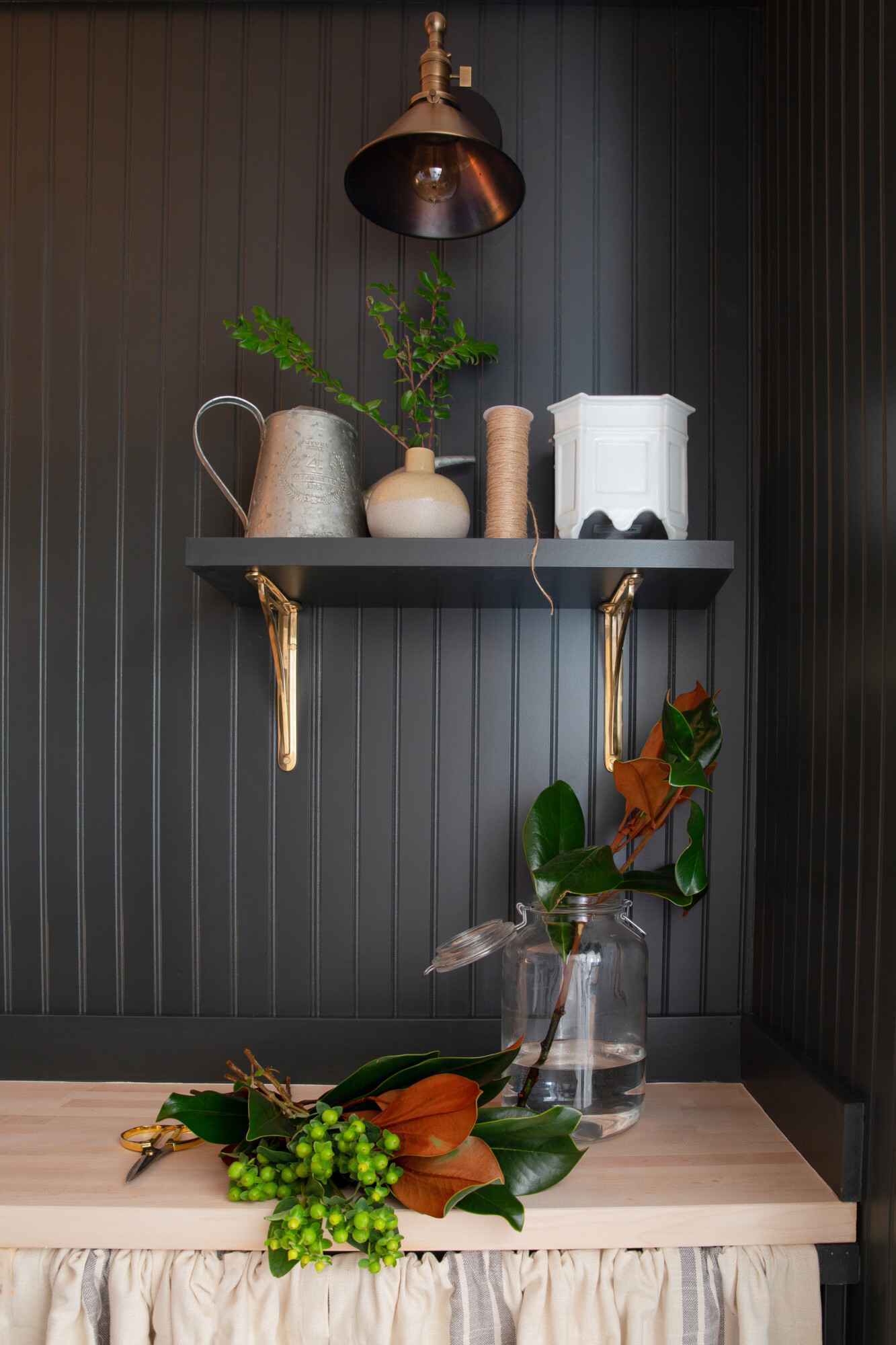 How we achieved all our goals:
STACKABLE WASHER AND DRYER
We've never had a stackable washer and dryer unit, but we have to say- – for a small laundry room — we are huge proponents! By going "up" we were able to save some of the footprint of the room so we could add a sink and more counter space for folding.
UTILITY SINK
We knew we needed a sink for various tasks like treating stains, washing delicates, filling vases, etc. The room didn't currently have a sink, but we were able to easily add a water line off the plumbing — it was already there for the washing machine. We are so happy to have this 18″ under mount sink, even though it's small. It was a great solution to achieve our goal.
STORAGE
This room is so so small, and yet, we needed a way to store things like cleaning supplies, rags, vases, iron/steamer etc. Upper cabinets "dwarfed" the space even more, so we decided to eliminate all those cabinets except the ones over the new sink. This allowed some closed storage without feeling too heavy. Then Derrick built some open shelving under the new butcher block countertop. I found the cutest café curtains to close off the open shelving, which provides some softness to the room and adds a little texture.
HANGING SPACE FOR DRYING DELICATES
Sometimes it's better to dry clothes naturally, so I knew we needed a way to hang them. However, the space was so narrow that the extendable hanging rods I found online were going to extend too far into the room. Thank goodness, I found the most perfect un-lacquered brass rod and brackets from which to hang our clothes! I love its size (it's fully customizable in length), and the brass is a beautiful accent against the dark paint color.
CREATE A CLASSIC… AND SOMEWHAT VINTAGE VIBE
I knew this space lacked character (I mean, how many laundry rooms really have character?), but doing laundry is one of my least favorite chores, so I knew it needed to be pretty and inviting. Maybe if the space felt more charming, I would feel more inspired to get all our laundry done? Ha ha … So, we added new tile flooring, bead board on all the walls, butcher block countertops, and vintage inspired light fixtures to give the room some soul and character. See our mood room below for all the inspo.

CLOUZ HOUZ TIP: Add a moody, rich color to a small space that has no natural light! Embrace the darkness, and just add more artificial lighting. It really makes the space feel cozy and inviting.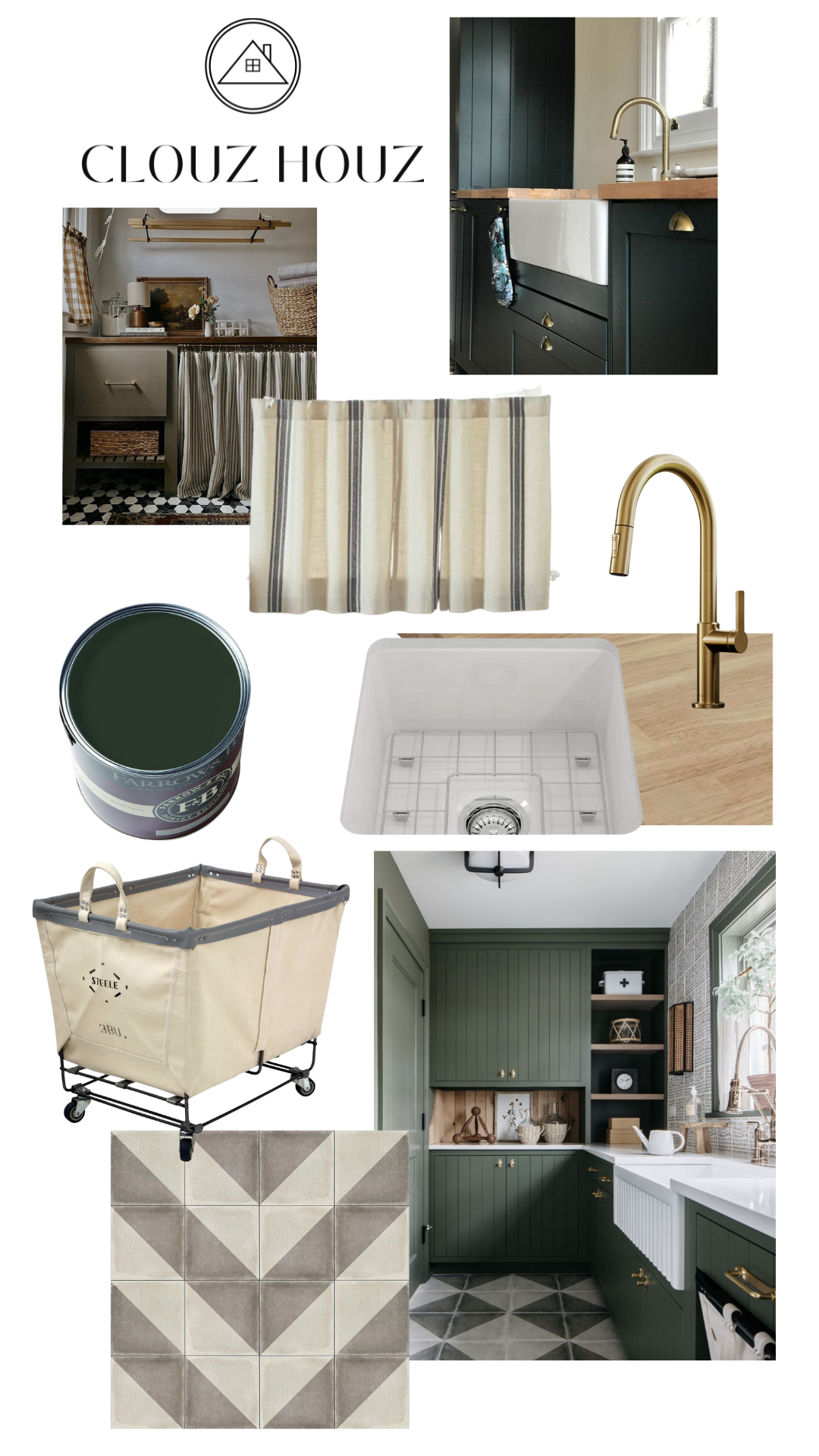 See all the links below to shop this look. If your laundry room doesn't necessarily spark inspiring and happy feelings, we hope this will inspire you to create one. Of course, we're always happy to help!