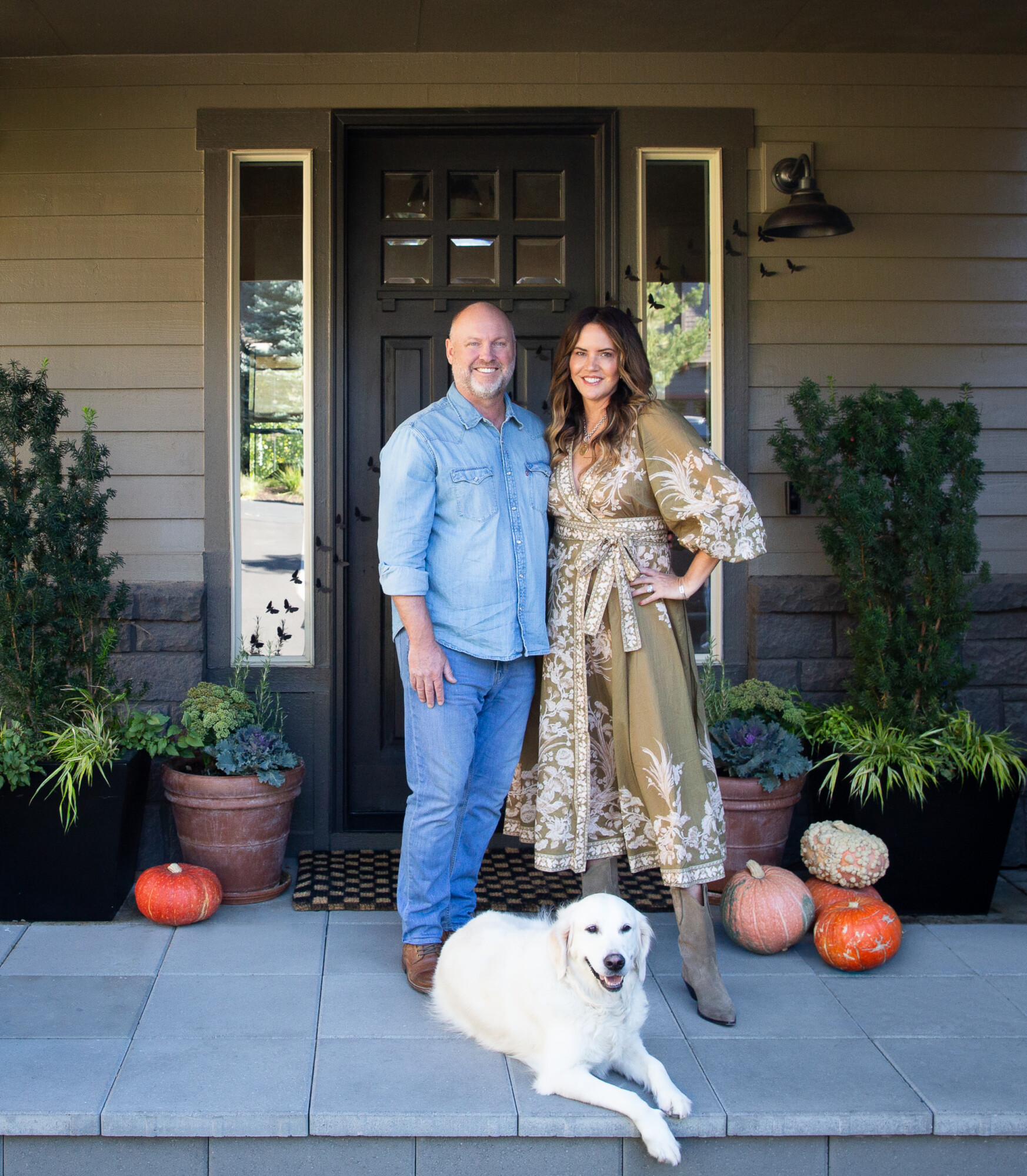 Welcome to Clouz Houz! We're so excited that you're following along on our journey. After giving it a lot of thought, we decided to start this business to share the tips and tricks we've learned throughout our 25+ years of remodeling and renovating houses. We believe each home has many possibilities, and we've lived in several homes that have taught us this lesson … over and over again. You can learn more about us and how we got started here.
THE TOP 5 HOME IMPROVEMENTS ANYONE CAN DO
With each and every home we've renovated — whether it's our own or an investment project — we always make these five improvements. These are our tried-and-true "fixes" that make each home feel more updated. It's also important to mention that each of these improvements is easy to do and won't break the bank! Win-win … right?
1. PAINT IT WHITE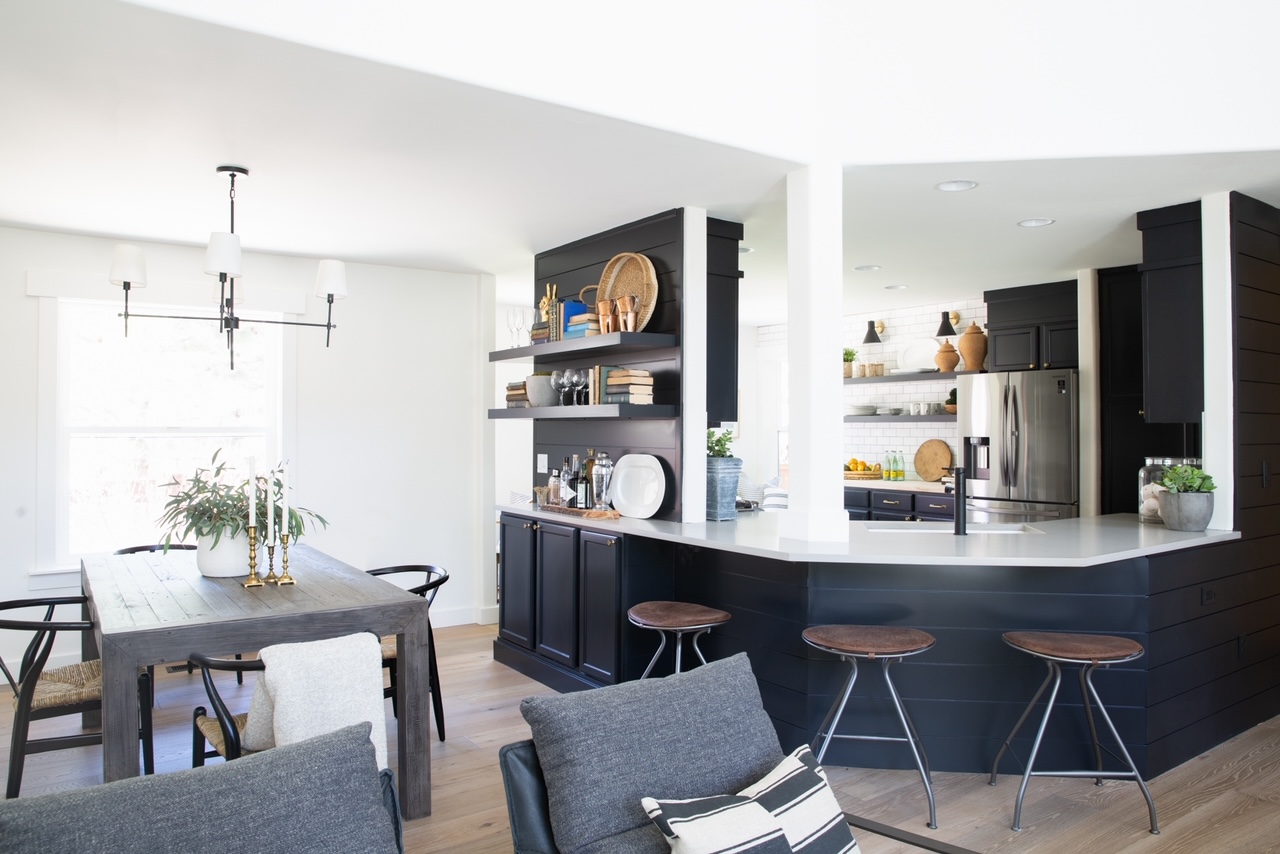 So, here's the first tip. The power of white paint is strong, and it's something anyone can do with the right tools and techniques. When you buy a house, the first thing we suggest you do is put a fresh coat of white paint on the walls. Don't have the time or the budget for trim? It's ok — simply painting the walls will make a huge difference.
Freshly painted rooms look and feel better immediately, and this is very easy on the wallet. We like to use Benjamin Moore. Any of their interior paint lines is good, but if you can invest in one of their nicer quality paints like Regal Select, it'll make your job easier and the end result will be very beautiful!
If you do decide to paint the trim as well, we like to use the same shade of white for the trim as we do for the walls. 

Clouz Houz Tip:  Use a different sheen for each part of the wall/trim and you'll get a beautiful monochromatic look, even when using the same paint color. Using various sheens will also play off each other nicely. We like to use Eggshell for walls, Matte for ceilings, and Pearl (Satin) for the trim. 
2. UPDATE CABINETRY HARDWARE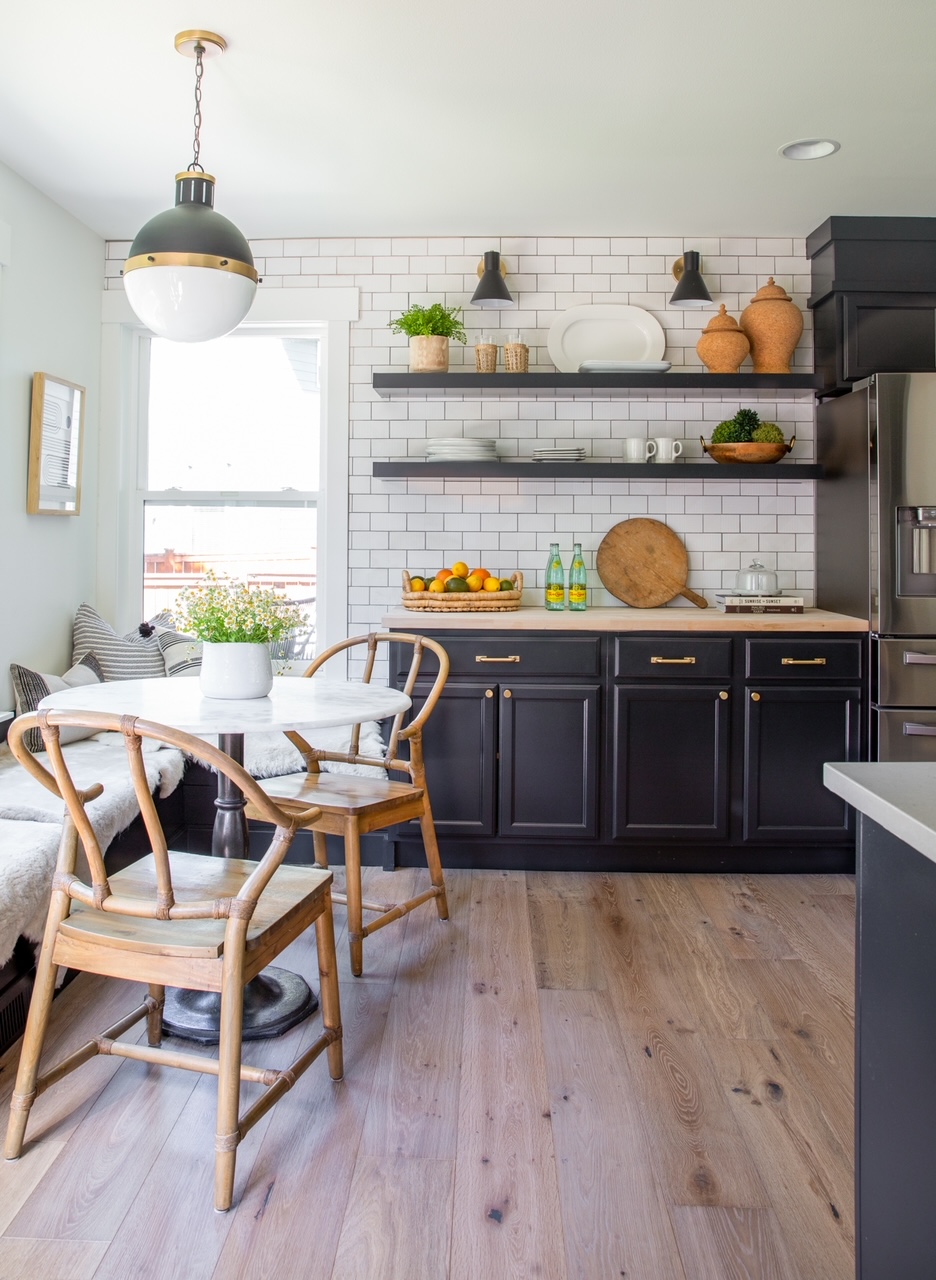 There are little touches, such as door and cabinet hardware, that make each space feel fresh and updated. We've tackled this improvement method differently through the years. For example, if the home you're working on is the home you plan to live in for years to come, we suggest investing in new hardware for your doors and cabinetry. Even if you are keeping the existing doors and cabinetry, new hardware really elevates the look.
Our Brookside Project (above) was an investment for resale. We knew we could save on our budget by keeping the existing cabinetry in the kitchen. So, we painted the existing cabinetry a bold color, and added new cabinet hardware. It instantly elevated the appearance of the cabinets and gave it the look of an updated kitchen without having to completely start over.

Clouz Houz Tip: Don't be afraid to mix metals in your home so everything isn't so matchy-matchy. We like the layered look it creates, adding depth and texture to each room. One of our favorite combinations is brass cabinet hardware and matte black door hardware. And, don't rule out leather — it's a great addition to your hardware repertoire when mixed in selectively.
3. ADD ACCENT WALL IN SHIPLAP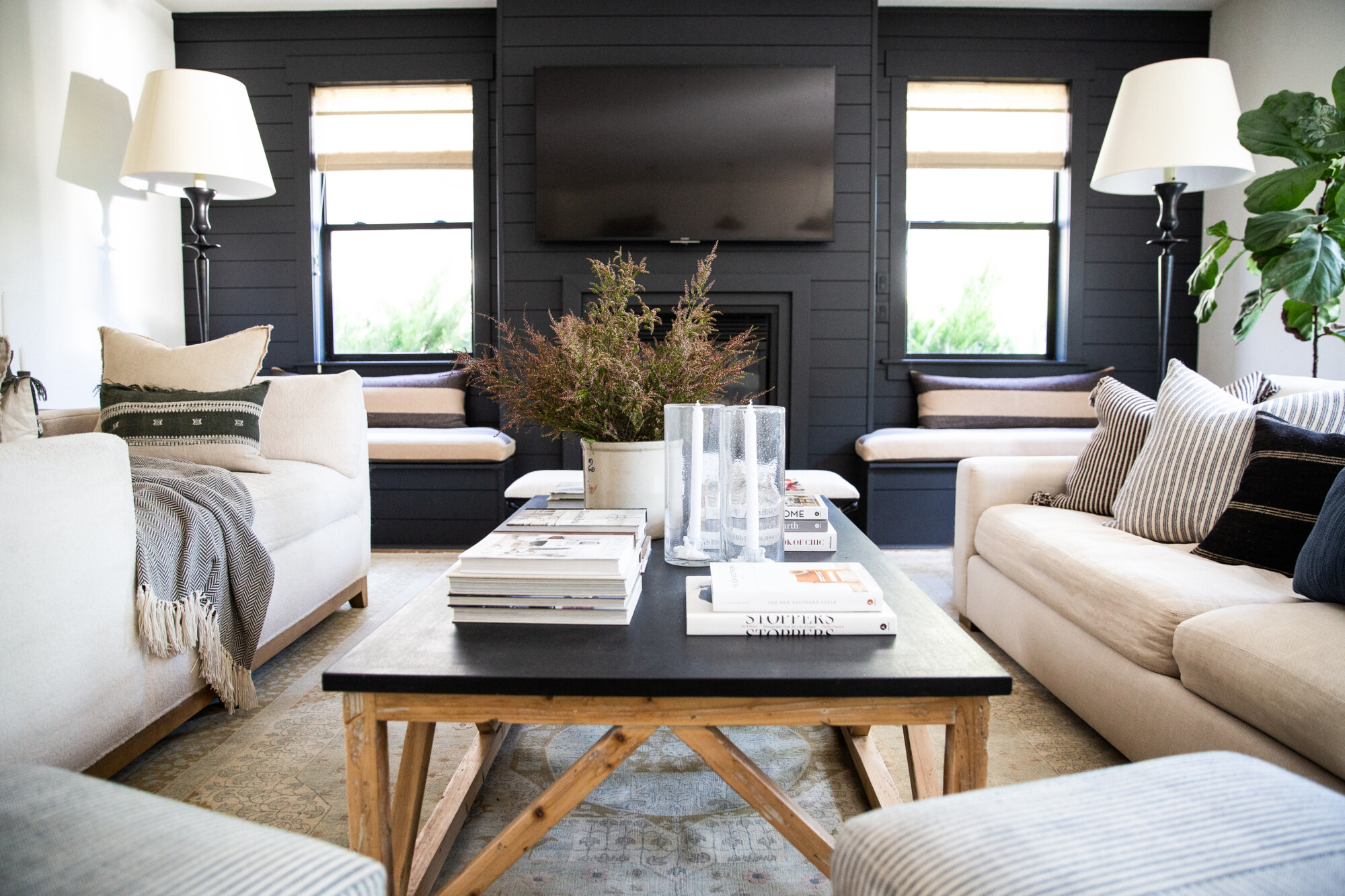 Accent walls are not passé … just try a different material to add texture. We like to use shiplap to give a room some dimension. Quite honestly, we hate textured sheetrock, but smooth finish walls are expensive! 
We have found both shiplap, which has a gap between each plank when installed, and T & G (tongue and groove) material at Home Depot and Lowe's. It comes in different lengths, so depending on your room size you can choose what you need. We typically use 5 ½" wide planks. You can install them vertically or horizontally. Lately, we've been loving them installed horizontally (see the fireplace wall in our home above).
4. REFRESH YOUR CURB APPEAL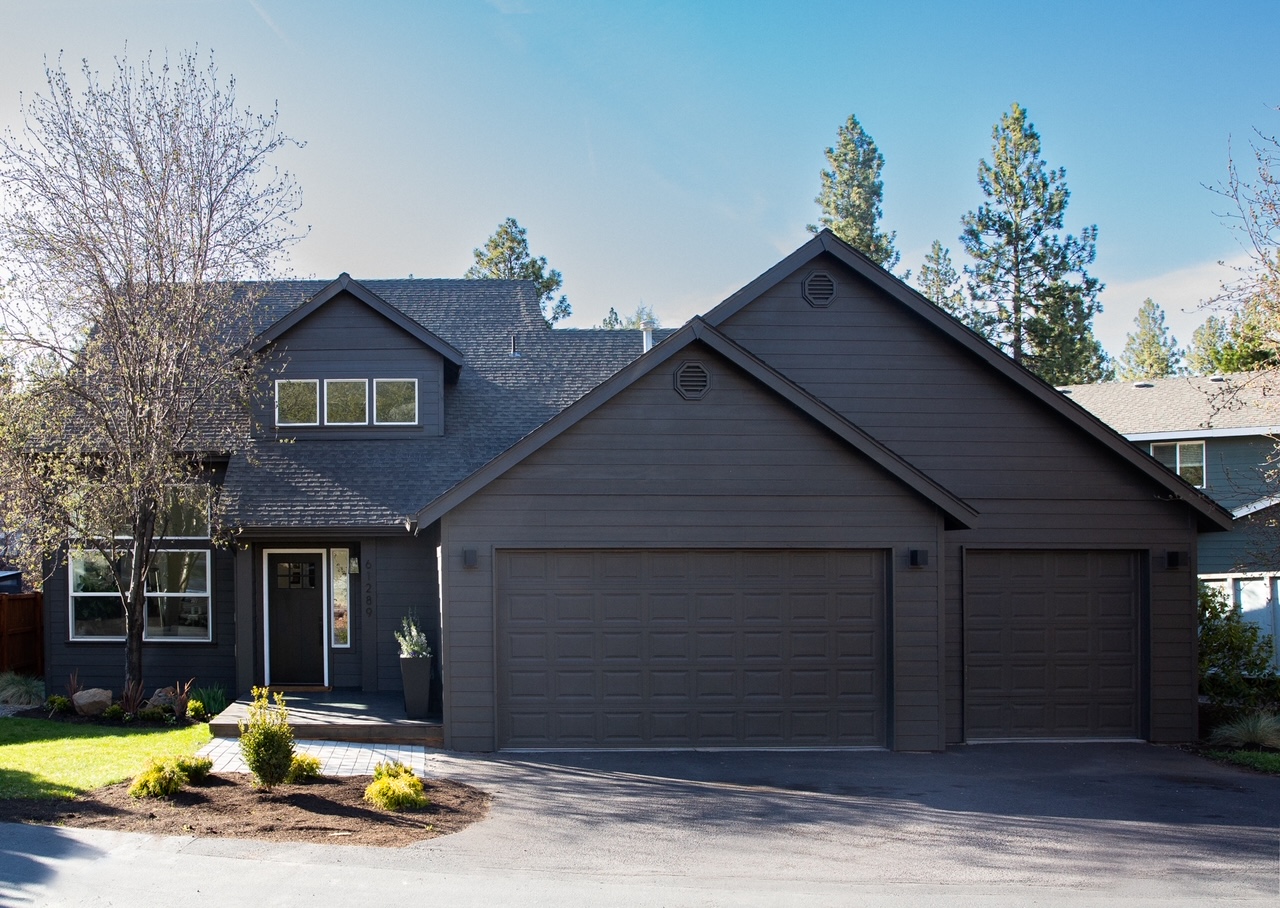 Whether or not you replace your house numbers, do add new pots and planters with fresh flowers to the exterior. Pulling up to your home will make you smile, or will at least cause potential home buyers to slow down and take a second look! 
5. UPDATE THE LIGHTING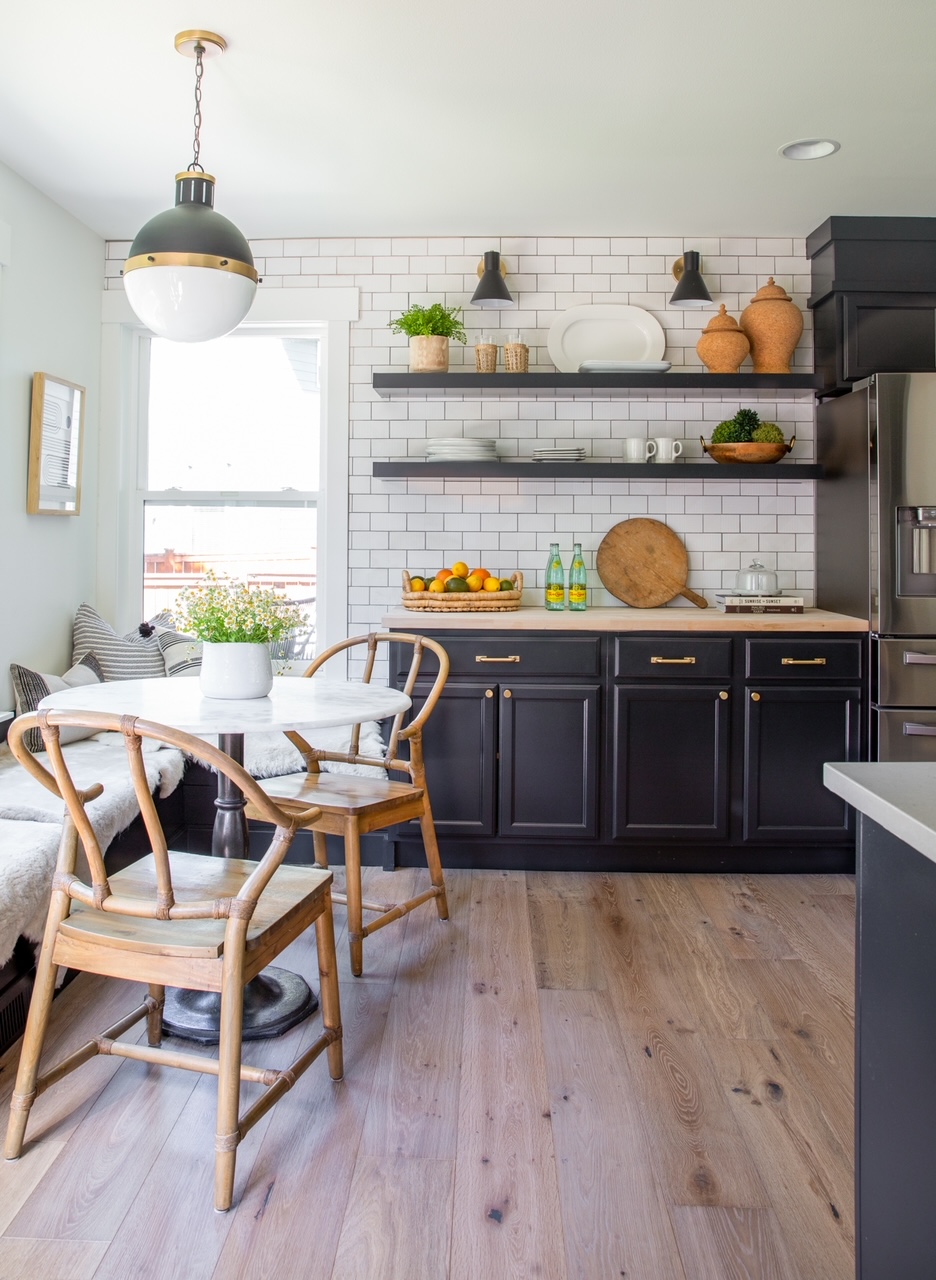 Don't let #5 fool you … it's just as important as #1! Seriously though, lighting can make a room feel cozier, warmer and prettier. You don't have to replace every light fixture all at once, but try to choose a main area in your home, like your entryway, dining room or kitchen, and replace the existing fixture with something that speaks to you. 
Above, we chose a modern and classic aesthetic for our Brookside project. We wanted the fixtures to feel current, but not too trendy, so we mixed lighting styles. These metal shade sconces are a nice, updated touch in the kitchen.