Savoring the Meal (and Moment) End of Summer + Fall Recipes
Savor the Season: A Summer Meal Recipe Roundup

Hey there, fellow sun-worshippers and endless summer enthusiasts! Can you believe it? The days are getting shorter, the nights a tad cooler, and the trees are hinting at the warm hues of autumn. But hey, before you start mourning the end of summer, we've got a little secret to share with you: it's not over until we say it's over! Let's savor every moment! That's right, we're all about stretching those warm, carefree vibes for as long as humanly possible.
We recently conducted a poll over on our Instagram, and guess what? You, our fantastic followers, are on the same wavelength! You're all as reluctant as we are to bid adieu to summer ☀️ Who can blame you? We still want to savor the warm beach days, BBQs, and late-night stargazing sessions. 
So, what's our game plan for making summer stick around just a bit longer? Well, we've whipped up a fabulous roundup of mouthwatering recipes and tablescape inspiration for you. And here's the kicker – these gems will effortlessly transition you into the cozy embrace of fall while keeping those inviting vibes alive. 
Cocktail

Time to elevate the menu with a cocktail that's as fun as it is delicious: Bubbly Rose with Halo Fresh Fruit Popsicles! You know what's better than a glass of sparkling rosé on a warm summer evening? One that's been kissed by the fruity magic of a Halo popsicle, that's what! Trust us, this combo is like a party in your mouth, and it's our go-to for keeping the summer spirit alive. 
Those Halo Fresh Fruit Popsicles, particularly the strawberry and raspberry flavors, are like little blocks of frozen sunshine. They bring a burst of sweet, vibrant flavor to your bubbly rosé that's impossible to resist. And here's the double whammy – as those popsicles slowly melt in your glass, they not only infuse your drink with delightful fruitiness, but also keep your drink perfectly chilled. It's like they're doing a synchronized dance to make sure your sips stay refreshing from the first to the last drop! How's that for a summer game-changer?
Appetizer
Let's kick off our summer-to-fall culinary adventure with something that's both a feast for the eyes and a lifesaver for the host or hostess with the mostest – a fabulous charcuterie platter! We have to give a shoutout to Wild Petals Provisions in Bend for crafting these beauties. Seriously, they're so visually stunning that it's almost a shame to dig in … almost. 😉
Now, here's the thing: hosting a summer soirée is all fun and games until you're juggling a gazillion tasks in the kitchen, right? That's where the genius of outsourcing comes into play. With charcuterie platters like the ones from Wild Petals, you'll have yourself a showstopper of an appetizer without breaking a sweat. Trust us — your guests will think you're a wizard! It's basically a masterpiece in edible form. Plus, it buys you extra time to enjoy your own dinner party (what a concept). The ultimate summer soirée savior!
Salad
Let's dive into a main course that's a burst of freshness and flavor – the Arugula and Beet Salad with Avocado and Whipped Goat cheese, drizzled in a refreshing Lemon Vinaigrette. Our obsession with this salad started at the Hideout in Waikiki during a memorable vacation. One bite, and we were hooked. Naturally, we couldn't resist the urge to recreate this delightful dish at home, and we've found the perfect recipe online that nails it! 
First things first, the vibrant arugula adds a peppery punch that perfectly complements the earthy sweetness of beets. Throw in some creamy avocado slices, and you've got yourself a dream of textures and flavors. But wait, there's more … whipped goat cheese! It's tangy, creamy, and the ideal partner in crime for this salad. As you savor each bite, your taste buds will thank you. And, there's that lemon vinaigrette, a zesty drizzle of sunshine that ties it all together, balancing the richness of the cheese and the sweetness of the beets. 
Main Dish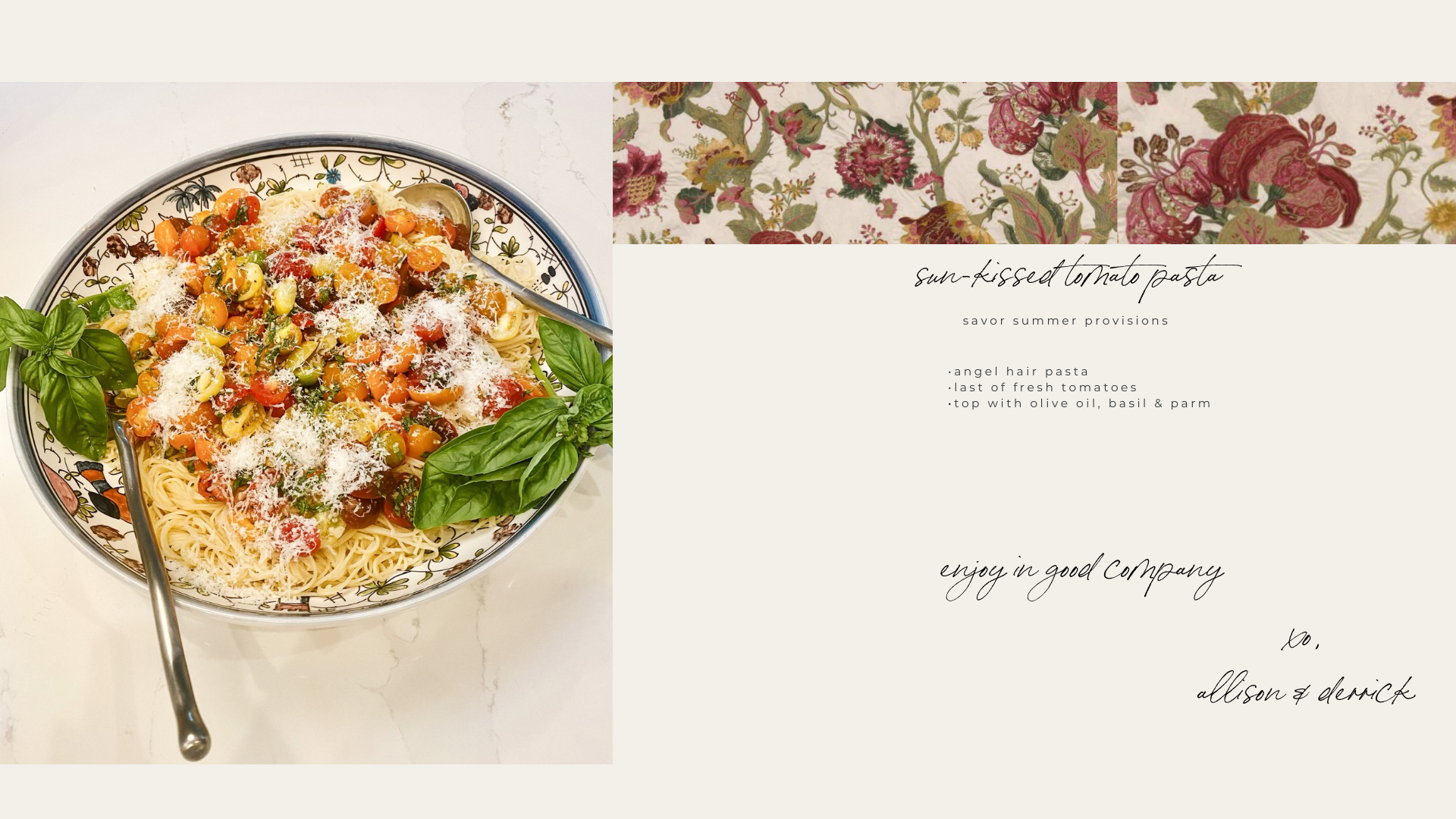 Here's a genius idea: pair this salad with an Angel Hair Caprese Pasta. Simplicity meets deliciousness! Perfectly ripe, in-season tomatoes, fragrant basil, fresh mozzarella and angel hair pasta come together in a harmony that screams summer.
Dessert

And now, for the grand finale of our endless summer feast – Baked Peaches with Ice Cream and Toasted Cinnamon Brioche Crumbs. This dish is an absolute showstopper, and we thank Half Baked Harvest for this masterpiece. It's like they took all the best things about summer and turned them into one fabulous dessert! 
So, picture this: plump, juicy peaches baked to perfection in the oven, giving them a smokey, sweet flavor that's downright irresistible. Top that with a scoop of your favorite ice cream, and you've got the perfect balance of warm and cool, sweet and creamy. But here's the catch: the toasted cinnamon brioche crumbs. They add a delightful crunch and warm, comforting hint of cinnamon to every bite. Perfect for that fall transition 😌 It's the kind of dessert that might even spark a little friendly competition over who gets the last peach. So, as the sun sets on another glorious day, go ahead and indulge. And savor every last bite!
Imagine sitting at your backyard table, enjoying these dishes and basking in the warm evening breeze. It's like a mini vacation right in your own space, and it's proof that the endless summer vibe is here to stay. So, grab your shades, kick off your flip-flops (or not, we're not judging), and join us in savoring every last drop of this endless summer. 
For more inspiration, checkout our Pinterest Board: https://www.pinterest.com/Clouz_Houz/entertain/