An afternoon to celebrate your besties...
Happy Galentine's Day, my lovely ladies! It's time to celebrate some amazing relationships, so let's gather to toast your ride or die. What better way to honor our friendships than with a festive Galentine's Day brunch? Here are some ideas on how to have a beautiful celebration!
I love Valentine's Day … it's all about love, and comes right in the middle of a pretty cold and dreary time of year. I know it's a "Hallmark" holiday, but I don't care — it just feels good, and it makes me happy to show my love for my family and friends. 
Last weekend, we came together at a friend's beautiful home to cheers one another on fostering worthy and amazing relationships. It's a festive day that we all look forward to, and I enjoy being surrounded by the people I love! I feel so lucky to have a community of smart and like-minded women from whom to gain inspiration and motivation. We ate, drank, laughed and just enjoyed one another. We are all very blessed!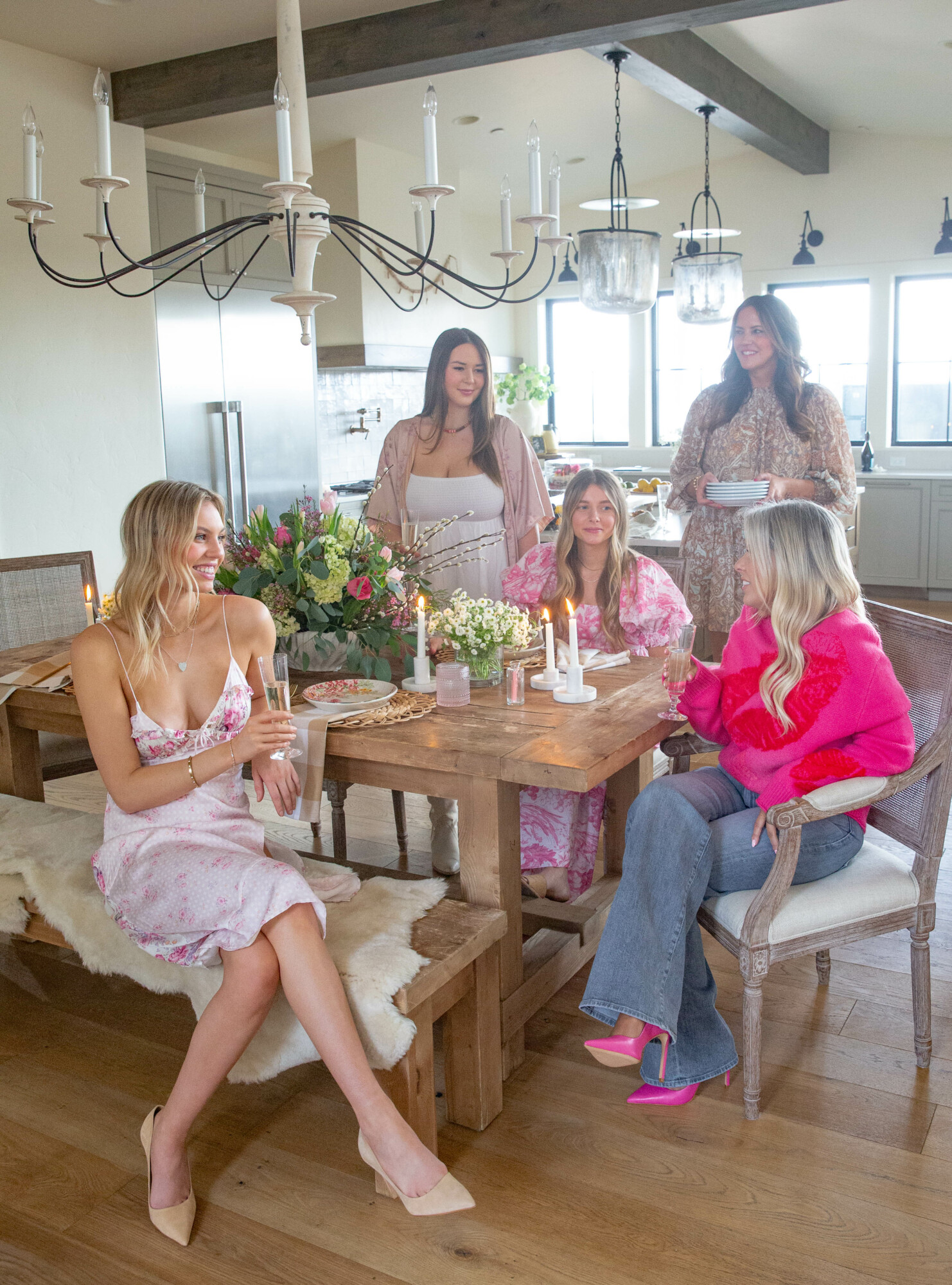 A little bonus: my daughter was able to come home from school and join us for the weekend. I love her so much, and will always cherish the fun and silly memories we're able to make during special times like these. I'm so thankful for the time we spent together, and am sending out hugs and love to all the beautiful moms and daughters out there. It's a pretty special bond we have, us girls, isn't it?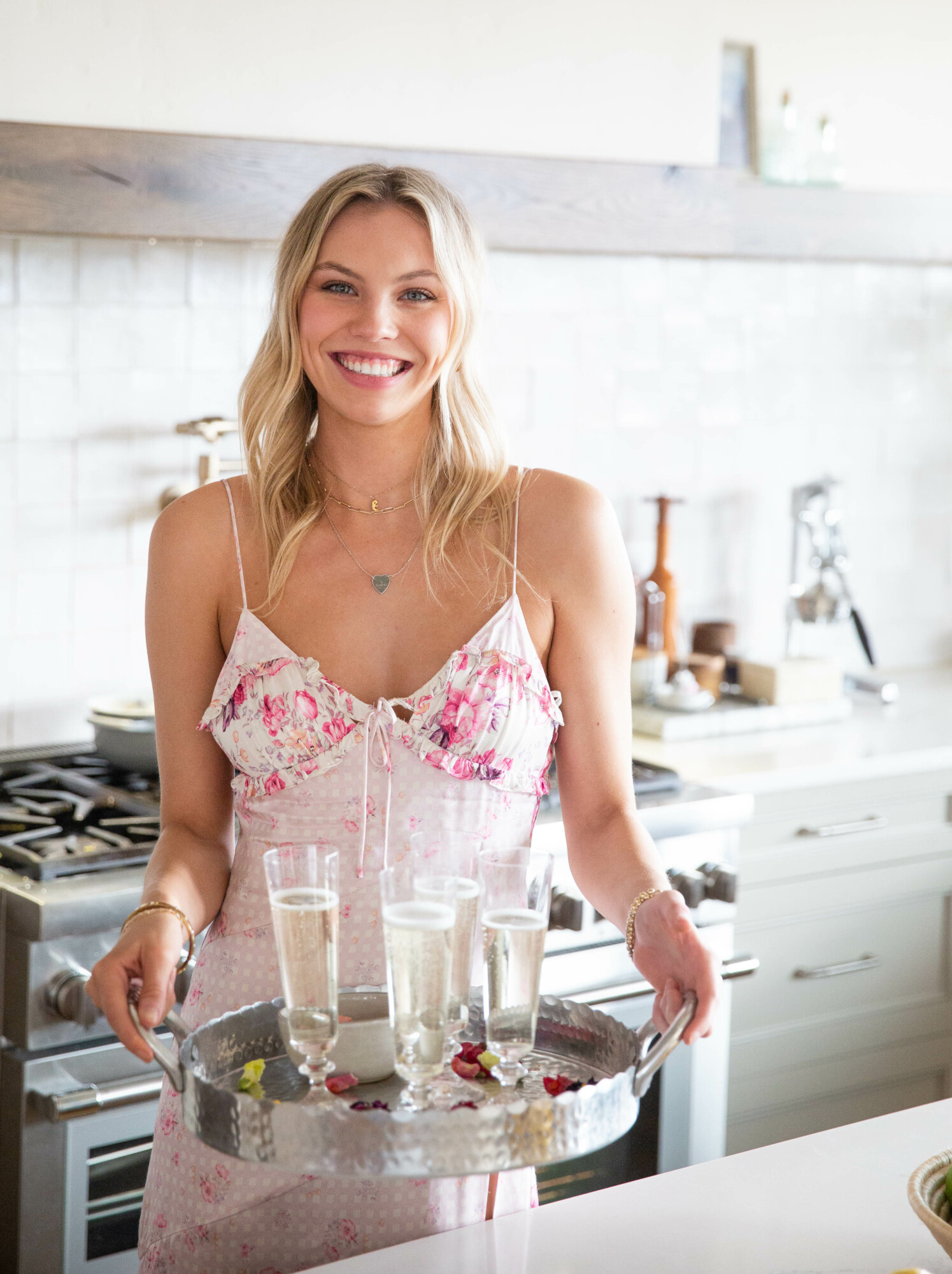 Okay, now let's dive into the festive, yet relaxed itinerary for a fun girlfriends' gathering!
Keep it simple! This is s always my motto. You'll find that if you keep things simple with good ingredients, you don't have to go crazy with elaborate meals. And let's be honest, friends don't care! They just want quality time with you.
Step 01: Set the Menu
02: Set the table
03: Whip up some tasty cocktails
04: Turn up the tunes!! 
05: Get dressed up 🙂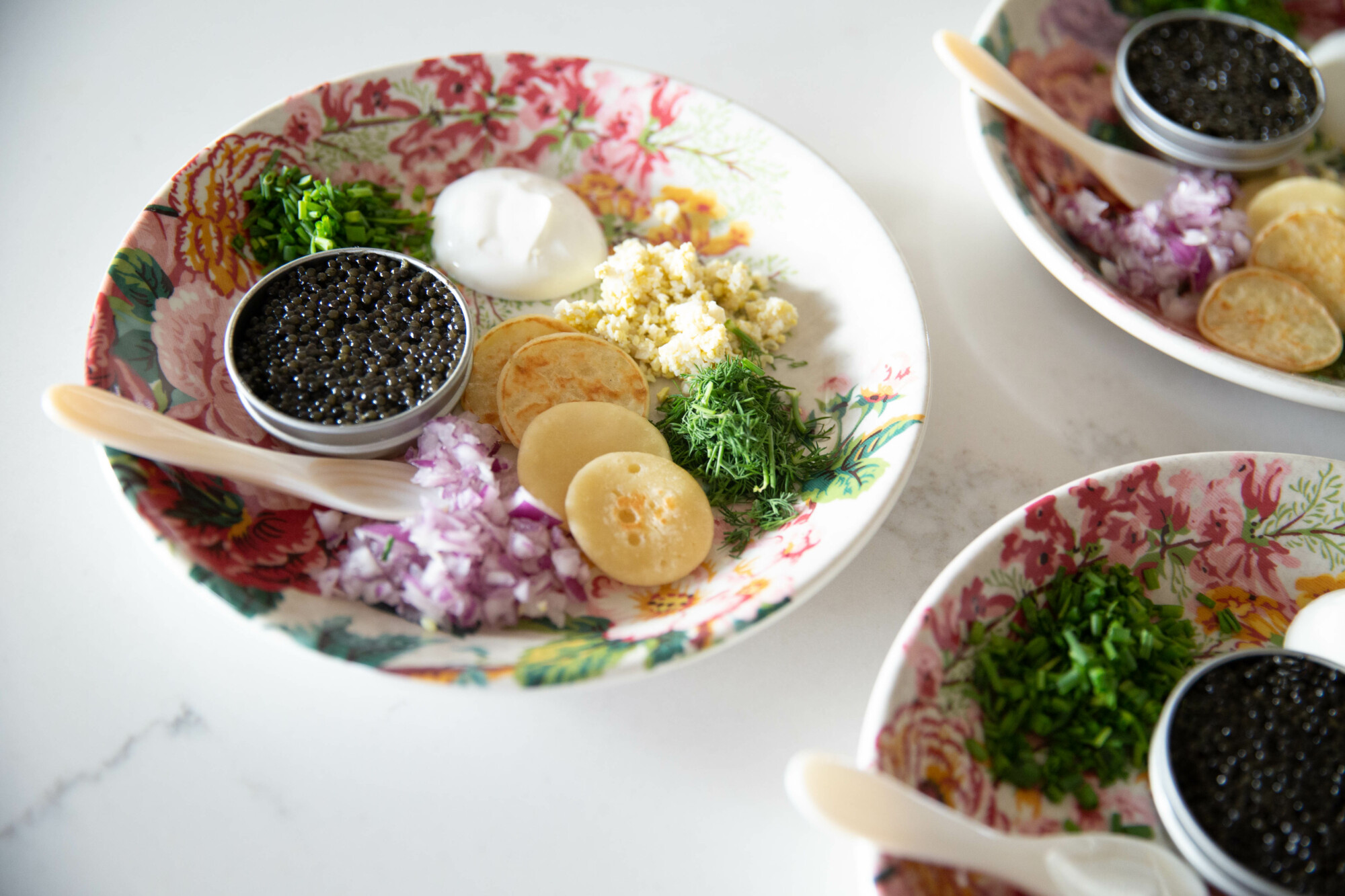 ---
The Menu
Sip
A grapefruit spritzer is the perfect combination of fruity and bubbly. Continue reading to see the recipe for this yummy drink. 
Champagne … you can never go wrong with a good bubbly rosé!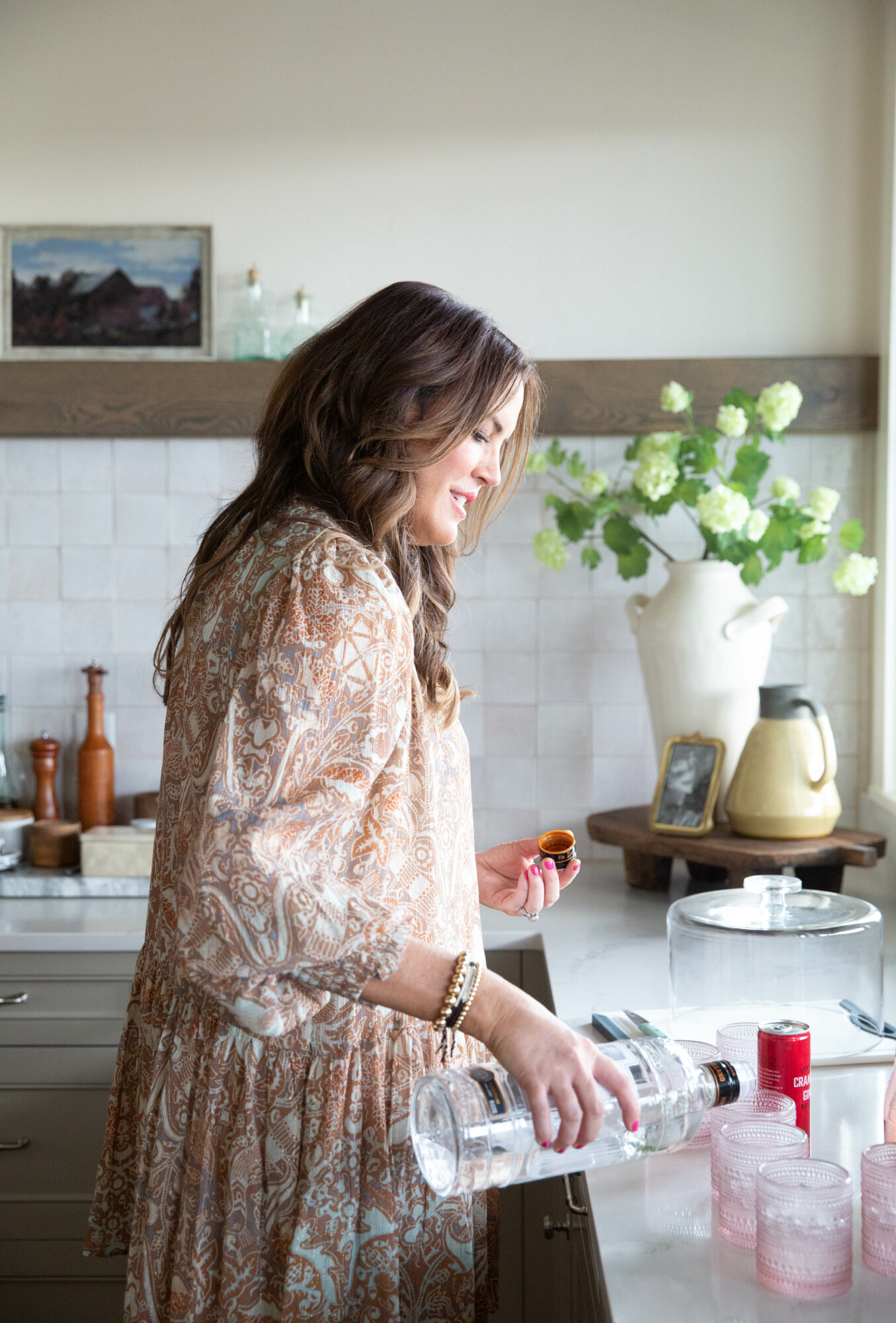 Savory
Caviar is one of my favorites, how about you? Why not treat yourself and your gal pals to a luxurious meal featuring this decadent ingredient! Whether you're serving a traditional spread of blinis, crème fraiche and various herbs, or just simple potato chips and eggs, a dollop of caviar can really elevate your dish. I ordered this caviar from Om Caviar online. It arrived overnight packed in a cooler, and was so worth the splurge. I highly recommend it!
A cheeseboard is a great choice for obvious reasons. It's perfect for grazing during cocktails and chatter. Just throw together a beautiful spread of different cheeses (I typically choose 2-3 varieties), and add grapes and berries, crackers, nuts, and honey or jam to your liking. Garnish with orange wheels and figs for a pretty touch.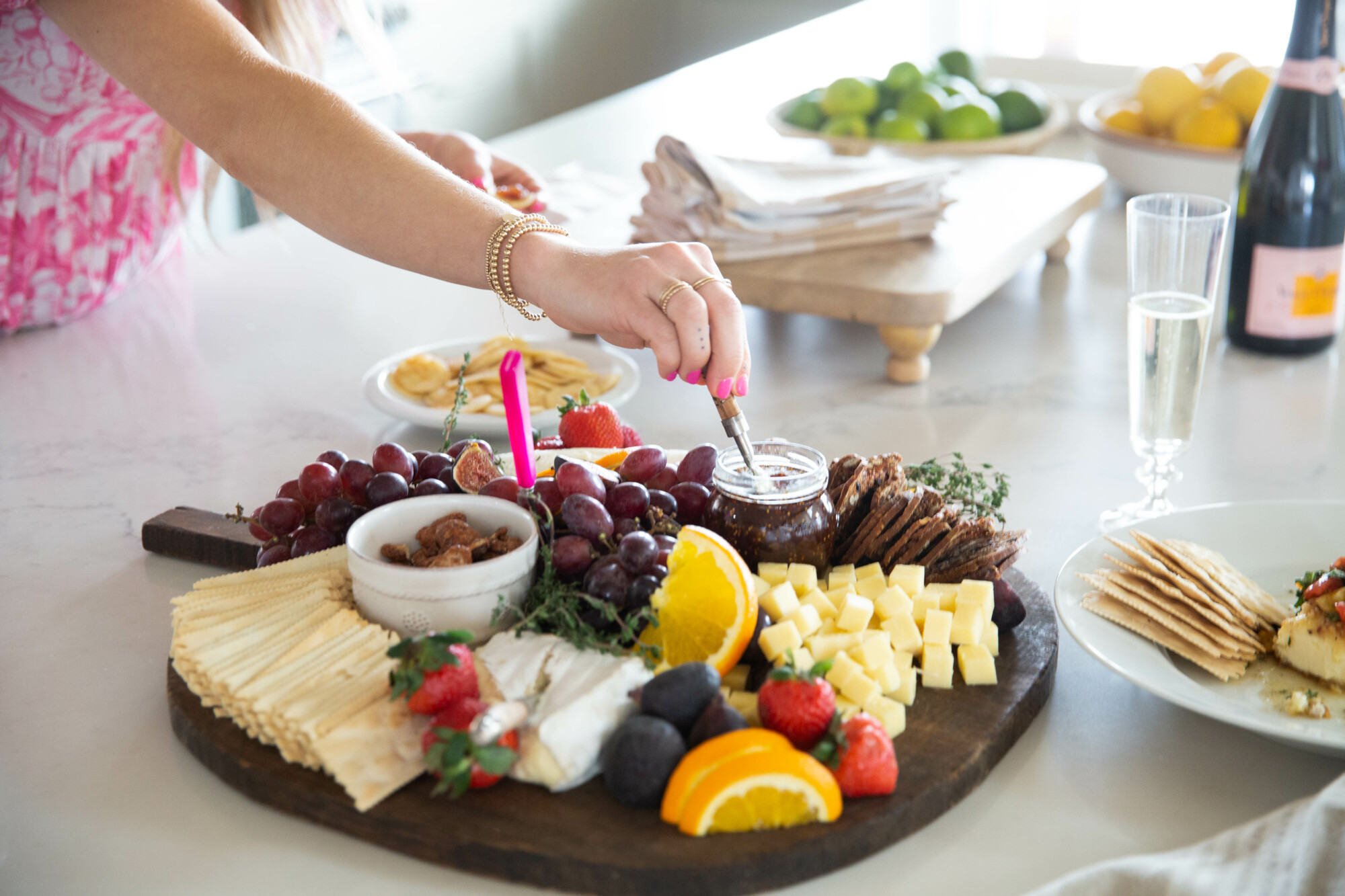 Sweet
Get ready for this easy Red Velvet Cake hack! This was just a simple store bought cake that I doctored by scraping the original frosting off to give it a rustic look. Then I added some fresh edible flowers and strawberries for a decoration. Serve on a pretty cake stand and everyone will start calling you Martha Stewart!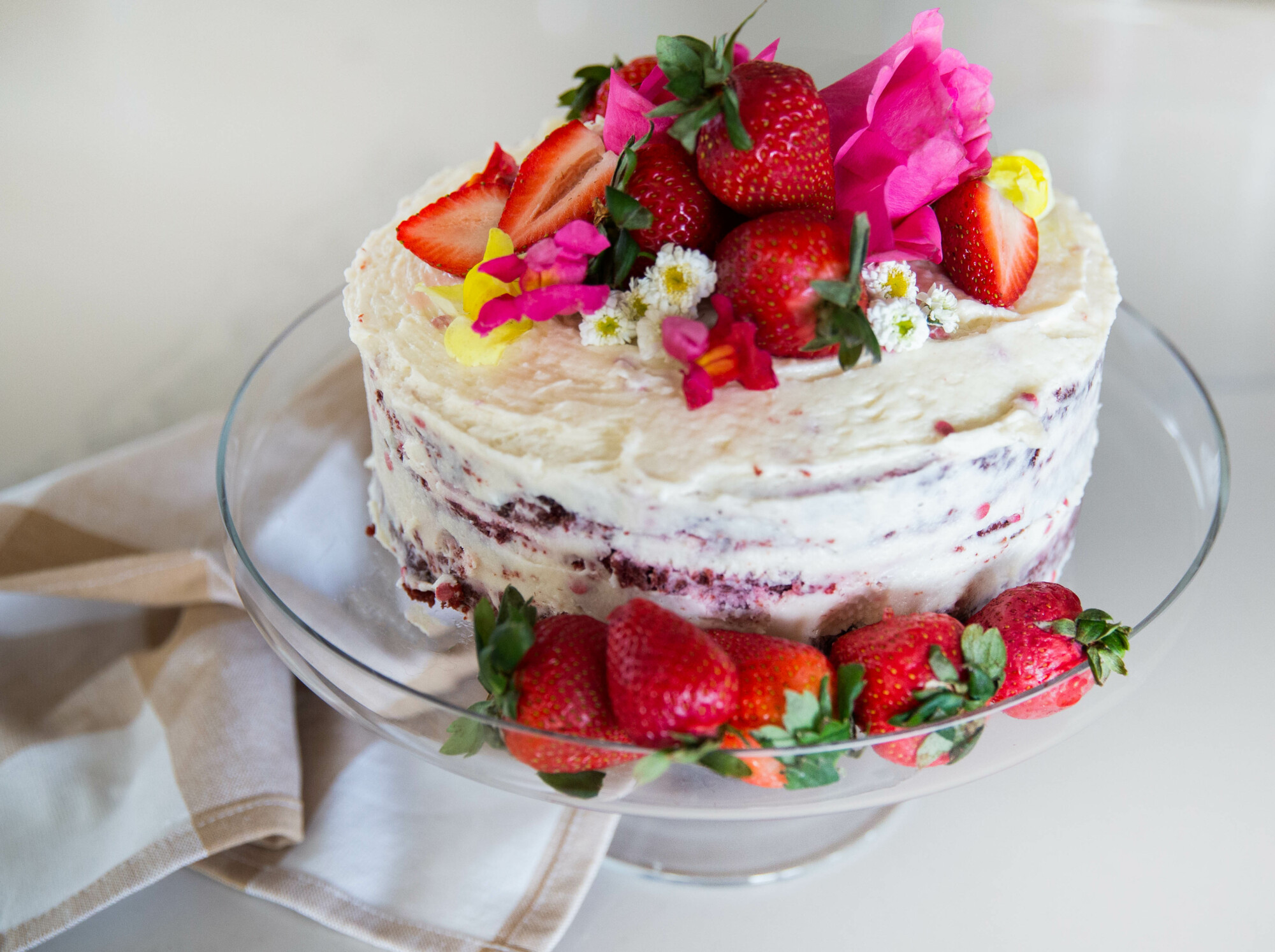 ---
Set a Pretty Table
Here are a few tips to help you get the mood just right.
Start with a beautiful centerpiece. (Trader Joe's always has the most amazing variety of flowers for any occasion.) Create one larger arrangement in an oval vase, then add smaller arrangements with one type of flower, like these mini daisies. I love the girly yet chic vibe.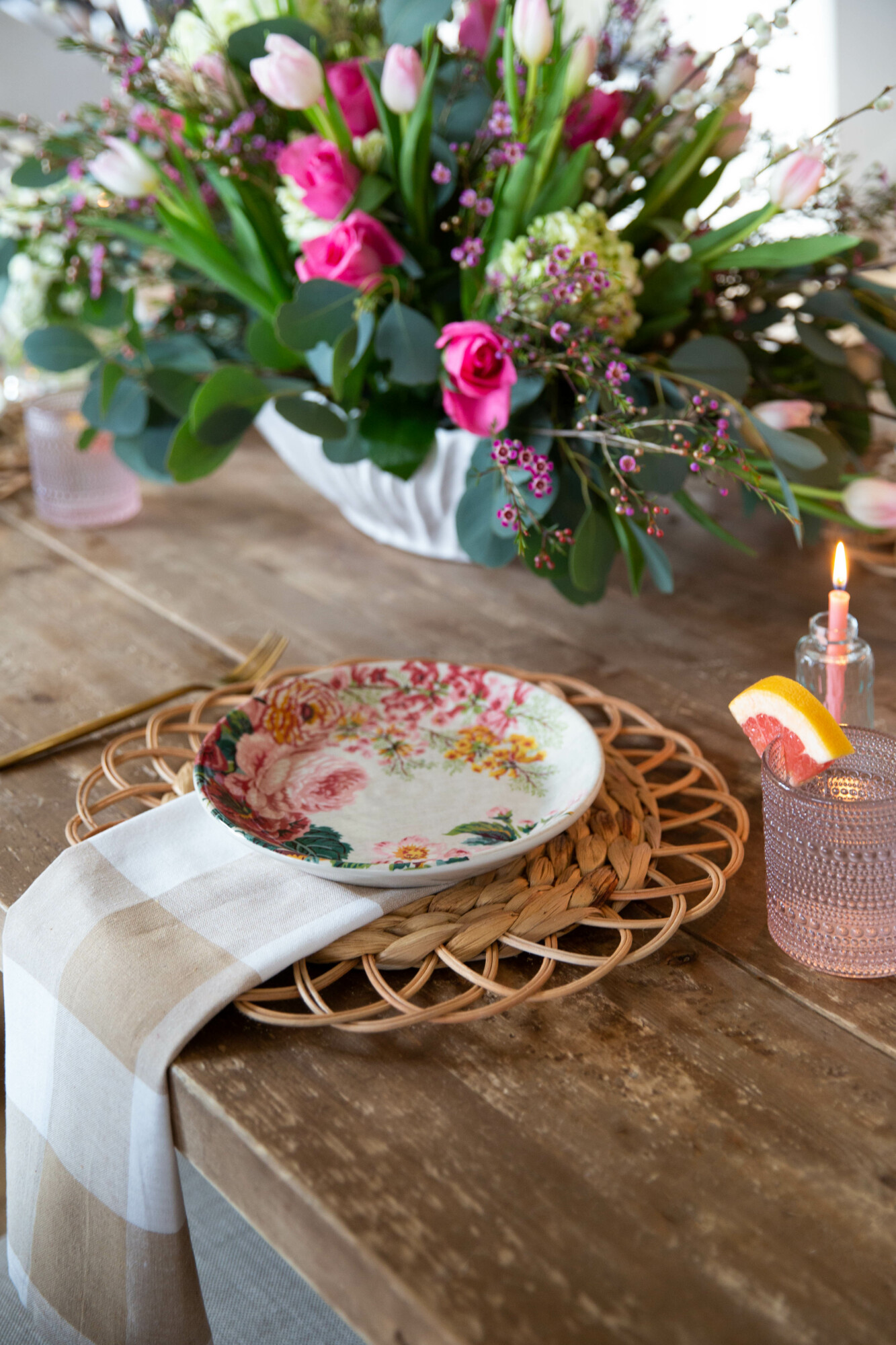 These plates really made the table scape complete. They are from Pottery Barn, and they're so pretty — they would be great to use throughout spring time. You want your table to look inviting and festive, so don't be afraid to mix colors and prints. While opting for brighter colors, you can't go wrong with these heavy and gorgeous pale pink glasses. I highly recommend serving up a delicious cocktail, of course 😉
The napkins and placemats will be ideal for many different gatherings. Since they're neutral, they're versatile for various holidays and can be the perfect compliment to any types of plates or glasses. I love how the placemats add texture to the rustic wood table, and the buffalo check napkins in neutral colors are a nice compliment to the floral patterned plates!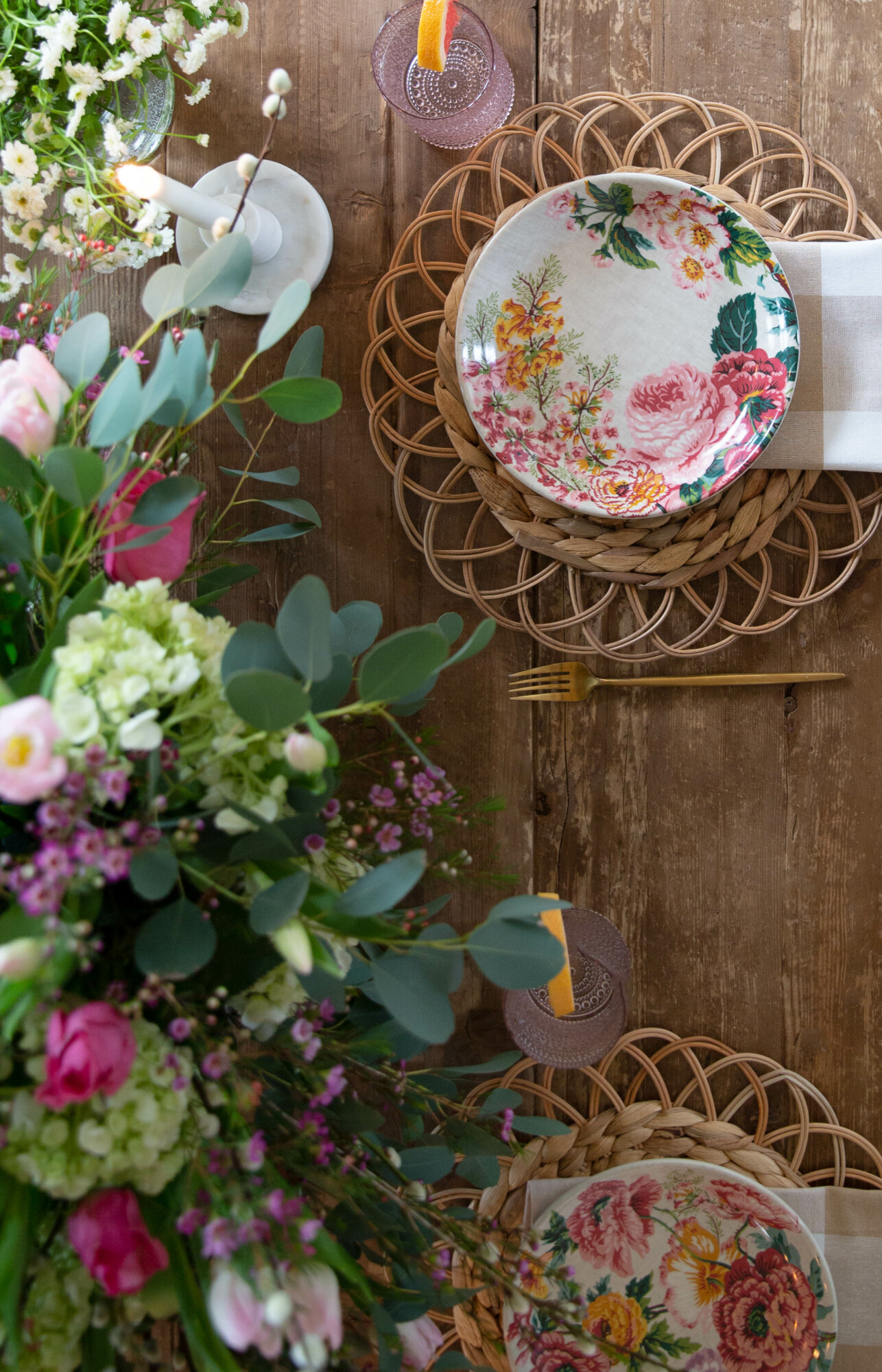 ---
Cocktail Hour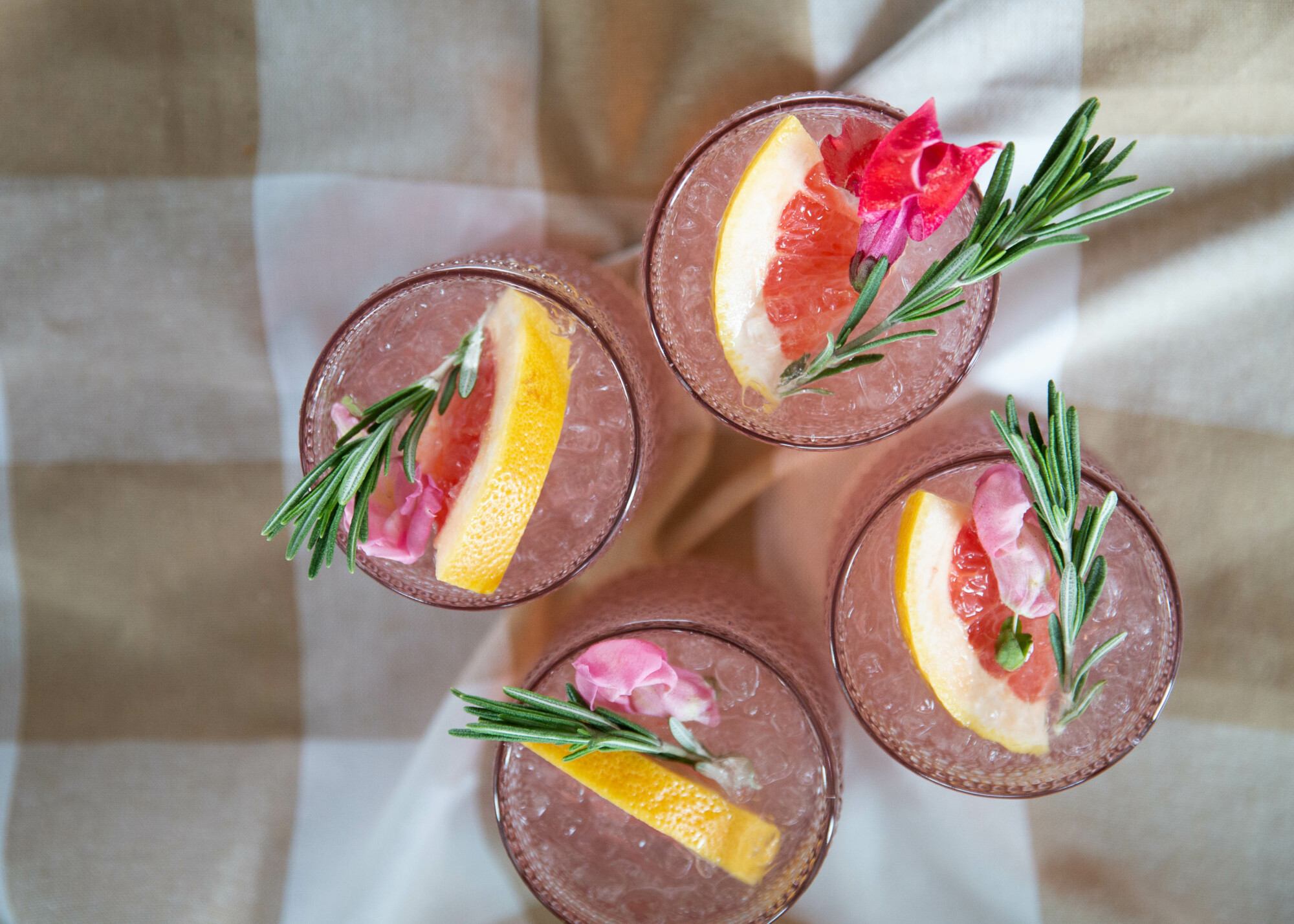 Tasty Grapefruit Spritzer
To make this cocktail, combine equal parts vodka with Trader Joe's Cranberry Ginger Seltzer, and top off with a splash of grapefruit seltzer water. Garnish with a slice of grapefruit and a sprig of rosemary, and an edible flower for an extra special touch.
Easy Peasy!
My friend had one of these countertop ice makers … omg — the pellet ice!! I'm hooked! I want one for myself. Can we all agree that pellet ice is superior and makes drinks more refreshing?
---
Turn up the Tunes…
If you're looking for the perfect playlist, here is one I have compiled with all my favorite songs from favorite female artists… guaranteed to get you into the festive spirit. Get ready to jam out with your girl gang after one too many glasses of champagne!
Check out our playlist here.
---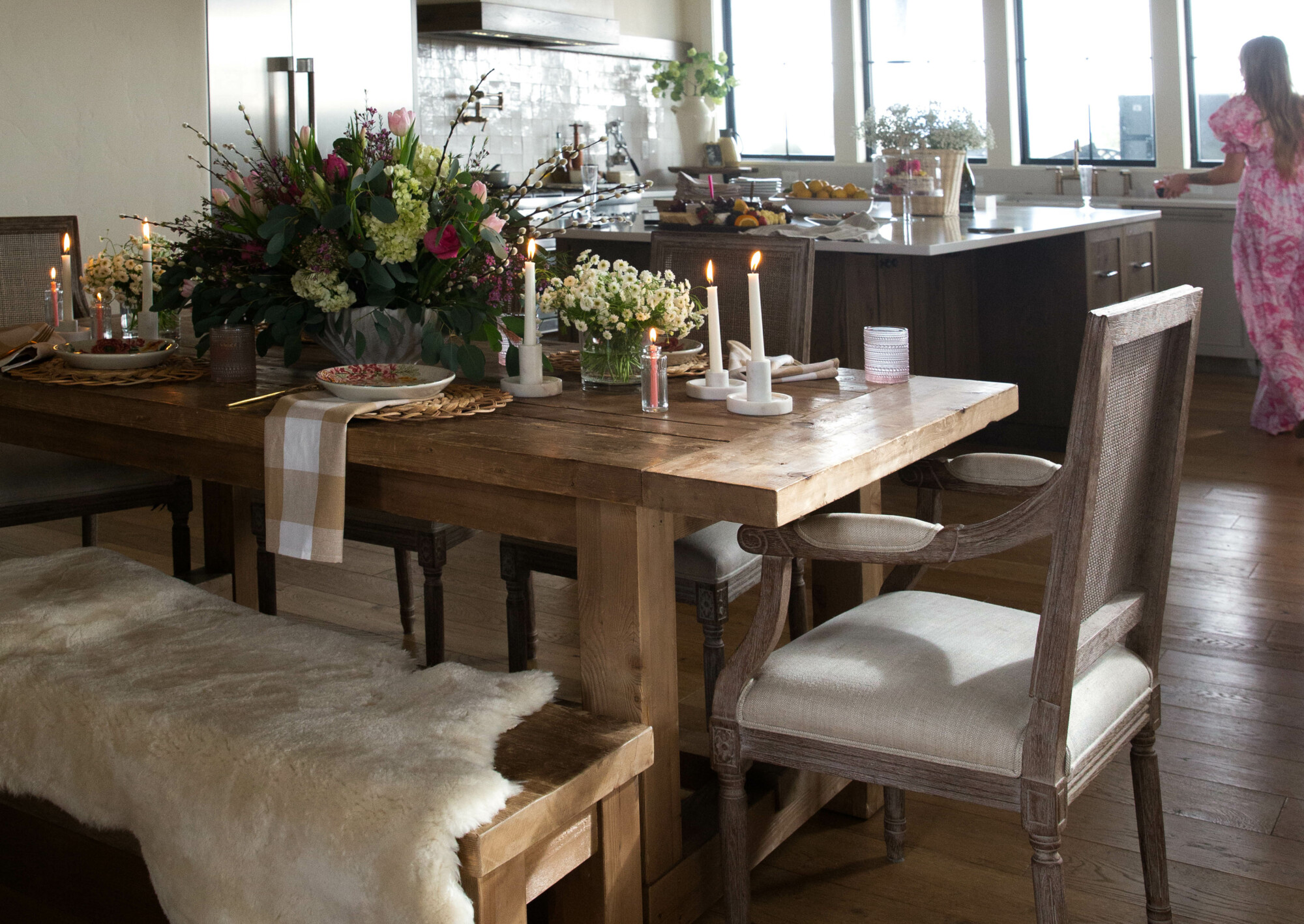 ---
Get Dressed Up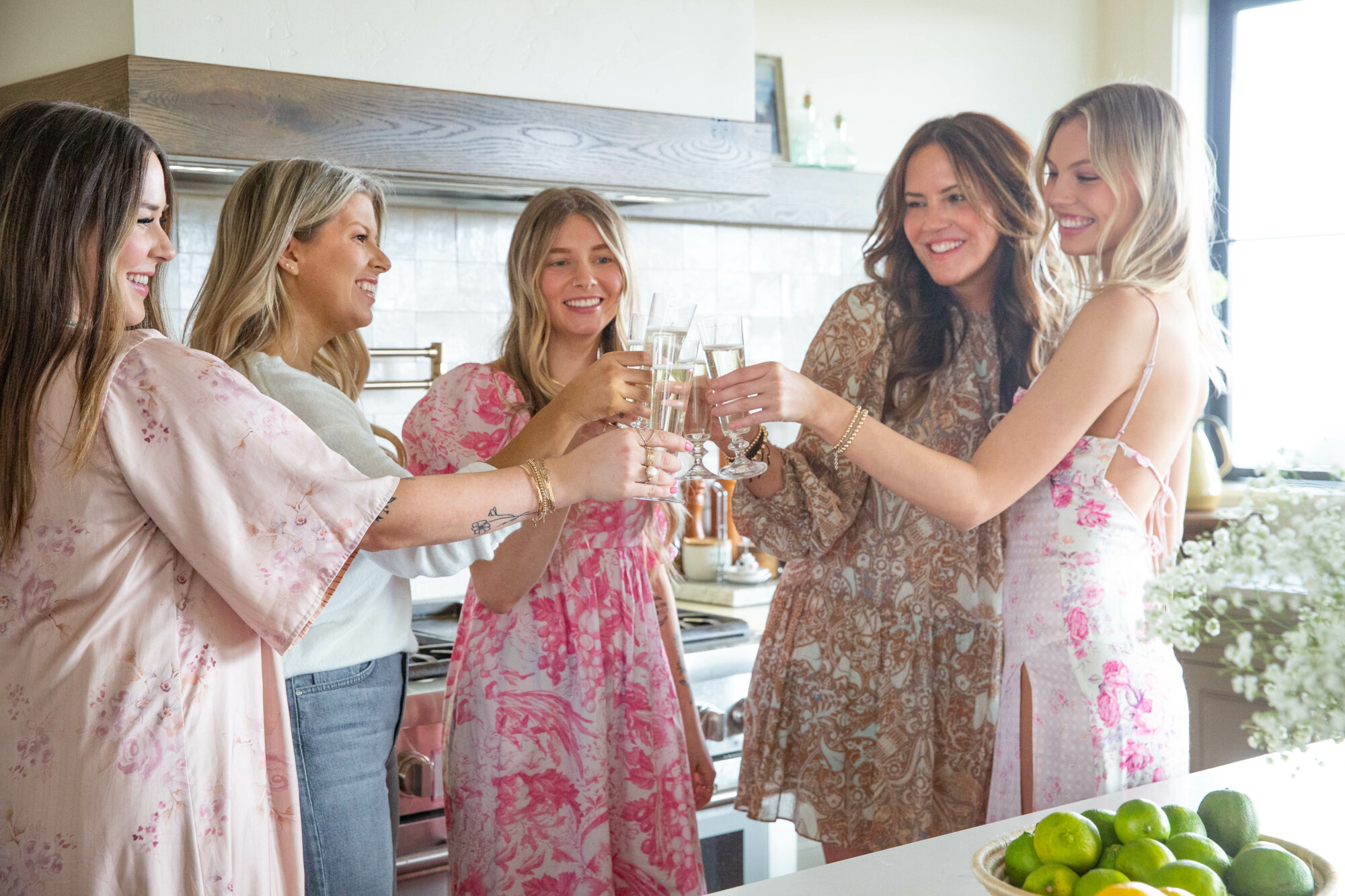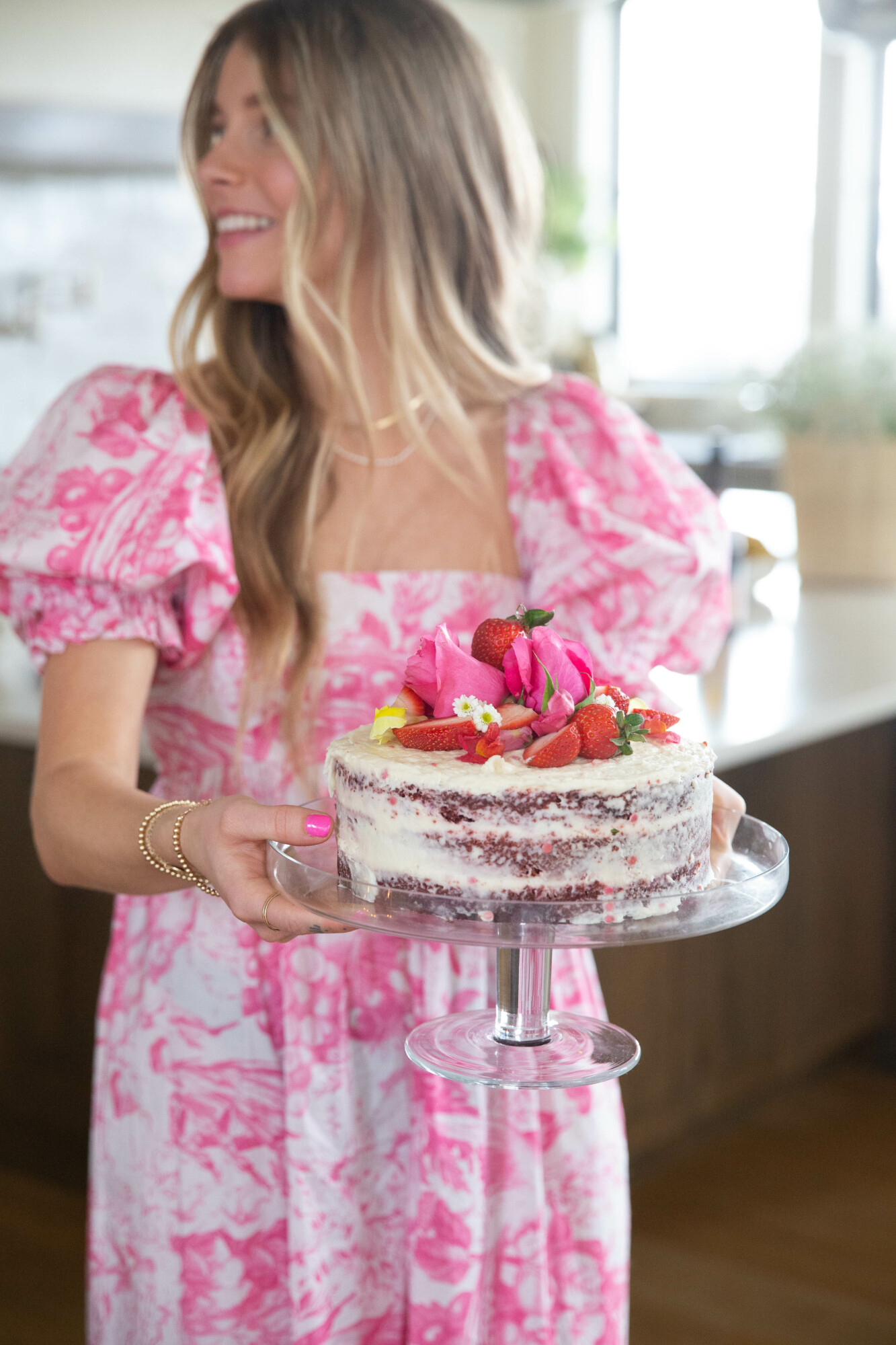 Getting dressed up is fun — especially when it's just the girls! Go bold and have fun with the theme … we all dressed in festive florals, pink and red and it felt so beautiful. It's rare to get dressed up in Bend, so this was especially fun for us. This time of year makes me so excited for my Spring/Summer wardrobe! I've been shopping for some new things to make me feel like warmer temps are just around the corner, but in Central Oregon it could be several more months before actual warm weather arrives. Nevertheless, wearing something girly and springy feels sooo good for your mental health — try it!
Take a look at what we wore here! You can follow us on LTK for more favorites- home, decor, renovation and fashion. Follow us here.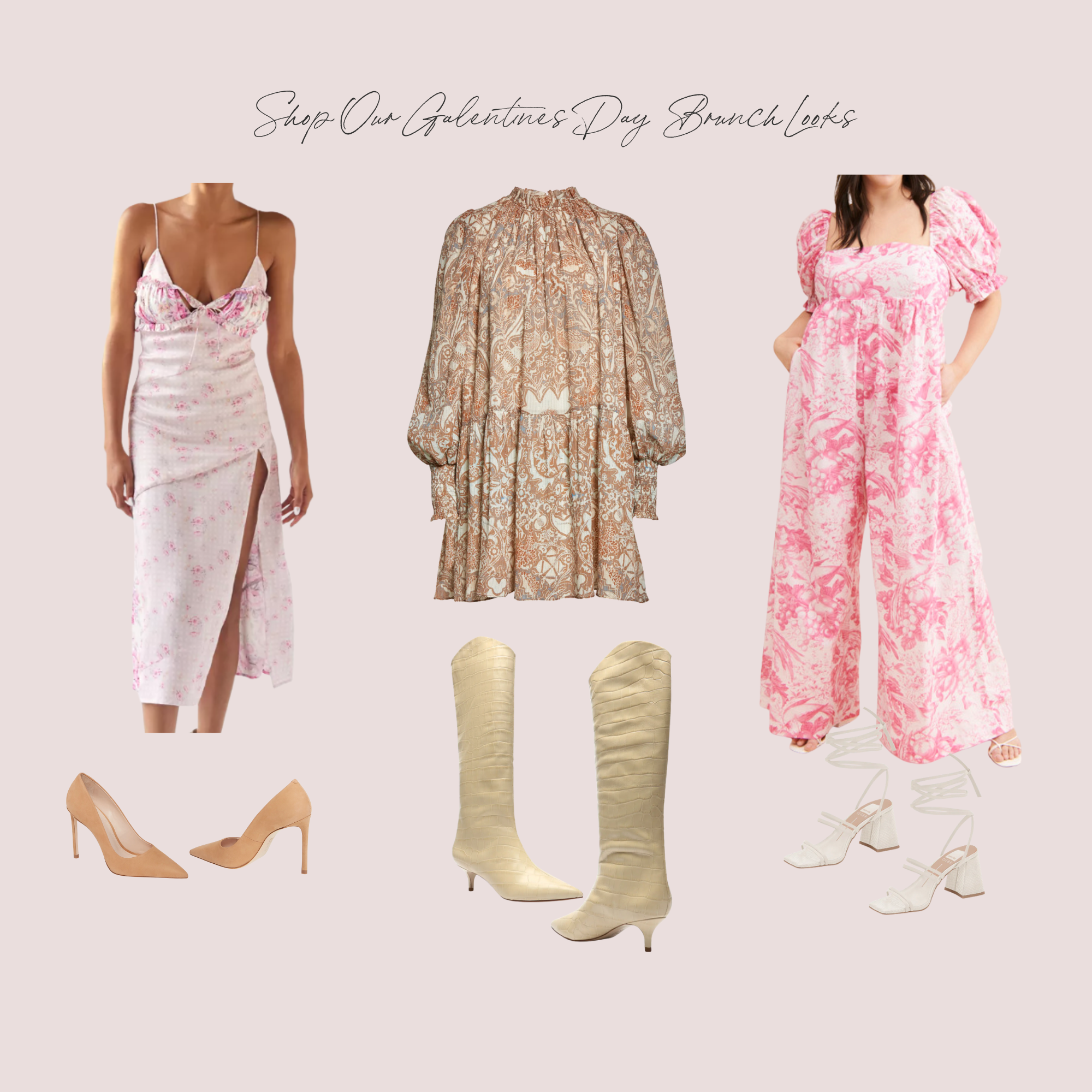 I hope these tips have given you inspiration and a vision for your own Galentine's brunch to come to life — all while creating some memorable moments. Now put on your best pink and red attire, whip up some delicious treats, and get ready to celebrate! 
Shop the look below … we would love to see pics of you and your girl tribe, so tag us if you gather. ❤️