Setting a Table for Gathering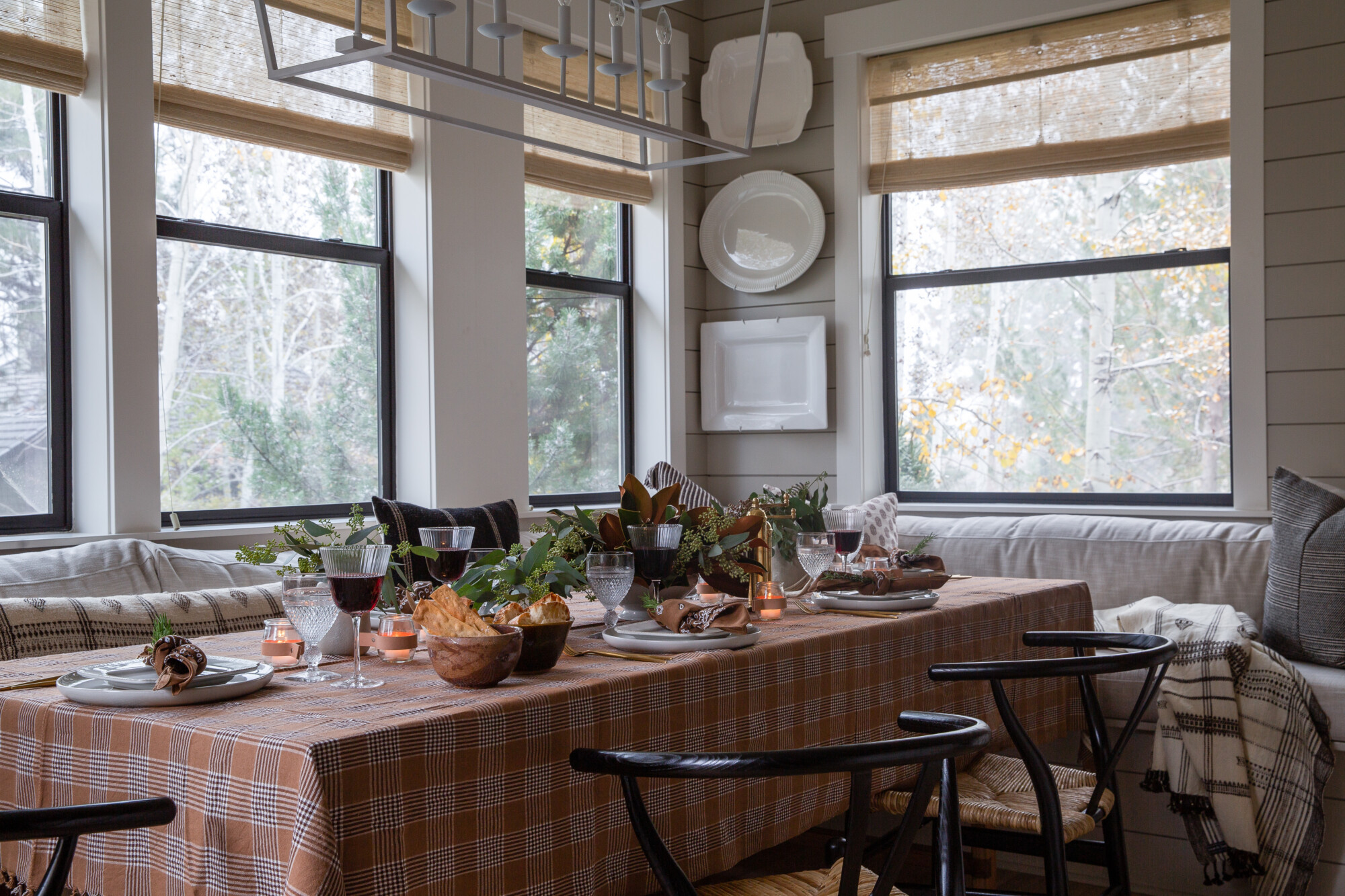 Setting a beautiful table for family and friends is one of my favorite things to do. It doesn't matter if it's for a small intimate dinner for two or a feast for 12! I come from generations of women who loved to entertain; both of my grandmothers were amazing cooks, and my mom is an incredible hostess. As a child, I remember going to their homes for fun family dinners, and sometimes there were upwards of 20 people with all my cousins, aunts and uncles! We would sit at the "kids' table," and there was also an adult table … both were equally charming and special.
Our home is small, so when I set the table I want it to feel cozy so everyone can gather and enjoy one another. Our large banquette seat has seen many a night of sitting around, laughing, talking and eating! My goal is to create a vibe that is inviting — where nothing is too precious — so y0u can pull out all the stops with special china, glassware and silverware. The mix of high/low applies here. For instance, use your crystal wine glasses with bandana napkins from Amazon like I did here!
This Thanksgiving, it's all about convenience and ease for us, and I'm trying to not add any pressure by feeling like everything has to be perfect. I think we will be ordering some food from a local grocer, and supplementing with some of our favorite family dishes. It doesn't have to take days in the kitchen for things to be extra special — in fact, I always take a page from Barefoot Contessa's cookbook by keeping things simple with easy recipes with good ingredients. This allows you to have time to enjoy your guests. That's what is' all about anyway, right?! Thanksgiving is one of our favorite holidays — we love having all the kids home with their friends, and we want to be able to enjoy the day when they are here.
Read on for some easy and simple tips for making a beautiful Thanksgiving dinner and table scape so you can have time to relax and catch up with loved ones!
LAYING THE FOUNDATION
#1 TABLE AND LINENS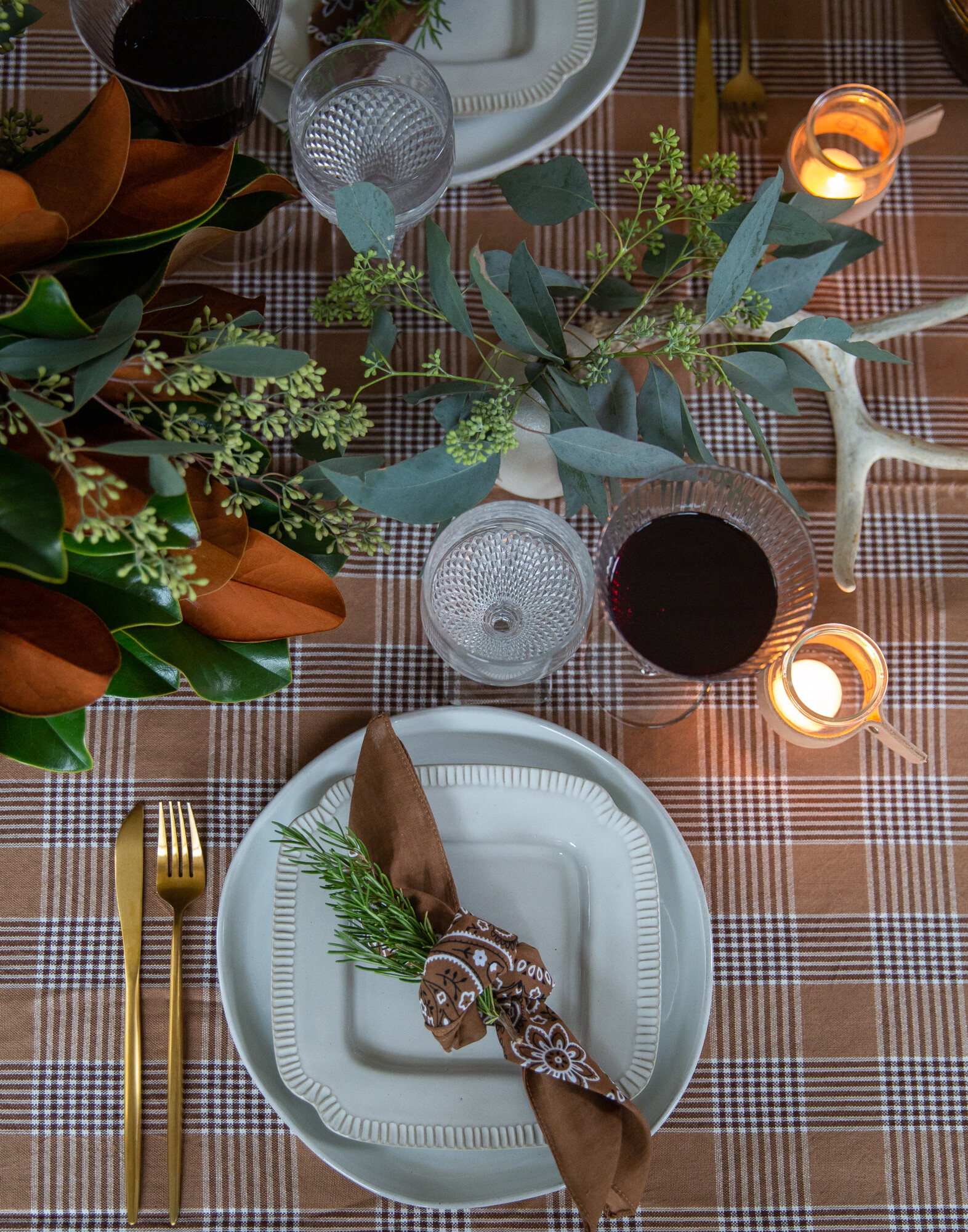 I like to think of the table as the foundation of any beautiful tablescape. Leave it exposed and "undressed" with simple place settings and linen napkins, or add a beautiful tablecloth. I'm currently obsessed with this one that I purchased this year to carry through us through the holidays. It's a classic plaid in a beautiful rich brown, which is an of-the-moment color that will work for multiple purposes. In fact, I may switch it up for Christmas and incorporate rich burgundy accents. You can get this look with similar linens that as well, like this one. I added these bandana handkerchiefs (thank you @theidentitecollective for the inspo!)  to create a casual and relaxed vibe.
Or, if you'd prefer not to use a tablecloth, I own these hand blocked printed napkins and absolutely love them! They are not too "holiday" but they are a gorgeous, neutral accent. Add in some seasonal branches and greens, and you'll have a simply chic and elegant table like this one below.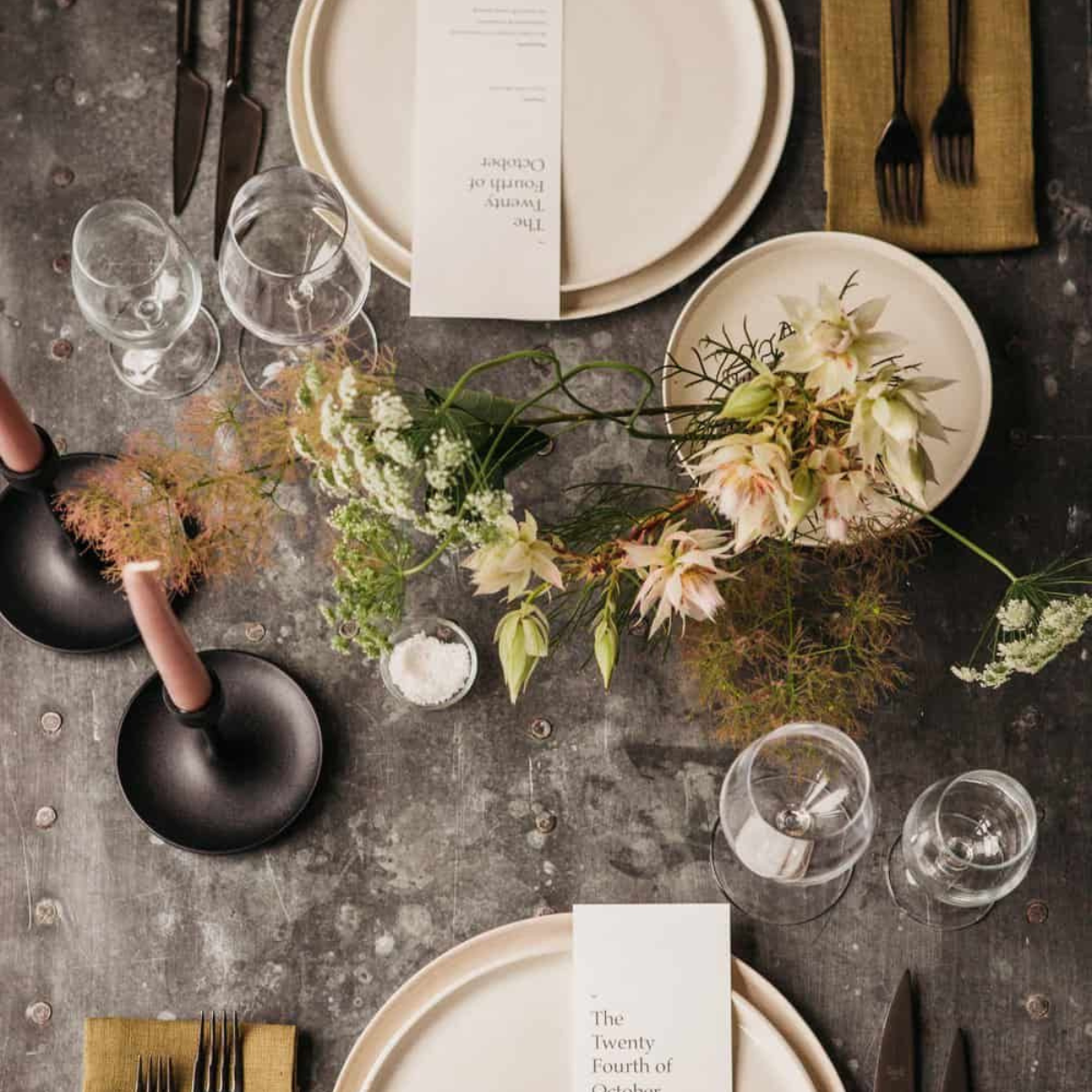 #2 THE "ACCOUTREMENTS"… DISHES, FLATWARE AND GLASSWARE
This year, I'm keeping it simple with the place settings. I use these everyday white dishes from Hearth & Hand Collection at Target all the time! I love their simplicity — they make your table feel easy and not "too stuffy." Then I layer in beautiful crystal glassware to create a fun juxtaposition of simple with elegant. I'm loving these wine glasses from the Athena Calderone collection for Crate & Barrel. This gold flatware is inexpensive and pretty, and though we run it through the dishwasher, the finish still looks as good as it did on day 1!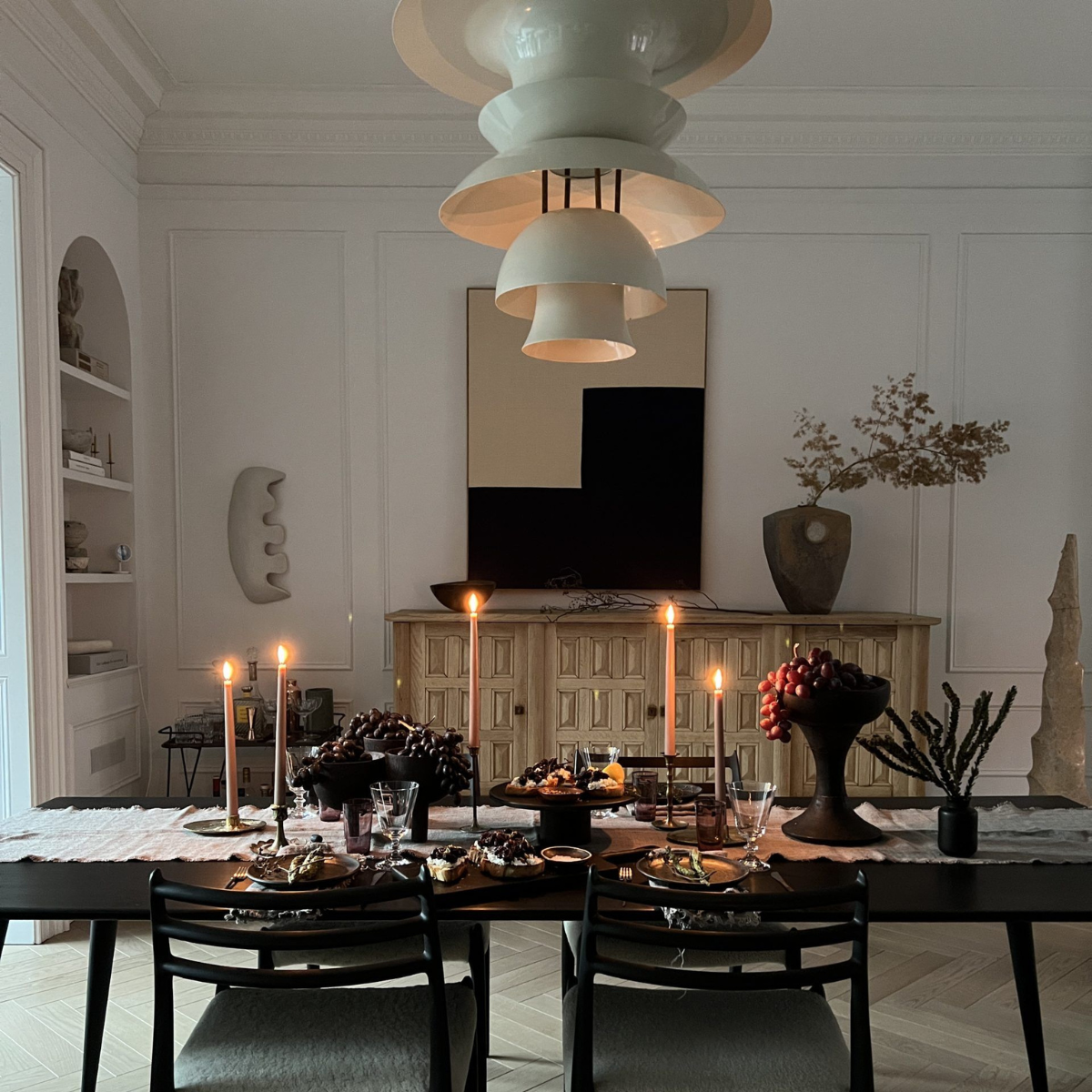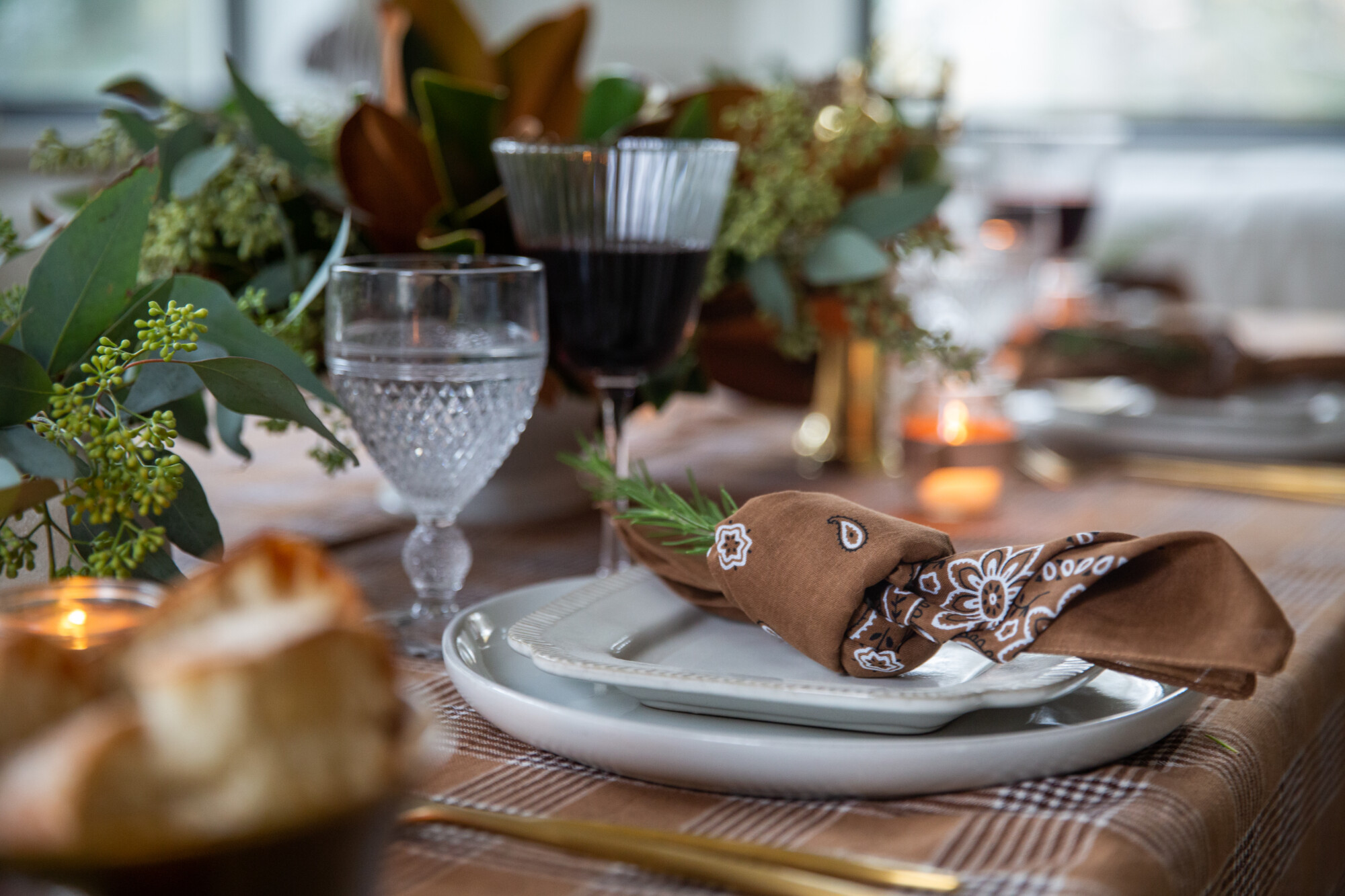 #3 LAYER WITH GREENS AND CANDLELIGHT
This is where the magic happens! Candles make any table feel more elegant and special. These adorable tea lights from the Amber Lewis Collection for Etsy are really unique. I love the little natural leather band and rivet detail, and bought three sets of three to scatter down the center of the table with greenery.
As for centerpieces, I like to use various containers and arrange them sporadically so it doesn't feel "too perfect." In this case, I used some white vases that I've owned for years, and a vintage stoneware dish to hold magnolia leaves and seeded eucalyptus from Trader Joe's. I clipped rosemary from our yard, and added a sprig to each napkin that was tied in a knot. I love the smell of rosemary at the table! This is a fun opportunity to be creative, and to use items you already own and fresh greenery from your garden.
You could also use mason jars, old bottles, and vintage glasses to group small arrangements of greenery and flowers. Keep arrangements low — there's nothing worse then feeling like you can't talk to someone because there are gigantic stems in your way!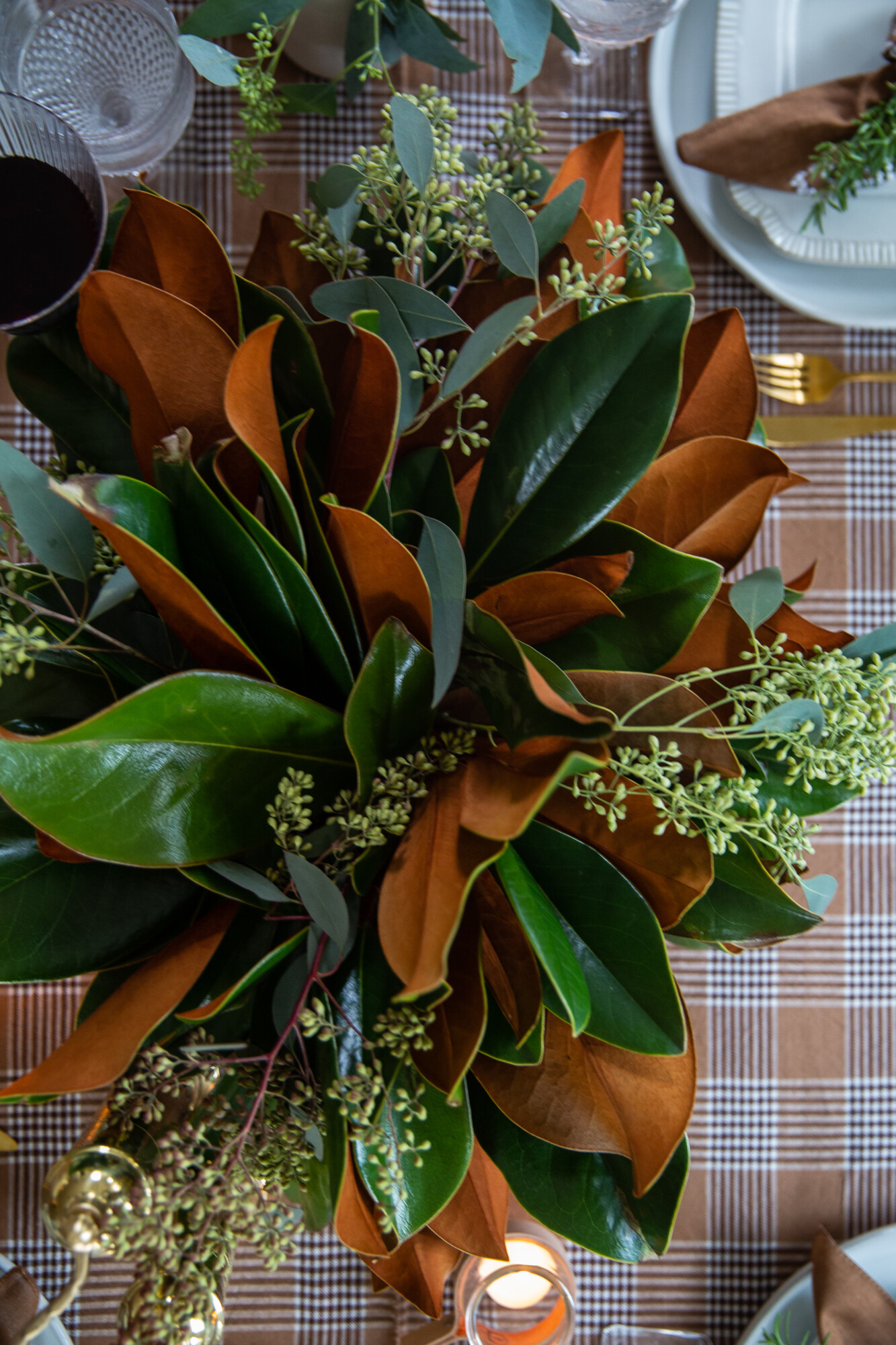 #4 FINAL TOUCHES- ACCENTS OF BRASS AND ANTLERS
Add something naturally "architectural" for added interest. In this case, I used antlers — I love using antlers for styling! They add a beautiful natural element to any space. You could also use pomegranates and pears, or pinecones and leaves to give a layered effect to your table. And lastly, add what I like to call the "jewelry"– I love these European Salt and Pepper mills from @shopmeridianny. They give a bit of and old world feel, and elevate the entire tablescape.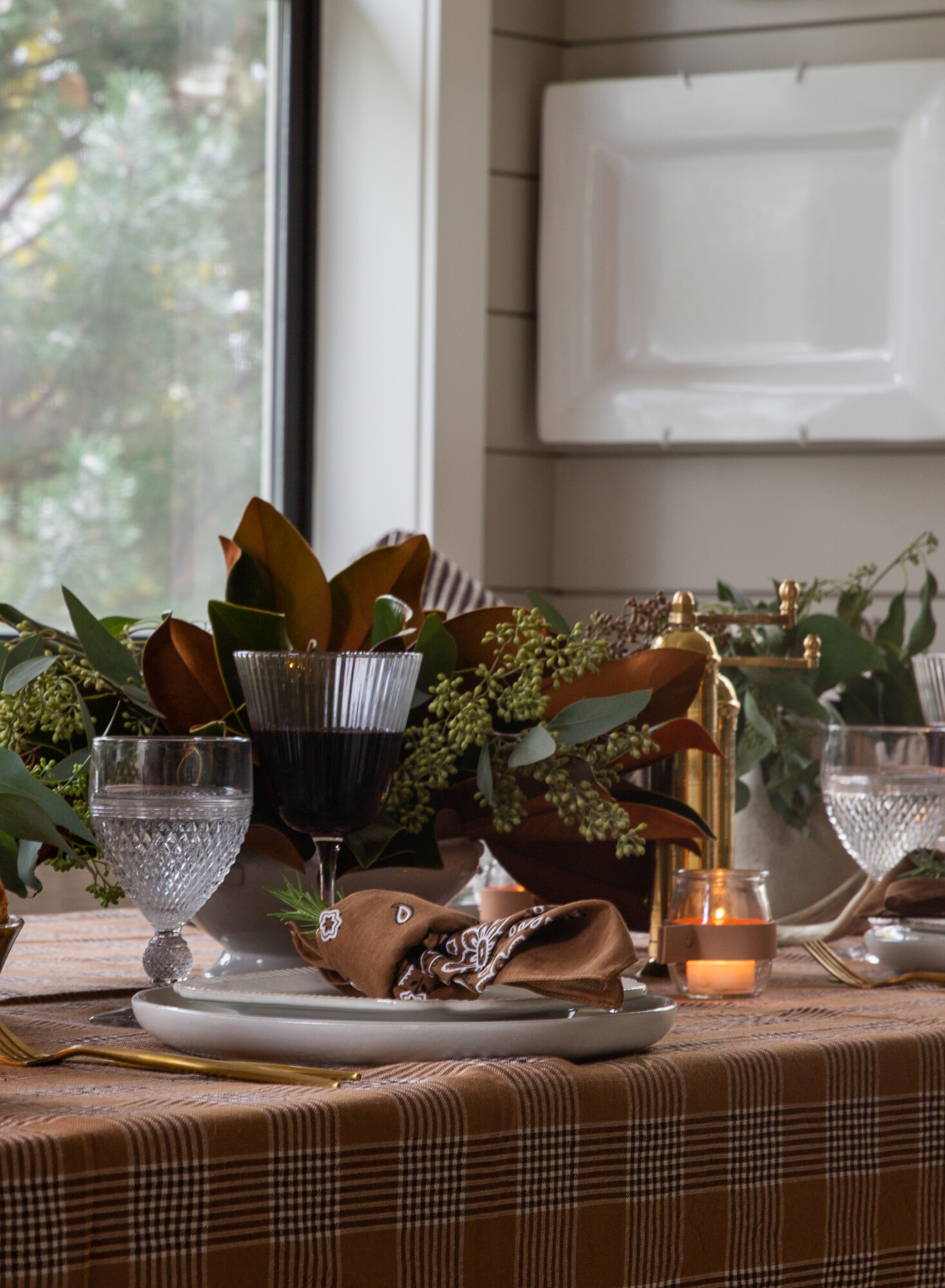 Subscribe to Clouz Houz! On Thursday, we will be sharing some fun recipes you to try this holiday season. Subscribe for updates to your inbox when new blog posts are live. Every Sunday you'll get an exclusive mood board, or Clouz Faves for your enjoyment and inspiration. 🌟